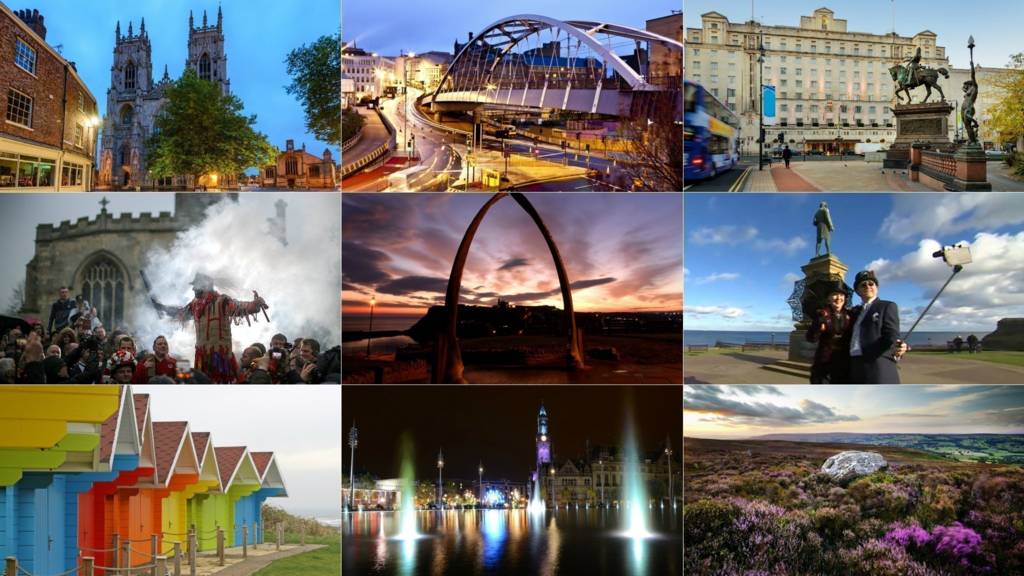 Summary
Leeds Alzheimer's man Sky bill 'unnecessary'
Football fan's lifetime ban for 'dead son' tweet to Sheffield United player
Man appears in court charged with murder of Halifax woman
Major Leeds motorway upgrade plan to beat congestion
City Council's 'regret' over schooling shortcomings for children with special needs
'Pop-up' Shakespearean theatre for York will be of 'enormous benefit' to city
Morale 'plummeting' among South Yorkshire Police officers - Survey
Number of 'ugly' shops in Bradford reaches 'pandemic' level
North Yorkshire to benefit from mobile chemotherapy unit
Updates on Wednesday 30 August 2017
Juliette Ferrington

BBC Sport

That's all from Wednesday...

Those are all our updates from across Yorkshire on Wednesday 30 August 2017.

Want to find out what's happening where you live on Thursday 31 August? Just click here.

Severe accident: M62 West Yorkshire westbound

BBC News Travel

M62 West Yorkshire westbound severe accident, between J24 for A629 and J23 for A640.

M62 West Yorkshire - One lane closed on M62 westbound between J24, A629 (Ainley Top) and J23, A640 (Huddersfield), because of an accident. Traffic is coping well.

To report traffic and travel incidents dial 0330 123 0184 at any time

Our five top stories today

That's all from us for today, we'll be back tomorrow from 06:30 with all the latest news, sport, weather and travel for Yorkshire.

Updates on breaking news will continue throughout the night, but before we go, let's look back at some of our top stories from today:

See you tomorrow.

Fines for anti-social behaviour in Rotherham

Rotherham Metropolitan Borough Council is hoping to bring in new rules which would mean they'd be able to fine people who use foul language, who are littering or consuming alcohol.

A recent public consultation about the proposals have been supported by 94% of people consulted.

If approved, the Public Spaces Protection Order will apply for three years in the parts of town shown on the map below:

Copyright: Rotherham Metropolitan Borough Council

Man hit on the head in Bradford car theft

A delivery driver who was taking phone cards to a shop in Bradford has been attacked with a piece of wood and had his car stolen.

It happened at about 15:00 yesterday when the man, who is in his 40s, was going back to his silver BMW in Portsmouth Avenue, Undercliffe after dropping off the cards.

He was then approached by two Asian males in dark clothing who demanded the keys to his car, he was then struck with what police think was a piece of wood.

They took his keys and drove off in his car and a silver 4x4 - the man was taken to hospital with a slight head injury.

Severe accident: A64 North Yorkshire eastbound

BBC News Travel

A64 North Yorkshire eastbound severe accident, between A19 and A166.

A64 North Yorkshire - A64 York Bypass in York blocked and stationary traffic eastbound between Fulford Interchange and Grimston Bar Interchange, because of an accident.

To report traffic and travel incidents dial 0330 123 0184 at any time

Slimmer Richard Whitehead scores national recognition after losing 14 stone

Bradford Telegraph and Argus

A Bradford slimmer has scored national recognition after losing 14 stone.

Richard Whitehead, 47, was one of just 38 men to win a place at the semi-finals of Slimming World's Man of the Year 2017 competition after his weight loss, where he met former England defender Wayne Bridge.

Copyright: Bradford Telegraph and Argus

Major Leeds motorway upgrade plan to beat congestion

Larry Budd

Reporter, BBC Radio Leeds

Plans for a major upgrade for one of West Yorkshire's most congested roads have been unveiled.

They include proposals to use part of the hard shoulder on the M621, one of the main routes into Leeds city centre, as an extra lane.

Highways England says the motorway is already very congested at peak times - and that's only going to get worse.

Ideas to help improve traffic flow include adding an extra lane to the roundabout at Elland Road stadium (pictured), and converting parts of the hard shoulder into an extra lane.

New technology could also be introduced to advise people how fast to drive, depending on how busy the road is.

It could start in 2020 - but the works could take two years.

Leeds United winger signs new three-year deal

Leeds United winger Stuart Dallas has signed a new three-year deal.

The 26-year-old Northern Ireland international would have been out of contract at the end of the season.

He has scored eight goals in 80 league appearances for the Elland Road side since joining from Brentford in August 2015.

"I'm happy here and it's where I want to be. I feel as if I'm going to be part of something special this season," he told BBC Radio Leeds.

Doncaster Airport named best small airport in the country

Doncaster Airport has been voted best small airport in the country by Which? magazine readers.

The airport scored 87% overall, beating all airports in the North and Midlands by as much as 20%.

The airport was the highest placed in the UK, for small airport, in the rankings of 18 other airports.

Steve Gill, chief executive of DSA said: "We are simply thrilled to have topped this annual survey. Feedback like this is fantastic for the airport.

Police issue CCTV after serious sexual assault

Do you know this man? Police in Leeds want to speak to him after a serious sexual assault in the city.

Copyright: West Yorkshire Police

The attack on a 37-year-old woman happened on Moor View in Holbeck, at about 19:00 on bank holiday Monday.

Officers say the man they want to trace was driving an old-shaped silver Ford Fiesta.

If you can help, call police on 101.

Sheffield shop hit by ram raid

A shop in Sheffield has been hit by ram-raid thieves.

Two cars were used to damage the front of the Eton clothing store on Division Street in the early hours of today.

Police are appealing for witnesses.

Man appears in court charged with murder of Halifax woman

A 27-year-old man from Leeds has appeared in court charged with the murder of 23-year-old Jessica King whose body was found at a house in Siddal on Sunday.

Jordan Thackray from East Grange View, Belle Isle, was remanded back into custody and is due to appear at Bradford Crown Court on Friday 1 September.

There was no application for bail.

North Yorkshire to benefit from mobile chemotherapy unit

A mobile chemotherapy unit to serve North Yorkshire is about to hit the road.

The £700,000 facility has been bought by the charity York Against Cancer and will start operating next week.

It means cancer patients from areas like Selby and Malton wont have to travel to York or Scarborough for treatment.

Leeds? It's t'best in t'world. Well, Europe anyway...

Nick Wilmshurst

BBC Yorkshire Live

Earlier on, I was telling you about the fact Europe's biggest "three manual" organ - one which has three rows of keys - can be found in Leeds.

But it turns out Leeds has actually got quite a few of "Europe's biggest" things...

So relax, get your thumb ready and take a trip with us through some of the other "Europe's biggest" the city has on offer:

Kirkgate Market

Kirkgate Market in the city centre is big. It's very big. In fact - you guessed it - it's so big that it's the biggest indoor market in Europe.

It has been selling food and goods to the people of the city for more than 150 years.

Eat that Milan...

Westgate Tunnel

You might drive through it every day and you might not think much about it - but you're going through one of the city's most impressive assets.

Fact fans can now boast that the Westgate tunnel on the A58(M) - Leeds Inner Ring Road to you and me - is the longest unventilated road tunnel in Europe.

Bosh, 'ave that Paris...

Temple Newsam

Copyright: Leeds City Council

If the excitement of having Europe's longest unventilated tunnel in town wasn't enough, then how about the city being home to the world's (So not just Europe, eh? What about that...) most expensive wallpaper.

Take a look at the wallpaper in the Chinese Drawing Room at Temple Newsam. It was literally taken from a book and stuck up on the walls in the 1820s.

A copy of that book recently sold for £7.3m. Surprisingly you can't buy it from your local DIY shop.

Have the most expensive wallpaper in the world do you, Berlin? No, didn't think so...