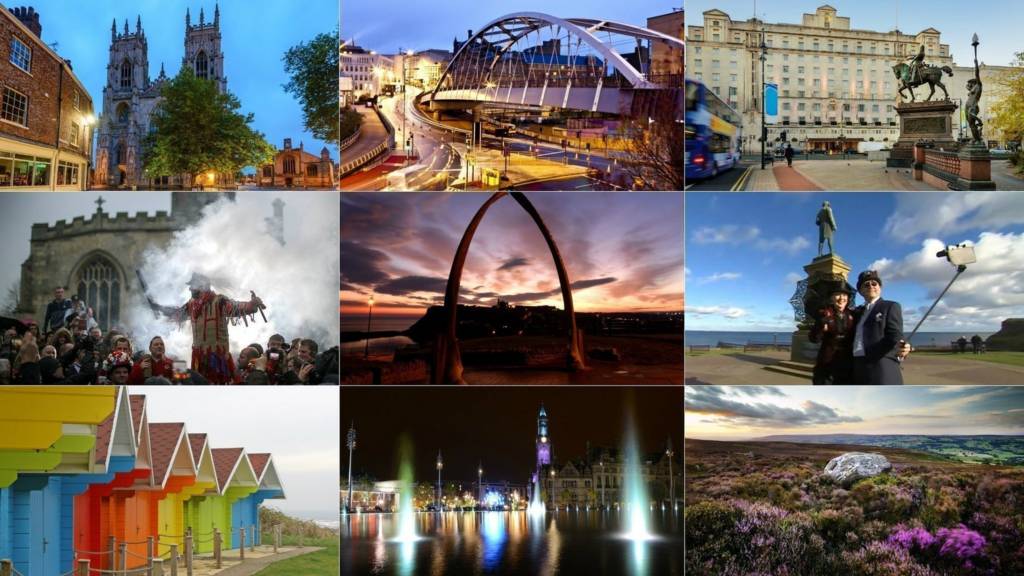 Our five top stories today

That's all from us for today. We'll be back tomorrow from 06:30 with all the latest news, sport, weather and travel for Yorkshire.

Updates on breaking news will continue right here throughout the night, but before we go, let's look back at some of our top stories from today:

Adams 'can't believe' US debut will be in Las Vegas

Leeds boxer Nicola Adams says she "can't believe" her US debut will be in Las Vegas - in just her third fight since turning professional.

The double Olympic champion is taking on Hungarian Alexandra Vlajk.

The bout is on the under card of the huge fight between Canelo Alvarez and Gennady Golovkin on Saturday night.

She beat Virginia Carcamo and Mexico's Maryan Salazar in her first two bouts.

Quote Message: Every boxer dreams of fighting in Vegas and to be doing so as part of the biggest fight of the year is incredible." from Nicola Adams

Follow international student Bart's journey as he descends on Sheffield

Oli Constable

BBC Yorkshire Live

Going to university is pretty scary, even if you're just going from one part of this country to another.

Imagine, though, what it's like for an international student...

The University of Sheffield has been documenting the journeys made by some of their incoming students and here's Bart's story:

Watch: Polymer £10 note enters circulation in West Yorkshire

The new £10 note featuring novelist Jane Austen has entered circulation - marking a return of a woman in addition to the Queen on Bank of England notes.

The launch comes after a four-month period when women, apart from the Queen, have not been represented on the Bank's notes.

The new £10 note is made of polymer and includes raised dots for blind people and it's now hit the streets of West Yorkshire:

Lucky escape for driver in Leeds

This driver had a lucky escape after this crash on Leeds Ring Road earlier today:

Copyright: West Yorkshire Police

It happened at Lower Wortley and didn't involve any other motorists.

Amazingly, the driver had no injuries but it was only the trees which stopped the car from rolling into oncoming traffic on the opposite carriageway.

Listen: Grenfell tragedy survivors want answers - South Yorkshire MP

Grenfell Tower fire survivors want answers from the inqury which has got under way today, Wentworth and Dearne MP and Labour Shadow Housing Secretary John Healey has said.

The public inquiry will hear evidence about the how the blaze spread, what work was done to refurbish the London tower block and at wider issues of fire safety in high-rise buildings.

Mr Healey says at the moment he has some concerns over the scope of the inquiry:

Dan Walker Cup raises £50,000 for Sheffield children's charity

An annual golf tournament organised by TV presenter Dan Walker has raised £50,000 for Sheffield Children's Hospital Charity.

The tournament saw golf's new wonderboy Matt Fitzpatrick play just days after winning his fourth European Tour title last weekend.

This year's cash will help fund a new scanner which will enable radiologists to easily scan children with suspected cancerous tumours, epilepsy, painful injuries or neuro-disabilities.

Leeds City Council steps in to help Kirklees Children's Services

Vulnerable children are being let down so badly in Kirklees that another council is being brought in to help protect them, a government report says.

Copyright: Jupiter images

Officials in Leeds will now help run the department which was rated as inadequate last year by Ofsted.

The watchdog said there were "serious and widespread failures" at Kirklees Children's Services, the department responsible for protecting children at risk of abuse or neglect.

A new government report says it doesn't believe Kirklees Council has the leadership or management capability to raise standards.

In the short term, Leeds City Council has been approached to help out.

Breaking

'Serious failures' at Kirklees Council's children's services

There've been "serious failures" at Kirklees Council's children's services department and it should be run by another authority, according to a new government report.

More to follow.

Leeds boy, 15, arrested after half-hour police pursuit on M62

A 15-year-old boy from Leeds who was allegedly driving a stolen car has been arrested after a police chase on the M62.

The pursuit took place at about 14:00 on Wednesday when officers spotted a stolen Audi TT which had been taken from Barton-upon-Humber in North Lincolnshire back in July.

Officers had picked up the car using Automatic Number Plate Recognition as it headed eastbound on the M62 at J32.

After a pursuit lasting about half an hour - which headed off at J34 and onto the A19 - officers stopped the car and the driver and passenger ran off.

A 15-year-old boy from Morley was arrested and is currently in custody, while the passenger is still at large, police say.

Man attacked after confronting youths in Wakefield

Police are appealing for help after a 51-year-old man was left with serious facial injuries when he confronted a group of teenagers who were causing a disturbance in Wakefield last month.

The victim was attacked on Green Lane in Alverthorpe at about 20:00 on Friday 18 August.

Police are trying to find the attacker who is described as between 16 and 18-years-old, about 5ft 10ins tall and of slim build.

He has blond hair and was wearing a light blue t-shirt and dark blue jeans.

Wire wait for Sheffield's new tram-train

Sheffield's new tram-train has taken to the tracks today - but so far only on the city's tram network.

If the vehicles are to take to the railway tracks, they'll need power to be delivered through overhead wires.

The problem - as you can see below - is that there are currently no wires:

So while the "tram" part of the city's tram-trains has become a reality today, the "train" bit won't come into play until Spring 2018.

Huddersfield Town loanee Palmer 'out for months' with hamstring injury

Huddersfield Town loan striker Kasey Palmer is facing a long spell on the sidelines with a hamstring injury.

Copyright: Allsport/Getty Images

The 20-year-old Chelsea forward suffered the injury on England Under-21 duty against Latvia on 5 September.

Palmer missed more than three months of last season with a similar problem.

Boss David Wagner told BBC Radio Leeds: "The injury is more or less as big as it was before so we will have to make further investigations but he will be out for a few months."