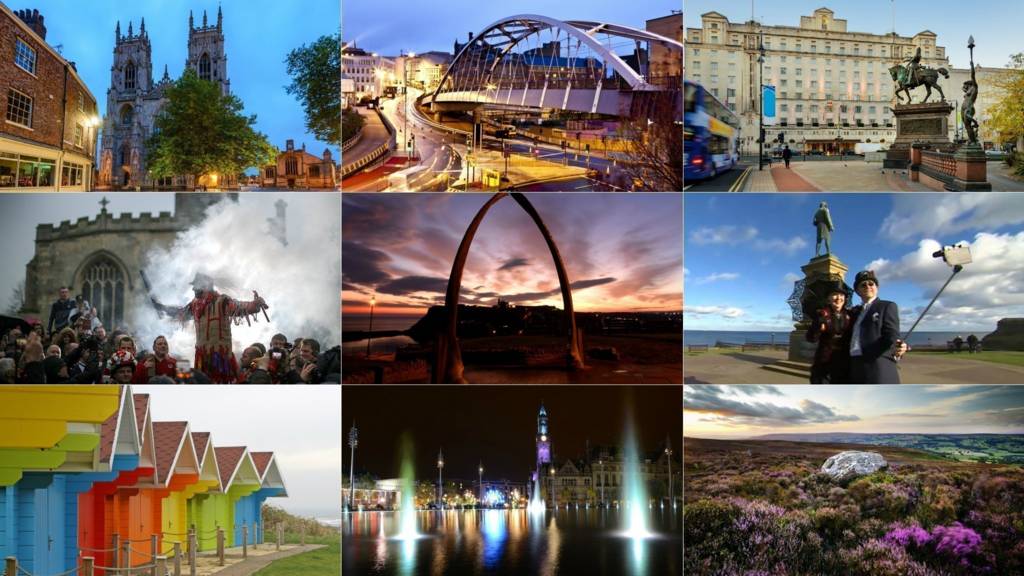 Severe accident: A18 South Yorkshire northbound

BBC News Travel

A18 South Yorkshire northbound severe accident, between A638 and Town Moor Avenue.

A18 South Yorkshire - A18 in Doncaster closed northbound between Racecourse Roundabout and the Town Moor Avenue junction, because of an accident.

To report traffic and travel incidents dial 0330 123 0184 at any time

Severe accident: A61 South Yorkshire both ways

BBC News Travel

A61 South Yorkshire both ways severe accident, between B6068 Abbey Lane and A61 Chesterfield Road South affecting Bocking Lane.

A61 South Yorkshire - A61 Meadowhead in Greenhill closed and slow traffic in both directions between the B6068 Abbey Lane junction and the A61 Chesterfield Road South junction, because of an accident involving a vehicle and a motorbike. Congestion on B6068 Abbey Lane to the Bocking Lane junction and to the Nettleham Road junction.

To report traffic and travel incidents dial 0330 123 0184 at any time

Our five top stories today

That's all from us for today. We'll be back tomorrow from 06:30 with all the latest news, sport, weather and travel for Yorkshire.

Updates on breaking news will continue right here throughout the night, but before we go, let's look back at some of our top stories from today:

See you tomorrow.

Watch: What do cyclists make of West Yorkshire's Cycle Superhighway?

Work has started on an extension to the Leeds-Bradford Cycle Superhighway which will see it go through Leeds city centre.

The route will be extended along Wellington Street to City Square, from Queen Street to Westgate and along the line of St Peter's Street.

The Superhighway connects Leeds and Bradford and is already over 14 miles long.

But is it popular with cyclists?

Northallerton charges: Teens remanded in custody

More on the news that two teenagers arrested by counter-terror officers have been charged with conspiracy to murder.

The boys, both aged 14, were arrested in Northallerton on Saturday.

A number of properties were searched in the market town and items were seized and examined by police.

One of the boys is also charged with aggravated burglary.

Breaking

Northallerton teens charged with conspiracy to murder

Two teenagers arrested by counter-terrorism police in Northallerton have been charged with conspiracy to murder.

The pair, both 14, were arrested at their homes in town on Saturday.

They have been remanded in custody to appear at Leeds Magistrates' Court tomorrow.

Stolen cats spark police appeal in Scarborough

Have you seen these cats? They were stolen during a burglary in Scarborough last week.

Copyright: North Yorkshire Police

The robbery was carried out on Wednesday 25 October in a flat on Cromwell Parade.

The cats were stolen alongside a wedding ring and their owner is said to be "very distressed".

Anyone with information is being asked to contact North Yorkshire Police.

Asbestos found dumped in Yorkshire Dales

Asbestos has been discovered dumped by fly-tippers in the Yorkshire Dales National Park.

Copyright: Craven District Council

The toxic substance was left on hills above Hetton with a specialist company now needed to remove it at a cost of more than £1,000, according to Craven District Council.

There have been a number of similar cases, the council says, and it's now asking for people to come forward so they can catch the people behind the fly-tipping.

Asbestos can be harmful if it breaks up and its fibres disturbed. Exposure to the substance can cause mesothelioma, an aggressive cancer.

Quote Message: Fly-tipping this material is extremely irresponsible. It's also particularly shocking that this waste has been dumped in a picturesque part of the National Park." from Paul Ellis Craven District Council

Sheffield raids net £50k cannabis operation

A Sheffield street was locked down and a man was arrested this morning as police uncovered a £50,000 cannabis operation.

Copyright: South Yorkshire Police

Just after 09:00 this morning, officers raided three houses on Edenhall Road, in Arbourthorne.

A cannabis factory containing 49 plants was discovered in one of the houses.

A 44-year-old man was arrested on suspicion of production of cannabis. He has been interviewed by officers and released under investigation.

Cash totalling about £5,000 and a small amount of cannabis was seized from another property, and about £120 of suspected amphetamine and a small amount of cannabis was recovered from the third address.

Sgt Lee Kaighan said: "The warrants this morning have been very successful, with the recovery of 49 cannabis plants, which had the potential to have an estimated street value of around £1,000 per plant."

On-the-run Scarborough drugs plot gang member jailed

The final member of a drugs gang which plotted to supply cocaine in Scarborough has been jailed for a total of 20 years after going on the run.

Copyright: North Yorkshire Police

Paul Daniel Heaton, 26, of Sidney Road, Manchester, went on the run as his accomplices were jailed following a major police investigation.

He was arrested in North Wales and appeared at York Crown Court today, where he was sentenced to 20 years behind bars.

A judge jailed him for six years for conspiring to supply class-A drugs and one year for failing to surrender to custody.

He also received a 13-year jail term for an assault in Greater Manchester in July this year in which a man in his 20s suffered serious injuries while Heaton was wanted on warrant.

Missing woman from Kirklees: Can you help?

A 61-year-old woman from Kirklees has gone missing after a trip to London yesterday.

Copyright: West Yorkshire Police

Penelope Jackson, from Honley, went to St Pancras Station in London on Tuesday and was reported missing this morning

She'd been staying in the Huddersfield area and has links with the Leicester area.

Quote Message: We are concerned for Penelope's well-being as she may be in need of medication." from Det Insp Mark Atkinson West Yorkshire Police

Severe disruption: A1(M) South Yorkshire northbound

BBC News Travel

A1(M) South Yorkshire northbound severe disruption, at J35 for M18.

A1(M) South Yorkshire - A1(M) lane closed on entry slip road and one lane closed northbound at J35 M18, because of a broken down vehicle. Traffic is coping well.

To report traffic and travel incidents dial 0330 123 0184 at any time

Arsonist slammed for putting lives at risk in Sheffield street

An arsonist who torched a car close to a number of homes on a Sheffield street has been criticised for putting lives at risk.

Copyright: Sheffield Star

Watch: Blind Doncaster runner uses high-tech to run New York Marathon

Blind South Yorkshire athlete Simon Wheatcroft is to race solo in the New York Marathon using special technology to warn of obstacles.

If successful, the Doncaster-based athlete will become the first blind person to run a marathon wholly reliant on "touch" - otherwise known as haptic - technology.

Using a wearable device he'll navigate the route by detecting nearby obstacles, sending out small vibrating alerts via arm and chest pads.

Mr Wheatcroft, who lost his sight from a degenerative eye disease in his teens, helped develop the technology with specialists in the USA:

Listen: Harassment allegations will spark 'new age of accountability' - Hague

Former Conservative Party leader and ex-North Yorkshire MP William Hague says he hopes an "era of great change" is on the way in the Houses of Parliament.

Mr Hague's comments come after several reports have emerged of alleged harassment and abuse involving MPs in the Palace of Westminster.

The Prime Minister Theresa May says any allegations of serious sexual abuse in Parliament should go to the police and has promised a new "independent" process to handle complaints.

Mr Hague, the former MP for Richmond, says a change is coming at Westminster, but he doesn't want it to turn into a witch hunt:

Passengers left 'scared' over Leeds bus attacks, claims driver

Nick Wilmshurst

BBC Yorkshire Live

A West Yorkshire bus driver has spoken out after her bus was targeted by stone-throwing yobs in parts of east Leeds.

The driver, who wants to remain anonymous, has told the BBC that youths smash bus windows, set them on fire, open doors with the emergency button and throw things at drivers.

She says that on her route, the gangs are worst in the Halton Moor, Middleton, Gipton and Old Farnley areas as well as at the Bramley bus depot.

The driver says one passenger was hit by a stone thrown through the window, while a Facebook user claims a brick came through a bus window and landed on an empty pram.

Quote Message: We don't get much support from passengers as they're scared - and really it's up to us to make sure they're OK and safe." from Leeds bus driver

Services were suspended in the Halton Moor area on the night of 26 October because of the risk to passengers and drivers, according to bus company First West Yorkshire.

The operator says it's "working with police to identify the individuals involved, as these acts could have led to a serious incident".

The police have been accused by some people on social media of not doing enough to tackle the problem, but a West Yorkshire Police spokesperson has responded with this statement:

"The local Neighbourhood Policing Team is attending a multi-agency meeting in Garforth tomorrow with the local authority, bus service and other key partners to ensure a focused response.

"Increased visible patrols are also specifically targeting the areas concerned," the statement adds.