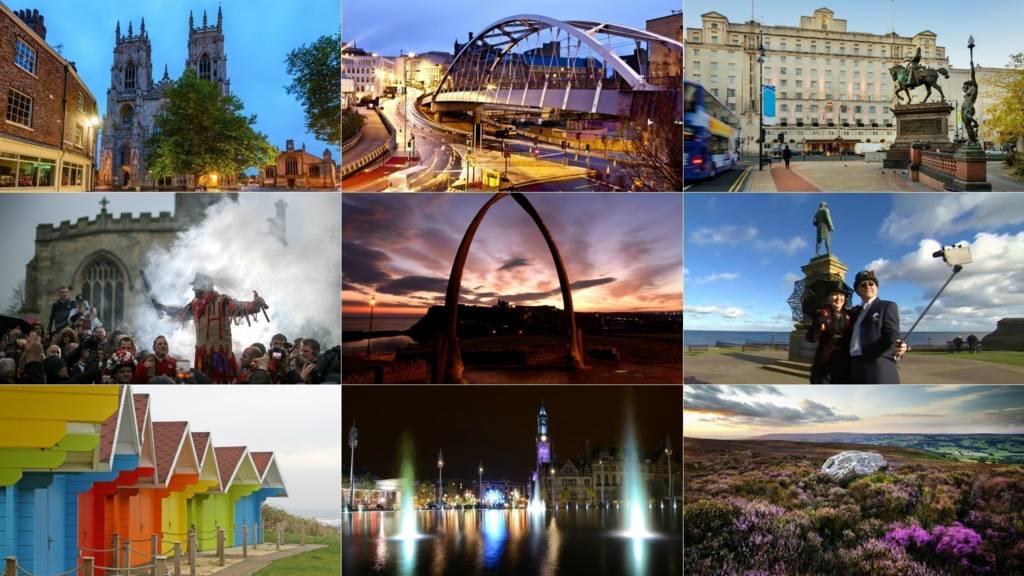 Severe disruption: M62 West Yorkshire westbound

BBC News Travel

M62 West Yorkshire westbound severe disruption, at J27 for M621.

M62 West Yorkshire - Two lanes closed and very slow traffic on M62 westbound at J27, M621 (Gildersome), because of a broken down lorry.

To report traffic and travel incidents dial 0330 123 0184 at any time

Our top five stories today

That's all from us for today, we'll be back tomorrow from 06:30 with all the latest news, sport, weather and travel for Yorkshire.

Updates on breaking news will continue throughout the night, but before we go, let's look back at some of our top stories from today:

See you tomorrow.

Reality Check: Britain's youngest terror suspects

Dominic Casciani

Home Affairs Correspondent

Two 14-year-old boys from Northallerton have appeared in court charged with conspiracy to murder following a counter-terrorism investigation in North Yorkshire.

Are they the youngest in the Britain to have been arrested and charged in such circumstances? Surprising though it may sound, they are not.

In 2015, a teenager from Blackburn was charged with inciting terrorism by encouraging another teenager in Australia to carry out an attack there.

"Boy S" was 14 years and eight months old at the time of his arrest in March of that year and a month older when he was charged. By the time he had pleaded guilty and received the juvenile version of a life sentence, he had turned 15.

Call for action as callous fly-tippers dump 'dangerous' materials

A call for action has been made after callous vandals dumped dust-like waste in a Sheffield fly-tipping hotspot.

Copyright: Sheffield Star

Severe disruption: M1 South Yorkshire southbound

BBC News Travel

M1 South Yorkshire southbound severe disruption, between J31 for A57 Sheffield and J30 for A616.

M1 South Yorkshire - One lane closed and slow traffic on M1 southbound between J31, A57 (Sheffield) and J30, A616 (Worksop), because of a broken down vehicle.

To report traffic and travel incidents dial 0330 123 0184 at any time

Leeds bus attacks: Police say suspects are being identified

Youths who have been attacking buses in parts of Leeds have been identified by police - Yesterday we bought you the story of a bus driver who spoke out about stone-throwing yobs.

At a meeting this morning called to tackle the problem, officers said they "are already examining CCTV footage and have begun to identify suspects".

The driver, who wants to remain anonymous, has told the BBC that youths smash bus windows, set them on fire, open doors with the emergency button and throw things at drivers.

The meeting was held between West Yorkshire Police, First Bus and councillors and was described as "very productive".

Travel update: Slow traffic across West Yorkshire

Just what you want as you leave work and are thinking about tucking into your tea:

Leeds museum to celebrate north of England's industrial 'queens'

Artefacts belonging to the women hailed as "pin-up" flag-bearers for industry in the north of England in the 20th Century are to go on show.

Copyright: Leeds Libraries and Information Service

Inspired by the traditional Rose Queen and May Queens, dozens of women were chosen to represent various industries from railways and mining to textiles.

A tiara, gown and letter sent to one "industry queen" will be among items shown at Leeds Industrial Museum.

Former coal queen Deborah Barry said she was "delighted to look back at it".

Quote Message: It's lovely to be able to share something that was very special and very personal to me." from Deborah Barry Former coal queen

Watch: M62 farm to become haven for wildlife

A farm which sits in the middle of a motorway has pledged to become a wildlife haven - Stott Hall near Huddersfield became famous in the 1960s when the M62 was built around it.

The farm has been subject to numerous urban myths since the road was built: One is that the stubborn farmer who owned it refused to leave.

The truth, however, is less dramatic.

Trolled beauty queen makes final of competition

A woman who was trolled after competing in a plus-size beauty pageant has reached the finals of another national competition.

Katie-Ann Steele said she was targeted by people criticising her weight after her story was shown on TV and in national newspapers in 2012.

The 26-year-old from Barnsley, South Yorkshire, took a break from pageants until she entered Catwalk Perfect UK.

Copyright: Katie-Ann Steele

She said: "A few years ago I entered a plus-size pageant. And I had a BBC documentary made about me which was brilliant.

"Except that when it aired not only was there an abundance of abuse on Twitter, but when national newspapers ran the pictures and stories, there was all sorts from 'She is going to be a cost to the NHS, she should go and kill herself before she costs us any money', to 'you can tell this bird works in a pie factory'.

Miss Steele said she laughed it off at the time, but it made her stop competing until her friend set up the new pageant.

Huddersfield man in hospital after knife attack

A Huddersfield man is recovering in hospital after being attacked with a knife in the town last night.

The 53-year-old man was getting into his car on Holly Terrace in Fartown at about 21:50 when a man came up to him, attacked him with a knife and left him with a head injury.

A relative was in the car and was also attacked leaving him with an injured hand.

Officers say that the man they're looking for is of mixed race, 5ft 5ins tall, slim and wearing a dark hooded top.

Quote Message: We are investigating possible motives behind this attack including whether it was a targeted incident." from Det Con Lisa Saberton West Yorkshire Police

Watch:Recovery centre changing lives with rocking horses

The Phoenix House Recovery Centre in North Yorkshire helps ex-service personnel to learn new skills.

The personnel at the centre in Catterick Garrison have been learning to make wooden rocking horses to help with their rehabilitation.

The centre has even been made a member of the Guild of Rocking Horse Makers.

Police are trying to track down Jamie Lloyd from the Worsborough area of Barnsley.

Officers want to talk to him about a number of burgularies committed in the town centre.

Copyright: South Yorkshire Police

Watch: Film launched to attract new police officers

North Yorkshire Police have made a film to aid their latest recruitment drive.

Applications can be submitted from today to join the force.

This is the first time members of the public have been able to apply for the role of Police Officer in North Yorkshire since April 2016.

The force says it welcomes applications from individuals from all backgrounds who can demonstrate how they inspire and influence those around them; are courageous and show compassion to others.

Laser jammer speed camera driver spared jail

A driver who used a laser jammer to avoid being caught speeding has been spared jail after a trial.

Copyright: North Yorkshire Police

Alan Redfern, 68, was caught after using the device to stop a safety camera van recording his speed on the A64 in Sherburn, North Yorkshire.

York Crown Court heard Redfern was charged after police examined the footage and spotted the device under the number plate of his car.

Redfern was handed a four-month jail term suspended for two years.

Funeral details of comedian and actor Bobby Knutt

The funeral of Bobby Knutt will be held on 17 November.

It'll be at one o'clock at Wentworth Church.

Bobby Knutt died last month in France during a holiday and had been living in Barnsley.

The 71-year-old star of TV's Benidorm also had numerous roles in soap operas after building his fame on the club circuit.

Morrisons notches up more sales growth

Bradford based Morrisons, the UK's fourth-biggest supermarket chain, has reported a 2.5% rise in sales for the third quarter.

The rise in like-for-like sales, which measures activity in stores that have been open for more than a year, shows the retailer's recovery is continuing.

Sales at the supermarket have now grown for eight quarters in a row.

Chief executive David Potts, said: "We again worked hard during the quarter... and made good progress on becoming more competitive."

Listen: New homes for vulnerable people in York

Vulnerable people in York are to be rehoused in a new accomodation block to be built in the city.

Plans have gone on show for the building for homeless people.

James House, on James Street, was due to be converted into flats, but the City of York Council bought it earlier this year.

It now wants to turn it into 57 self-contained homes for homeless people.

The Council's executive member for housing, Sam Lisle, says it will be a marked improvement on their existing accommodation:

M1 reopens after nine hour closure

The southbound carriageway of the M1 has finally reopened between J31 and J30 after an accident this morning.

The road was closed for more than 9 hours after an accident involving two lorries and a car.

Nobody was seriously injured in the crash.