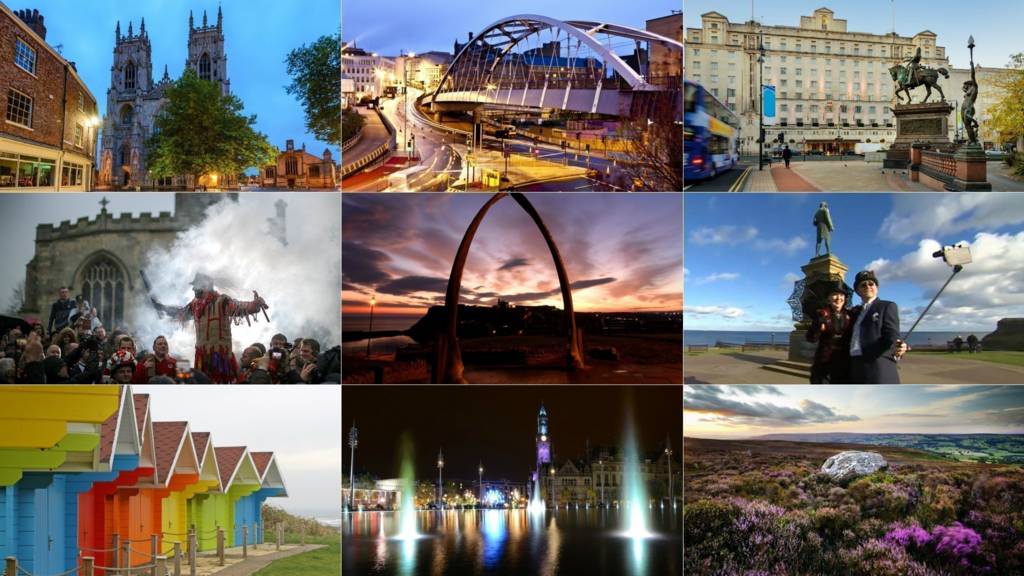 Out five top stories today

That's all from us for today, we'll be back on Monday from 06:30 with all the latest news, sport, weather and travel for Yorkshire.

Before we go, let's look back at some of our top stories from today:

See you on Monday.

Arriva North to focus on 'running as many trains as possible' on strike day

This afternoon the RMT union has announced that talks with Arriva Rail north have collapsed and a strike planned for Wednesday 8 November will go ahead.

The action is over a dispute over carriage doors which the company want to be operated only by the driver - putting the role of guards in doubt.

Arriva Rail North say we that after the talks have broken down, they will concentrate on "running as many trains as possible" on the strike day.

A spokesperson said "we asked RMT to suspend their strike action to allow us to work together to shape the future on-board role. This was not accepted."

Police hunt two men who held up bookies with screwdriver

Two men have held up a bookmakers in Bradford armed with a screwdriver - Police have released CCTV images of two men they want to speak to.

Copyright: West Yorkshire Police

The two masked men went into Coral on Market Street in Thornton and demanded cash - one of them was holding a screwdriver.

The cashier handed over about £300 in cash and the men left.

Anyone with any information is asked to call the police on 101.

Moors Murders: Victim's remains kept by police

Remains of the Moors Murderers' first victim were kept by police at the University of Leeds for 30 years without her family's knowledge.

Ian Brady and Myra Hindley admitted killing 16-year-old Pauline Reade in 1963, while in prison in the 1980s.

Greater Manchester Police said it "recently became aware" some of her remains were kept "for investigative purposes" and has since apologised.

The teenager's niece told the Manchester Evening News she was "devastated" by the discovery.

Leeds people furious after council removes bonfire

People in an area of Leeds say they're furious after the bonfire they had ready for tomorrow night was cleared away.

Yesterday people living near Micklefield Park in Rawdon woke up to find council workers dismantling their bonfire and removing it in truckloads.

They say the bonfire has been taking place on public land for forty years without a problem - with neighbours bringing food and fireworks to share.

Leeds city council said "we only allow properly organised and licensed events to take place on land that we are responsible for."

They added "We have no record of an application by any group to hold a community bonfire at Micklefield Park but we would be pleased to work with the group if they wish to hold an event next year."

Watch: New support group for siblings of autistic children in Sheffield

When we talk about autism, we often hear from the child or parents affected by the disability but rarely the siblings.

Well now a support group aimed at giving respite to the brothers and sisters of autistic youngsters has been set up in Sheffield It's called Twinkle and takes place once a month at the Virgin Lounge on Fargate.

I went along to meet some of them:

West Yorkshire MP writes to PM over Priti Patel Israel meeting

A West Yorkshire MP has written to the Prime Minister to raise his concerns that the International Development Secretary held undisclosed meetings in Israel without telling the Foreign Office.

Copyright: PA/Jon Tickett/Flying Colours/BBC

The BBC has learned that Priti Patel met the leader of one of Israel's main political parties and made visits to several organisations where official departmental business was reportedly discussed.

The Hemsworth Labour MP Jon Trickett said in the letter that he was concerned that the minister could have broken the ministerial code, which prevents MPs from making commitments which could compromise their public duty.

He said in the letter that "this raises a series of questions about the ethics of public service and the integrity of the government."

Downing Street said Ms Patel was on a private holiday which she had paid for herself, during which she took the opportunity to meet people.

Blue paint thrown over cars in mindless vandal attack on Buttershaw Estate

Bradford Telegraph and Argus

A man fighting to improve the estate he lives on has fallen victim to vandals who threw blue paint over his cars.

Copyright: Bradford Telegraph and Argus

Watch: Otley releases Christmas promotional video

We're well-used these days to part of Christmas being the myriad of adverts that come out for department stores and supermarkets.

Will they make you cry, feel all warm and fuzzy inside - as if you've had a glass of liquid Christmas itself?

Try this on for size, it's a Christmas video that's been made to promote.... Otley.

Sheffield Green party councillor responds to tree protester court ruling

Green party Councillor Alison Teal has reacted to the news that tree campaigner Calvin Payne has been given a suspended jail term for breaching a High Court imposed injunction.

Alison was in front of the High Court last week accused of the breaching the same injunction but her case was dismissed.

"I am relieved that Calvin's prison sentence of three months is suspended for a year. However, Mr Justice Males left no doubt that campaigners who breach the injunction will face jail terms. The court has ruled that the cost of tree protection is our liberty, and Sheffield Labour Council want protectors to pay that price. It would be far better for them to engage in Alternative Dispute Resolution than to seek to imprison residents."

Breaking

Rail strike to go ahead next week

A 24-hour strike by Arriva Rail North workers is to go ahead on Wednesday 8 November.

The announcement by the RMT union comes after talks aimed at resolving a row over the role of guards "collapsed".

The industrial action is over plans to make train doors driver-only operated.

Rail companies have said this means the guard's role will change but some workers believe safety procedures would be compromised.

Doncaster prisoner has sentence extended by 11 years after slashing fellow inmate

A prisoner's facing another lengthy jail term after attacking a fellow inmate at Moorland jail in Doncaster.

26-year-old Shaun Myers slashed a prisoner's face with an improvised weapon over an unpaid drugs debt.

Myers had been due to be released in January - he's now had another 11 years added to his jail term.

Copyright: South Yorkshire Police

Watch: Blind pianist prepares for performace at Sheffield Cathedral

Andy Kershaw

BBC Radio Sheffield News

Bill Skipworth lost his sight in his 30's after a bout of the flu.

He's been performing at Sheffield Cathedral this afternoon and I got to have a sneak peek of his rehearsals:

Teenager arrested after police deploy stinger to stop car and caravan

North Yorkshire Police say they've deployed a stinger to stop a stolen car and caravan being driven by a teenager.

It happened after officers attempted to stop the vehicle on the A63 near Selby last night.

The driver failed to stop and police began pursuing him.

Officers say they followed the car and caravan for several miles, before deploying the device near Gateforth, which burst tyres on both the car and caravan and brought the vehicle to a halt.

A 19-year-old man was arrested on suspicion of the theft of the car and caravan, failing to stop and dangerous driving.

He is currently in custody while police enquiries continue.

Watch: Sheffield tree campaigner says he 'does not plan to break the injunction again'

Sheffield Tree campaigner says he doesn't plan on breaking the high court imposed injunction again.

Calvin Payne was found guilty of breaching a court injunction over efforts to disrupt tree-felling in the city.

He's been given a three month sentence, suspended for a year:

Man arrested over South Yorkshire reservoir attack

A 29-year-old man has been arrested on suspicion of attempted murder after a man was found with serious injuries at Ulley Country Park.

At around 08.35 GMT on Monday, 16 October, emergency services were called to an embankment at the reservoir in the park where a 37-year-old man was found unconscious with serious facial injuries.

The victim is still in hospital in a critical but stable condition.