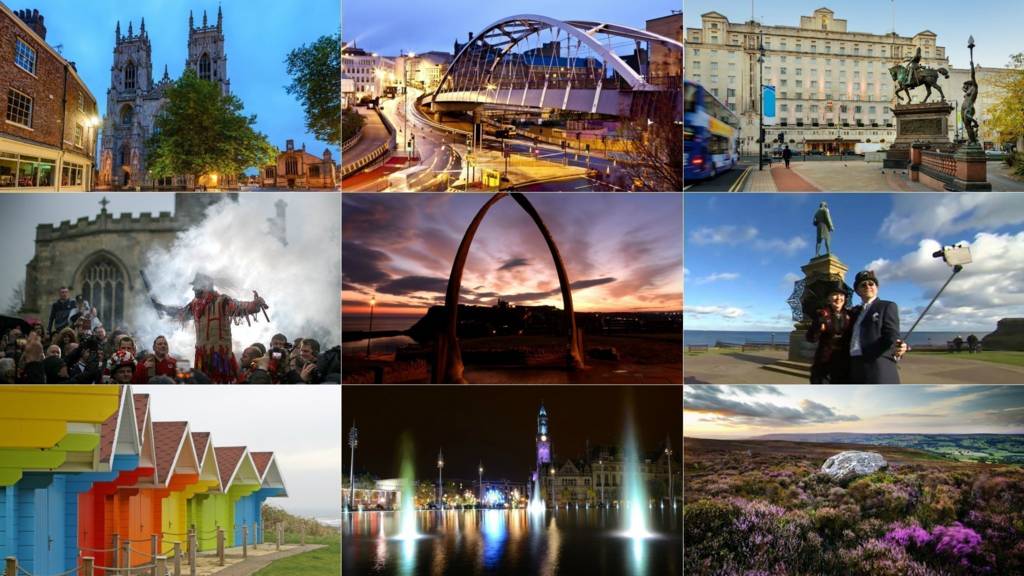 Your weather forecast for this evening

Any lingering rain clearing during the evening.

It will become cold under clear skies with light winds allowing a widespread frost to develop with a risk of icy patches.

Police watchdog investigation delayed

The Independent Police Complaints Commission (IPCC) says an investigation into the death of a man who was shot dead by a West Yorkshire Police firearms officer won't be completed until the conclusion of another case.

Yassar Yaqub, who was 28 and from Huddersfield, was fatally shot in a car stopped near junction 24 of the M62 on 2 January 2017.

The IPCC say they can't complete an investigation into Mr Yaqub's death until the trial of another man, which is set for April 2018, has concluded.

Campaign to close A19 gaps gathers 3,000 signatures

A campaign set up hoping to close gaps on the A19's central reservation has gained 3,000 signatures.

Last year Sonia Rose, 83, died on the road near Northallerton after after a van veered from the opposite side of the dual carriageway into her path.

The Highways Agency says it'll close the gap by March next year.

Sonia's daughter, Katy, says it's important all gaps are closed to save lives.

Appeal to build RSPCA small animal centre in Sheffield

The RSPCA has launched a new appeal for help to build a centre in Sheffield for small animals.

Managers at the RSPCA in the city say they're "astounded" by the growing number of small animals being abandoned or neglected in South Yorkshire.

Last year about 400 rabbits, gerbils, rats, mice and other animals were picked up by inspectors across the region.

Tony Benham, manager of the RSPCA animal shelter in Sheffield says the problem stems from people not getting advice about neutering small animals.

Quote Message: A lot of people when they get a dog or a cat, the majority of people, think about neutering and prevent them having more litters but with small animals they have multiple babies at once, so you start off with two mice and end up with a 150 mice" from Tony Benham RSPCA Sheffield

Over 200 arrested for drink and drug driving this month

The number of people arrested for drink and drug driving offences has gone over 200 people across West Yorkshire this December.

Since the start of the month, 225 people were arrested in total with 45 being drugs related. 32% of arrests were made between 00:00 and 03:00, the peak time.

Of those charged: 30 from Bradford, 22 from Kirklees, 41 from Leeds, 23 from Wakefield and 14 from Calderdale.

The figures come as part of the force's 'Not The Usual Suspects' campaign which highlights anyone can be a drink or drug driver.

Police Sgt Gary Roper of the Roads Policing Support Unit said: "We are now heading into the New Year and I would like to remind people to consider their travelling arrangements if they are out and about celebrating and not to drink or drug drive."

Nostell Priory crash fatality named

West Yorkshire Police have released the name of the man who died following a road traffic collision in Wakefield.

Copyright: West Yorkshire Police

Curtis Smith, 26, from the Cudworth area of Barnsley, died after his blue Peugeot 206 collided with a Ford Kuga on Wakefield Road, Ackworth.

The driver of the Ford, a 59-year-old woman, suffered minor injuries.

In a statement, his family said: "Words cannot begin to describe the loss we are all feeling following the tragic accident which claimed Curtis's life on Saturday."

Officers from the Major Collision Enquiry Team are continuing to appeal for witnesses to the collision and is asked to call the team on 101, quoting log 846 of 23 December.

Car flips over on snow in Sheffield

Terror charge pair remanded in custody

A fish-and-chip shop owner and another man have appeared in court accused of preparing to build a bomb in the lead up to Christmas.

Andy Sami Star, 31, of Sheffield Road, Chesterfield, and Farhad Salah, 22, of Brunswick Road, Sheffield, are jointly charged with a single count of preparing an act of terrorism.

Westminster Magistrates Court heard that the pair, appearing on a video link from Leeds, allegedly researched and prepared bomb ingredients for an attack on the UK and recorded test explosions on a smart phone.

Deputy Senior District judge Ikram Tan remanded the pair in custody before they next appear at the Old Bailey on 19 January.

Florence, aged 7, shows spirit of Christmas

The spirit of Christmas is alive and well in Scarborough.

As seen here by Florence's gift to police officers on duty over the festive period:

Copyright: North Yorkshire Police

Man, 19, dies after being hit by truck on M1 slip road

A 19-year-old man has died following a fatal road traffic collision on the exit slip road of the M1 southbound.

The incident happened at around 05:00 this morning after a white DAF articulated lorry struck a young man at junction 46 southbound on the M1.

The pedestrian was pronounced dead at the scene by paramedics.

Road closures remain in place at this time whilst emergency services continue their investigations.

Police are appealing for any witnesses to the collision itself or if anyone saw the pedestrian prior to the collision to contact the police.

Drivers in the area at the time with working dash cam footage are asked to contact the Major Collision Enquiry Team via 101 quoting log number 192 of 29 December.

Car crashes into tree in Sheffield

Police are at the scene of an accident on Gleadless Road in Sheffield.

It's reported that the driver lost control coming down a hill and crashed into a tree.

The road is currently closed:

Travel: Vehicles stuck on East Bank Road in Sheffield

Vehicles are getting stuck on East Bank Road in Sheffield due to weather conditions.

BBC Radio Sheffield's reporter Jenny Eells has just tweeted this from the scene:

Did you see vehicle accident in North Yorkshire?

Officers are appealing for information after a Ford Mondeo came off the road, leaving the driver with serious injuries.

The incident took place at around 11:00, 28 December, on the B6270 road between Low Row and Gunnerside in North Yorkshire.

The vehicle was found in a field, approximately 50m from the road.

The driver, in man in his 30s from Darlington, suffered serious injuries while the passenger, a 17-year-old boy, sustained less serious injuries.

Anyone who witnessed the incident is asked to contact North Yorkshire Police on 101, select option 2 and ask for Richmond Roads Policing Group - quote reference number 12170231022 when passing on information.

Snow continues to fall across Yorkshire

It would seem the forecast snow is upon us and it's covering the majority of Yorkshire.

It isn't expected to last for the whole of the day and we could see some sun and rain showers towards the afternoon.

It does, however, leave us with some nice Weather Watcher pictures - here's two horses braving the conditions.

And a very calm and peaceful area of Holmfirth.

If you've got anything you'd like to share with us today then send it to us by clicking here.

Mountain Rescue Teams on hand across West Yorkshire

As the snow continues to fall in areas across West Yorkshire, mountain rescue teams are aiding emergency services to help those in need.

In Holme Valley, they've been out since the early hours of the morning - so fear not if you're having difficulties in the higher grounds!

Police urge caution in wintry conditions

If you're on the M62 between Greater Manchester and West Yorkshire, please take care.

Today's races abandoned at Doncaster Racecourse

Bad news if you were planning on braving the conditions at heading to the races at Doncaster.

They've been abandoned for today due to the track being frozen and more cold weather to come.

However, if you do have a ticket for today, you'll be able to pick up a free Grandstand ticket at Southwell Racecourse.