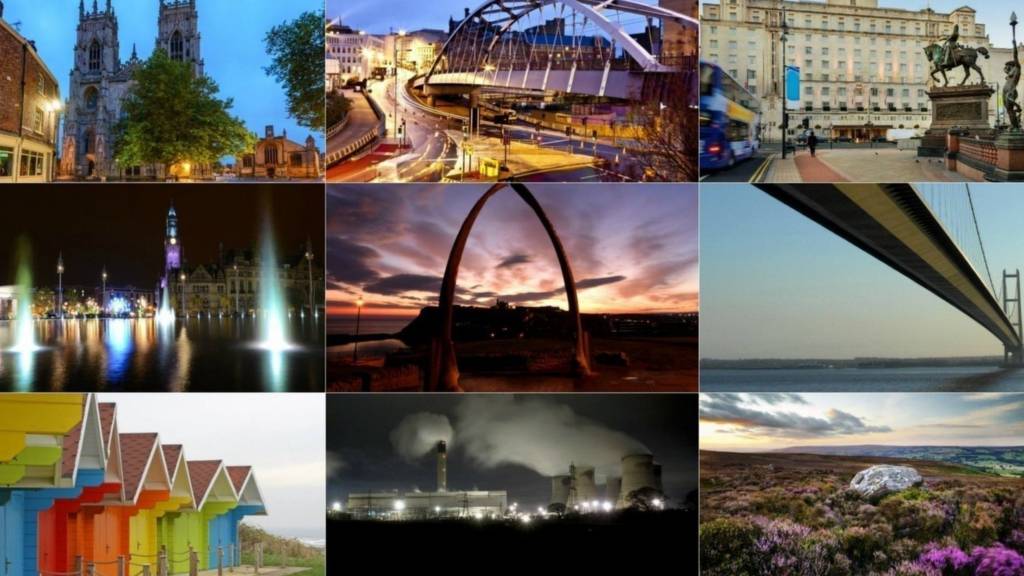 Hunt on for Yorkshire National Parks 'dark skies' artist

The search has begun to find an artist to capture the "extraordinarily beautiful" dark skies over North Yorkshire.

Bosses at the North York Moors National Park are challenging artists to produce a a piece of work conveying the importance of the night sky, after the Yorkshire Dales and North York Moors national parks were designated Dark Sky Reserves in December 2020.

The successful artist will be rewarded with a funded 10-month commission, culminating in an exhibition of their work at the 2022 Dark Skies Festival.

Sally Ann Smith, curator for the Inspired by… Gallery says: "Truly dark skies such as those in our National Park are crammed with over 2,000 stars, which makes them an extraordinarily beautiful sight.

"We are looking for an artist who can help ignite people's passions and inspire them to think about the impact of light pollution."

The artist will be appointed in April 2021 and will have until February 2022 to complete the commission.

Scarborough Shrove Tuesday traditions hit by lockdown

Local Democracy Reporting Service

Scarborough's annual Shrove Tuesday events have been cancelled due to the ongoing coronavirus lockdown.

Copyright: Johnny Green/PA Wire

The town's residents normally come together each year for the ringing of the pancake bell and pancake flipping races, followed by the traditional pastime of skipping on the seafront.

This year's events, which would have taken place on Tuesday 16 February, will not go ahead and families are asked to mark the occasion at home, in line with the lockdown restrictions.

Vicki Jones, from Scarborough Borough Council, said: "So many annual events and celebrations were cancelled last year in order to keep people safe and to try to prevent the spread of coronavirus. The start of this year is no exception.

"Please stay safe and celebrate Shrove Tuesday at home instead. There are a number of ways you can still make the day fun.

"Skipping can be carried out in yards and gardens as a great form of exercise and family members can challenge each other to a pancake flipping challenge."

Ex-Bradford Bulls star guilty of intimidation in Australia

Former Bradford Bulls star and England rugby league captain Sam Burgess has been found guilty of an intimidation charge against his former father-in-law in Australia.

A Sydney court has ruled Burgess had intimidated Mitchell Hooke, his ex-wife's father, with the intention of causing physical or mental harm.

Burgess pleaded not guilty to the charge last year, relating to an incident at Mr Hooke's home in 2019.

He was given a conviction and placed on a two-year good behaviour bond.

The court heard competing accounts over the incident, which came as Burgess visited his children after separating from his ex-wife, Phoebe Burgess.

A row escalated after Mr Hooke asked Burgess to leave, the trial was told.

Mr Hooke said Burgess had said: "I'm going to get you. You've set all of this up."

Mr Hooke testified he had felt "absolute terror" that his former son-in-law would hit him during the argument.

Burgess told the court that Mr Hooke had threatened him by saying: "I'm going to destroy you and your career."

Magistrate Robert Rabbidge found in favour of Mr Hooke, ruling he was an "impressive, believable and consistent" witness.

Burgess, one of rugby league's biggest stars, was forced to retire in 2019 due to injury. He played 24 matches for England and two for Great Britain.

Tyres slashed on North Yorkshire nursery's minibus

The tyres of a minibus used by children in Scarborough have been slashed in several "targeted" incidents, according to police.

The vehicle, which belongs to Little Footsteps Nursery, was damaged during "numerous incidents of criminal damage", North Yorkshire Police said.

The incidents have happened overnight between 6 November and 20 January, the force added.

Anybody with information into the incidents is being asked to get in touch with police.

Ripon Covid vaccine hub to close on race days

Local Democracy Reporting Service

The coronavirus vaccination hub at Ripon Racecourse will temporarily shut to allow horse racing to go ahead, it's been confirmed.

Copyright: Reuters/Paul Childs

The hub opened on Wednesday and has the capacity to vaccinate between 500 and 600 people a day.

But the centre will shut for race days, with more than 15 scheduled between April and September, health bosses have said.

Amanda Bloor, from NHS North Yorkshire Clinical Commissioning Group, said closing the vaccine site on these days had been planned for and that patients would still receive their jabs.

She told a briefing: "We won't be holding any vaccination clinics on the day of racing and we have worked through that with the site.

"It won't impact the vaccine programme because when we are aware of delivery of the vaccine we will plan clinics appropriately."

The vaccine site was announced last week after complaints from councillors that elderly and vulnerable residents were struggling to reach appointments at the nearest available sites in Harrogate or York.

Near-misses a 'useful practice' for Calderdale flood plans

Local Democracy Reporting Service

Heavy rainfall across Calderdale provided a "useful practice run" for flood responses, a councillor has said.

Storm Christoph brought fears of flooding to the area in January when 108mm of rain fell in 48 hours.

At a meeting of the Calderdale Flood Recovery and Resilience Programme Board, members heard how the events of last month had helped with learning to deal with future flooding threats.

Participants were also told that the 108mm which fell during storm Christoph was the same amount of rainfall as in February 2020 during Storm Chiara, but that it had fallen over the space of two days rather than 18 hours.

Councillor Scott Patient, who is also a Calder Valley flood warden, said: "I think we were somewhat lucky in terms of the amount of rainfall we got – more than last year but over a longer period of time."

Meanwhile, Councillor Jane Scullion said near-misses brought more learning. "It was a useful practice run in some ways – yes, we were lucky in the weather, but the levels of preparation the council did were just extraordinary."

Halls party with 150 students stopped in Sheffield

Fines totalling £34,000 have been handed out after more than 150 people were caught partying in Sheffield in breach of Covid-19 regulations, say police.

Many of the partygoers at a flat in Ranmoor Student Village ran from officers and security staff in an effort to avoid being identified as police arrived just after 01:00 yesterday, according to South Yorkshire Police.

Insp Ali Bywater said: "The actions of all those present were incredibly selfish and the fact that so many went to great lengths to flee from officers is evidence they knew what they were doing was wrong.

"At one point there were 14 police officers on scene - that's 14 officers who could have been dealing with other important matters across the county.

"Additional resources were deployed after one officer was injured as people broke out of fire exits and set off fire alarms in order to get away."

The party's organiser received a £10,000 Fixed Penalty Notice, with more than 30 others handed an £800 fine, police said.

Staff at the University of Sheffield will now work with police officers in an effort to identify those at the party from the "extensive body worn video footage captured," the force added.

City health boss warns against 'vaccination jubilation'

Local Democracy Reporting Service

Sheffield's health boss is warning people not to get "vaccination jubilation" because they still need to follow restrictions after having the Covid-19 jab.

Director of public health Greg Fell says there's no clear data yet on whether vaccinated people can still pass on the virus.

He told a council meeting: "I encourage everyone to be very cautious. There's a term called vaccination jubilation but it isn't a pass out and doesn't change any of the existing public health or hygiene measures.

"People will be disappointed by that, but we are being very careful. It would be very foolhardy to allow unmitigating spread in an unvaccinated population for two reasons.

"One, because it will still cause harm to younger people and secondly, unmitigated transmission is unmitigated viral replication – that invites further mutation of the virus and that's one thing we definitely don't want to see," he added.

The meeting also heard that so far about 90,000 people in Sheffield had received a vaccine within four weeks.

Harrogate 999 crash detective gets suspended jail term

A detective who crashed into another car when she drove through a red light at 50mph has been spared jail.

Det Con Quita Passmore, 38, was responding to an emergency in Harrogate in May 2018 when her unmarked car hit the other vehicle at a crossroads.

She was found guilty of causing serious injury by dangerous driving to two women in their 70s in the crash.

At Bradford Crown Court, Passmore was given a 10-month prison sentence, suspended for two years.

Passing sentence, Judge Colin Burn said it was not in the public interest, other than in the most exceptional circumstances, to send emergency responders to prison for blue-light driving offences.

Passmore was also banned from driving for two years and ordered to take an extended re-test.

Man sought after Bradford street stabbing

A man is being hunted by police following a knife attack in Bradford which left another man seriously injured, police say.

Emergency services were called to reports of a man being assaulted by a male with a knife on Great Horton Road just after 23:00 on Wednesday night, according to West Yorkshire Police.

The 38-year-old victim suffered a serious injury to his leg and was taken to hospital for treatment, police said. His injuries are not thought to be life-threatening.

The suspect, who ran away in the direction of Grove Terrace, is described as "a white male, in his late 30s, with a distinctive large head and possible facial deformity."

He was wearing black jeans, a black hoody and black trainers.

Anyone who witnessed the incident is being asked to contact police.

Latest flood warnings on Yorkshire's rivers

Eight flood warnings - meaning immediate action should be taken as flooding is expected - are currently in place in Yorkshire.

Copyright: Environment Agency

The warnings include:

There are also 17 flood alerts - meaning flooding is possible, be prepared - currently in place on Yorkshire's rivers.

The Environment Agency says: "Further rain and snow is forecast over the next few days so river levels are expected to remain high.

"Our incident response staff are checking defences and closely monitoring the situation."

Yorkshire's Friday weather forecast

Today will be mostly cloudy and dull with outbreaks of rain and drizzle, a brisk easterly wind and some mist over higher ground.

This evening and tonight will be mostly cloudy and breezy with showers and some sleet mixed-in over hills.

York railway station transformation plans approved

Local Democracy Reporting Service

Plans to transform the front of York railway station have been approved.

Under the plans, Queen Street Bridge will be demolished, a new road built, a multi-storey car park constructed and a wider cycle lane will be created.

Councillors said the project, part of a wider redevelopment of the area, would create a fitting gateway to the city.

Funding of £14.5m for the project was secured in March 2020 after a Leeds City Region bid to the government's Transforming Cities Fund.

During a planning committee meeting, which was held remotely, City of York councillors voted in favour of the scheme by a majority of nine to six.

Campaigners had concerns about the planned 636-space multi-storey car park and whether there was enough space for bus services.

Tom Franklin, chair of York Green Party, said: "The multi-storey car park is entirely inappropriate, we need to reduce car parking.

"If you voted for the climate emergency in 2019, I don't see how you can vote for the multi-storey car park now."

Niall Melvin, from LNER, told the meeting the multi-storey car park was needed for people who may drive to the station to make longer onward journeys by train.