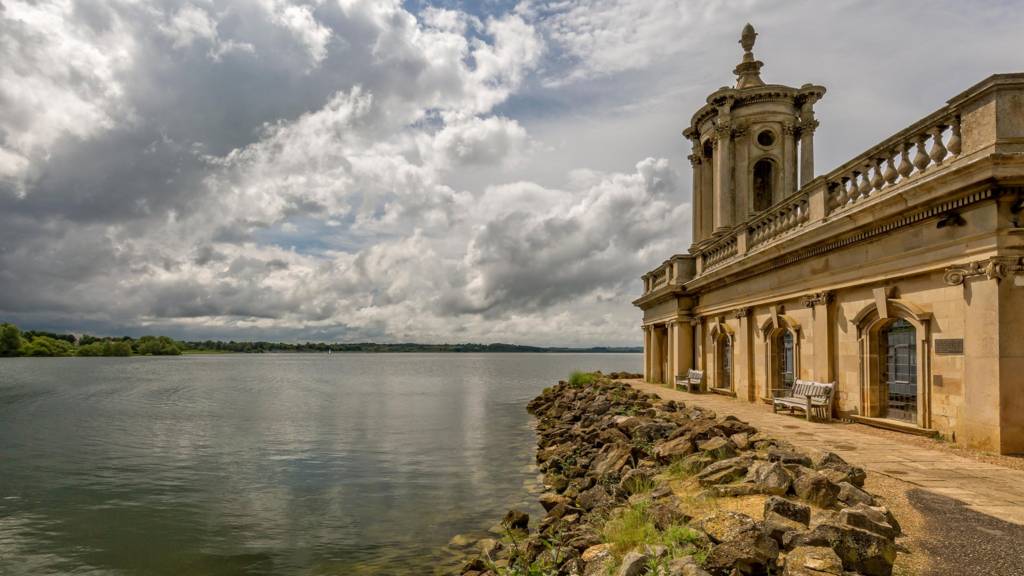 BBC Local Live: Leicestershire
Summary
Updates for Wednesday 22 June 2016
More news, sport, travel and weather from 08:00 on Thursday
Our live coverage across the day
That's all from Local Live today. Updates will start again on Thursday at 08:00.
Weather: Evening showers expected
There will be a few showers this evening but they won't be too troublesome and they will fizzle out into the evening. 
It will remain dry overnight with a fair amount of cloud and a minimum temperature of 14C (57F).
'Exciting' plan for Coalville's fire station

Amy Woodfield
BBC Local Live
The fire service is looking at the future of other buildings it owns as well.
Steve Lunn says Central Fire Station in Leicester isn't at risk of closure anymore and something very exciting could be done with Coalville Fire Station.
He says: "It could potentially in the next year or so represent the first combined blue-light services station because we're looking at a partnership with the police and EMAS so it accommodates all three emergency services."
Cricket: Foxes in a good position

It sounds like it's very exciting over in Essex...
Travel: Shorter train from London

Might be a bit of a squeeze getting to Melton on the train tonight...
Fire service rents out rooms to ambulance service

Amy Woodfield
BBC Local Live
The fire authority needs to save £350,000 every year until 2020 but the chief fire officer says getting rid of the new HQ isn't on the cards yet.
Steve Lunn says they're trying to make money off the extra space at the moment by integrating East Midlands Ambulance Service into the building.
He says in the future they would be keen to leave the building and maybe move to one of the other buildings they own.
Future of 'overpriced' HQ discussed

Amy Woodfield
BBC Local Live
The fire HQ in Birstall is a particular sore point. It cost £11m and only opened three years ago.
Fire Authority chairman Nick Rushton was reported to have said he would like to get rid of it, calling it "overpriced".
Chief fire and rescue officer Steve Lunn says: "Things have changed quite significantly since we started building headquarters. We have reduced the size of our back office function and I think what's abundantly clear to many people, we occupy a space much bigger than we actually need."
Fire authority discuss cost-cutting

Amy Woodfield
BBC Local Live
There's been a meeting today to discuss how Leicestershire Fire and Rescue Service will afford to keep running in the future.
Fire bosses looked at three things - the fleet of vehicles, their buildings and the management structure.
Foxes could clash in Euro 2016

Amy Woodfield
BBC Local Live
England will find out if they'll face Hungary, Iceland, Portugal or Austria in the knockout stages of Euro 2016 later. 
If it's Austria we could get a Leicester City clash between Jamie Vardy and Christian Fuchs... awks!
Council to consult public on Golden Mile plans

Amy Woodfield
BBC Local Live
You can find out more about how either of these plans could affect you during a five-week public consultation. This starts on Tuesday next week.
During this time the council will hold two public drop-in sessions at Belgrave Neighbourhood Centre and the designs will be on display at Belgrave Library.

Amy Woodfield
BBC Local Live
This is the other possible new look for the Golden Mile...
This idea includes keeping the four lanes for traffic. There would be fewer traffic lights and although the pavements wouldn't be wider they would be improved to look nicer.
Travel: Land slip near Ab Kettleby

Council plans to revamp Golden Mile

Amy Woodfield
BBC Local Live
This could be what Leicester's Golden Mile could look like in the future...
Two lanes of traffic with wider pavements and space to drive around bus stops and loading bays.
It's one of two ideas being considered by the city council to improve the area.
Leicester GP supports sick note extension

Amy Woodfield
BBC Local Live
If you've ever been so poorly that you've needed a whole week off work, you'll know you had to get a sick note from your doctor.
Now doctors are asking for that to change to two weeks instead to reduce the amount of unnecessary appointments.
Dr Fasi Khan is a GP in Leicester and supports the idea, saying: "I think there's always the potential of abuse but the reality is the vast majority people want to work and want to support their work colleagues. They don't want to be off work unnecessarily."  
New EU law 'would protect biodiversity'

Amy Woodfield
BBC Local Live
Others have welcomed the new law, which bans the commercial use of 23 different animals.
Charlotte Macdonald is head of life sciences at Twycross Zoo and believes it's fair.
She says: "If you think of red squirrels and red squirrels, we've almost lost the red squirrel because of an invasive introduced species.
"To protect our own biodiversity we do have to have legislation like that."
Watch: Animal law change sways EU vote

Amy Woodfield
BBC Local Live
The owner of an exotic animal business in Desford says a new law being considered has influenced his decision on whether to vote remain or leave.
'Remain' campaign in Leicestershire

Amy Woodfield
BBC Local Live
Here's a look back at when the "Vote Remain" campaign visited the county earlier this month.
Former PM Gordon Brown spoke in front of supporters at De Montfort University.
Shadow Chancellor John McDonnell also lent his support to the campaign at a Labour Party rally in Beaumont Leys.
Burglars in triple raid on firms

Pupils side with MPs after visits

Tim Parker
BBC Radio Leicester Political Reporter
Students at Stephenson College and Studio School in Coalville voted to leave in their own EU debate. It followed a visit from prominent Leave campaigner Andrew Bridgen.
Over at Rawlins Academy in Quorn students voted to remain in the EU their own debate. 
Remain campaigner Nicky Morgan spoke to them recently... the power of politicians! 
Latest Leicestershire headlines

Amy Woodfield
BBC Local Live
Boris Johnson has been campaigning for Brexit in Ashby-de-la-Zouch
A potential EU law about animals in captivity is influencing some voters
Leicestershire's match against Essex has been halted by rain
Cricket: More rain in Essex

Richard Rae
BBC Radio Leicester Sport
Students critical of referendum campaign

Amy Woodfield
BBC Local Live
One pupil at Rawlins Academy said: "I think it's dragged - there's been a lot of questions, not a lot of answers, different stats for the same question both saying it's their facts. It's been quite confusing."
Another said: "There's still people that haven't made up opinions and feel like they haven't got enough information yet. I think that's quite telling of how it's been handled." 
Police attacked by paranoid schizophrenic

Boris on the campaign trail in Ashby

Amy Woodfield
BBC Local Live
Here he is meeting locals and talking about his Brexit campaign...
His visit follows that of former PM Gordon Brown and current Shadow Chancellor John McDonnell.
They came to the county earlier this month campaigning to stay in the EU.

Staying dry this afternoon with plenty of cloud around and a couple of brighter spells. Potential for drizzle and rain this evening. 
Highs of 21C (70F)
Locals greet Boris Johnson

Amy Woodfield
BBC Local Live
Walking down the street in Ashby - stop BoJo for a quick selfie...
A bit of heckling for Boris

Tony Roe
BBC East Midlands political editor
Student shouts to Boris Johnson: "It's my future, why should we leave?"
Boris Brexit campaign arrives in Leicestershire

Tony Roe
BBC East Midlands political editor
Chaos in Ashby as Boris Johnson rolls into town at the start of a frantic last day...

Despite the rain, play has got underway in Essex on time.
Under the floodlights the hosts have resumed on 22 for one, a lead of 47 in their second innings.
School children review referendum campaign

Amy Woodfield
BBC Local Live
It's been non-stop referendum talk over the last few weeks as the Vote Remain and Vote Leave campaigns try to win over voters.
We've been asking for views on the campaign from the one audience no-one has been targeting- schoolchildren.
They might be too young to actually vote but pupils at Rawlins Academy in Quorn have got some pretty stern feedback for both sides.
Multicultural Leicester's referendum views

Ben Truslove
BBC News Online
Diverse Leicester is home to countless different nationalities. But is immigration a hot topic in the EU referendum?
Boris Johnson in Ashby on final campaign day

Amy Woodfield
BBC Local Live
The face of the Vote Leave campaign Boris Johnson is spending his last day of campaigning in Ashby de la Zouch.
He's going to be walking around the town with MP Andrew Bridgen.
PCC to get update on Countesthorpe problems

Amy Woodfield
BBC Local Live
The police and crime commissioner has made tackling nuisance behaviour in Countesthorpe one of his priorities...
Fire crew save calf from ditch

Amy Woodfield
BBC Local Live
It seems like it's not just us humans that have to put up with clumsy children.
A fire crew has been out in Earl Shilton this morning rescuing a calf that managed to get stuck in a ditch under a hedgerow.
They managed to get it out safely and back into the field with the other cattle.
...kids, eh?
Flooding: Council prioritising cases of flooding

Amy Woodfield
BBC Local Live
Phil Crossland, Leicestershire County Council's director for environment and transport, says they always investigate the cause of a flood.
He says: "We are pulling together a prioritised list of investigations. This will be a high priority one because there were properties flooded.
"I am aware of the issues potentially around the culvert that's now been reported as being blocked so we are getting a crew out there to investigate to make sure it's clear should we get further periods of rainfall."
Athlete calls for more investigation into Russian Paralympic team

An athlete hoping to be part of Team GB in Rio later this year has accused the International Paralympic Committee of being "extremely naïve" by allowing Russian athletes to compete at the Paralympic Games.
Sam Ruddock trains at Loughborough University and says there needs to be more investigation...
Latest Leicestershire headlines

Amy Woodfield
BBC Local Live
Flood victims say they feel 'let down' by authorities a week after their properties were flooded
Some students in Leicestershire have called the EU Referendum campaign poor and under-whelming
It's the last day of Leicestershire's County Championship match against Essex
Flooding: Victims feel 'let down'

Amy Woodfield
BBC Local Live
Helen and Nick Lee have a brook running along the bottom of their garden and it's up to them and their neighbours to keep it clear.
They say they do this but still it flooded last week.
They want to know why and claim they've been "passed from pillar to post" while trying to find out. A week on they're still none the wiser and have written a "strongly worded" letter to the county council.
Cricket: Last day against Essex

The Leicestershire batsman Angus Robson says they missed a chance to put the pressure on Essex yesterday.
Today is the final day of the County Championship match in Chelmsford. 
Leicestershire had been 128 for one before being bowled out for 243. It means the hosts will resume on 22 for one this morning, 47 runs ahead.

Amy Woodfield
BBC Local Live
It was a week ago today that the rainfall became too much in the north-west of the county and homes and businesses were flooded...