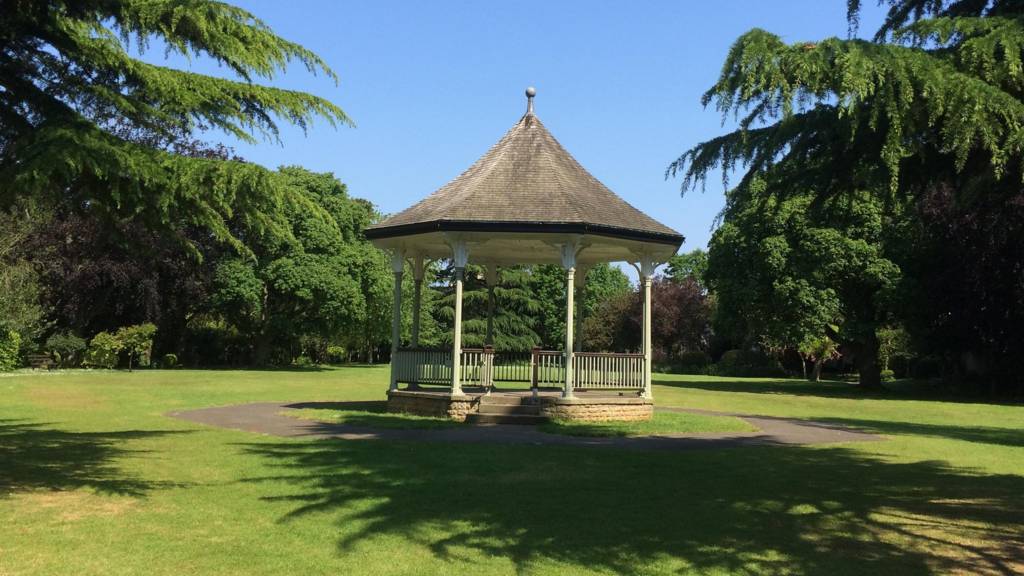 BBC Local Live: Leicestershire
Summary
Updates for Wednesday 13 July 2016
News, sport, travel and weather updates resume at 08:00 Thursday
Our live coverage across the day
That's all from Wednesday's Leicestershire Local Live. Updates will start again tomorrow from 08:00.
Weather: A lovely start to tomorrow

Kaye Forster
Weather Presenter
The showers will become fewer and further between this afternoon and many places will have a dry and bright end to the day. 
Staying dry overnight with clear spells. It will be a little chilly for some with lows of 8C (46F).
A lovely start to tomorrow with blue skies and plenty of sunshine early on.
Campaigners plea to halt expansion

Amy Woodfield
BBC Local Live
Ed Hunt will be one of those talking at the meeting later- he says he wants to emphasis that more than 1,000 local people have objected to the expansion.
He will also raise the issue of doubts about the need for the site to expand.
Developers IDI Gazeley also have planning applications in with the council to expand two other warehouses in Magna Park.
Mr Hunt says he wants the council to consider this when reconsidering the first application.
Meeting expected to attract protesters

Amy Woodfield
BBC Local Live
Ed Hunt is a parish councillor and a member of the Magna Park is Big Enough campaign group. 
He says he's expecting lots of people to turn up at a meeting later where Harborough District Council will reconsider a previously approved plan to expand Magna Park.
When the plans were discussed in January, more than 350 people turned up and they couldn't fit everyone inside!  
Countesthorpe PSPO: Villages support restrictions

Amy Woodfield
BBC Local Live
Police and the council spoke to 250 people in Countesthorpe about the idea of a Public Space Protection Order - 95% were in favour.
More than half of the people involved in the consultation thought antisocial behaviour in the area had got worse.
Countesthorpe PSPO: The punishment

Amy Woodfield
BBC Local Live
If a child breaks the new rules they could find themselves in trouble with the police or the council.
They could get a Community Resolution (apology or compensation to the victim) or even be prosecuted.
The restrictions will be in place for six months to start with but will be reviewed after the first three.
Three-car crash in Leicester

Amy Woodfield
BBC Local Live
The fire service has been called to the crash scene on Watermead Way near to Red Hill Circle.
They say there are three vehicles involved and four casualties that needed hospital treatment.
Travel: Accident blocking Watermead Way

Countesthorpe PSPO: The rules

Amy Woodfield
BBC Local Live
The PSPO will affect the places in green on this map...
From Friday children aged between 10-17 will not be allowed to gather in groups of more than four people.
They will also not be allowed to behave in a harassing way or have alcohol or drugs.
New powers to tackle Countesthorpe nuisances

Amy Woodfield
BBC Local Live
You might remember hearing about a consultation for a Public Space Protection Order in Countesthorpe to try to reduce anti-social behaviour.
Well, by the end of this week that order will be in place.

Amy Woodfield
BBC Local Live
A burglar has been jailed for six years after admitting to 23 burglaries in Leicester.
Police said Karl Clark, 35,  was appearing in court charged with breaking into a house in Beaumont Leys and asked for 22 further burglaries between July 2015 and July 2016 to be taken into account.
'Most successful year' for EMA's owners

Amy Woodfield
BBC Local Live
Have you flown from East Midlands Airport in the last year? Apparently fewer of us have.
The company that owns the airport says passenger numbers for the last financial year fell by 2.2%.
Despite the EMA figures, the Manchester Airport Group claims to have had its most successful year ever - it also owns Manchester and Stansted airports where passenger numbers went up quite a lot. 
Rutland MP playing down his cabinet chances

Amy Woodfield
BBC Local Live
Theresa May is expected to announce who has made it into her cabinet soon after taking on the role of prime minister.
MPs across Leicestershire and Rutland could feature.
Rutland and Melton's Sir Alan Duncan says: "I'm very happy to have supported her, to have been, I hope, a galvanising influence within the campaign.
"What gives me the greatest pleasure is seeing her as prime minister and that's much more important than me being a minister."
Commons comedy as PM says goodbye

Amy Woodfield
BBC Local Live
I'm trying to figure out a Leicestershire link to this video so I can show it to you.
I can't but here it is anyway - it's clips from David Cameron's final PMQs earlier - very funny...
Council to fund comedy festival

Amy Woodfield
BBC Local Live
Leicester's Comedy Festival will be able to happen next year because the city council ha-ha-have given organisers a grant of £35,000.
They've stepped in to help after TV channel Dave ended its funding of the event this year... no laughing matter.
The festival is worth about £3m of funny money to the local economy.
Kayleigh film watched in Humberside

Amy Woodfield
BBC Local Live
It looks like the short film police made about the grooming and murder of Measham's Kayleigh Haywood is being shown in other parts of the country now...
More than just a football manager

Amy Woodfield
BBC Local Live
Over the past year Claudio Ranieri has given us more than just football success - he's given us a few good laughs as well.
Highlights include the "dilly-ding dilly-dong" moment and the time he compared himself to Pinocchio at this press conference...
MPs discuss Glenfield in Parliament

Amy Woodfield
BBC Local Live
There was a meeting at the House of Commons on Monday to discuss plans to stop children's heart surgery at Glenfield Hospital.
Sir Edward Garnier, Conservative MP for Harborough, Oadby and Wigston, was there and said he and other local MPs were determined to find out more about the thinking behind NHS England's decision.
He said they would now be embarking on a lengthy programme to try to ensure the best outcome for people in Leicestershire.
Council introduces 'smoke-free zones'

Amy Woodfield
BBC Local Live
These signs will be going up in council-run parks across the city...
Deputy city mayor Rory Palmer says: "We're joining a number of councils up and down the country implementing this policy to encourage no smoking in children's play areas. "Making our play areas smoke-free is one way in which we can challenge the idea that smoking is a social norm, and hopefully prevent young people from taking up smoking."
Loughborough flood management plan to be drawn up

One year since Ranieri's arrival

Amy Woodfield
BBC Local Live
One year ago today Claudio Ranieri took his place as Leicester City's new manager... little did we know he would end up becoming a local hero...

Amy Woodfield
BBC Local Live
This makes me feel old - did you know it's been more than nine years since smokers were banned from lighting up inside pubs, clubs and restaurants?
That ban is now being extended to some playgrounds in Leicester.  
Latest Leicestershire headlines

Amy Woodfield
BBC Local Live
Local MPs and academics comment on the resignation of David Cameron and appointment of Theresa May
Leicester's playgrounds are to become "Smokefree Zones"
It's been one year since Claudio Ranieri took over as Leicester City manager
Loughborough MP will 'miss' Cameron

Amy Woodfield
BBC Local Live
'Leics need fresh blood to improve form'

Leicestershire need to make new signings to improve their white-ball cricket, says chief executive Wasim Khan.
Academic backs 'smart' May appointment

Amy Woodfield
BBC Local Live
Academics at the University of Leicester have commented on the appointment of Theresa May as the new Prime Minister.
"The selection of Theresa May for leader of the Conservative Party and so the new prime minister is potentially a very smart choice both for the party and for the country. Mrs May has a strong reputation as a tough and careful negotiator, which is exactly the right mix for the impending Brexit negotiations with fellow EU heads of member states."
Ashworth: Cameron leaves behind 'huge economic uncertainty'

Amy Woodfield
BBC Local Live
The Labour member for Leicester South wished David Cameron "well" as he gets ready to step down as prime minister but wasn't glowing about his legacy.
"We must also acknowledge that despite all his promises he leaves the country in a state of insecurity and huge economic uncertainty. Theresa May will inherit a government that remains committed to a failed and unfair policy agenda and which has refused to stand up for working people. Her record is the same as the Tories' failed record and the country deserves better."

Chamber calls for 'political strength and stability'

Amy Woodfield
BBC Local Live
East Midlands Chamber of Commerce has offered congratulations to Theresa May on becoming our new prime minister.
The organisation also called on her to focus on business needs in the months ahead.
Chief exec Scott Knowles said: "We make things here in the East Midlands and we ship what we make right around the world. It is essential that business here has the confidence to invest so that it can continue to drive growth.
"What is needed now is political strength and stability and we look forward to working with Mrs May and her new Cabinet to help them achieve both."

Amy Woodfield
BBC Local Live
Have you got a question you'd like to ask Leicester's mayor? If so now's you chance.
He's holding a Q&A on Twitter tonight... 
Leicester properties searched in fraud investigation

Amy Woodfield
BBC Local Live
Ten men and two women have been arrested as part of an investigation into a suspected multimillion-pound tax and money laundering fraud.
Police and 200 HMRC officers searched 13 private and 17 business addresses in Birmingham, Leicester, London and Milton Keynes on Monday.
None of those arrested were from Leicester.
Heritage concerns give Magna Park campaigners hope

Amy Woodfield
BBC Local Live
The review of the Magna Park expansion is a lifeline for campaigners against the plans.
Ed Hunt, from the Magna Park Is Big Enough group says: "The medieval village itself is very close to Bittesby House, the Grade-II listed building.
"Grade-II listed buildings themselves have a weight and a significance in the planning decision and that hasn't been considered."
Heritage concerns over Magna Park expansion

Amy Woodfield
BBC Local Live
Harborough District Council did grant permission for an expansion in January but legal advice recommended the plans were brought back to its development committee.
It's because of concerns about the impact an expansion could have on the nearby Bittesby deserted medieval village - listed as a Scheduled Ancient Monument.   

Drink-driving: Is fresh approach needed?

Amy Woodfield
BBC Local Live
"I think personally we need to look at a more bottom-up approach, which means community interventions, which means public education, which means nurturing people about the dangers."
Council to discuss Magna Park expansion

Amy Woodfield
BBC Local Live
Magna Park is back on the agenda today...
Plans to expland Europe's largest dedicated distribution development near Lutterworth are to be reconsidered later.
Should there be more warnings about drink-driving?

Amy Woodfield
BBC Local Live
BBC Radio Leicester have been asking some of you what you think should be done to stop drink-drivers.
One person said: "I don't know how you get the message over because educating the public if most difficult when they're stuck in their ways."
Another said: "I think there could be perhaps more advertising and more warnings maybe on roads and outside pubs."
Latest Leicestershire headlines

Amy Woodfield
BBC Local Live
Plans to expand Magna Park will be discussed again after concerns were raised about a deserted medieval village
Police have arrested a third more drink-drivers in this year's summer crackdown
Cricket: Last night's T20 Blast against Nottinghamshire was abandoned because of the rain

Wigan Athletic have signed former Leicester City loanee Nick Powell on three-year deal. 
It's after his contract came to an end at Manchester United.
Drink drivers warned 'patrols will catch you'

Amy Woodfield
BBC Local Live
"Too many people are still risking both their lives, and those of innocent people, by getting behind the wheel while unfit to drive. It is just not worth the risk, if you choose to drink and drive our round-the-clock patrols will catch you whether you are in the city, our towns or villages."