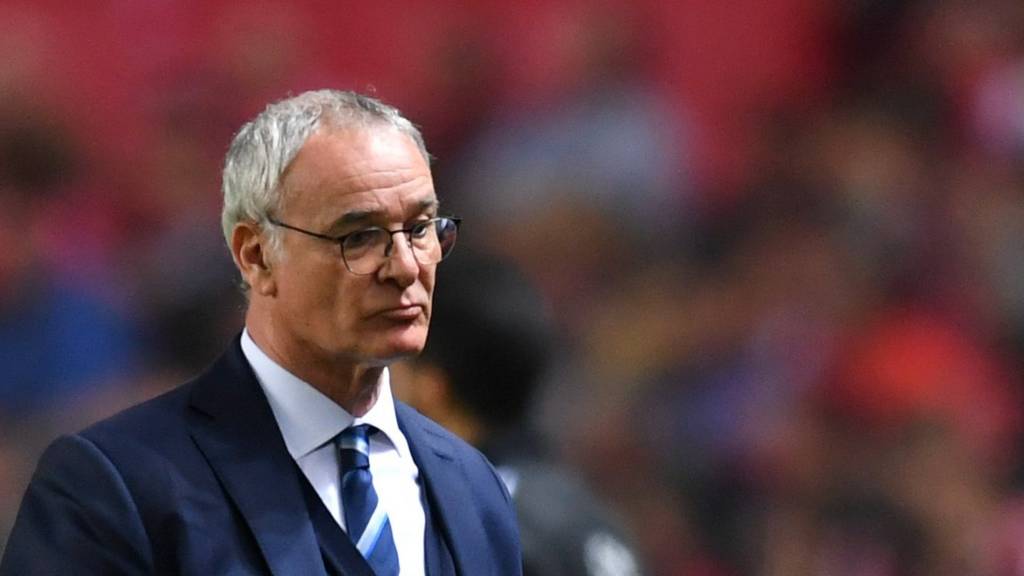 Live: Reaction to Ranieri sacking
Our live coverage across the day

Our live updates have now ended and will return on Monday 08:00. 

Watch: 'I feel like the candle's gone out'

The BBC Sport cameras have been down at the King Power Stadium getting reaction from fans to the sacking... 

Has football lost its soul?

Calum McKenzie

BBC Local Live

BT Sport commentator Ian Darke raises an interesting question... 

Watch: Five things we'll miss about Claudio

From his jovial press conferences to his famous "dilly ding, dilly dong" catchphrase, BBC Sport looks back at what we'll miss from Claudio Ranieri after he was sacked as Leicester manager...

Listen: 'Crazy' sacking gives players 'a clean slate'

Here is what former Leicester player Joey Gudjonsson thinks of the decision to sack Claudio Ranieri and the possible involvement of the players in all of this... 

Shakespeare: We'll need fans support

Calum McKenzie

BBC Local Live

Leicester caretaker boss Craig Shakespeare also used his press conference to issue a rallying cry to supporters.

Churchillian it wasn't but here is what he said... 

"I can't tell the fans how to behave," Shakespeare told reporters at the King Power Stadium. 

"What I will say is we'll need their support over the next few matches, starting with Liverpool on Monday." 

Ranieri thanks club and fans

There's more from the man himself including his "heartfelt thanks" to everybody at the club but "mostly the supporters".

Ranieri will 'always love' Leicester city

Quote Message: Yesterday my dream died. After the euphoria of last season and being crowned Premier League champions all I dreamt of was staying with Leicester City, the club I love, for always. Sadly this was not to be." from Claudio Ranieri Former Leicester City manager

Breaking

Ranieri's 'dream died' when sacked

Claudio Ranieri has said "yesterday my dream died" following his sacking by Leicester, in a statement released to Press Association Sport. 

Jon Rudkin 'central in appointing new manager'

Calum McKenzie

BBC Local Live

The Times' chief football writer Henry Winter tweets... 

Ranieri 'still in demand'

Calum McKenzie

BBC Local Live

BBC Sport editor Dan Roan tweets... 

Bruce: I'm scratching my head at Ranieri dismissal

Calum McKenzie

BBC Local Live

Steve Bruce, who is in charge of Aston Villa, is the latest manager to slam Claudio Ranieri's sacking.  

Copyright: Justin Setterfield/Getty Images

"We understand as managers now that we are the whipping boys," the former Birmingham and Hull boss said. 

"I'm scratching my head, like everyone else is, asking myself how someone who delivered the finest achievement in football last year could now be sacked." 

ITV Midlands reporter Ben Chapman tweets... 

Your comments: Were the players to blame?

There are still plenty of comments coming into the BBC Leicester Facebook page reflecting on last night's sacking and whether the players are to blame.

Gillian Morris  writes: "Regardless of what Shakespeare says, or rather didn´t say, some of the playing squad need to take a long hard look at themselves.

"They should take some responsibilty for the position that Leicester find themselves in and should hang their heads in shame for their effort and attitude so far this season." 

Jones: The papers always want a scapegoat

Calum McKenzie

BBC Local Live

Switching sports again temporarily, here is a little bit more from England rugby head coach Eddie Jones (see 14:57) about the demise of Claudio Ranieri.

Copyright: David Rogers/Getty Images

"I must admit I felt a bit sick hearing the news because he's such a great, honourable guy and he's done a fantastic job. 

"The papers want to blame the players for his demise, the papers always want to have a scapegoat, but the reality is when you're successful it's a combination of players and staff working together, and when you're unsuccessful it's a combination of players and staff too."

Watch: Shakespeare faces the media

Cars, Claudio and trips to Los Angeles - here are the highlights of Craig Shakespeare's first press conference as caretaker manager of Leicester... 

Lawro predicts: Leicester 0 Liverpool 2

Mark Lawrenson

Former Liverpool defender

I made my original prediction for this game before Ranieri's exit and, although I have not changed the score, the situation makes it more difficult for Liverpool.  

Copyright: PAUL ELLIS/AFP/Getty Images

There is no doubt there will be more of a unified effort from the Leicester team, whether their new manager is in place or not. It always happens.

I still think Liverpool will win, if they play like they did against Tottenham. It suits the Reds when they press teams all over the pitch, and that is definitely the way forward for them.

Preview of Foxes-Reds coming up

Calum McKenzie

BBC Local Live

Amid all the drama of the last 12 hours there is of course a game with Liverpool on Monday evening - we'll look ahead to that with Mark Lawrenson momentarily... 

Jones: I have sympathy for Ranieri

England rugby union head coach Eddie Jones has added his name to the list of people who have come out in support of sacked Leicester boss Claudio Ranieri.

Copyright: David Rogers/Getty Images

He said: "Leicester City is an amazing story, I feel a lot of sympathy for Ranieri."

"You can understand why us coaches are looking over our shoulders."

Mourinho wears t-shirt in support of Ranieri

Sky Sports News reporter Fraser Dainton tweets...