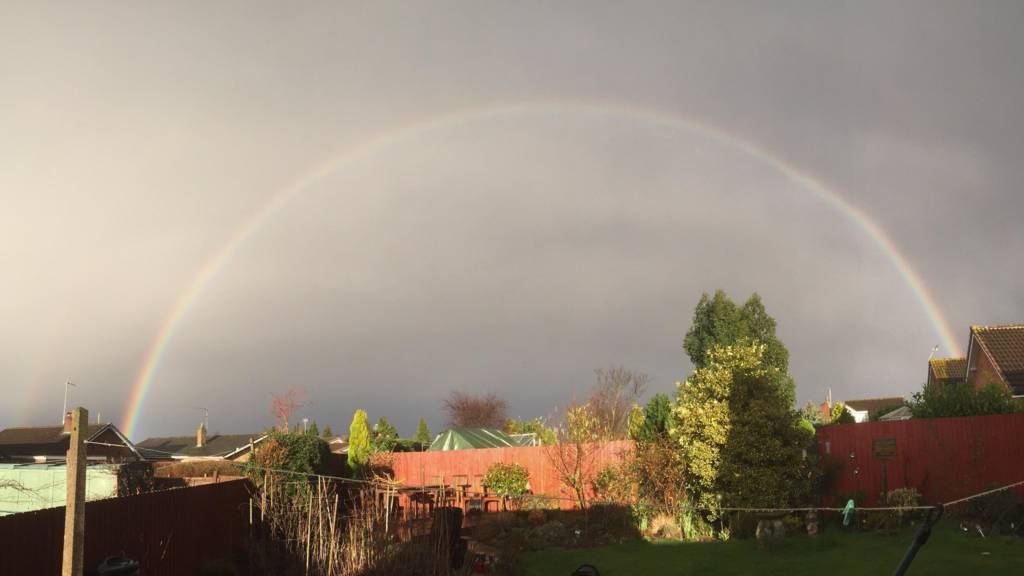 Latest updates: Leicestershire Live
Our live coverage across the day

Today's Local Live coverage has now finished. We'll be back at 08:00 on Wednesday.  

Weather: Another cold night

It'll be cloudy with scattered showers in the first half of the night. 

Lows of 2C (36F) in towns and cities but it'll be cooler in rural spots.

There'll be some brighter weather tomorrow with variable amounts of cloud and the risk of occasional showers. 

Highs of 8C (46F).

Plans to clean up site of former textile company

School places to be offered

Amy Woodfield

BBC Local Live

Some parents in Leicestershire might be feeling a bit on edge tonight as tomorrow is "offer day" for secondary school admissions.

Fingers crossed for you all - please feel free to get in touch and tell us whether or not you're happy with the place your child has been offered.

Watch: Guardiola 'surprised' by Ranieri sacking

Manchester City manager Pep Guardiola admits he was "surprised" after Claudio Ranieri was sacked by Leicester City last week...

Travel: Lights out in Aylestone

Amy Woodfield

BBC Local Live

Hodgson bookies' favourite for Foxes' job

Amy Woodfield

BBC Local Live

According to one bookmakers Roy Hodgson is now favourite for the Leicester City manager job.

William Hill have the former England boss at 13/8 to replace Claudio Ranieri - followed by Craig Shakespeare at 5/2, Guus Hiddink at 7/1 and Nigel Pearson at 9/1.

Watch: Tunisia attack victims' family feel 'let down'

Amy Woodfield

BBC Local Live

Adam Fisher - the son of Leicester couple Ray and Angela Fisher who were killed in the 2015 Tunisia terror attack - believes the tour operator TUI didn't do enough to protect his parents. 

Rugby: Players to miss Exeter clash

Leicester Tigers has confirmed Ed Slater and Jack Roberts are both ruled out of Friday night's clash with Exeter.

Prop Pat Cilliers has also been given a 50-50 chance of being fit for the game.

Your photos: Sheep in Kegworth

What ewe looking at?

Nice photo, taken in Kegworth, by Weather Watcher scrappy.

Fewer empty shops in Loughborough?

Amy Woodfield

BBC Local Live

Figures from the Loughborough's Business Improvement District (BID) show the town has the lowest number of empty shops for five years.

The BID claims Loughborough is doing much better than the national average in terms of how many shops they have open - but several business owners in the town have been telling BBC Radio Leicester they think otherwise.

A woman, who has been running a shop in the town for 30 years, said: "A lot of people have stopped coming into town, they don't find it very attractive. People don't terribly like the new pedestrianisation."

She thinks more people are choosing to shop locally in the smaller towns and villages of Leicestershire.

Tributes paid to Guinea Pig Club member

Sonia Kataria

BBC News Online

Yesterday we brought you the sad news that World War Two pilot Sandy Saunders died from cancer on Sunday. 

He was one of the last surviving members of the Guinea Pig Club - a group which was given experimental, pioneering plastic surgery.

Paying tribute to the veteran, director and actor Simon Callow said he had the "extraordinary pleasure" of meeting the "inspiring" man.

Mr Callow, who is directing a play about the club, said: "Sandy himself was nothing but elegant, precise, and funny."

Leicester man 'missing for weeks'

Amy Woodfield

BBC Local Live

Leicestershire Police is appealing to find this man, Patrick Hehir.

Copyright: Leicestershire Police

The 47-year-old, from Leicester, was reported missing at the end of January and his family are becoming increasingly concerned  for his welfare. 

East Midlands weather update: Fairly cloudy through afternoon

It will be fairly cloudy through the afternoon with some outbreaks of rain , with a maximum temperature of 7C (45F).

The psychology of Leicester City's revival

Leicester City's former psychologist explains what went wrong - and then right - at Leicester this season.

Tunisia attack police response condemned

Amy Woodfield

BBC Local Live

The police response to a terror attack at a Tunisian beach resort in which 30 Britons died was "at best shambolic and at worst cowardly", a coroner has concluded . 

Judge Nicholas Loraine-Smith ruled a total of 38 people were "unlawfully killed" when a gunman opened fire at a hotel in Sousse in June 2015.

The 38 killed included Ray and Angela Fisher, from Leicester.

The judge rejected a finding of neglect against the tour firms and the hotel.

Remembering an old workplace

Amy Woodfield

BBC Local Live

Chris Huscroft worked for British Shoe for 34 years.

He told BBC Radio Leicester: "I saw this building in construction back in 1963. Here we are in 2017, and I'm still talking about it."

He's hoping to salvage the statue in the pond at the front - he wants it to feature at an exhibition here at BBC Leicester, starting 13 March.

Watch: End of an era for former Leicester shoe business

Amy Woodfield

BBC Local Live

The former site of the British Shoe Corporation in Braunstone is being demolished today.

Work to bring down the site started a while ago, but today will see this final office block come down.

At its height, the Braunstone firm employed about 60,000 people around the country and one in four of every pair of shoes bought were made there.

A sad sight for many of you I'm sure.

Watch: Record-breaking Jaffa Cake

Amy Woodfield

BBC Local Live

WARNING: Don't watch this if you're hungry.

Market Harborough's Frances Quinn (who you might recognise from the Great British Bake Off) has gone into the record books for making this - the largest Jaffa Cake.

Frances tweeted earlier to say her certificate from Guinness World Records has arrived.

Watch: Pancake Day in Leicester

Amy Woodfield

BBC Local Live

Bishop Martyn Snow has been having some Shrove Tuesday fun at Leicester Cathedral.