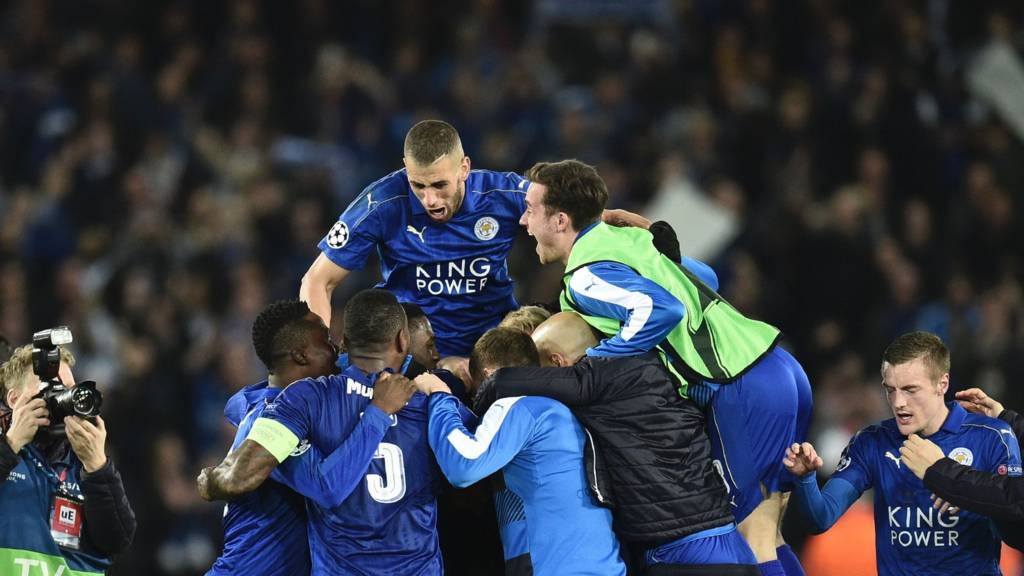 Latest updates: Leicestershire Live
Summary
Updates for Wednesday 15 March 2017
City into Champions League last eight
Man who suffered cardiac arrest at match 'alive and recovering'
Pair bailed over boy's water park death
WWE wrestlers set for music festival
Cricket: Foxes sign Ronchi for T20 Blast
News, sport, travel and weather updates resume at 08:00 Thursday
Our live coverage across the day

Our live updates have now ended and will return tomorrow from 08:00. 

Weather: Mild evening ahead

Largely clear skies with a few patches of cloud through this evening.

Overnight skies will begin to gradually cloud over from the west. A few patches of hill fog in prone spots.

Minimum temperatures of 7C (45F).

Watch: Race horse trainer suffers abuse after Leicester meet

Lucy Bickerton

BBC Radio Oxford

One of Lawney Hill's horses recently crossed the line in third place at Leicester. What followed. Lawney describes as "anger and bile" from gamblers. 

Here's her story...

Murphy: No surprise Tigers are in Anglo-Welsh final

Leicester Tigers assistant coach Geordan Murphy has praised his players for getting the club to Sunday's final of the Anglo-Welsh cup against Exeter Chiefs. 

"I don't know why it should be a surprise that Tigers are in the final," the former Ireland international told BBC Radio Leicester. 

"Credit to the players, they've been really committed." 

Ashby man identified following house 'stabbing'

Calum McKenzie

BBC Local Live

Police have formally identified a man found dead from stab wounds at a house in Ashby-de-la-Zouch on Thursday 9 March.

He is 25-year-old Warren Hall of Holland Crescent in the town, Leicestershire Police said. 

The force added the woman who was found inside suffering from serious stab wounds is 25-year-old Sandie Rayne, Mr Hall's former partner. 

Police have also confirmed that they are not looking for anyone else in connection with the incident. 

Your photos: March across Leicestershire

Calum McKenzie

BBC Local Live

Thank you to Linda Williams for getting in touch via Facebook to send in these pics of Bradgate Park looking glorious in the spring sunshine. 

Copyright: Linda Williams

Copyright: Linda Williams

Buffon: We don't want to play Leicester next

Juventus do not want to play Leicester in the quarter-finals of the Champions League, according to the Italian team's keeper and captain Gianluigi Buffon.

Copyright: FRANCISCO LEONG/AFP/Getty Images

The Italian champions beat Porto to reach the last eight, while the Foxes also progressed by overcoming Sevilla.

The Italy captain, 39, said: "Who do I prefer not to play? Leicester.

"They are a dangerous and passionate team who can cause trouble for opponents who take the initiative. We would have everything to lose."

New Zealand international 'can't wait' to get started with Foxes

New Zealand wicketkeeper-batsman Luke Ronchi has said it is "an exciting time" to be joining Leicestershire, having signed for the entire T20 Blast campaign.

He has previously played in England for Somerset and  Warwickshire,  as well as touring with New Zealand.

"It seems like an exciting time at the club with a few personnel changes and talented additions," Ronchi said.

"I love playing county cricket and can't wait to get started.

"I hope I can make a difference both on and off the field and contribute to a successful campaign."

Tom Foley to referee Chiefs-Tigers Anglo-Welsh final

Calum McKenzie

BBC Local Live

Premiership Rugby tweets... 

Man who suffered cardiac arrest at match 'alive and recovering'

Ian Stringer

BBC Radio Leicester Foxes commentator

The family of Leicester City fan who was taken ill last night (see 11.47) have asked me to share this message. 

He's alive, recovering and asked "did we win" when he woke up.   

Afternoon weather update: Warm and bright

It should feel fairly warm for most of this afternoon with light winds and highs of 15C (59F).

Concern Leicester's ex-service personnel group may shut

Simon Ward

East Midlands Today reporter

I've been to the Leicester Senior Service Club where they are desperate for more ex-service personnel to join. 

They are worried about not having enough members and will consider possible closure at their AGM on Sunday. 

The group has been in existence for more than 40 years. 

WWE wrestlers set for return to Download Festival

Calum McKenzie

BBC Local Live

Performers from WWE wrestling are set to form part of the entertainment at this year's Download Festival at Donington Park.

Wrestlers including Bobby Rhode, Aleister Black, Tye Dillinger and Kassius Ohno will appear inside the ropes. 

Festival promoter Dave Bradley said: "Having WWE NXT at Download is like seeing what happens when an unstoppable force meets an immovable object - you just know sparks are going to fly." 

The Download Festival will take place at Donington Park from June 9 to 11.

Man suffers cardiac arrest at Leicester v Sevilla match

Andy Trigg

BBC Radio Leicester newsreader

A man in his 50s was taken to hospital during last night's Leicester City game after suffering a cardiac arrest at the King Power Stadium.

Copyright: Michael Regan/Getty Images

Ambulance crews were seen giving the man CPR in the East Stand at about 20:45 after they found him unconscious and not breathing. 

"We worked closely with members of St John Ambulance to resuscitate the patient who was then conveyed to Leicester Royal Infirmary," a spokeswoman for East Midlands Ambulance Service said. 

Today's Leicester Mercury front page

Leicester City's Champions League victory over Sevilla is up there with some of the club's greatest achievements, manager Craig Shakespeare said.

Copyright: Leicester Mercury

'Bring on Barcelona': A fan's perspective on City's greatest night

Oliver Wright

BBC Local Live at King Power Stadium, Leicester

What a match. I've been to some big Leicester games before but perhaps none bigger than last night.

Inside the stadium the atmosphere was electric, with thousands of blue and white flags waving, the Sevilla fans chanting, the Let Slip the Dogs of War banner unfurled at the Kop end. 

Then the real fun started - and what fun it was. The noise from the crowd was immense but when Morgan's goal went in the noise went up another notch. From then on the crowd barely stopped singing. Albrighton's second, the sending off, the penalty save - the game had it all.

No title was decided last night, no cup handed out, but it's hard to imagine a bigger game in the history of Leicester City. To quote the man who got us there "We're in Champions League quarter finals man! Dilly ding, dilly dong". 

Bring on Barcelona!

Your Questions: Why have the stocks in Oakham got five holes instead of four?

Calum McKenzie

BBC Local Live

Thank you to Derek Cullen for getting in touch via Your Questions to ask: Why have the stocks in Oakham got five holes instead of four?

I tried the local museum, who didn't know, so widened my research and have now managed to get you an answer, or, at least a possible explanation for their use. 

"Five hole stocks are not uncommon although not many now survive," according to Dr Sarah Richardson from the University of Warwick.

She added: "Five hole stocks originate from Roman times when the arms, legs and head were confined which was more a form of torture than a shaming punishment." 

"More likely with the Oakham example is that juveniles or women could have both legs confined to one hole so they could not wriggle free. Sometimes men were also confined by one leg alone."

Dr Richardson believes more than one man could be detained at one time, probably on alternative sides. 

Your photos: March across Rutland

Calum McKenzie

BBC Local Live

It was quite a sunset in Rutland last night - and our BBC Weather Watchers were busy capturing it on camera. 

Copyright: none/BBC Weather Watchers

Copyright: Andy's Rutland/BBC Weather Watchers

Copyright: Parth T/BBC Weather Watchers

Pair bailed over Charlie Dunn water park death

A man and woman who were arrested in connection with the death of a five-year-old boy  have been bailed by police.

Copyright: Family handout

Charlie Dunn, from Tamworth, died in hospital after being found submerged in a lake at Bosworth Water Park in Leicestershire on 23 July.

The couple were arrested on suspicion of manslaughter by gross negligence and child neglect.

The man is aged in his 30s and the woman is in her 20s. They were arrested in Staffordshire.

An inquest into Charlie's death was opened and adjourned until April.

Breaking

Foxes bolster T20 options with Luke Ronchi signing

Calum McKenzie

BBC Local Live

Leicestershire Foxes have signed New Zealand international wicketkeeper-batsman Luke Ronchi for the duration of the T20 Blast. 

Copyright: Hagen Hopkins/Getty Images

Ronchi, who has scored 1,619 T20 career runs, has been signed to replace Sharjeel Khan who is the subject of an ongoing anti-corruption investigation.

Leicestershire head coach Pierre de Bruyn said: "We're delighted to sign Luke, who will offer power and dynamism to our batting line-up. 

"He has played a lot of games around the world and his experience in the shortest format of the game will also help our youngsters."  

Ronchi has previously had spells in county cricket with Warwickshire and Somerset.