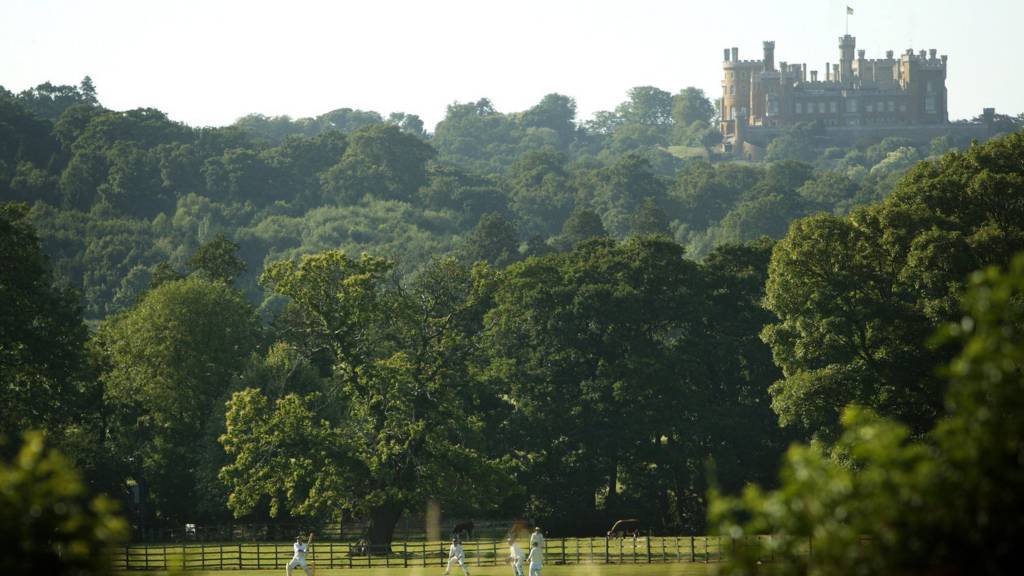 Latest updates: Leicestershire Live
Summary
Updates for Thursday 23 March 2017
Next reports first profits drop in eight years
Police boss seeks to reassure county after London attack
Bungled raid on bike shop caught on camera
Foxes 'one of few' clubs providing accessible toilets
Salvation Army leaves note to try to deter thieves
Our live coverage across the day

Our live updates have now ended and will return tomorrow from 08:00. 

East Midlands weather update: A chance of some frost overnight

Alexandra Hamilton

BBC weather presenter

There'll be some clearer spells tonight with cloud increasing from the south in the early hours. 

There'll also be the chance of patchy frost in sheltered rural spots.

Watch: 'Be vigilant, be calm', says Leicestershire Police chief

Heather Burman

BBC News Online

Leicestershire Police chief constable Simon Cole has released this short statement in response to Wednesday's terrorist attacks... 

MP: Tougher security 'would let the terrorists know they've won'

Calum McKenzie

BBC Local Live

North West Leicestershire MP Andrew Bridgen has said any review of Parliamentary security procedures in the wake of Wednesday's terrorist attacks should not go as far as denying the public access to Westminster. 

He told the Commons: "In an open and free democracy such as ours there's... a balance between our security and public access to our democracy. 

"If that balance is not maintained then unfortunately the terrorists will have won."  

Salvation Army's note for thieves 'has stopped break-ins'

Eric Simpson

BBC News Online

I have just spoken to Major Anita Purkiss from the Salvation Army about their sign (see 14:52).

She said the charity decided to put up the sign following an attempted break-in before Christmas. 

She said: "It caused a lot of damage to the doors - and they didn't actually manage to get inside - but it will probably will cost thousands of pounds to repair.

"But it [the sign] seems to have worked as we haven't had any attempted break-ins since then."

'Air of deflation' likely at Mauger's Tigers farewell

Calum McKenzie

BBC Local Live

There might be an "air of deflation" around Leicester Tigers at the end of their game with Northampton on Saturday, according to TV rugby commentator Simon Ward. 

The match marks Aaron Mauger's final game in charge of Tigers before Matt O'Connor (pictured right) takes over. 

"The next two games [Northampton and Bath] will decide if Tigers get a top four finish," the ITV and BT Sport commentator said. 

"Credit to the guy [Aaron Mauger] he is going to stick to his task and hopefully go out on a high, but I can't help but feel there's going to be an air of deflation." 

Mauger admitted earlier this week to have been "devastated" at the decision not to appoint him as head coach.

Copyright: Nigel Roddis/Getty Images

Salvation Army leaves note to try to deter thieves

Calum McKenzie

BBC Local Live

It would appear the Salvation Army in Leicester has decided to take a different tack in order to stop people trying to break in. Have a read of this notice... 

It was spotted by BBC camera operator Jemma Cox outside the charity's premises on Aikman Avenue in the city. 

I quite like the "we have angels on our doors" line - but will that be enough to deter potential thieves?  

London attack: Leicester City Council flag at half mast

Calum McKenzie

BBC Local Live

Charity: Foxes 'one of handful' in league who provide accessible toilets

Calum McKenzie

BBC Local Live

Leicester City are among just handful of Premier League clubs who provide fully accessible toilets for disabled fans at their ground, according to charity Mencap.

Copyright: Stephen Pond/Getty Images

The toilets are larger than standard accessible facilities as they have additional equipment, including an adjustable changing bench, hoist, privacy screen and enough room for up to two carers. 

The Foxes, Arsenal, Manchester City and Manchester United all have one accessible toilet, while West Ham have three and Liverpool have two.

Luke Nash (pictured above), a Foxes fan who has a mild learning disability and a profound physical disability, campaigned for the King Power Stadium to get an accessible toilet. 

"I don't think all football clubs really think about how difficult it is for people like me to go to the toilet in their grounds," he said.

"It's often really tight and there isn't space to be changed so you have to lie on the floor of a public bathroom, trying not to hit your head or think about the dirty floor you're lying on." 

East Midlands weather update: A dry and bright afternoon

Charlie Slater

BBC Weather presenter

It will be dry and bright this afternoon with plenty of sunny spells and some cloud.     

London attack: Leicester Cathedral to say prayers for those affected

Calum McKenzie

BBC Local Live

Leicester Cathedral tweets... 

Your photos: March across Leicestershire

Calum McKenzie

BBC Local Live

After the downpours of Wednesday, it looks a much calmer day down by the water in Market Harborough. 

Copyright: Billie's View/BBC Weather Watchers

Thanks to BBC Weather Watcher Billie's View for sending it in. 

Calum McKenzie

BBC Local Live

I hope you have enjoyed having Gavin look after things for the last few hours.

It's me again now, guiding you through what remains of Thursday's Local Live. 

You lucky souls... 

Watch: Bungled raid on bike shop

Gavin Bevis

BBC Local Live

Thieves have been caught on camera fleeing an attempted ram-raid on an electric bike shop in Leicester... after getting their car stuck in a window.

The owner of Just E Bikes said nothing was taken in the incident in Hinckley Road on Sunday morning but several bikes had been damaged .

Leicestershire Police said it was investigating.

Next shares up despite profits fall

Gavin Bevis

BBC Local Live

Shares in Next have surged since this morning's profit fall announcement . 

The Press Association said this reflected investors breathing a sigh of relief that the chain had not downgraded its forecasts for the year ahead.

George Salmon, equity analyst at Hargreaves Lansdown, said Next had been hit by internal and external factors, which has seen its share price halve in the past 18 months.

He said: "After years of solid growth, the directory division has started to splutter recently. Online retailing moves fast, and Next has fallen behind the curve.

"The group is now taking steps to improve, particularly in mobile, but results will need to be delivered quickly if it is to offset the continually declining sales in stores." 

Police boss to set out his vision

Tim Parker

BBC Radio Leicester political reporter

I'm in New Parks, where Leicestershire's police and crime commissioner Willy Bach is about to launch his first police and crime plan.

London attack: Mayor's tribute to 'brave' police

Gavin Bevis

BBC Local Live

Nicky Morgan: 'The Palace of Westminster must stay open'

Gavin Bevis

BBC Local Live

Loughborough MP Nicky Morgan struck a defiant tone while reflecting on yesterday's attack on Westminster.

London attack: 'Hero' MP studied at Loughborough

Gavin Bevis

BBC Local Live

An MP singled out for praise for his actions during yesterday's Westminster terror attack is a former Loughborough University student.

Tobias Ellwood, Conservative MP for Bournemouth East, performed mouth-to-mouth resuscitation on PC Keith Palmer, who had been stabbed by the attacker.

The 48-year-old officer later died but Mr Ellwood was called a "hero" for trying to save him. 

Mr Ellwood studied at Loughborough University for five years before joining the army and eventually entering politics.

Leicestershire Police sees increase in child sex cases

Gavin Bevis

BBC Local Live

The number of sex offences involving children recorded by Leicestershire Police has risen by more than a third, according to new figures obtained by the NSPCC .

The force was contacted over 605 alleged incidents in 2016 - that's compared with 444 the year before. 

The 36% increase is almost double the national average.