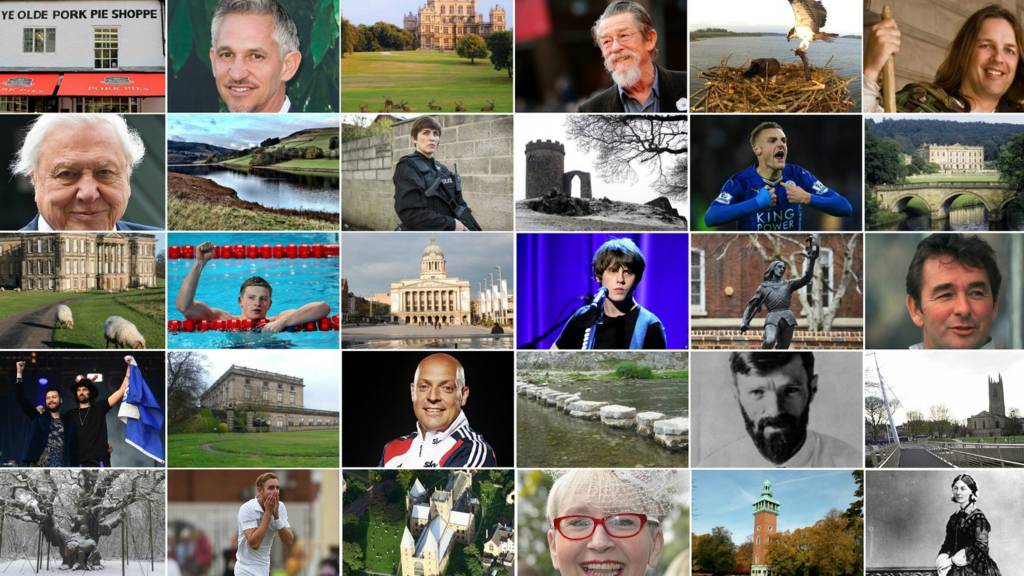 Latest updates: East Midlands Live
Listen live to your BBC local radio station in Derbyshire, Leicestershire and Nottinghamshire.
Summary
Funeral has taken place for Leicester schoolgirl after theme park death
Teenager's body found in car after Leicester crash
Murder probe after man found in Leicester street
Derbyshire PCC wants force to be 'more representative' of community
Buses powered by poo launched in Nottingham
Nottingham Forest boss 'impressed' with new Greek owner
Updates for Tuesday 16 May 2017
Our live coverage across the day

That's all from the East Midlands live page - updates will start again on Wednesday at 08:00.

Weather: Cloudy with outbreaks of rain

Alexandra Hamilton

BBC weather presenter

It'll be cloudy with further outbreaks of rain tonight, which may be heavy in places. 

Feeling mild tonight with lows of 10C (50F).

Tomorrow will start cloudy with the potential for some heavy rain.    

Former Ipswich defender joins Mansfield

Graeme Mac

BBC Radio Suffolk sport

Paul Digby, who was released by Ipswich Town at the beginning of the month, has joined League Two side Mansfield Town.

The 22-year-old arrived at Portman Road on loan from Barnsley in January of last year, before agreeing to a one-year deal in June. 

However, Digby struggled for first team football during both spells with the Blues, making just seven starts and five substitute appearances in total.

It is expected that Digby will be used as a central midfielder at the One Call Stadium, despite operating mainly at centre half under Mick McCarthy.

Police appeal for help with murder investigation

Sandish Shoker

BBC News Online

Police have asked for help with a murder investigation after a man found with injuries in St Matthews Way, Leicester, died.

Leicestershire Police have asked for anyone who saw what happened or has heard any of the rumours to get in touch.

Det Ch Insp David Swift-Rollinson, said: "We know there were a number of people in the area at the time, who may have witnessed what happened, saw the build-up or the aftermath. It's these people we urgently need to trace."

Officers have asked for people to send them any footage they have from CCTV, dashboard cameras or mobile phones.

A cordon remains in place in St Matthews Way and a 17-year-old arrested on suspicion of murder remains in police custody.

A post-mortem examination was due to take place today.

Evha Jannath: Classmates will return to school with 'heavy heart'

Liam Barnes

BBC News Online

The service in memory of Evha at Saffron Hill Cemetery earlier was short and sombre.

Hundreds of mourners packed into a room at the cemetery, with many having to stand outside.

It was attended by male relatives and members of the community in Leicester, who may not know the family as they are new to the area, but were there to show their support.

A prayer was said before the coffin was carried out again for the burial.

Afterwards the head teacher of Evha's school said her classmates had been given the afternoon off and said they would all "go back in tomorrow with a heavy heart".

Padley Centre given £80,000 to help disadvantaged

Khia Lewis-Todd

BBC Local Live

The Padley Centre in Derby is being given nearly £80,000 by the county's police and crime commissioner to try and help street drinkers, the homeless and drugs users in the city.

The pilot project, which will run for a year, begins next month and will specifically target those who are reluctant to get help.   

Derbyshire's Police and Crime Commissioner Hardyal Dhindsa said robust action will be taken to help those with severe social problems get their lives back on track.

More volunteers needed to adopt canals

Khia Lewis-Todd

BBC Local Live

The Canal and River Trust is urging more people to adopt parts of the network to help them maintain the waterways.  

Four volunteer groups in Derbyshire have adopted stretches of canal across the county. 

Volunteers from Cromford, Long Eaton and Findern have already taken up the Canal and River Trust on the offer. 

The Erewash Canal Preservation and Development Association already looks after a stretch in Long Eaton.  

The chairman Norman Cornwell believes there are clear benefits to canal adoption.

Quote Message: The Canal and River Trusts don't have the people and probably the money to do all the work that's needed on every canal in the country. So those that get lots of use obviously get more attention and those which don't get that much use are looked after by volunteers." from Norman Cornwell Erewash Canal Preservation and Development Association chairman

Ilkeston death: Picture released of pensioner

Khia Lewis-Todd

BBC Local Live

This photo of Derek Levers with his grandson has been released by Derbyshire police.

Copyright: Derbyshire Police

The 86-year-old collapsed after a reported dispute with another man at his home in Ilkeston on Sunday.

He was helped by a passer-by and taken to hospital but died on Monday.

A 31-year-old man has been arrested and is being questioned by detectives.

Cricket: Play to begin again in a shortened game

Dave Bradley

Cricket commentator

Play between Worcestershire and Derbyshire will begin after a break for rain.

Derbyshire were on 35-1 when play stopped in the Royal London One-Day Cup. The game is now reduced to 36 overs a side.

You can hear full commentary on BBC Hereford & Worcester's 738AM frequency and online.

Be part of election debate audience

The panellists have been confirmed for our general election debate at the National Justice Museum (formerly the Galleries of Justice) on Wednesday 24 May.

They are: 

Conservative: Mark Spencer, standing in Sherwood
Green: Kat Boettge, standing in Nottingham East
Labour: Chantal Lee, standing in Newark
Liberal Democrat: Robert Swift, standing in Gedling
UKIP: Fran Loi, standing in Broxtowe    

You can be a part of the audience and put your questions to the candidates by filling in this online form.

Men remain in custody over teenager's death

Sandish Shoker

BBC News Online

Police say two men arrested over the murder of 16-year-old Megan Bannister remain in custody where they are being questioned by detectives.

The men, aged 27 and 28, were arrested following the crash on Desford Road, Enderby in Leicestershire on Sunday morning.

The force said detectives were continuing their investigation to establish the exact circumstances into her death. 

Watch: Ex-footballer opens addiction centre

Khia Lewis-Todd

BBC Local Live

Former Nottingham Forest player and Derby County defender Gary Charles is using his experience of alcoholism and addiction to stop other sports stars taking a similar path. 

Charles got call-ups to the England squad in the late 1980s and 90s, but after being forced to retire through injury, he ended up being jailed for 6 months for dangerous driving. 

The former footballer - who has been sober for 10 years - says he's determined to have a positive influence now.

Boris Johnson in Nottinghamshire

Tony Roe

BBC East Midlands political editor

Foreign secretary Boris Johnson has been in Nottinghamshire this afternoon visiting a haulage firm in Lenton.

During his visit for the Conservative campaign he said he hoped wages would rise with a strong economy after Brexit.

Labour leader Jeremy Corbyn visited Derby earlier this month and Leicester where he held a rally at the Leicester Tigers's Welford Road ground.

People gathered to 'show support' to family

Sandish Shoker

BBC News Online

Spokesman for the family, Keith Vaz, said: "This is a terrible day, not just for them [the family] but for all of us in Leicester.

"A huge number of people turned out to show the support and love that we have for the family and the devotion and sadness of this very young girl's death.

"This tragedy has affected so many people."

Teacher says school will work on 'fitting tribute'

Sandish Shoker

BBC News Online

Speaking after the service, the headteacher of the Jameah Girls Academy, Erfana Bora, said Evha's friends had been given the morning off school to visit her family and say their goodbyes.

She said the school would remain closed this afternoon.

Ms Bora said they would now work to establish a "fitting tribute" for Evha at the school.

She said: "In the meantime Evha's mum has asked me to keep her name on the school register.

"I'm happy to do so as Evha will always be in our hearts and a part of our school."

Evha Jannath funeral: Service ends

Sandish Shoker

BBC News Online

The short service at the cemetery has finished.

The coffin is now being taken for burial, with hundreds of mourners following behind it.