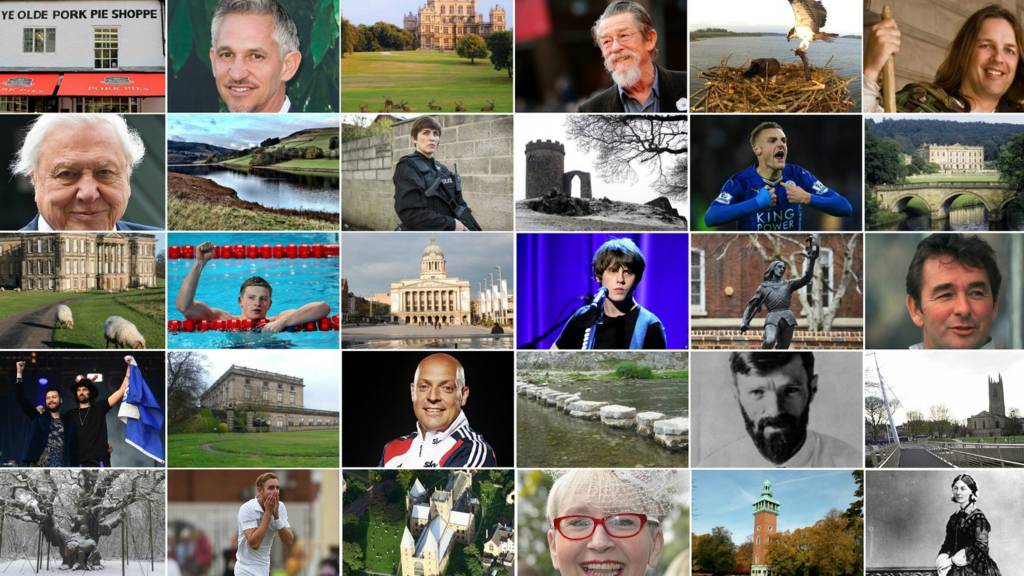 Our live coverage across the day

Our live updates have now ended and will return on Tuesday from 08:00.

Live: Leicester candidates in election debate

The candidates are:

Jack Hickey, Conservative candidate for Leicester West
Chris Williams, Green Party election agent for Leicester
Sean Kelly-Walsh, Labour candidate for Charnwood
Greg Webb, Liberal Democrat candidate for South Leicestershire
Andy McWilliam, UKIP candidate for Loughborough

Digger used in attempted ATM theft

Amy Woodfield

BBC Local Live

A JCB digger was used to try and steal a cash machine in Thringstone.

It happened early this morning at the ATM in the Co-op on The Green. Serious damage has been caused to the building.

It's thought the suspects used a Toyota pick-up - the vehicle was found abandoned in the Copt Oak area.

They didn't manage to get any cash from the machine.

Consultation on children's heart surgery extended

BBC Look North

East Yorkshire and Lincolnshire

A public consultation over the future of children's heart surgery at Glenfield Hospital has been extended because of the general election.

NHS England wants to stop the service, saying it does not meet new standards set by the NHS.

A consultation on the East Midlands Congenital Heart Unit was due to finish today but will now run until mid-July.

Leicester Hospitals continues to fight the plans.

Weather: Rain, rain, rain

A damp night, with some heavy rain at times. However the blustery wind will gradually ease down. Turning quite misty on the hills.

Lows of 10C (50F).

A very unpleasant morning tomorrow with further heavy rain for a time.

Turning drier later in the day with some late brightness possible - highs of 14C (57F).

Amy Woodfield

BBC Local Live

East Midlands Live will run a bit later than usual this evening to bring you a live political debate in Leicestershire.

Those involved are:

Jack Hickey, Conservative candidate for Leicester West
Chris Williams, Green Party election agent for Leicester
Sean Kelly-Walsh, Labour candidate for Charnwood
Greg Webb, Liberal Democrat candidate for South Leicestershire
Andy McWilliam, UKIP candidate for Loughborough

Road to close for 'abnormal' load

Amy Woodfield

BBC Local Live

Worth noting this road closure tomorrow if you use the A38...

'Enhanced security' at Nottingham Arena following terror attacks

Calum McKenzie

BBC Local Live

Following the recent attacks in Manchester and London, the Nottingham Arena has confirmed it will be "implementing enhanced security measures for all major events with immediate effect."

A spokesperson for the arena said: "We're unable to discuss specific security details for each show as this is potentially detrimental to the measures, but there are some important changes we need customers to be aware of.

"A new bag policy has been introduced, and although it is best for everyone if customers do not bring any bags, we will allow handbags and other small bags into the venue. Lockers will no longer be available for use."

Visitors to the arena are also being asked to arrive as close to door opening times as possible to allow for the extra checks to take place.

London victims remembered in messages of condolence

Maryam Qaiser

BBC Local Live

Books of condolence will open across Nottinghamshire tomorrow to pay respect to the victims of the London attacks.

The books will be open until 26 June and after this date, sheets from each location will be collated into one document and sent to the Mayor of London, Sadiq Khan.

Flags are flying at half-mast on Nottinghamshire County Council buildings.

Councillors and employees will participate in the national one-minute silence tomorrow at 11:00.

Tour of Britain bosses 'reviewing security' ahead of Derbyshire stage

Calum McKenzie

BBC Local Live

Organisers of the Women's Tour of Britain have said safety and security of riders and spectators remains their "highest priority" in light of the recent terrorist attacks.

Thousands of fans are expected to line the route around the county for the fourth stage and at the start and finish lines in Chesterfield on Saturday.

A spokesperson for the Women's Tour of Britain said they continue to review security and are working closely with the police.

"We continue to place the safety and security of all of our riders, spectators, staff and officials as our highest priority ahead of the 2017 race."

New Dean of Derby appointed by Queen

Maryam Qaiser

BBC Local Live

The Reverend Canon Dr Stephen Hance has been appointed as the new Dean of Derby.

He has succeeded the Very Rev John Davies as Dean, following his move to Wells Cathedral.

Dr Hance, who currently works at Southwark Cathedral in London, will be installed at a special service in September.

Quote Message: I am thrilled and honoured to have been asked to serve as Dean of Derby. Our first family home was in the East Midlands, and we are looking forward to living and working here again." from Rev Canon Dr Stephen Hance

Nottingham traffic delayed by three sets of roadworks

Maryam Qaiser

BBC Local Live

You might have noticed the traffic in the centre of Nottingham is a little heavier than you'd expect today...

It's because of roadworks in London Road, which started today ahead of the Broadmarsh redevelopment.

They are due to take six weeks but the work, which will only be carried out between 9.30 and 15.30, is already a month late.

Meanwhile, ongoing work in Canal Street, above, is expected to last eight weeks.

And further works are being carried out in Sherrifs Way, near the station, to improve access to the taxi rank.

But the city council assured us the works will improve traffic and pedestrian movements.

Two men charged with robbery offences

Maryam Qaiser

BBC Local Live

Two men have been charged in connection with an armed robbery at a Post Office in Overseal.

One of the men was charged with robbery, possessing an offensive weapon and possessing a blade in public. The second was charged with robbery and making threats with an offensive weapon.

They are both due before at Southern Derbyshire Magistrates' Court later this month.

Refurbished mental health unit opens

A new facility to care for children and adults with mental health concerns opens has opened in Leicester after a £500,000 refurbishment.

The Bradgate Unit at Glenfield Hospital is designed to provide a safe and secure place for people who need to have their mental health assessed.

It means vulnerable people won't be locked up in a police cell whilst waiting for the help they need.

Manchester tribute concert 'a happy atmosphere'

Maryam Qaiser

BBC Local Live

A teenager from Beeston, Nottingham, who was caught up in the Manchester suicide bomb attack, has been describing the One Love Manchester concert last night.

Cara Verney said there was a "happy atmosphere" in the 50,000-strong crowd at Old Trafford.

The show was held to remember the victims of the suicide bombing at an Ariana Grande concert on 22 May.

Last night's show was headlined by Ariana and also featured Take That, Katie Perry and Coldplay.

Wollaton Hall to close for several weeks

Maryam Qaiser

BBC Local Live

One of Nottingham's main tourist attractions, Wollaton Hall, will be closed from today for several weeks to make way for a dinosaur exhibition.

The Dinosaurs of China event will display some of the biggest dinosaur skeletons in the world.

The history of how the prehistoric creatures evolved into birds will be brought to life with huge 3D skeletons and fossils.

It's the first time the exhibition has come to the UK and the first time anyone has hosted it outside of Asia.

It opens on 1 July.

'Suspicious package' found in Leicester

Taxi driver guilty over cyclist crash charge

Amy Woodfield

BBC Local Live

A taxi driver has been ordered to pay £955 in connection with a crash which caused the death of a cyclist in Leicester.

Farook Bhikhu's passenger opened a door of the taxi on London Road last year, which knocked cyclist Sam Boulton off his bike. The 26-year-old fell in front of a moving van and was killed.

Bhikhu was fined £300 and ordered to pay £625 court costs and a £30 victim surcharge.

Copyright: Leicestershire Police

He was found guilty of permitting the opening of a vehicle door so as to injure/endanger a person by Loughborough magistrates.

The prosecution said Farook Bhikhu was "neglectful" in his duties.

Passenger Mandy Chapple has already admitted a charge of opening a vehicle door so as to injure or endanger another person and was fined £80.