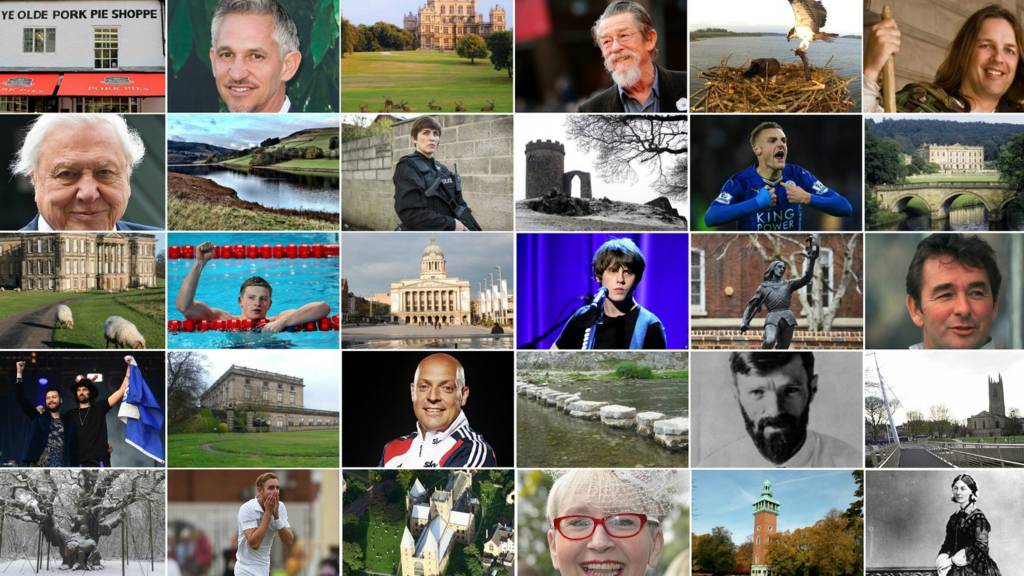 Our live coverage across the day

That's all from East Midlands Live - updates will start again at 08:00 on Wednesday.

Your pictures: Damp day in the East Midlands

The weather's been pretty miserable today, but that's not stopped our Weather Watchers from grabbing some great photographs.

Here's a very arty shot of raindrops in Wingerworth.

And Scrappy may have stayed indoors but still managed to capture the essence of the day in Kegworth...

Meanwhile in Clipstone, Windyshepherd made the most of a gap in the rain for a slightly soggy walk.

Eight arrests over town centre 'disturbance'

Eight people have been arrested after a 'disturbance' in Mansfield town centre, Nottinghamshire police said.

Five men and three women, aged between 25 and 37, are being held on suspicion of affray and assault in connection with an incident in Church Street at about 18:00 yesterday.

Weather: Yellow weather warning still in place this evening

Maryam Qaiser

BBC Local Live

The yellow weather warning, issued by the Met Office, will remain in place this evening.

Gusts of 40 to 50 mph are likely with isolated gusts close to 60 mph over the hills.

There will be some rain this evening with possible thundery showers.

Tomorrow will see some wind in the morning but it will become warmer and brighter with some clouds.

National Space Centre to welcome young carers

Maryam Qaiser

BBC Local Live

Young carers have been invited to visit the National Space Centre to mark National Carers' Week.

Leicestershire County Council is holding the event on Monday, which will also encourage youngsters to speak about their experiences with one another.

Copyright: National Space Centre

Quote Message: The work they do is incredible, so we want to say thank you, but also hear how they are, and ensure they are getting the support that they need." from Jane Moore, the county council's assistant director for children and family services

Severe disruption: M1 Derbyshire northbound

BBC News Travel

M1 Derbyshire northbound severe disruption, between J28 for A38 Alfreton and J29 for A617.

M1 Derbyshire - Slow traffic and one lane closed on M1 northbound between J28, A38 (Alfreton) and J29, A617 (Chesterfield), because of a broken down vehicle.

To report traffic and travel incidents dial 0330 123 0184 at any time

Travel: updates from across the region

Maryam Qaiser

BBC Local Live

Drivers should expect some delays on the A453 northbound between the junctions with the M1 and the A52, Nottinghamshire.
There are some queues at the junction of the A42 and the M1 J23A, near Kegworth.
The A52 eastbound between the junctions with the A6011 and the A46, Nottingham, is congested

Rock fans warned to expect longer queues at Download

Gavin Bevis

BBC Local Live

Download Festival organiser Melvin Benn has urged music fans to be patient about extra security checks at this year's event.

He said: "We strongly advise you do not bring a bag into the Arena at Download as there will be long queues while all bags are searched.

"All ticket holders will be subject to extra searches of their vehicles, bags and their person at this year's festival.

"Your safety is our utmost concern and we're asking that all festival goers are patient if there are longer queues than normal, and cooperate with any security requests and searches."

Download festival: Armed police and extra security checks

Amy Woodfield

BBC Local Live

After the terror attacks in Manchester and London, security at Download festival this weekend is being increased.

Police have said there will be armed officers and plain clothed officers patrolling Donington Park as well as Download's security company.

If you're going to the festival it's worth noting there will also be additional security checks - people and bags will be searched.

Copyright: Leicestershire Police

Quote Message: We have reviewed the security arrangements and made some changes but this is designed to reassure festival goers that they can come and enjoy their favourite bands while we work with on-site security to make sure everyone has a good time. Armed officers are ordinary police officers with specialist skills so if you see them them go and say hello, they will be happy to talk to you." from Supt Martyn Ball Leicestershire Police

The man whose bike makes the big splash has been jailed over smash-and-grab raids on fruit machines.

Football fans banned from grounds after pub brawl

Maryam Qaiser

BBC Local Live

Eight men have been banned from every football ground in the country after a brawl on the day of Notts County's home match against Mansfield Town, Nottinghamshire police said.

All eight, who are from Mansfield and the surrounding areas, were arrested in January following a fight at the Major Oak in Nottingham city centre.

They all admitted disorder when they appeared before Nottingham Magistrates' Court and were given a fine and a combination of community service and curfews.

One man was jailed for three months for breaching an existing suspended sentence.

As well as being banned from league football grounds for three years, all eight must also hand their passports into a police station whenever England play away.

Thieves steal 2m tall 'iconic' wooden sculpture

Amy Woodfield

BBC Local Live

This wooden owl sculpture has been stolen from outside the village hall in Burton on the Wolds...

Copyright: Cotes and Prestwold Parish Council

The two metre high object made from elm was seen being loaded into a 4x4 vehicle at just before 23:30 last night.

This is what the community in Leicestershire woke up to this morning...

Copyright: Cotes and Prestwold Parish Council

It had been in the village for eight years but was expected to last for up to 40 years.

Police have confirmed they are investigating and would like to hear from anyone with information.

Quote Message: The much loved and iconic owl sculpture has been stolen from outside the village hall. The owl is much admired by the local children and the uniform of both the village primary school and playground has the owl motif as its emblem." from Cllr Alan Carr Chairman, Cotes and Prestwold Parish Council

Headteacher under fire for Labour letter

Maryam Qaiser

BBC Local Live

A headteacher has been criticised for writing an open letter urging people to vote Labour in the general election.

Sally Pearce, from Seeley Primary and Nursery School in Nottingham, said she was anxious about cuts to the education system.

"We face a future of unprecedented cuts and it's going to have a devastating affect if we don't act now and change the course of where it is heading," she wrote in a letter distributed in Nottingham by Labour.

The National Union of Teachers (NUT) said staff have the right to speak out, but former teacher Jane Cook said they should remain impartial and unbiased.

Mrs Cook said: "I fail to see how she [Sally Pearce] can do that when she sent letters out to parents telling them how to vote in an election."

Labour's manifesto pledges a £25bn package for education, while the Conservatives have said they would increase the overall schools budget by £4bn by 2022 and promised that no school will have its budget cut as a result of a new funding formula.

Meanwhile, the Liberal Democrats have said they will invest an extra £5.8bn for school budgets.

Severe accident: M1 Leicestershire southbound

BBC News Travel

M1 Leicestershire southbound severe accident, between J22 for A50 and J21 for M69.

M1 Leicestershire - Two lanes closed and slow traffic on M1 southbound between J22, A50 (Coalville) and J21, M69 (Leicester), because of an accident.

To report traffic and travel incidents dial 0330 123 0184 at any time

Severe disruption: M1 Leicestershire northbound

BBC News Travel

M1 Leicestershire northbound severe disruption, between J24 for A6 and J24A for A50 Derby affecting J23A for A42.

M1 Leicestershire - One lane closed and slow traffic on M1 northbound between J24, A6 (Kegworth) and J24a, A50 (Derby), because of a fallen tree. In the roadworks area. Congestion to J23a A42.

To report traffic and travel incidents dial 0330 123 0184 at any time

Three arrested after drugs seized in Mansfield

Maryam Qaiser

BBC Local Live

Cannabis, heroin, amphetamine, cocaine and black mamba were all seized in Mansfield during a night of action to tackle violence and drugs in the town.

Three people were arrested and a further four are set to be interviewed under caution.

The town's beat team, special constables, a drugs dog and a dog handler took part in the operation.

Assistant chief constable Stuart Prior also attended, along with a licensing officer from Mansfield District Council.

Copyright: Nottinghamshire Police

Jury retires in trial of ex-BBC hosts

A jury has retired to consider its verdicts in the trial of two former BBC radio presenters charged with sex offences involving under-age boys.

Husband and wife Tony and Julie Wadsworth, from Broughton Astley in Leicestershire deny five charges of outraging public decency.

Julie Wadsworth, 60, also denies 11 charges of indecent assault and her 69-year-old husband denies nine allegations of indecent assault.

The trial at Warwickshire Justice Centre has heard how the Wadsworths enjoyed sexual activity outdoors close to Atherstone Golf Club.

Julie Wadsworth is alleged to have engaged in sex acts with teenage boys whilst her husband looked on.

Her defence barrister has accused prosecutors of launching a cheap attempt to paint her as "predatory" public figure.