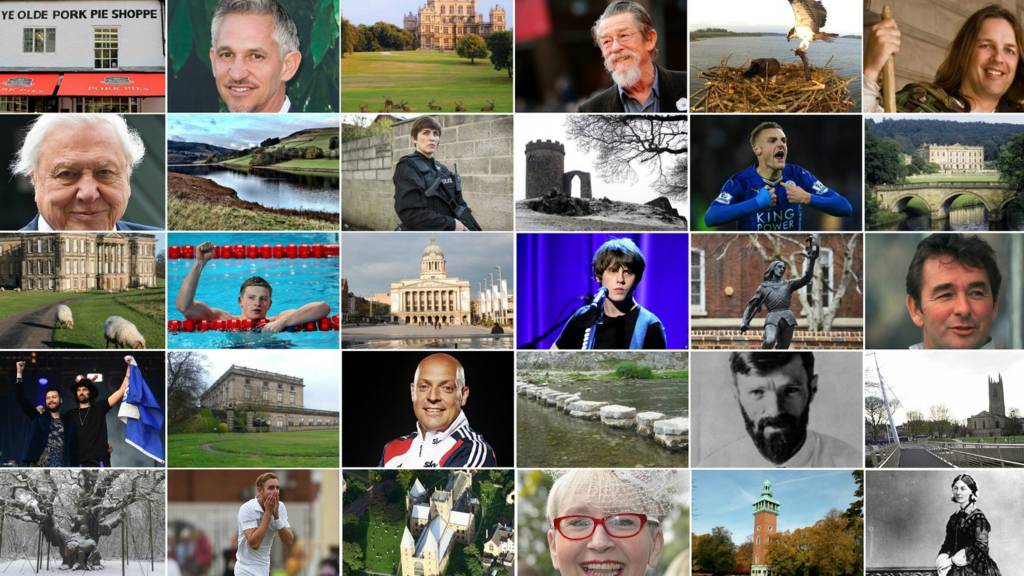 Latest updates: East Midlands Live
Listen live to your BBC local radio station in Derbyshire, Leicestershire and Nottinghamshire.
Our live coverage across the day

East Midlands Live has now finished - updates will start again at 08:00 on Thursday.

Travel: Congestion expected near Download Festival

Drivers are being warned to avoid roads near Castle Donington and East Midlands Airport over the coming days because of increased traffic to the Download Festival.

Copyright: Leicestershire Police

Revellers heading to the rock festival have been told to allow plenty of time to reach the site, which opened at lunch time today.

Meanwhile an accident on the M1 south was causing lenghthy tailbacks in the area but these are now beginning to clear.

Your photos: Across the East Midlands

You've been sending in your photos from across the East Midlands throughout the day.

This was taken by aurora in Dronfield...

Phil took this one along the Grantham Canal in Cotgrave...

This was taken by mogjo in Birstall...

Weather: Unsettled forecast to continue with rain and sun

The breezy weather will continue into this afternoon with some heavy showers.

There will be some light showers tomorrow which will get heavier towards lunchtimes with temperatures reaching 17C (63F).

Over the next few days the weather will remain unsettled with blustery rain and sunny spells.

Your Pictures: Weeping Window of poppies

BBC Weather Watcher: A B Hudson has taken this beautiful picture of the poppies of the Weeping Window display at The Silk Mill, Derby.

It was created by Derbyshire artist Paul Cummins and designer Tom Piper and will be on display from Friday.

The display has several thousand handmade ceramic poppies, originally seen pouring from a high window to the ground below at the Tower of London.

It was part of the installation Blood Swept Lands and Seas of Red.

Each poppy represented a British and colonial soldier who died during World War One.

HGV crash causing four-mile delays

Amy Woodfield

BBC Local Live

It looks like this crash on the M1 southbound is causing some long delays...

Plans revealed for Oakham town centre redevelopment

Amy Woodfield

BBC Local Live

Two different plans for the redevelopment of Oakham town centre have been released.

This is Option A...

Copyright: Rutland County Council

There is a one-way system between New Street and Mill Street, with wider pavements, trees, a revised parking layout with loading bays for shops and more public seating.

This is Option B...

Copyright: Rutland County Council

This keeps the current two-way traffic flow along the High Street but has an "enhanced pedestrian environment".

Quote Message: The groups that represent people and businesses in the town have told us they'd like a High Street with less traffic and congestion and more space for people to walk, shop and relax. This has helped us settle on two options for the town centre that would make these improvements possible." from Dave Brown Director for Places at Rutland County Council

Both designs also include improvements to the Market Place. A consultation on the options will start next week.

Severe accident: M1 Leicestershire southbound

BBC News Travel

M1 Leicestershire southbound severe accident, between J23A for A42 and J23 for A512.

M1 Leicestershire - One lane closed and slow traffic on M1 southbound between J23a A42 and J23, A512 (Loughborough), because of an accident.

To report traffic and travel incidents dial 0330 123 0184 at any time

Chatsworth show: Parking arrangements caused gridlock

Council workers and police officers have been working with the Royal Horticultural Society after Chatsworth became gridlocked today.

Drivers saw long delays as they headed to the first day of the show.

Changes to the parking arrangments had to be made following the poor weather yesterday.

A spokesman from Derbyshire County Council said: "Unfortunately, for an event as popular as this and a limited number of routes to Chatsworth, traffic congestion can be expected.

"We would advise anyone planning on visiting the show or travelling in the local area this week to be mindful that there may be delays, to consider using alternative routes and to check local media for traffic updates."

Amy Woodfield

BBC Local Live

If you got caught out by the closure of the A38 last night - this is why...

Copyright: Derbyshire Police

The huge brewery drums had to be safely escorted through South Derbyshire to the Molson Coors site in Staffordshire.

Police tweeted afterwards to say: "If you were delayed many thanks for your patience and understanding."

Copyright: Derbyshire Police

Listen: Voters question candidates ahead of election

Amy Woodfield

BBC Local Live

An election debate was held at the BBC in Leicester last night.

The future of the NHS, HS2, tuition fees, immigration and fox hunting were just some of the topics raised by audience members.

In the firing line were Zuffar Haq for the Liberal Democrats, Roger Helmer for the UK Independence Party, Labour's Chris Kealey, Conservative Nicky Morgan and Mags Lewis for the Green Party.

It was a muscular 60-minute exchange with the panel of party candidates interrogated and held to account.

You can listen to the whole debate here...

Cats abandoned in park 'lucky' to be found

Amy Woodfield

BBC Local Live

These two cats have been recovering with the RSPCA after being found abandoned in a Leicester park.

Dandelion and Burdock were discovered by a member of the public on Aylestone Recreation Ground last Thursday.

They were inside this plastic carrier in heat of 28C...

Quote Message: It is lucky that they were found or they would have suffered a horrible death. They were very scared when they were discovered, which is understandable as being abandoned is very stressful for an animal. This is no way to treat animals and it is about time some people took responsibility for their pets." from Sharon Knight Animal Collection Officer, RSPCA

Amy Woodfield

BBC Local Live

It looks like a power cut in Leicestershire could last several hours...

Chatsworth Flower Show live

Maurice Flynn is live at the Chatsworth Flower Show.

Download: Police security dog at festival

Jeremy Ball

Social affairs correspondent, BBC East Midlands Today

This is Riley - she's sniffing for explosives as people arrive at the Download Festival...

Pictures: Chatsworth garden show

Maryam Qaiser

BBC Local Live

Here are a few snaps from around the RHS Chatsworth Flower Show earlier...

Flower show extended over traffic delays

Amy Woodfield

BBC Local Live

The sun might be shining now but yesterday's wet weather is still causing problems at the RHS Chatsworth Flower Show.

The Royal Horticultural Society has said the damp ground means they are having to be extra cautious in parking cars on the showground - this is making it slower than expected.

Quote Message: We are doing all we can to solve this and ask for everyone's patience. We are also keeping the show open an extra hour this evening, until 19:00."

Chatsworth show: Visitors warned over heavy traffic

Visitors heading to Chatsworth for the Royal Horticultural Society's show should allow plenty of extra travel time.

The entrance to the flower show's site is currently gridlocked.

RHS Chatsworth crowns Quarry Garden with Gold medal

Maryam Qaiser

BBC Local Live

The Show Garden from The Institute of Quarrying is celebrating a hat trick of awards at the Royal Horticultural Society's show today.

It received the Gold Medal from RHS judges and the quarry garden has won Best in Show and Best Construction category.

Copyright: Redbrick Communications

At 480 sq m, the Quarry Garden is one of the largest RHS show gardens ever.

It is designed by award-winning garden designer Paul Hervey-Brookes.