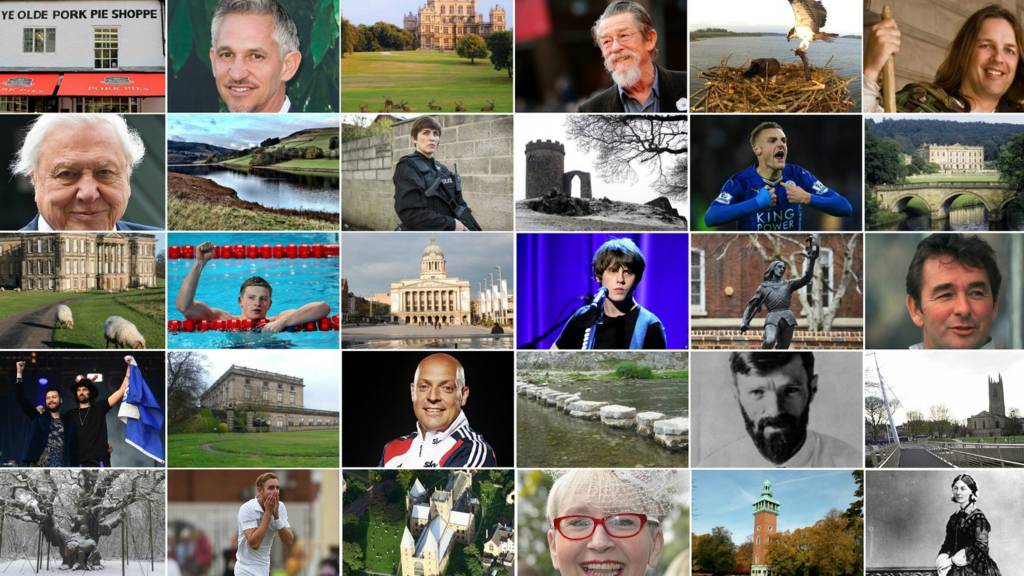 Summary
Live updates for Thursday 15 June 2017
Sports Direct slavery landlord jailed
Man found guilty of murder and attempted murder
High-security hospital 'under-staffed'
Leicester City sign Hull City defender Maguire
East Midlands musicians honoured as part of BBC Music Day
Our live coverage across the day

Today's Local Live updates have finished. We'll have more news, sport, travel and weather from 08:00 on Friday.

East Midlands weather update: A warm evening

The warm weather is set to continue this evening with temperatures reaching 19C.

There will be some breeze and cloud, with possible spots of light rain, but it will generally stay dry.

Trio join relegated Spireites

Gavin Bevis

BBC Local Live

Chesterfield have added three new players to their squad.

The Spireites, who were relegated from League One last season, have added former Peterborough defender Jerome Binnom-Williams to their squad along with midfielder Jordan Sinnott - formerly of Halifax Town - and striker Delial Brewster, an ex-Everton youth player.

Ranieri officially takes charge of French side Nantes

Gavin Bevis

BBC Local Live

Former Foxes boss Claudio Ranieri has been officially confirmed as the new boss of French side Nantes.

It's the 65-year-old's first job in management since being sacked by the Foxes in February.

He's joined the French outfit on a two-year deal.

Eight weeks of roadworks for Derbyshire village

Gavin Bevis

BBC Local Live

Drivers in North Wingfield are facing eight weeks of disruption from Tuesday as work begins to replace water pipes running underneath the village.

Severn Trent is spending almost £250,000 on the project, which will see new pipes installed beneath White Leas Avenue, Greenland Close, Wayside Close, Ashford Avenue and Beeley Close.

The firm said it would do its best to minimise disruption.

Man found guilty of murder and attempted murder

Maryam Qaiser

BBC Local Live

A man has been found guilty of murdering his partner in Kirkby-in-Ashfield and attempting to murder another man.

Pawel Lupa, 40, of Gleneagles Drive, was convicted of the murder of Aleksandra Mrozik, 47, and the attempted murder of Wojcek Bocek, 32, on 16 July last year, Nottinghamshire Police said.

He will be sentenced at Nottingham Crown Court tomorrow.

Watch: East Midlands musicians honoured as part of BBC Music Day

Gavin Bevis

BBC Local Live

Three East Midlands musicians have been honoured with blue plaques as part of BBC Music Day 2017.

This video tells you everything you need to know about Kevin Coyne, Eric Pinkett and Constance Shacklock.

Defender completes Foxes switch

Calum McKenzie

BBC Local Live

Leicester City have confirmed defender Harry Maguire as their first signing of the summer.

Copyright: OLI SCARFF/AFP/Getty Images

The 24-year-old centre back joins from recently relegated Hull City.

Great Britain-shaped cloud spotted in the East Midlands

Maryam Qaiser

BBC Local Live

A cloud looking like a map of Great Britain has been spotted in the East Midlands.

It was snapped by Huddersfield photographer Golcar Matt and submitted to the BBC Weather Watchers site.

BBC Weather presenter Alina Jenkins said it was a common cumulus cloud, which can often be seen forming shapes in the sky.

"They're formed by the sun heating the air at the surface," she said.

"The air then rises and as it does it cools and condenses to create the 'cotton wool' type clouds which often take on interesting shapes."

Huddersfield bid for Derby County's Ince 'rejected'

Gavin Bevis

BBC Local Live

From Sky Sports' Midlands correspondent...

Nottinghamshire and Derbyshire projects to benefit from £62.9 million of funding

Maryam Qaiser

BBC Local Live

Nottingham's Broadmarsh bus station and car park and the Sherwood Forest visitor centre are among the projects that will benefit from a total of £62.9m of government funding.

The money - from the government's local growth fund secured by the D2N2 Local Enterprise Partnership - has been allocated to 17 projects across Derbyshire and Nottinghamshire.

Nottingham Castle has also been awarded £5m to make improvements.

Hot air balloon snaps capture beauty of Peak District

Gavin Bevis

BBC Local Live

These cracking photos were taken by BBC journalist Sandish Shoker during a hot air balloon ride in the Peak District yesterday. Looks like she couldn't have picked a better day for it.