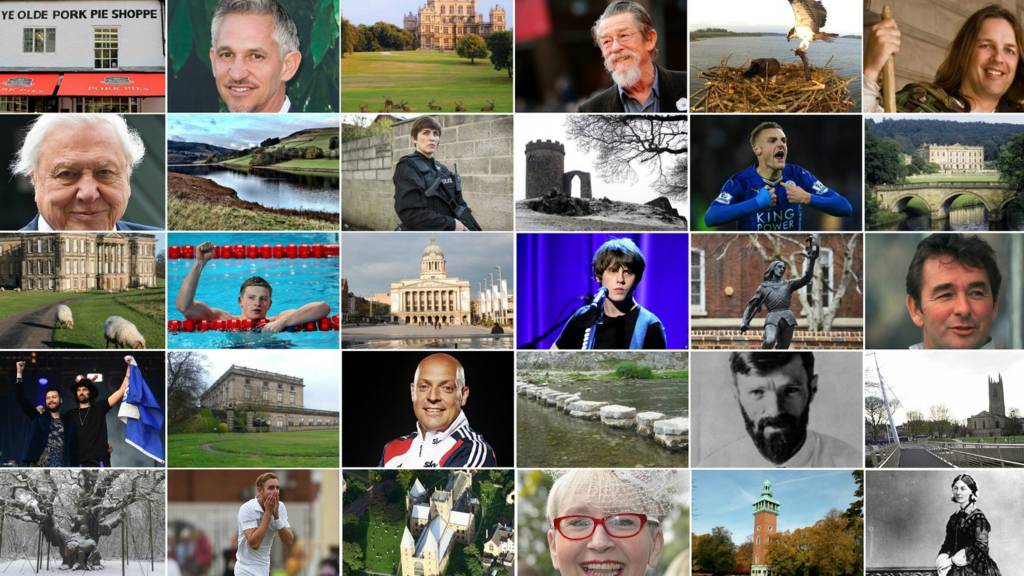 By Ben King

Business reporter, BBC News

Severe disruption: M1 Leicestershire southbound

BBC News Travel

M1 Leicestershire southbound severe disruption, at J20 for A4303.

M1 Leicestershire - One lane closed on M1 southbound at J20, A4303 (Lutterworth), because of a car fire. Traffic is coping well.

To report traffic and travel incidents dial 0330 123 0184 at any time

Our live coverage across the day

Our dedicated live coverage has ended for Wednesday, but automated news, sport and travel updates will continue to appear overnight.

East Midlands Live returns from 08:00 tomorrow morning.

Anna Church

Weather Presenter, BBC East Midlands Today

A settled end to the day with some evening sunshine.

It remains dry with clear spells overnight. However feeling warm and humid. Minimum temperature 16C (61F).

Sports Direct owner says Shirebrook a 'very boring and lonely' place

Calum McKenzie

BBC Local Live

Mike Ashley, the owner of Shirebrook-based Sports Direct, has described the town as a "very boring and lonely" place.

Mr Ashley, who also owns Newcastle United, made the remarks during a case at the High Court in London.

He is being sued by investment banker Jeffrey Blue, who claims he was promised £15m in a pub drinking session for increasing Sports Direct's share price to £8 each.

Mr Blue claims he was paid just £1m for the increase in share price.

But Mr Ashley said it "would be obvious" to anyone at the pub where they were drinking that he "was not serious."

Your photos: July across East Midlands

These cows look as if they're enjoying the sun in Glapwell, north east Derbyshire. Thanks to BBC Weather Watcher Pinfold for sending it in.

Sticking with the watery theme - thanks to Maggie T for this effort from Ruddington.

Shakespeare: We've got to aim higher than just survival

Leicester City boss Craig Shakespeare has said the club must look beyond Premier League survival next season and set higher targets.

"Premier League survival is good," Shakespeare told the club's official website.

"But I look at the squad and the players we're trying to attract - I want to be better than that, and I think the players want to be better than that.

"I think our aim is to try and be competitive in every match, whether we're playing Chelsea as Premier League winners last season or a team that's just come up."

The Foxes finished 12th in the Premier League last season, ten points above the relegation zone.

Football: Notts County interested in Forest Green midfielder

League Two side Notts County are keen on re-signing Forest Green Rovers midfielder Liam Noble.

Noble, 26, spent two seasons at Notts but was released in June 2016 and joined Forest Green on a two-year deal.

Weather: Yellow warning for rain

Anna Church

Weather Presenter, BBC East Midlands Today

There's a Met Office yellow weather warning in place for rain from 06:00 on Thursday to 02:00 on Friday.

Isolated thunderstorms are likely to develop across England and Wales from early Thursday morning before clearing by early Friday.

While these storms may miss many places, where they do develop intense downpours are likely, bringing the threat of sudden flooding of roads, transport routes, homes and businesses.

Lightning and hail may be additional hazards.

Hughes closes on on hundred

Derbyshire 368 & 180-7 (53 overs) v Durham 301 - tea

Martin Emmerson

BBC Newcastle

Durham have conceded the lead in six of their nine Championship matches so far and have lost four of them, drawing the other.

And Derbyshire's lead passed the 200 mark at around 3.00pm with Durham looking flat in the field and their bowling lacking any real threat - but three wickets then fell in seven balls.

Matt Critchley was on 28 when he clipped Barry McCarthy down the legside to the keeper; Daryn Smit went for 4, second ball, caught in the slips off McCarthy, and Ryan Pringle had Tony Palladino caught behind for a third ball duck.

Derbyshire lead by 247 at tea, but Alex Hughes is leading the way for them with 87.

Bridgen: Time for people to bring photo ID in order to vote

Calum McKenzie

BBC Local Live

People should have to provide photo ID in order to vote at elections, according to North West Leicestershire MP Andrew Bridgen.

Mr Bridgen said that people could vote "all day long in different polling stations."

"It's been highlighted that when someone goes to vote, all they need is a name and address," he added.

"In theory someone could get hold of a telephone directory and vote all day long in different polling stations.

"Does the minister agree with me that it is time for photo ID to prevent electoral fraud?"

Chris Skidmore, the constitutional affairs minister, said that there would be voter ID pilots carried out at next year's local elections.

Watch: Dalek and Cyberman invade Derbyshire

A Dalek and a Cyberman walk into a bar.

Not the start of a joke but something you might have seen in Swadlincote...

Deputy mayor 'going nowhere immediately'

Tim Parker

BBC Radio Leicester political reporter

Rory Palmer's told me precise dates for the change over are yet to be confirmed but he will quit being Leicester's deputy mayor and as a ward councillor ahead of October, when he is set to replace Glenis Willmott.

"I'm going nowhere immediately and continue to work across my current responsibilities," he said.