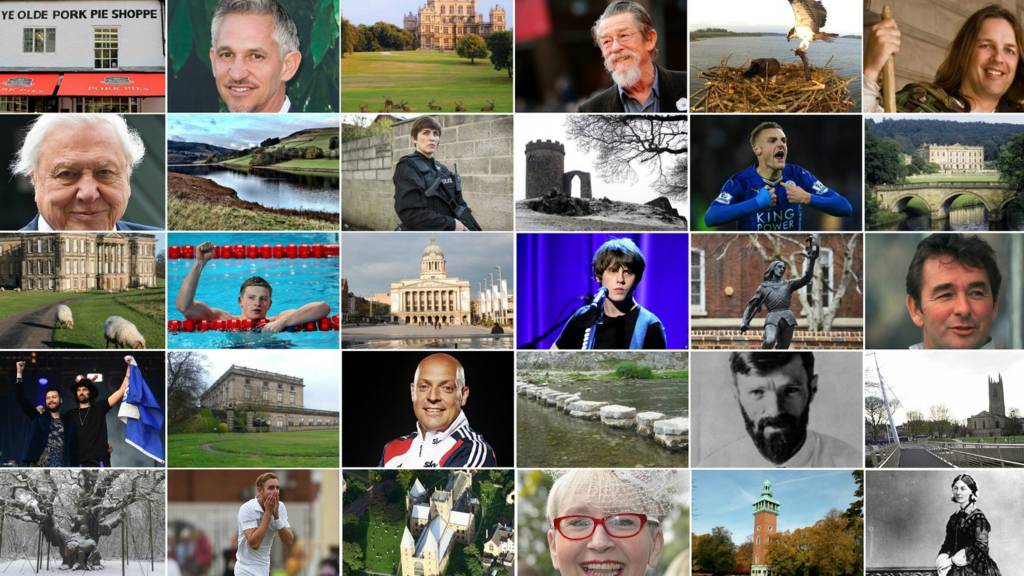 Summary
Live updates for Thursday 6 July 2017
Victoria Park attack: Police continue questioning youth
Sports Direct boss is a 'power drinker'
Derbyshire cricketer investigated over 'indecent exposure'
Nottingham prison violence blamed on staff shortages
Residents flee as masked men break into Gedling home with axe
News, sport, travel and weather updates resume at 08:00 Friday
Severe accident: A38 Staffordshire northbound

BBC News Travel

A38 Staffordshire northbound severe accident, between A5121 and A5121.

A38 Staffordshire - One lane closed and heavy traffic on A38 northbound in Burton Upon Trent between Branston Interchange and Clay Mills, because of accident investigation work.

To report traffic and travel incidents dial 0330 123 0184 at any time

Regular live coverage on this page has ended for the day, but breaking news, sport and travel updates will continue to appear through the night.

East Midlands Live returns from 08:00 tomorrow morning.

Weather: Yellow warning for rain across the region

Maryam Qaiser

BBC Local Live

A weather warning has been issued for rain across the East Midlands today.

There will be isolated thunderstorms and possible heavy downpours later this afternoon.

It will be dry overnight and should remain clear but it will feel muggy with warm temperatures of 16C (61F).

Friday will see a clear and bright start to the day with some clouds but it will feel warm with temperatures reaching 22C (72F).

There's a chance of showers over the weekend and it'll be quite cloudy.

It'll feel cooler than the last few days.

Cricket: Derbyshire captain feeling regretful after loss

Gavin Bevis

BBC Local Live

Watch: Topiarist shows off Elvis-shaped hedge

Gavin Bevis

BBC Local Live

Warning - this video might leaf you all shook up...

Men jailed after knife-point robberies in Hucknall

Maryam Qaiser

BBC Local Live

Two men, who stole £1,000 from an off-licence during a knife-point robbery in Hucknall, have been jailed.

Samuel Jonathan Langley and Nathan Dean Ford entered the Tipple and Tape, on Annesley Road, at 17.55 on 7 May.

Langley was carrying a knife as they forced their way around the counter, threatening two female workers, before taking the money from the till.

Langley also robbed the Pepper's convenience store on Watnall Road on 26 April.

He waved a knife in the direction of a female worker before leaving with some cash.

Copyright: Notitnghamshire Police

Image caption: Samuel Jonathan Langley

Nottingham Crown Court heard that Ford perverted the course of justice by providing false details to police after being detained for a theft at Sainsbury's on Waverley Road on 30 May.

Langley, 29, formerly of Chatsworth Drive, was jailed for nine years and four months after pleading guilty to two charges of robbery and possession of a blade whilst committing the offences.

Nathan Dean Ford, 26, formerly of Moor Street, Mansfield, was jailed for six years and six months after pleading guilty to charges of robbery, theft and perverting the course of justice.

Copyright: Nottinghamshire Police

Image caption: Nathan Dean Ford

Missing woman was last seen in Rutland

Gavin Bevis

BBC Local Live

Police say they're concerned for the safety of a 53-year-old woman who's gone missing.

Joanne Lewis, from Lincolnshire, was last seen in the Tinwell area of Rutland at about 15:00 yesterday.

Officers have urged anyone who's seen her to call 101.

Copyright: Leicestershire Police

Train delays after lightning damages signalling system

Maryam Qaiser

BBC Local Live

Some bad news for rail passengers this evening...

There has been lightning which has damaged the signalling system between Ely and Norwich, but this is disrupting trains on the Nottingham/Norwich/Liverpool route.

Crackdown on teenage troublemakers in Long Eaton

Gavin Bevis

BBC Local Live

Police have been granted extra powers to deal with teenagers causing a nuisance in Long Eaton this weekend.

The 48-hour dispersal notice was prompted by "numerous reports" of underage drinking, criminal damage and loud music being played around market stalls in the town centre.

It means officers can order groups of two people or more to leave the area if they suspect they have the potential to cause trouble.

It starts at 18:00 on Friday and concludes at 18:00 on Sunday.

Severe disruption: M1 Leicestershire northbound

BBC News Travel

M1 Leicestershire northbound severe disruption, between J23 for A512 and J23A for A42.

M1 Leicestershire - Slow traffic and one lane closed on M1 northbound between J23, A512 (Loughborough) and J23a A42, because of a broken down vehicle. In the roadworks area.

To report traffic and travel incidents dial 0330 123 0184 at any time

CCTV footage captures three men climbing over the fence before entering the home in Gedling.

Prison staffing levels have 'improved' since critical report, government says

Maryam Qaiser

BBC Local Live

The government says improvements have been put in place following a critical report into a Nottingham prison.

A report by the Independent Monitoring Boards (IMB) said HMP Nottingham's "very significant problem" with violence has been made worse by a lack of staff.

Its report recorded 199 assaults on staff, 457 attacks on prisoners by inmates and 82 fires in 12 months.

A Prison Service spokeswoman said staffing levels have "improved significantly" since the report.

"HMP Nottingham has begun work to improve access to education and has reopened a number of workshops for prisoners," she said.

"There remains progress to be made on mental health provision, and the prison will work closely with health colleagues in order to implement the recommendations made in the report."

Watch: Gedling residents flee axe-wielding burglars

Liam Barnes

BBC News Online

Police have released CCTV footage of the moment three men - one carrying an axe and another wearing a Scream-style mask - broke into a house in Gedling on 8 June.

New mural unveiled in Derby city centre

Gavin Bevis

BBC Local Live

Have you seen this new feature in St Peter's Street in Derby?

The mural, by artist Peter Barber (pictured below), has been added to the front of the disused BHS store and was commissioned by intu - which owns the shop - to brighten up its appearance.