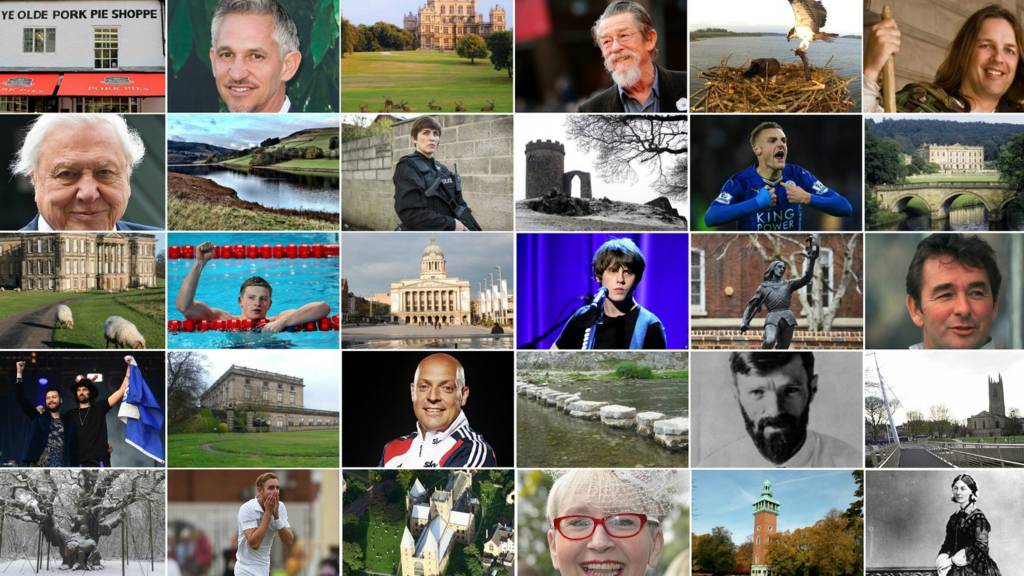 Our live coverage across the day

East Midlands Live has now ended for the day.

Some news, sport, travel and weather updates may appear overnight before the live page returns at 08:00 on Thursday.

East Midlands weather update: A dry night with clear spells

Anna Church

BBC East Midlands Today weather presenter

A few sharp showers are possible to end the afternoon but these will ease through the evening to leave a dry night with clear spells.

City of Derby swimmer Adam Peaty wins breaststroke gold

Alex Smith

BBC News Online

No world record this time - but City of Derby swimmer Adam Peaty has won gold in the 50m breaststroke final at the World Aquatics Championships.

Peaty won in 25.99 seconds - four hundredths of a second outside the world record time he set yesterday.

It's his second gold of these championships following his triumph in the 100m breaststroke on Monday.

Attempted murder suspect sought after pub stabbing

Alex Smith

BBC News Online

A man is being sought in connection with an attempted murder after a stabbing at a Nottingham pub.

Nottinghamshire Police is seeking to trace Steven Mitchell, 48, after a man suffered serious injuries following the stabbing at the Mechanics Arms in St Ann's on Wednesday, July 19.

The force said Mr Mitchell is known to frequent numerous pubs around the city and is linked to a number of addresses in Nottingham.

Copyright: Nottinghamshire Police

Anyone who sees Mr Mitchell has been urged not to approach him, but to instead call 999.

Burglar absconds from open prison

Amy Woodfield

BBC Local Live

Police have launched an appeal to the public for their help in tracing a prisoner who absconded from HMP Sudbury about two months ago.

Copyright: Derbyshire Police

Daniel Fenn-Dawkins was convicted of aggravated burglary in June 2015 and was sentenced to eight years and one month in prison.

The 27-year-old - who absconded from the prison on May 26 - has links to the Derby area.

Watch: Former One Direction star arrives in Nottingham

Amy Woodfield

BBC Local Live

Here's the moment former One Direction singer Louis Tomlinson arrived at BBC Nottingham earlier - some fans had been outside since 07:00!

The pop star visited the station for an interview with local radio presenter Dean Jackson.

Businesses looking at how to 'maximise benefits' of leaving EU

Calum McKenzie

BBC Local Live

The impact of Brexit has dominated talks among business leaders from Nottinghamshire as they met to discuss the future of the region's economy.

Copyright: THIERRY CHARLIER/AFP/Getty Images

At a meeting of the D2N2 Local Enterprise Partnership, which covers Nottinghamshire and Derbyshire, the boss of Boots UK called for the government to provide "frictionless trade" with the EU once Britain leaves.

David Ralph, the chief executive of D2N2, added: "Ideally we would prefer to be in those mechanisms [the single market and customs union] but we are beyond that.

"So actually it is now it is about how we can maximise the opportunities and reduce the impacts [of leaving the EU] really."

Council preparing to mark Derby city milestone

Calum McKenzie

BBC Local Live

Who doesn't like a giant birthday card?

Fallen tree blocking road

Amy Woodfield

BBC Local Live

Your comments: Boots' Beeston factory to be sold

The news that Boots' parent company is planning to sell off its manufacturing business, including its factory at Beeston, has prompted a strong reaction on Facebook.

The proposed deal would see the international company Fareva take over Boots Contract Manufacturing.

The Beeston site produces many of Boots' own label beauty brands.

Over on BBC Radio Nottingham Facebook page, Ben King writes: "The start of the end for Nottingham's last big manufacturer?"

Debbie Kings adds: "May as well just list the whole of the UK on eBay - none of our manufacturing greats belong to us anymore - even the miniscule amount we actually still have....."

Power cut in South Derbyshire

Amy Woodfield

BBC Local Live

If you're wondering why you can't turn the kettle on...

Watch: Caravan stolen from farm

Amy Woodfield

BBC Local Live

Police have released this CCTV footage after a caravan was stolen from Duckmanton...

Warning: Video may contain third party advertising.

The caravan was taken at around 12:10 on Monday 17 July. It had been parked at Middle Farm on Rectory Road.

Police want to speak to anyone who was in the area at the time - especially a woman who was seen walking her dog.

Your photos: July across Derbyshire

Calum McKenzie

BBC Local Live

Could someone lend this pheasant an umbrella?

Copyright: Anne/BBC Weather Watchers

Thanks to BBC Weather Watcher Anne in Brailsford for the pic.

MPs urged to pressure government over rail electrification

Calum McKenzie

BBC Local Live

MPs need to leave party allegiances to one side and "work collectively" to try and get the Midland Mainline electrified, according to the vice chairman of East Midlands Councils.

Copyright: Matt Cardy/Getty Images

Electrification of the route was scrapped by the Department for Transport last week, in favour of using bi-mode trains, which can run on electricity from London to Kettering, before switching to fuel.

Jon Collins told BBC East Midlands Today: "I think it is really important that our MPs work collectively to put pressure on government there is a future for the electrification of Midland Mainline.

"It is absolutely essential that this happens for everyone across the region."

Transport Secretary Chris Grayling said the switch to bi-mode trains would avoid the need for disruptive electrification works.