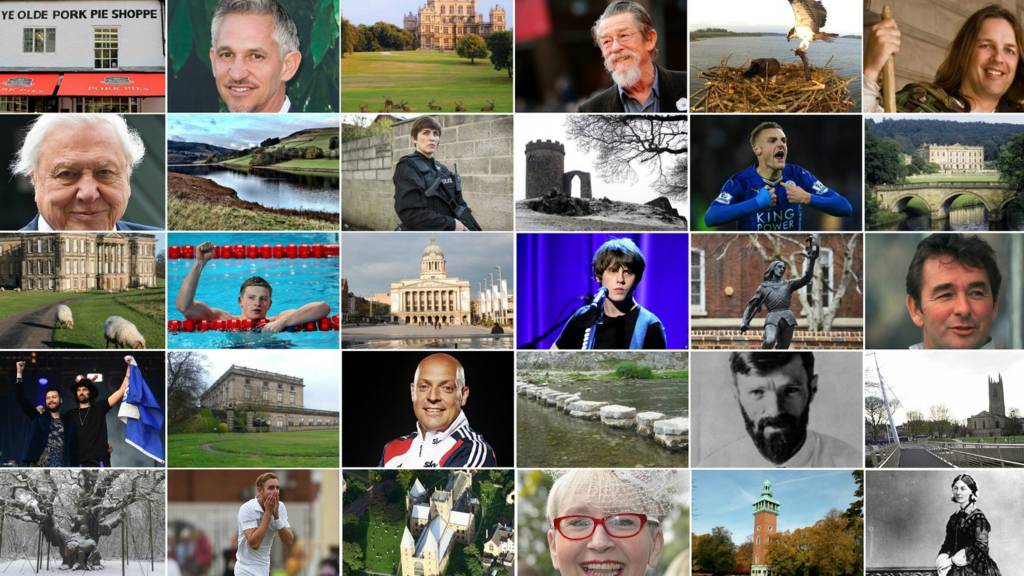 Latest updates: East Midlands Live
Listen live to your BBC local radio station in Derbyshire, Leicestershire and Nottinghamshire
Our live coverage across the day

East Midlands Live has now ended for the day.

Some news, sport, travel and weather updates may appear overnight before the live page returns at 08:00 on Friday.

Severe disruption: M1 South Yorkshire southbound

BBC News Travel

M1 South Yorkshire southbound severe disruption, between J31 for A57 Sheffield and J30 for A616.

M1 South Yorkshire - One lane closed on M1 southbound between J31, A57 (Sheffield) and J30, A616 (Worksop), because of a broken down vehicle. Traffic is coping well.

To report traffic and travel incidents dial 0330 123 0184 at any time

East Midlands weather update: A chance of thunder

Anna Church

Weather Presenter, BBC East Midlands Today

There will be a few sharp showers to end the afternoon and these will continue into the evening.

The odd rumble of thunder is also possible. However, there will be plenty of sunny spells in between.

Man rushed to hospital after Meadows stabbing

Maryam Qaiser

BBC Local Live

A man has been rushed to hospital after being stabbed in the chest this afternoon, Nottinghamshire Police has confirmed.

The force said they were called to Humber Close, in the Meadows, at about 13:40 BST.

The victim's injuries are not thought to be life-threatening or altering.

Horse found dead in flooded field

Chris Doidge

BBC Radio Derby, political reporter

An animal welfare group is calling for more to be done - after a horse was found dead in a field by the A61 near Little Eaton island.

The charity Help for Horses wants more action to stop horses being left to die in Derbyshire after the dead animal was brought to their attention.

It's not clear who owned the horse. The incident has now been passed on to the Derbyshire Police and Crime Commissioner's office.

Watch: Train in near miss with tractor

Amy Woodfield

BBC Local Live

With harvest season around the corner, British Transport Police has released video footage to warn farmers of the dangers of crossing the railway.

This was recorded by a train in Huncote...

Watch: Family living in fear after burka robbery

Amy Woodfield

BBC Local Live

You might remember this burglary at a house in Leicester back in April - two men wore burkas to break into a house on Dorothy Road...

Police have said three men and a woman have since been arrested on suspicion of burglary.

The victim, who had a hand and several ribs broken in the attack, has spoken out about what happened to him...

Quote Message: I just went to the door and was attacked in my own home without warning. I want the people responsible caught so that I can stop living in fear and to stop this happening to anyone else. This has left me and my family scared every time someone comes to the door or a car passes the house." from Victim

Despite having made arrests police have said they need the help of the community.

They are asking the public to think back and see if they can remember anything out of the ordinary.

Search for missing Syston man

Amy Woodfield

BBC Local Live

Police are concerned for welfare of this 21-year-old man who has been reported missing...

Copyright: Leicestershire Police

Liam Jones was last seen yesterday by a family member at his home in the Syston area.

It looks like the Lowland Search & Rescue Unit is also helping with the search...

Welly weather at Y Not Festival

Amy Woodfield

BBC Local Live

Better pack your wellies if you're heading for the Y Not Festival - police have just shared these photos of the festival site...

Copyright: Derbyshire Police

Copyright: Derbyshire Police

Morgan on 'tipping point' abuse online

Amy Woodfield

BBC Local Live

Nicky Morgan has been speaking to the BBC about receiving death threats on Twitter.

The Loughborough MP said there are limits to what anyone should have to put up with on social media.

She told: "I think all MPs are used to pretty robust political debate and we're quite used to being sworn at on Twitter or people making it very clear what they think of us.

"But I think the threat of violence is something for me that is a tipping point."

Man arrested over attempted child abduction

Greig Watson

Reporter, BBC News Online

A 36-year-old man was arrested after reports a girl had been followed into a house in Beeston last night.

The suspect was spotted acting suspiciously on Central Avenue just after 16:30 BST.

Police said when they arrived in the area, members of the public helped them track down the man.

Here's Inspector Steven Wragg...