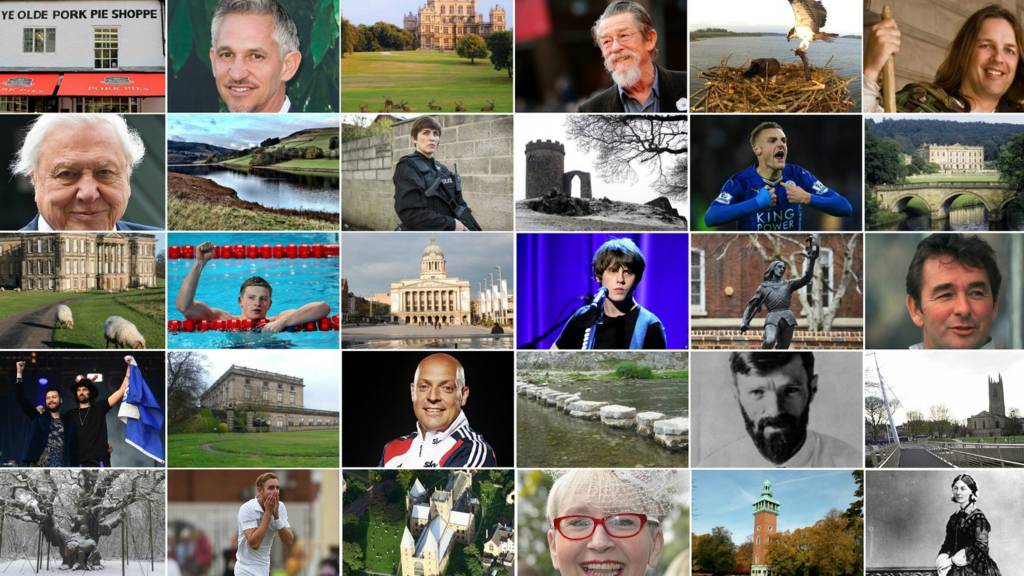 Our live coverage across the day

Today's live updates have now finished. They'll resume again at 08:00 on Monday.

East Midlands weather update: A wet weekend ahead

There will be plenty of rain this evening which will turn into heavier showers later.

It will be dry throughout the night but will remain breezy with temperatures reaching 12C (54F).

Tomorrow will be dry with some sunny spells but it will rain in the afternoon.

Sunday will see frequent heavy showers with a risk of thunder at times.

Leicester drug dealer jailed for five years

Maryam Qaiser

BBC Local Live

A 36-year-old man has been jailed for several drug offences.

Kyle Garner pleaded guilty to two counts of possession with intent to supply class A drugs, two counts of possession with intent to supply class B drugs and possession of an offensive weapon.

Leicestershire Police said officers raided Garner's home in Leicester last July and found a quantity of class A and B drugs with a street value of more than £1,000.

Copyright: Leicestershire Police

He was subsequently charged but while he was on bail, officers executed another warrant at his address and recovered a quantity of class A and B drugs with a street value of more than £3,000. A baton was also recovered from Garner's car.

He was sentenced to five years and 10 months in prison on Wednesday.

Mansfield Town in talks to build hotel

Liam Barnes

BBC News Online

Most football fans hope for a new striker in the summer transfer window, but Mansfield Town could be set to get a different sort of investment.

The Stags have confirmed they're in talks with international hotel chain Hilton over plans to build the only hotel in the town.

A club spokesman says the plans are in their "embryonic stage", but the plans are understood to be a 100-room hotel on land next to the Quarry Lane stand of the One Call Stadium.

Man denies attempted child abduction charges

Maryam Qaiser

BBC Local Live

A man has pleaded not guilty to the attempted abduction of a child.

Mikolaj Zawilinski, of Farfield Avenue, Beeston, also denied other charges at Nottingham Magistrates' Court - including sexual assault on a child under 13 and trespass with intent to commit a sexual offence.

Mr Zawilinski has been remanded in custody and is due to stand trial at Nottingham Crown Court on 25 August.

M1 delays following broken down vehicle

Maryam Qaiser

BBC Local Live

A broken down vehicle on the M1 is causing delays heading south between junctions 29 and 28 for Alfreton.

Highways England has closed one lane.

Copyright: Highways England

Shane Bryant: Inquest into death of robbery suspect adjourned

Liam Barnes

BBC News Online

An inquest into the death of a suspected robber has been opened.

Shane Bryant was stopped by members of the public following an armed raid on the Co-op on Market Street, Ashby-de-la-Zouch, on 13 July.

The 30-year-old died in hospital two days later, and an initial post-mortem examination did not find a cause of death.

The Independent Police Complaints Commission is investigating.

Copyright: Shane Bryant/Facebook

By Will Chalk

Newsbeat reporter

Police release image of wanted man

Liam Barnes

BBC News Online

This is Scott Harris, who is wanted for recall to prison.

The 42-year-old is from Castle Gresley, but Derbyshire Police say he is thought to have connections with Leicestershire.

They're asking anyone who spots him to get in touch.

Copyright: Derbyshire Police

CCTV released of attempted robbery

Liam Barnes

BBC News Online

Police have released dramatic CCTV footage showing the attempted robbery of a shop in Nottingham.

It happened at about 23:00 BST on 18 July.

The staff who managed to prevent the suspect taking any money were uninjured.

Weather Watchers: Wet and windy across East Midlands

It's not been a glorious day on the weather front, but the Weather Watchers have still been sending in some great pictures.

Raquel has captured the fountain at Renishaw Hall in Eckington looking splendid, while Annbie has gone arty with a rain-splashed picture of the weather in Warsop.

Leicester Tigers unveil new kit

Liam Barnes

BBC News Online

Leicester Tigers will be in action tonight in the Singha Premiership Rugby Sevens in Northampton, and they'll be running out in their new strip for the first time.

The new kits are "geared towards performance", according to kit manager Clive Galloway, so maybe they'll help Leicester improve on what was a turbulent season last time out.

Copyright: Leicester Tigers

Three arrested after police pursuit

Liam Barnes

BBC News Online

Three men have been arrested after police searching for suspected burglars spotted a car believed to be stolen.

Nottinghamshire Police said three men thought to be wearing balaclavas and carrying weapons entered a house in Sheffield early on Thursday before fleeing in the car, which was seen by an officer on the A614 in Ollerton.

The car was brought to a halt at Burntstump Hill in Arnold at about 16:00 BST yesterday, and after the suspects fled on foot they were tracked down.

All three men have been taken back to South Yorkshire for questioning.

QMC tram bridge named after MRI pioneer

Maryam Qaiser

BBC Local Live

The new £1.4m tram bridge, which opened at the Queen's Medical Centre today, has been named in memory of professor Sir Peter Mansfield.

Sir Peter, who died in February, was one of Nottingham's science pioneers and a Nobel prize-winner.

He invented the Magnetic Resonance Imaging (MRI) scanner.

His name was the most popular suggestion in a competition held to find a new name for the tram bridge, which will provide direct access from the tram platform to the south side of the hospital.

Lady Mansfield was at the official opening of the bridge, which marked the hospital's 40th birthday.

Titanium chippings on fire

Maryam Qaiser

BBC Local Live

About 15 firefighters from Nottinghamshire and Lincolnshire are tackling a blaze at a warehouse on Old Trent Road in Beckingham.

Twenty tonnes of titanium chippings are on fire.

Copyright: Nottinghamshire Fire and Rescue Service

Cigarette smuggling ringleaders jailed

Maryam Qaiser

BBC Local Live

The leaders of a cigarette smuggling gang, who evaded almost £1.2m in taxes, have been jailed.

Alan Rashid, 33, and Goran Mohamed Ahmed, 34 from Derby were caught with more than three million illegal cigarettes.

The pair masterminded the operation over four years, along with gang member Hiwa Kadar, 34, of West Bromwich.

The three men were caught with a delivery of 3,120,200 Mayfair cigarettes when HMRC officers raided a yard in Brickhouse Lane, West Bromwich, in September 2014.

Copyright: HM Revenue & Customs

Tens of thousands of cigarettes were seized at several other addresses linked to Rashid and Ahmed, who were also connected to smuggled cigarettes seized in 2010.

Rashid and Ahmed were both jailed for four years and six months at Derby Crown Court on Wednesday.

Hiwa Kadar was sentenced to 10 months in prison suspended for 18 months, 120 hours unpaid work and a curfew between 20:00 and 05:00 for three months.

Mansfield Library turns 40

Maryam Qaiser

BBC Local Live

It seems 28 July is a day for celebrating 40th birthdays.

Not only has the Queen's Medical Centre turned 40 today but Mansfield Library marks four decades of being open.

It was officially opened by the Queen who visited Mansfield with Prince Philip in 1977.