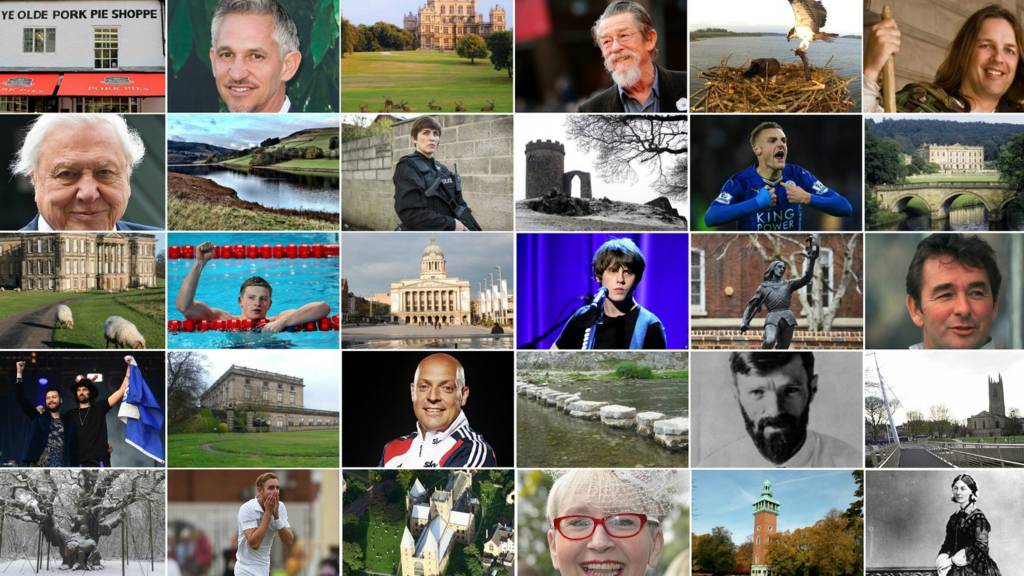 Summary
Climber airlifted to hospital
Teenager jailed after stabbing
Derailed train affects journeys
CCTV of cash machine ram raid
Inquest into teen railway death
Combine harvester fire prompts warning
Live updates for Monday 14 August 2017
Our live coverage has ended

Regular live coverage on this page has ended for the day, but breaking news, sport and travel updates will continue appear through the night.

East Midlands Live returns from 08:00 tomorrow morning.

Severe accident: M1 Nottinghamshire southbound

BBC News Travel

M1 Nottinghamshire southbound severe accident, between J27 for A608 Hucknall and J26 for A610 Nottingham.

M1 Nottinghamshire - Slow traffic and one lane closed on M1 southbound between J27, A608 (Hucknall) and J26, A610 (Nottingham), because of an accident involving multiple cars and a lorry earlier on.

To report traffic and travel incidents dial 0330 123 0184 at any time

Weather: Scattered showers but with plenty of sunshine

Maryam Qaiser

BBC Local Live

There'll be some outbreaks of rain that'll drift northwards in the first half of this evening and tonight.

After that there'll be scattered cloud and some clear spells in the early hours with lows of 13C (55F).

Tomorrow looks like a day of sunshine and showers.

There'll be plenty of sunny spells with variable amounts of cloud and some sharp showers with highs of20C (68F).

Road closure causing delays south of Leicester

Amy Woodfield

BBC Local Live

If you're about to head out of Leicester in a southerly direction you might want to take note of this traffic warning...

Maryam Qaiser

BBC Local Live

Two lanes are closed on the M1 between junctions 24A for Derby and 24 near Kegworth following a two-vehicle crash.

Diesel spillage in River Poulter

Amy Woodfield

BBC Local Live

About 500m of the River Poulter has been polluted by a diesel spillage upstream of Clumber Park.

Environment Agency staff have been at the Nottinghamshire site to clean up but thankfully there's been no serious environmental impact.

Copyright: Environment Agency

Quote Message: Our officers have used a boom in two locations to contain the diesel to prevent it moving downstream and have started the clean-up process using absorbent pads to soak it up." from Environment Agency Spokesperson

Severe accident: M1 Leicestershire southbound

BBC News Travel

M1 Leicestershire southbound severe accident, between J24A for A50 Derby and J24 for A6.

M1 Leicestershire - Slow traffic on M1 southbound between J24a, A50 (Derby) and J24, A6 (Kegworth), because of an accident earlier on. All lanes have been re-opened.

To report traffic and travel incidents dial 0330 123 0184 at any time

Climber airlifted to hospital

Maryam Qaiser

BBC Local Live

Mountain rescuers raced to the aid of a "mature climber" who collapsed with chest pains at the foot of Castle Naze Crag near Buxton yesterday afternoon.

The Buxton Mountain Rescue Team and East Midlands Ambulance Service arrived to find the man was suffering from heart problems.

He was being cared for by a group of walkers from Austria.

He was treated by paramedics at the scene and then flown to hospital in Sheffield by a Maritime and Coastguard Agency helicopter.

Millions to be spent on road 'improvements'

Amy Woodfield

BBC Local Live

Two multi-million pound road improvement schemes in Leicestershire have been announced by Highways England.

Nearly £9m is to be spent on improving Anstey Lane (A46 / A560) and more than £18m on the M1 at J23.

It claims the improvements will "create growth opportunities" and could see up to 6,378 homes and 5,860 jobs come to the county.

Quote Message: England's strategic roads are vital for economic success, connecting businesses, people and supporting the government's agenda of employment and growth. All of these improvements and future upcoming announcements will ultimately ensure England's major roads continue to make a valuable contribution to the prosperity of our country." from Jim O'Sullivan Highways England chief executive

'Jane Eyre hall' finally rented out

Calum McKenzie

BBC Local Live

Tenants are now living in a Grade II-listed hall that influenced Charlotte Bronte's Jane Eyre, its owners have confirmed.

The Peak District National Park Authority put North Lees Hall, near Hathersage, Derbyshire, up for rent in April.

The property inspired Thornfield Hall in the celebrated novel.

Thornfield Hall was the home of the 1847 novel's hero Edward Rochester.

Infant and man injured after falling off motorbike

Maryam Qaiser

BBC Local Live

A one-year-old child and a man are being treated in hospital after falling off a motorbike in Cotmanhay.

The pair came off as the bike went over a speed bump in Bridge Street yesterday.

Neither of them have suffered life-threatening injuries but Derbyshire Police have appealed for witnesses.

Green plaques to commemorate county's past

Amy Woodfield

BBC Local Live

There will be six new green plaques unveiled in Leicestershire to celebrate and commemorate the county's past.

The authority received 6,000 votes on its shortlist of 12 potential recipients.

The winners are:

Ann Ayre Hely from Ravenstone - a nurse in the Crimean war
The Drill Hall in Melton, built in 1914 for the Leicestershire Yeomanry
Heathcoat and Boden's Lace Factory in Loughborough - the site of the Luddite attack of 1816
John Theodore Kenney from Kibworth - the artist who illustrated Thomas the Tank Engine
Tommy Brown from Earl Shilton - he helped rescue an Enigma cypher machine and code book
William Pearson from South Kilworth - a founder member of the Royal Astronomical Society

Copyright: Sir Edward Garnier

They will look like this one unveiled last year for Willam Henry Bragg in Market Harborough.

Derby beach closed because of vandals

Maryam Qaiser

BBC Local Live

The pop-up beach at the Market Place in Derby has been closed because of vandalism.

It opened in July and was decked out with sunbeds, sand, children's rides and a bar for adults but is now shut.

People wishing to visit are being asked to contact the sales and information centre.

Police name cyclist killed in crash

Maryam Qaiser

BBC Local Live

A cyclist who died in a crash with a car in Sutton-in-Ashfield has been named as Jordon Gregory.

The 23-year-old, who was from the town, died at the scene on Station Road at about 14:00 on 9 August.

Nottinghamshire Police arrested a 26-year-old man on suspicion of causing death by dangerous driving. He was later released.

Officers are still appealing for witnesses, particularly the occupants of what's thought to be a red Vauxhall Tigra and a small blue Suzuki Swift.

Instructor locked up for sexual abuse of boys

Maryam Qaiser

BBC Local Live

A former martial arts instructor, who raped and sexually abused two boys, has been jailed for 22 years.

Nottingham Crown Court heard how Lee Martin, 46, of Denewood Crescent, Bilborough groomed one boy in 1996 and sexually abused him over four years.

He groomed another boy in 1999 and sexually assaulted and raped him on two occasions, Nottinghamshire Police said.

Copyright: Nottinghamshire Police

A jury convicted him of 14 counts of sexually touching a child without consent and two counts of rape relating to two of the victims.

Derailed train affects railway journeys

Amy Woodfield

BBC Local Live

A derailed freight train is currently causing some problems on the railways in the East Midlands.

The train has derailed between Peterborough and Ely disrupting trains on the Liverpool Lime Street / Nottingham / Norwich route.

It's also having an impact on trains travelling through Leicester between Stansted Airport and Birmingham New Street.

Divide in teenagers going into higher education

Chris Doidge

BBC Radio Derby, political reporter

There's lots of discussion about how many children from poorer backgrounds who go on to higher education.

I've been looking at the data for Derby.

Derwent is in the bottom 50 wards in England while Littleover is in the top 50 wards nationally.

These are the five highest and five lowest in Derbyshire - Shirebrook North West has the lowest participation rate in England.