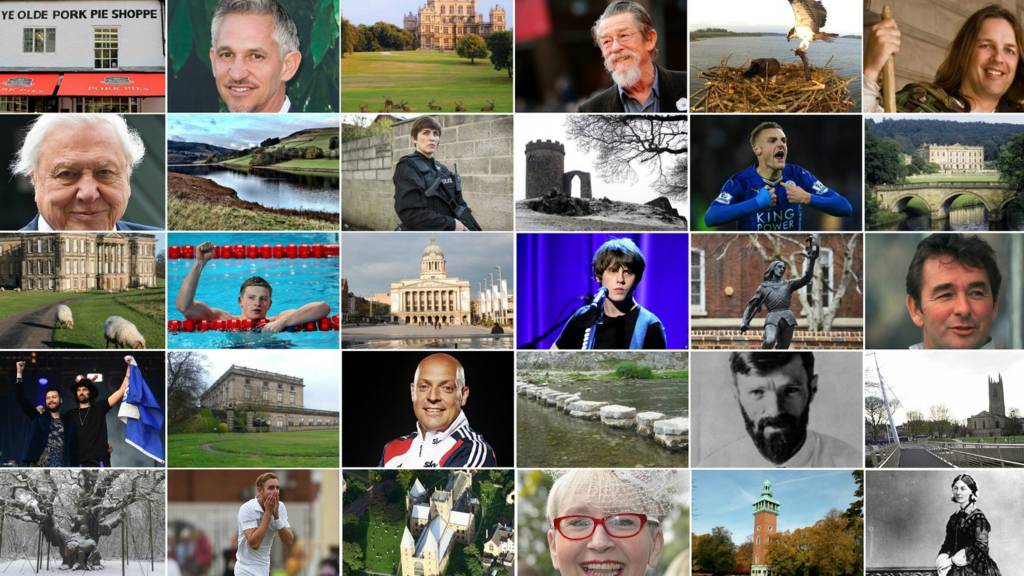 Summary
Labour retain three council seats in Nottingham by-elections
Cows to be honoured at Diwali ceremony in Rutland
Battle stepped up against street drinking in Nottingham
Weather: Rain and wind expected
Live updates for Friday 20 October 2017
Dafydd Pritchard

BBC Sport Wales at the Liberty Stadium

Our live coverage across the day

This week's Local Live coverage has come to an end. We'll be back on Monday at 08:00.

Weather: Rain due to arrive later

Anna Church

Weather Presenter, BBC East Midlands Today

Staying dry to start the evening but it will become increasingly cloudy with a band of heavy rain arriving later.

The rain will quickly move eastwards leaving a dry end to the night with clear spells.

Massive new chicken farm to be built

Giles Taylor

BBC East Midlands Today reporter

A massive new chicken farm housing 200,000 birds will be built despite almost 8,000 people opposing the plans.

Farmer Russell Price has defended the move on land off the A46 near Cropwell Bishop.

"We're well away from people... it's an excellent location for movement on and off the farm," he said.

"Visually it's been shown it won't affect anybody... we've already got a large farmyard and we're next to the A46."

But it's had a mixed response from the nearby village.

Russell said the buildings should be complete by next summer.

Landscape gardener models for Versace

How one green-fingered teen has gone from being a landscape gardener to New York model - and back again.

Delays on A1 after breakdown

Gavin Bevis

BBC Local Live

Something to be aware of if you're heading this way.

Police pull out of marshalling remembrance parade

Samantha Fisher

BBC News Online

Police have been criticised for their decision to not get involved with an annual remembrance parade through Melton Mowbray meaning hundreds of pounds needs to be raised for marshalling.

A fee of about £800 is needed to cover the cost of marshalling and traffic duties for the event, which is organised by the borough council with the support of the British Legion.

Sir Alan Duncan, MP for Rutland and Melton, said having to pay for marshaling would be "totally wrong".

He said: "I want the minimum of bureaucracy. Instead of having a bill to the poppy appeal for lots of marshalls, let's have volunteers working with the council to make sure we can keep this simple and have a really successful Melton Remembrance Day parade."

A Leicestershire Police spokeswoman said in previous years officers have helped with road closures and traffic management but it had an impact on day-to-day operations and demands.

East Midlands bus firm sees profit drop

Gavin Bevis

BBC Local Live

A bus company that runs many of the long distance routes across the East Midlands has reported a drop in profits of more than £1m.

The Wellglade Group, based in Heanor, owns Trent Barton and several other operators.

Its pre-tax profits last year were £8m - a drop of £1.3m on the previous year.

The group employs more than 1,500 people and owns about 500 buses.

Your comments: 'Why can't people drink in the street?'

A mixed response on Facebook to the news that Nottingham City Council's community protection officers now have the power to fine people £70 for drinking alcohol in the street.

"About time," said Lorna Maslin.

But Ash J Dybala wrote: "Littering is one thing, but as long as people aren't bothering anyone else, why shouldn't they be able to drink what they want?"

Damian Taylor said: "I bet they won't bother with the crowds of students that stroll in to town drinking their bottles of spirits in an evening, it'll be the poor sod in a doorway that can't afford a fine that they'll hit."

Storm Brian is on the way: What you need to know

Alexandra Hamilton

BBC weather presenter

A yellow weather warning for wind has been issued for Leicester, Leicestershire and Rutland with Storm Brian expected to bring winds of up to 50mph.

This storm is a low pressure system coming in off the Atlantic and it is likely to be felt on Saturday and, to a lesser extent, on Sunday.

Copyright: Weather Watchers/scrappy

The weather warning is valid from 04:00 to 23:59 on Saturday. There are no warnings issued for the rest of the East Midlands, but this could change.

However, recent analysis suggests the East Midlands will experience gusts of 40 to 50mph, picking up on Saturday afternoon and easing off on Sunday morning. This has the potential to cause some damage to trees and disruption to travel.

Hold on to your hats and stay tuned to the forecast over the next 24 hours as the it will become more refined as Storm Brian approaches.

Arson attack trampoline park to reopen

Gavin Bevis

BBC Local Live

A trampoline park which was badly damaged in an arson attack earlier this year is to reopen in December.

Oxygen Freejumping, at Pride Park in Derby, suffered extensive damage when it was targeted on 8 June.

Copyright: Derbyshire Police/Oxygen Freejumping

Refurbishment work is under way with a scheduled reopening date of 17 December.

The owners are planning a special event the day before as a thank you to firefighters involved in the clean-up operation.

The arson remains unsolved, despite being featured on BBC Crimewatch in July.

Cat shot twice with airgun in Ruddington

Gavin Bevis

BBC Local Live

A cat is recovering after being shot with an airgun twice in one week.

Patch was climbing a tree in Loughborough Road, Ruddington, on 12 October when he was shot in his back leg.

While he was being treated, vets found another pellet in his stomach and believe it had only been there for a few days.

The black and white cat is expected to make a full recovery but the RSPCA and his owner want to find out who is responsible.

Owner Sue Holmes said: "We found him cowering under our garden furniture and covered in blood.

"[The second pellet] hadn't damaged any vital organs and Patch had just been going about his business with this inside."

RSPCA inspector Susan Hammond said: "Poor Patch could have been killed. Not only is this a brutal act of cruelty against a much-loved pet but it is also against the law."

The charity said there had been 140 airgun attacks on cats in Nottinghamshire since the start of 2012.

Man, 70, has holiday cash stolen in city centre

Gavin Bevis

BBC Local Live

A 70-year-old man had a large amount of cash stolen in Derby city centre while he was on his way to get it changed for his holiday.

Police said the cash was in a bag that was stolen after a man barged into him and knocked him to the floor in Albion Street at about 16:15 on Tuesday.

The thief then ran off towards St Peter's Street. Police have appealed for witnesses.

Attempted murder arrest after nightclub attack

Samantha Fisher

BBC News Online

A 34-year-old man has been arrested on suspicion of attempted murder after an attack in a Hinckley nightclub.

Officers were called to reports of an assault in Gravity Nightclub, Regent Street, last weekend, and a 29-year-old man was found injured, Leicestershire Police said.

He was taken to hospital where he remains in an induced coma. He is in a serious but stable condition.

The arrested man, from Warwickshire, remains in police custody.

Hindus honour cows in Diwali festival

Samantha Fisher

BBC News Online

A ceremony to respect and honour cows has taken place as part of Diwali celebrations.

Hindus and cow lovers gathered today at Ahimsa Farm, in Rutland to offer the cows home-made jaggery sweets and organic fruit and vegetables. The cows were also decorated with natural colours and flower garlands.

Pradyumna Das, who hosted the ceremony, said: "Cows are especially revered by Hindus all over the world and on this day we offer them love and respect."

Ahimsa is thought to be the UK's first "slaughter-free" dairy farm.

Lydia Unsudimi barely smiled for two years after the comment.

Leicester man raped severely disabled woman at care home

Gavin Bevis

BBC Local Live

A man who raped and sexually assaulted a severely disabled woman while working at a care home has been jailed for 26 years.

Robert Mason's crimes, which took place in Suffolk between 2012 and 2014, came to light when police were sent photos and information by Mason's estranged wife.

The 59-year-old, from Leicester, pleaded guilty to three counts of rape and two counts of sexual assault.

In addition to his prison sentence, he was given an extended eight-year licence and an indefinite sexual harm prevention order.

Det Ch Insp Barry Byford, from Suffolk Constabulary, said: "This was a particularly depraved series of crimes against a vulnerable, defenceless victim."