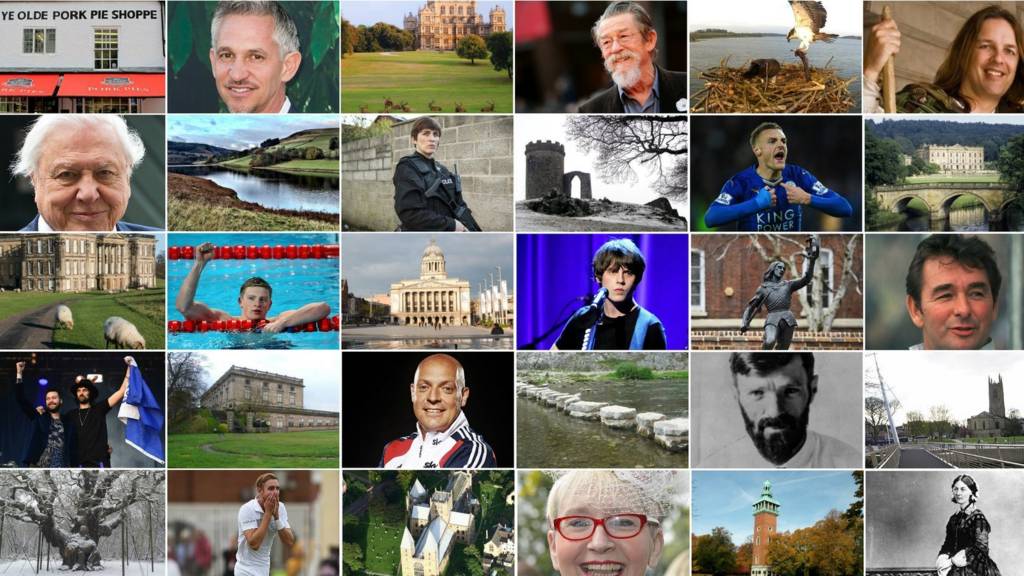 'I've never stopped feeling like I'm part of your life'

We told you earlier about Josh Smith, who has thanked his foster parents Bill and Jane Aiton for taking him in aged 11 after living with an abusive father.

On the 10th anniversary of being taken into care, Josh has written an emotional letter thanking them for helping him to learn to eat, talk and "believe" in himself.

Josh left school with good grades and still keeps in touch with the family.

"I've never stopped feeling like I'm part of your life."

The 21-year-old lives with his girlfriend in Leicester, has learned to drive and has a full-time job as a team leader at a supermarket.

There's more about Josh's story on BBC Midlands Today at 18:30.

Our live coverage across the day

Regular updates have finished but breaking news, sport and travel will continue through the night. Normal service will resume at 08:00 on Tuesday.

Weather: Band of heavy rain moving in

Charlie Slater

BBC Weather presenter

Cloud will gradually increase overnight with some clear spells in places. It'll get steadily breezier in the early hours with a small chance of drizzly showers.

Lows of 3C (37F) in rural spots.

It'll be a cloudy, breezy and mostly dry start on Tuesday.

From mid morning onwards a band of rain, which could be heavy at times, will move eastwards.

Highs of 11C (52F).

Men who witnessed stabbing awarded for bravery

Amy Woodfield

BBC Local Live

Well done to these chaps - they're getting an award for going above and beyond when assisting the police during a serious stabbing in Nottingham.

Shiyan Johnson and Mark Hickling were driving through the Hockley area in January when they saw a 17-year old boy get stabbed several times with a knife. 

As the victim was already getting help from his friends the men alerted police and helped them search for the offender.

Copyright: Nottinghamshire Police

When they spotted the offender they got out of their vehicle and chased him on foot. During the chase they flagged down a marked police vehicle. Officers were then able to detain him.

Your photos: Setting sun in Loughborough

A beautiful late-in-the-day shot taken at Nanpantan Reservoir by Mogjo.

Vet sought over cat's firework death

Gavin Bevis

BBC Local Live

Police want to trace a vet who tried to save a badly injured cat that had been strapped to a firework.

The vet collected the stricken animal after it was found injured by a passer-by on Thorndike Avenue in Alvaston on Saturday afternoon.

The cat died from its injuries and the vet did not leave any details. Now police want to speak to him.

Plans to move beer festival to National Ice Centre

Amy Woodfield

BBC Local Live

Nottingham's beer festival could have another new home for the next three years.

Organisers have said they're currently in negotiations with the city council to use the National Ice Centre as a temporary location while renovation work takes place at the festival's usual home at Nottingham Castle.

They'd originally planned to use the Forest Recreation Ground in the short term but The Campaign for Real Ale (CAMRA) now thinks the arena could be a better option.

Lenton stabbing: Two more attempted murder arrests

Gavin Bevis

BBC Local Live

Two more men have been arrested on suspicion of attempted murder after a teenager was stabbed in Lenton.

The 19-year-old is in a serious condition in hospital after being attacked in Albert Grove on Thursday morning.

The pair, aged 26 and 21, are being questioned by police, who have been granted more time to continue questioning a 22-year-old man arrested on the same charge.

Two boys, aged 15 and 16, who were also arrested on suspicion of attempted murder have been released on bail pending further enquiries.

A 23-year-old man detained on suspicion of assisting an offender has been released while investigations continue.

Man found dead in woodland

Gavin Bevis

BBC Local Live

A man has been found dead in Cotmanhay Wood.

The body was found by a member of the public at about 13:00 and a cordon has been put in place.

Police said there were no suspicious circumstances.

Ambulance damaged by mental health patient

Amy Woodfield

BBC Local Live

This damage was caused to an ambulance in Nottingham yesterday.

The East Midlands Ambulance Service (EMAS) crew were transporting a patient with complex mental health when the patient became "agitated".

Copyright: East Midlands Ambulance Service

The patient assaulted the paramedic in the back of the vehicle forcing the driver to pull over on Alfreton Road.

Staff left the vehicle and the patient continued to damage the ambulance - windows were smashed and equipment was damaged.

Copyright: East Midlands Ambulance Service

Quote Message: The patient was being transported under Section 2 of the Mental Health Act and while we do not tolerate violence of any kind we are working with Nottinghamshire Police to ensure the appropriate support and action is taken." from Wendy Hazard Ambulance Operations Manager

Fireworks aimed at ambulance staff

Amy Woodfield

BBC Local Live

Ambulance staff had fireworks thrown at them while responding to a serious hit-and-run in Normanton last night.

East Midlands Ambulance Service (EMAS) has said: "While trying to treat the patient a member of the public aimed fireworks towards our staff.

"Thankfully there were no injuries. However, the explosion burned the side of one ambulance vehicle causing damage."

Your comments: Radio Leicester's 50th birthday

On Facebook you've been sharing your "Happy Birthday" messages to BBC Radio Leicester.

An exhibition to celebrate the 50th birthday was opened by local singer Engelbert Humperdinck earlier.

David Walker said: "Congratulations to Radio Leicester and its listeners. Here's to the next 50 years."

Richard Bradshaw said: "Happy 50th Radio Leicester. Love the football commentary with City over the years. Long may it continue."

Cherrill James said: "Congratulations to you all at Radio Leicester, love the programs."

Your comments: Firework problems in Derbyshire

Wrecked houses, fireworks through letterboxes, bonfire display disorder, cat killing - this weekend's firework-related problems in Derbyshire have prompted plenty of comment on our Facebook page.

Jennifer Barkess posted: "Disgusting! As is two families having their homes destroyed. It is well overdue that fireworks are banned totally, or at least confined to organised displays."

"Ban the sale of them to the public. They're just a nuisance most of the time," said Claire Peet.

Leslie Ford agreed: "Fireworks are now too big and explosive to be put into the publics hands, houses and gardens. I feel, given all the health and safety regulations that govern just about everything we do now, that is the question that needs to be raised."

But Josh DeRozen Newman said: "Why ban fireworks catch the idiots that do it and ban them from society."

Boy, 12, goes missing in Hucknall

Gavin Bevis

BBC Local Live

Police are looking for a 12-year-old boy who's gone missing from his home in Hucknall.

McKenzie Lennox was last seen in the town at about 20:45 yesterday.

Armed forces given free Remembrance Sunday bus travel

A Leicester bus firm is offering free travel to any service personnel wearing their uniform this Remembrance Sunday.

First Leicester staff who have previously served in the forces are also being encouraged to wear their military attire on Sunday whilst driving in service.

Watch: 'Stupid firework has changed my life'

Gavin Bevis

BBC Local Live

A couple have been told they may not be able to return home for six months after it was set on fire by a suspected stray firework.

The blaze at Wendy and Ted Bagshaw's house in Littleover caused massive damage and destroyed treasured photos of Wendy's mother, who died earlier this year.