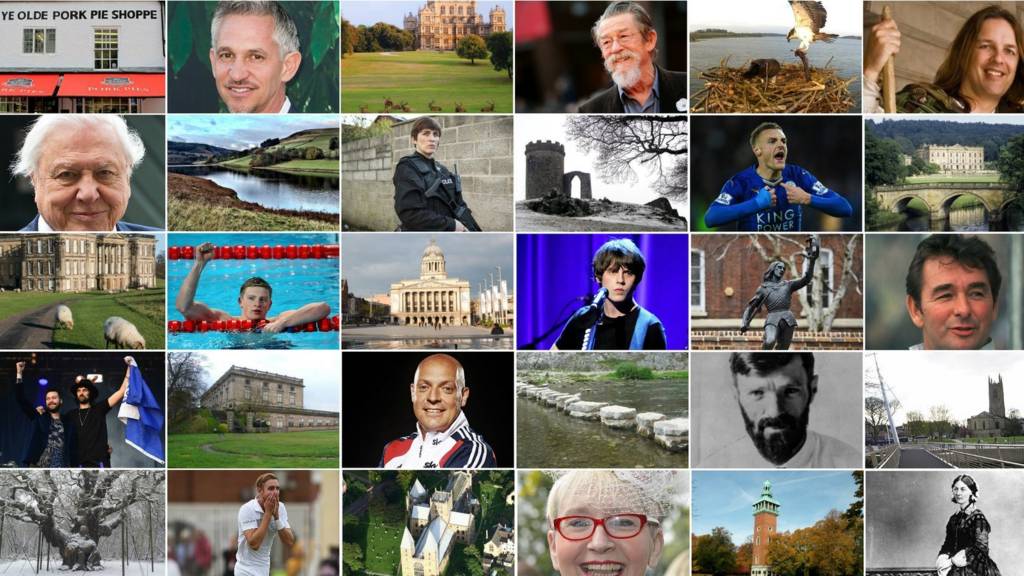 Severe disruption: M1 Derbyshire northbound

BBC News Travel

M1 Derbyshire northbound severe disruption, from J28 for A38 Alfreton Road to J29 for A617 Chesterfield.

M1 Derbyshire - One lane closed on M1 northbound from J28, A38 (Alfreton) to J29, A617 (Chesterfield), because of a broken down vehicle.

To report traffic and travel incidents dial 0330 123 0184 at any time

Our live coverage across the day

Dedicated coverage on East Midlands Live has now finished. Some news and sport may continue to appear overnight with a full service resuming at 8:00 on Wednesday.

Weather: Staying dry and cool tonight

This evening will see any isolated showers die away to leave it dry after dark with clear spells.

A relatively cool night with a light with minimum temperature of 13C.

Tomorrow is expected to be a largely dry day with sunny spells although some patches of cloud will develop.

Weapons, drugs and money 'found in Derby house'

Kidney patient thanks hospital 40 years on

A Leicester man is celebrating having one of the UK's longest surviving functioning transplanted kidneys and has written a thank-you letter to the Leicester General Hospital.

Peter Davis accepted the organ from an anonymous donor in 1978 and was warned afterwards he might only live a few years.

Now in his 70s, and still fighting fit, he has written the letter to show his gratitude to the hospital.

"Forty years later I would say having the transplant has given me freedom and amazing moments with my family," he said.

"Overall my health and my energy levels improved. My wife has been there every step of the way helping me to always keep positive!"

Horses go missing from Nottinghamshire fields

The owners of a horse and pony that went missing on the same day from different fields in Nottinghamshire fear they could have been stolen for their meat value.

Cinders and Marie disappeared from separate paddocks in Caunton and Collingham on Wednesday last week.

Michelle Storer and Maria Pykett said it's "strange" their pets both went missing on the same afternoon and think the thefts must be connected.

Copyright: Michelle Storer / Maria Pykett

The pair said they been searching for the horse and pony and have appealed for information on social media, but now fear the worst.

Nottinghamshire Police said they are aware of the two disappearances and are investigating.

Vehicles and cylinders on fire at garage

The earlier blaze in Holbrook Street, Heanor had been at the Plough Garage where vehicles and cylinders had caught fire.

Surrounding homes and businesses were evacuated but no-one was injured.

In total, eight crews from across Derby, Derbyshire and Nottinghamshire were called to fight the fire.

Gun found close to railway line

A gun was found close to a Derby railway line this morning wrapped in a plastic bag with several magazines of ammunition.

Police said the pistol, which was in an orange Sainsbury's bag, was spotted by a Network Rail worker who was checking the fence next to the line by Caxton Street in Sinfin.

Officers are keen to hear from anyone who has seen someone with the bright carrier bag acting suspiciously.

England release Ball for T20 clash

Major boost for Notts tonight.

Jake Ball has been made available by England for tonight's clash between the Outlaws and the Durham Jets.

Clinic manager defrauded Nuffield Health

Tarmac quarry granted extension

Kit Sandeman

Local Democracy Reporter

More than 3m tonnes of gravel can now be extracted from a mine near Newark after permission was granted today.

Tarmac, which runs the mine, had permission for another three months of digging for gravel and sand, but has now been allowed to dig for up to eight further years.

Once all the minerals are extracted from the site, it will be handed over to the RSPB, which will manage it as a nature reserve.

Langford Quarry, on Newark Road, near Collingham, has operated since the late 1980s and now has permission to extract gravel and sand from a further 145 acres of land.

Tarmac said this will produce 3.6m tonnes of material.

The plan was approved unanimously by Nottinghamshire County Council's planning committee today.

Search still on for 'missing tarantulas'

There have been no sightings of two giant spiders which the RSPCA believe may have escaped in Derbyshire last week.

The charity said three baby tarantulas, believed to be Brazilian bird-eating spiders, were found in tubes dumped in a Somercotes car park on Friday.

Two larger tubes, which were found broken nearby, may have contained their parents, who could have scuttled off.

Karim Vahed, professor of entomology at the University of Derby, said the spiders are dark coloured with pinkish hairs. They can weigh up to 100g with a legspan of up to 11 ins.

"If they are out there they are going to have gone to ground and it's unlikely they'll run in to people unless people are ferreting around in the undergrowth specifically looking for them," he said.

An RSPCA spokeswoman said the spiders would probably be dying in the cooler conditions here than in their native Amazon rainforest climate.