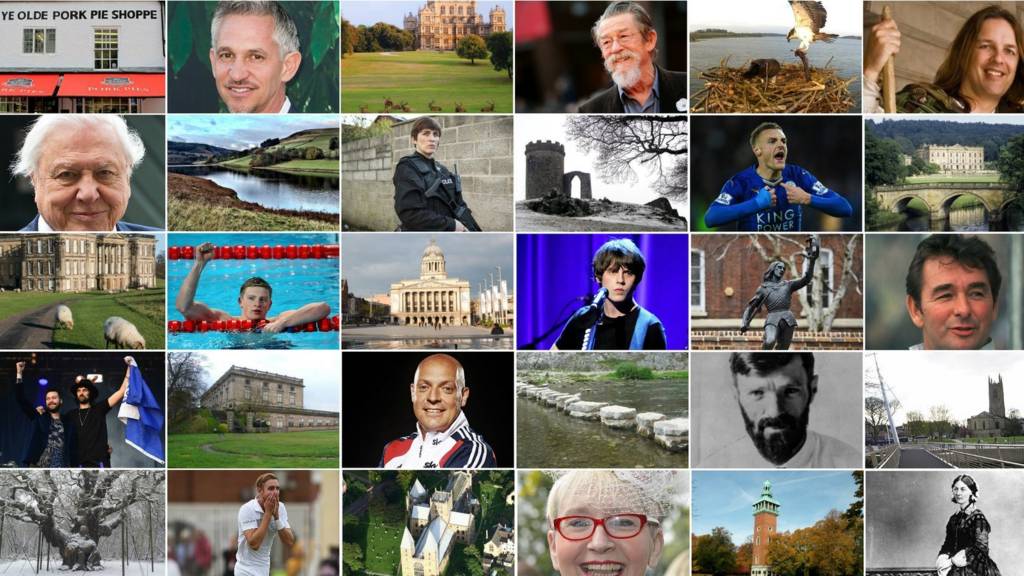 Latest updates: East Midlands Live
Listen live to your BBC local radio station in Nottinghamshire, Derbyshire and Leicestershire.
Our live coverage across the day

Today's updates have now finished. We'll be back with more news, sport, travel and weather from 08:00 on Thursday.

Weather: Dry but cloudy night

Any showers will fade this evening, with some spells of late evening sunshine. Conditions will then be dry and partly cloudy overnight, with some clear spells.

Derby's Market Place waterfall switched back on

The waterfall sculpture in Derby's Market Place has been switched back on - two years after being turned off by the Labour-held city council to save money.

The Conservatives pledged to turn the water back on again as part of its local election manifesto prior to taking control of the authority earlier this year.

The water feature cost £28,000 to switch back on and a further £6,000 a year to keep running.

Copyright: Derby City Council

A1 to stay closed after fatal lorry crash

Time for a rethink if you were planning to head that way.

A man has died following the crash on the A1.

Nottinghamshire Police said officers were called this morning to the crash between two lorries on the southbound carriageway near Markham Moor.

The force said the man was pronounced dead at the scene.

Two other men were taken to hospital with minor injuries.

University to continue internal investigation

Nottingham Trent University has said it will now continue its own internal investigation after Lauren Leigh was cleared of racist harassment at court today.

Ms Leigh, 19, had been suspended during the criminal proceedings but had passed her first year exams.

In a statement the university said Ms Leigh's co-accused Joe Tivnan who admitted the charge in May was no longer a student there so would not be subject to the investigation.

The university added: "Any form of racism and discrimination at NTU will not be tolerated and we would like to reassure people that this was an extremely isolated incident.

"NTU has a diverse, global and inclusive student and staff community of which we are proud, and we will tackle firmly all forms of unacceptable behaviour which opposes our values and culture."

A1 traffic jam 'being released'

Stuck motorist misses mum's funeral

One woman who has been stuck in traffic on the A1 this afternoon has said she missed her mum's funeral in Holbeach, Lincolnshire.

She said she has been stuck since 11.45 on the dual carriageway near Newark and said they have not yet received any water from police.

Train diversions after earlier fire

There are still diversions on the trains between Derby and Chesterfield.

A1 to stay shut during rush hour

A section of the A1 in Nottinghamshire will be closed through the evening rush hour following a serious crash involving two lorries.

The accident happened on the southbound stretch between Tuxford and Carlton on Trent but the northbound has also now been closed to help clear standing traffic.

Severe disruption: A50 Leicestershire eastbound

BBC News Travel

A50 Leicestershire eastbound severe disruption, at M1 J24A Derby.

A50 Leicestershire - One lane blocked and slow traffic on A50 eastbound at Derby, because of a broken down vehicle.

To report traffic and travel incidents dial 0330 123 0184 at any time

Severe accident: A1 Nottinghamshire northbound

BBC News Travel

A1 Nottinghamshire northbound severe accident, between A1 and A57.

A1 Nottinghamshire - A1 Worksop Road closed northbound between the A1 junction in Newark-on-Trent and the A57 junction in Upper Morton, because of accident investigation work. Diversion in operation - Follow the solid square symbol.

To report traffic and travel incidents dial 0330 123 0184 at any time

Travel: A1 still closed after crash

Nottinghamshire Police say they have been handing out bottles of water to motorists who have been stuck in traffic after the closure of the A1.

The accident happened around midday and Highways England have said they are working to clear motorists "trapped" within the closure.