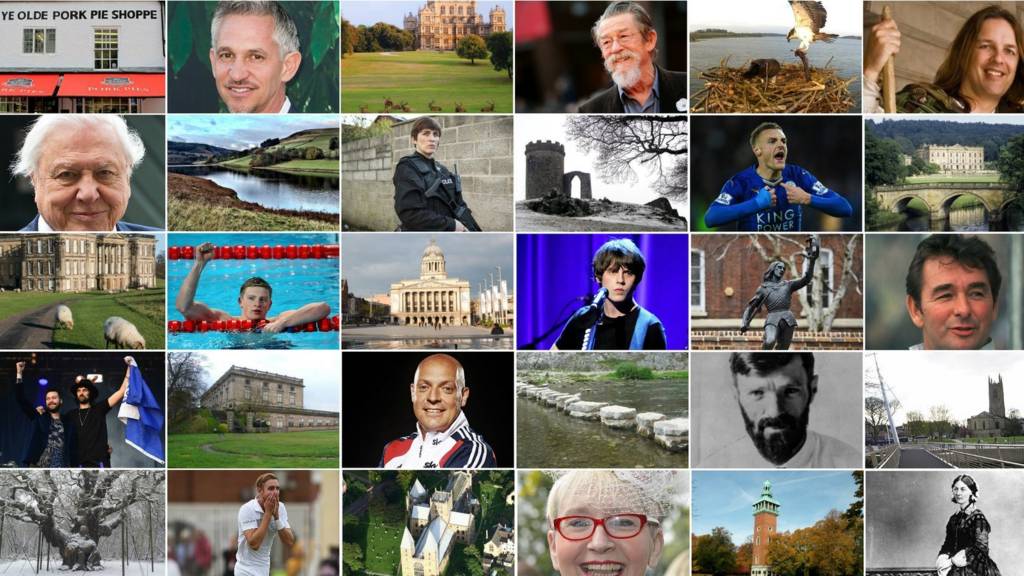 Latest updates: East Midlands Live
Listen live to your BBC local radio station in Nottinghamshire, Derbyshire and Leicestershire.
Our live coverage across the day

East Midlands Live has now finished for the day but updates may still continue to appear on this page throughout the evening.

Full live coverage will resume at 08:00 on Wednesday.

Foxes players to wear black armband in Cardiff match

Leicester City's match against Cardiff WILL go ahead as planned.

There'll be a minute's silence before kick-off and players will wear black armbands in honour of Vichai Srivaddhanaprabha.

Boy killed in fire was a 'superhero'

The family of a six-year-old boy, who died in a house fire in Ilkeston, have described him as a "superhero whose light will always shine".

Riley Jake Jackson was inside the property on Shaw Street West when it caught alight on Friday night.

Copyright: Derbyshire Police

Riley was born with a serious heart condition had surgery at Glenfield Hospital in Leicestershire when he was one.

In a statement his family said: "He took it in his stride like the brave warrior that he is. Riley loved life and lived every day to the full, never letting any barriers hold him back."

Leicester employers first to face enforcement order

Jeremy Ball

Social affairs correspondent, BBC East Midlands Today

A new law to stop rogue employers has been used for the first time against a couple who abused foreign workers in Leicester.

Sabina Gaynor and Badar Hayat recruited workers from Romania and Moldova to work in bakeries and food factories in the Leicester.

The couple forced workers to spend most of their wages on overcrowded rented accommodation.

Investigators in Nottingham found Gaynor and Hayat were making thousands of pounds in profit each week by "exploiting" the workers.

They've now been served with the UK's first ever Labour Market Enforcement Order - it works like an Antisocial Behaviour Order where they can be jailed for failing to comply with the rules.

Parliament commemorates Foxes' owner

MPs have paid tributes to Leicester City chairman Vichai Srivaddhanaprabha today in the House of Commons.

Foxes fans, Leicester MP Keith Vaz and Northern Irish MP Jim Shannon, led the parliamentary tributes following the 60-year-old's death on Saturday, thanking him for the success he brought to the club and his contribution to community projects.

Labour MP for Leicester East, Mr Vaz said the house "recognises his unshakable belief, drive and vision which led to Leicester winning the Premier League in 2016" and sent his condolences to the families and supporters of the club.

Police dog dies after short illness

Ben Truslove

BBC News Online

Evans Cycles stores face closure

Half of all Evans Cycles stores face closure after the struggling company was bought by Sports Direct boss Mike Ashley.

The Shirebrook-based firm bought out the chain after it went into administration on Tuesday.

Mr Ashley said: "We are pleased to have rescued the Evans Cycles brand. However, in order to save the business we only believe we will be able to keep 50% of stores open in the future.

"Unfortunately some stores will have to close."

Evans Cycles has 62 stores in the UK including Leicester and Nottingham.

'Electrical fault' caused restaurant fire

Nick Smith

BBC News Online

The owners of Bella Blu in Bolsover have said that a blaze in the early hours of this morning was caused by an electrical fault.

The restaurant has suffered fire damage to the first floor and smoke damage to the ground floor.

A statement on Facebook read: "Fortunately, no one was hurt during the incident and we are currently doing our utmost to ensure that our doors will be open to our customers as soon as possible."

Six fire crews tackled the fire, in Market Square, after receiving a call at 01:18 this morning.

Man who threatened to 'blow up house' jailed

Nick Smith

BBC News Online

A man who police say barricaded himself in a house and threatened to blow it up during a two-hour stand off has been jailed.

Police say Keiron Anderson, 30, forced his way into a home in Newark on 16 April and went on a destructive rampage, ripping a cooker off the wall which caused a gas leak.

The woman and her 12-year-old son who lived at the house managed to escape and the area was evacuated.

Armed response, the police helicopter and the ambulance and fire service were all called to the property.

Anderson, of no fixed address, pleaded guilty to making threats to kill, criminal damage and making threats to cause criminal damage and was sentenced to three years and four months at Nottingham Crown Court today.

Copyright: Nottinghamshire Police

City council boundary expansion plan 'ignored'

Plans to create a new super council for Nottinghamshire should involve expanding the city's boundaries, according to the city council.

Copyright: Nottinghamshire County Council

The leader of the city has said they've been ignored by the county council's plans and would like to see boundaries expanded to take in parts of West Bridgford, Stapleford and Gedling.

The first stage of consultation on the plans ends tomorrow.

Growing collection of tributes outside stadium

Victoria Hicks

Reporter, East Midlands Today

Tributes now stretch the length of this side of the stadium. It's an incredible scene to take in.