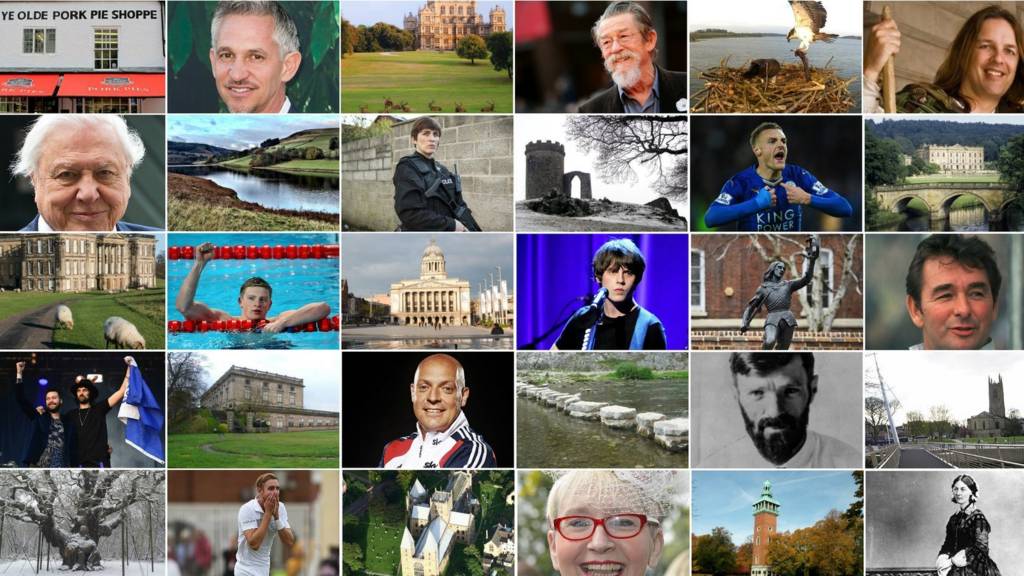 Judge's copy of Lady Chatterley's Lover sells for £56,250

A copy of Lady Chatterley's Lover that was used by the judge who presided over the celebrated obscenity trial in 1960 has sold for £56,250 at auction.

The infamous book, written by Eastwood's DH Lawrence, had been expected to fetch up to £15,000.

Sir Laurence Byrne brought the copy of DH Lawrence's novel into court every day concealed in a blue-grey damask bag hand-stitched by his wife Dorothy.

The trial caused a sensation when Penguin Books were found not guilty.

The book was bought by an anonymous bidder yesterday.

Crash scene investigation continues at King Power Stadium

Two very different scenes at the King Power Stadium this morning following the helicopter crash on Saturday that killed five people, including owner Vichai Srivaddhanaprabha.

At the front of the stadium, the sea of tributes continues to grow as well-wishers drop off flowers, cards and shirts.

Meanwhile, further round the stadium, police officers comb the scene for evidence that might help with the ongoing investigation into what caused the crash.

Next shares slump despite rise in sales

Next has reported a 1.3% rise in full-price sales for the third quarter to 27 October as an 8% slide in retail sales was offset by a 12.7% jump in online sales.

The Enderby-based retailer kept its full-year guidance unchanged, with the group expecting sales growth of 3% and a 0.1% rise in pre-tax profit to £727m.

The announcement saw the firm's share price drop by 4% in early trading.

Victoria Centre shares images of new-look dining area

Nottingham's Intu Victoria Centre has released a series of new artist impressions showing how its Clocktower dining area should look when it relaunches next month after a £1m refurbishment.

Intu said it had opted for design elements, such as timber and steel, that would give the floor a different feel from the rest of the shopping centre.

New outlets due to operate from the refurbished dining area include gourmet fries chain Mr Frites and noodle bar Chopstix.

Girl, 12, arrested after policewoman assaulted

A 12-year-old girl has been arrested after a police officer was allegedly punched and had her hair pulled in Wigston.

Leicestershire Police said the officer needed hospital treatment after being attacked while investigating reports of children causing trouble in the town centre on Monday night.

The girl was detained on suspicion of assault and criminal damage of a police laptop. She has since been released while further investigations are carried out.

Police said the incident follows complaints over the past few weeks about youths jumping on shop roofs and acting obnoxiously in the Bell Street area.

Joint patrols with firefighters are being planned to try to halt antisocial behaviour in the town centre before, during and after Bonfire Night.

Scrap metal dealer fined for fly-tipping

Nick Smith

BBC News Online

A scrap metal dealer has been fined £1,200 for fly-tipping two fridges in the countryside near his home.

Kenneth Ferns, 54, was prosecuted by Ruchcliffe Borough Council for the offences on 14 June and 3 August, and pleaded guilty to two charges at Nottingham Magistrates' Court on 26 October.

Copyright: Rushcliffe Borough Council

The council say he dumped the fridges in the countryside on Fosse Way, Cotgrave Gorse, despite being paid by their owners to dispose of them properly.

Ferns, of Lawrence Close, Cotgrave, was also sentenced to 100 hours unpaid work and ordered to pay a £85 victim surcharge.

Amazing poppy display at Leicestershire church

Villages and towns have been making a great effort with their Remembrance Day displays this year.

Nick Williams sent us this photo of a spectacular poppy cascade that's been created at Great Bowden Church, near Market Harborough.

The impressive installation features more than 7,000 knitted poppies. The video below explains how it all came about.

Warning: Third party content may contain adverts.

Plaque for firefighter killed in factory fall

A memorial plaque has been unveiled in Leicester in memory of a firefighter who died while tackling a fire at a disused factory 16 years ago.

Father-of-two Robert Miller, 44, fell through a floor as 70 firefighters dealt with the fire in the three-storey complex in Morledge Street on 31 October 2002.

Copyright: Leicestershire Fire and Rescue Service

A plaque in his memory was unveiled at the building on Sunday.

It reads: "You will always remain alive in the hearts and minds of those who had the privilege to stand by your side."

Copyright: Leicestershire Fire and Rescue Service

Have you seen Malcolm Green?

Police are trying to find a man who's gone missing from the Woodsetts area of Rotherham.

Copyright: South Yorkshire Police

Malcolm Green, 37, has been missing from his home on Dinnington Road since Sunday at where he was last seen at about 09:00.

Mr Green is described as being of average build, with light brown hair with the sides longer on the top and he has a bulldog tattoo on his right forearm.

He is believed to be wearing a pair of jeans and a dark blue t-shirt.

It is thought he may be in the Rotherham, Doncaster or Worksop areas.

Anyone with information about his whereabouts is being asked to contact police.

Tributes paid following police dog's death

Tributes have been paid following the death of a police dog from Derbyshire.

PD Enzo died after being rushed to vets when he fell seriously ill on Monday.

The force's dog section said he had been brought to Derbyshire from Gibraltar and described him as "brave, loyal" and "truly a one off".

Copyright: Derbyshire Police

The announcement of his death prompted dozens of messages on the dog section's Twitter account and the BBC East Midlands Facebook page.

Kate Henderson posted: I am so sorry to hear this. RIP PD Enzo. You were & always will be a true #herodog. Run strong & free forever, gorgeous boy and thank you for your brave & dedicated service.

Julie Kocot wrote on Facebook: "RIP Enzo you've done your service and very proudly brave and loyal furbaby."

Train delays caused by cow on the line

Nick Smith

BBC News Online

A cow has been moooooved off the train line near Market Harborough this morning.

East Midlands Trains had to run at reduced speeds in the area, which caused delays of up to 20 minutes, while Network Rail staff worked to get the animal to safety.

Fortunately, she was moved to the other side of the fence safely.

Copyright: East Midlands Trains

Forest boss 'angry and embarrassed' by cup exit at Burton

Nottingham Forest boss Aitor Karanka apologised to supporters after seeing his side dumped out of the League Cup at Burton Albion last night.

Karanka said he was "embarrassed" by the performance of his players as they missed out on a place in the quarter-finals after being beaten 3-2 by the League One side.

He said: "I'm really angry because a team from League One, a team which has played four games in 10 days, has looked much better than us. They were much stronger and they wanted everything more than we did.

"I can't understand why that was the case and I don't want to say something that I'll regret tomorrow. I just feel embarrassed and sorry for the supporters who travelled this evening because we all came here thinking we could achieve something good."

Former Loughborough student takes Bake-Off crown

Former Loughborough University student Rahul Mandal has won this year's Great British Bake Off.

The 30-year-old research scientist, who now lives in Rotherham, triumphed over fellow finalists Kim-Joy Hewlett and Ruby Bhogal to take the 2018 crown.

Copyright: Channel 4/Love Productions/PA

His win came after he was forced to restart his showstopper when the 32C heat in the tent caused a storage jar on his workbench to shatter, sending glass everywhere.

He began recreating his rock garden landscape dessert, featuring buttercream plants, choux rocks and chocolate orange mounds, from scratch after throwing away anything that might have shards in.

Copyright: Channel 4/Love Productions/PA

After winning, he said: "I don't know whether to laugh or to cry. I just feel I need to talk with my mum."

Boy, 15, charged with stabbing teenager in back

A 15-year-old boy has been charged with stabbing another teenager boy in Mansfield.

Nottinghamshire Police said a 16-year-old needed hospital treatment after being stabbed in the back near West Gate at about 14:50 yesterday. He has since been discharged.

The suspect, who cannot be named due to his age, was charged with causing grievous bodily harm with intent, attempting to cause grievous bodily harm and being in possession of an offensive weapon.

He is due to appear at Mansfield Magistrates' Court today.

A second 15-year-old boy, arrested on suspicion of causing grievous bodily harm, has been released with no further action in connection with the stabbing.

Police said both boys had also been charged with robbery in connection with a separate incident, involving a different victim, in Westfield Lane, Mansfield, on 24 October.

Clubs to observe silence for helicopter crash victims

A minute's silence will be held at all Premier League matches this weekend and players will wear black armbands as a mark of respect following the death of Leicester City owner Vichai Srivaddhanaprabha.

The Premier League made the announcement after Leicester decided that their match away at Cardiff will go ahead as planned on Saturday.

It is thought the players have chosen to play the game, which will come just one week after the helicopter crash that killed five people.

A statement from the Premier League said: "Leicester City's Premier League fixture at Cardiff City will go ahead as planned on Saturday 3 November.

"The decision comes after consultation with Leicester following the devastating events on Saturday evening when owner Vichai Srivaddhanaprabha and four other people lost their lives in the helicopter crash outside King Power Stadium."

Leicester's Carabao Cup tie against Southampton, due to be played last night, was postponed with a new date yet to be arranged.

Boy who died in house fire 'a superhero'

The family of a six-year-old boy who died in a house fire in Ilkeston on Friday have described him as a "superhero".

Riley Jake Jackson died in hospital after being pulled from the blaze in Shaw Street West at about 22:40.

The fire is not being treated as "deliberate or malicious", Derbyshire Fire and Rescue Service said.

Copyright: Family photo/Derbyshire Police

In a statement released through Derbyshire Police, Riley's family said: "Despite being born with a serious heart condition and needing surgery just after his first birthday at Glenfield Hospital, as well as dealing with multiple health conditions, he took it in his stride like the brave warrior that he is.

"Riley loved life and lived every day to the full, never letting any barriers hold him back. He is a superhero, and his light will always shine as brightly as his smile."

Watch: Today's weather for the East Midlands

Quite a chilly start but many areas will see bright spells later.

Good morning: Join us for today's live updates

Hi everyone and thank you for joining us for today's news, sport, travel and weather coverage.

Nick Smith, Amy Woodfield and I will be bringing you the latest throughout the day.