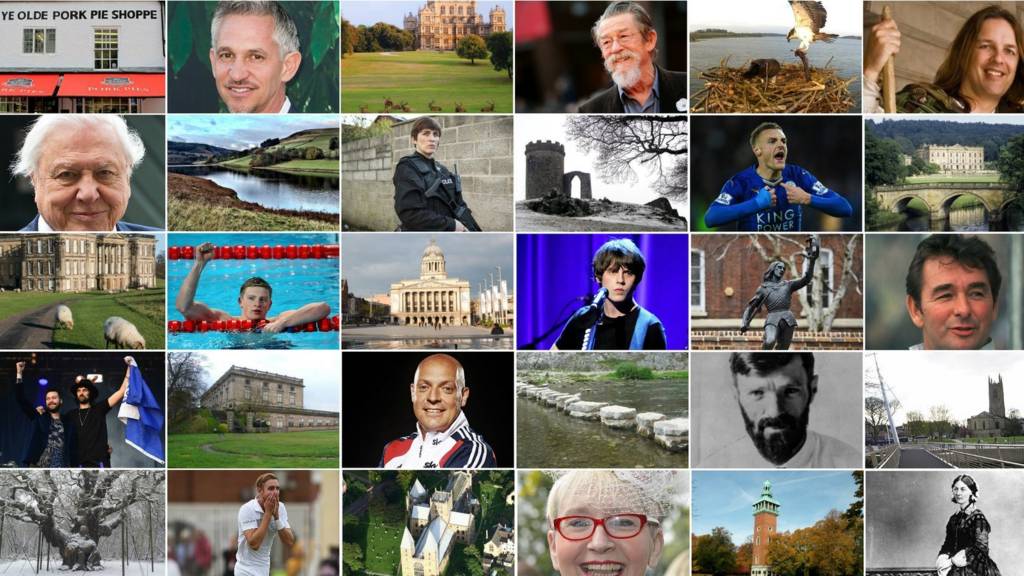 Latest updates: East Midlands Live
Listen live to your BBC local station in Derbyshire, Nottinghamshire and Leicestershire.
Summary
Norovirus outbreak at Leicester hospital
Signalling fault stops trains between Nottingham and Worksop
Nottingham aims to be carbon neutral
Santander branches to close in East Midlands
To Kill A Mockingbird production cancelled
Updates for Wednesday 23 January 2019
Severe accident: M1 Derbyshire southbound

BBC News Travel

M1 Derbyshire southbound severe accident, from J29 for A617 Chesterfield to J28 for A38 Alfreton.

M1 Derbyshire - One lane blocked on M1 southbound from J29, A617 (Chesterfield) to J28, A38 (Alfreton), because of an accident. Traffic is coping well.

To report traffic and travel incidents dial 0330 123 0184 at any time

Derby theatre to stay shut for eight months

Derby's Guildhall Theatre will be closed until the end of September at the earliest after a piece of ornate plasterwork fell from its ceiling.

Work was taking place on the roof of the Grade II listed building last Thursday when it happened.

It means 69 productions could be cancelled or moved to other venues such as St Benedict School.

Severe accident: M1 Leicestershire southbound

BBC News Travel

M1 Leicestershire southbound severe accident, at J21 for M69.

M1 Leicestershire - M1 lane closed on exit slip road and slow traffic southbound at J21, M69 (Leicester), because of an accident.

To report traffic and travel incidents dial 0330 123 0184 at any time

Our live coverage across the day

Live updates have now finished for the day but links to some local stories may continue to appear on this page.

Our live updates will resume from 08:00 on Thursday.

Weather: A cold night to come

Temperatures will fall quickly under the clear skies this evening.

In the early hours cloud may start to spread from the north which will bring the risk of a few rain, sleet and snow showers.

Minimum temperature: 0C to -3C (32F to 27°F)

Collapsed man rescued from scaffolding

Emergency services have rescued a man who became ill while on top of 15ft-high scaffolding in Burbage.

Council tax increase for long-term empty homes

Kit Sandeman

Local Democracy Reporter

Houses which are kept empty and unfurnished for two years or more will now have to pay full council tax under new plans.

Currently landlords who own an empty house only have to pay 50% of the council tax on that property. But from April, the Labour-run Nottingham City Council will charge the full rate.

The council says there is a "desperate" need for housing, and that this measure could persuade more landlords to "do the right thing" and bring the properties back into use.

The Government's data says Nottingham has 1,321 "long-term empty homes" - defined as those reported as empty for more than six months. However the real figure of empty houses is likely to be significantly higher than both the Government and the council's figures, because some will not have been registered as being empty.

Chris Bailey is the campaign manager for the charity Action on Empty Homes, and said: "We welcome councils adopting this policy but the problem for us is we don't think this is going to solve the problem."

Severe disruption: M1 Derbyshire northbound

BBC News Travel

M1 Derbyshire northbound severe disruption, from J28 for A38 Alfreton to J29 for A617 Chesterfield.

M1 Derbyshire - One lane closed and slow traffic on M1 northbound from J28, A38 (Alfreton) to J29, A617 (Chesterfield), because of a broken down vehicle.

To report traffic and travel incidents dial 0330 123 0184 at any time

Guildhall development plans move forward

Kit Sandeman

Local Democracy Reporter

A long-awaited scheme to convert Nottingham's empty Guildhall building into a luxury hotel has taken a step forward.

A hotel company has been "arranged" to take on the building, but their name has not been revealed.

The developers behind the £150 scheme, Miller Birch, are already working with the city council and expect the plan to be submitted in two parts in the coming months.

There are plans for spa facilities, around 140 rooms and a top-end restaurant at the Burton Street site.

The building previously housed Nottingham City Council but has been empty since 2010 when the authority moved into new offices in Loxley House.

Walker rescued after slipping in Peak District snow

Two Derbyshire mountain rescue teams have helped a walker who slipped on the snow in the Peak District.

Copyright: Edale Mountain Rescue

Edale and Buxton Mountain Rescue made their way up Mam Tor to help the casualty who had a lower leg injury.

Despite the clear blue skies and blazing sun Edale Mountain Rescue reported temperatures "well into the minus numbers" on the hill tops.

Copyright: Edale Mountain Rescue

The casualty was splinted, wrapped up, insulated and sledged off the hill on a stretcher before being handed over to East Midlands Ambulance Service.

Zoo opens to homeschooled children

Twycross Zoo has started to hold special sessions for children that are homeschooled - today's lessons focused on animals and their habitats.

It's the first time the Leicestershire zoo has held classes for youngsters outside mainstream education.

It's estimated there are 50,000 children across the country who are taught from home.

New Belper Tearooms design unveiled

Images have been released of plans for a replacement Swiss Tearooms building at Belper River Gardens.

Copyright: PHD Architects

The new building would seat over 40 customers. A veranda would provide additional seating as well as public toilets for visitors to the park.

The new building is similar to the original tearooms, which closed in 1981.

Copyright: Amber Valley Borough Council

The "Swiss style" building was constructed in 1905 and had a timber frame with a roof overhanging the veranda seating.

The scheme to replace the building will cost £320,000. The money will come from Amber Valley Borough Council and Belper Town Council.

It's hoped construction will start this summer.

Watch: Derbyshire looks stunning in the snow

Disappointed you've not seen any snow where you are?

Well take a look at this incredible drone's eye view of Winnats Pass in the Peak District.