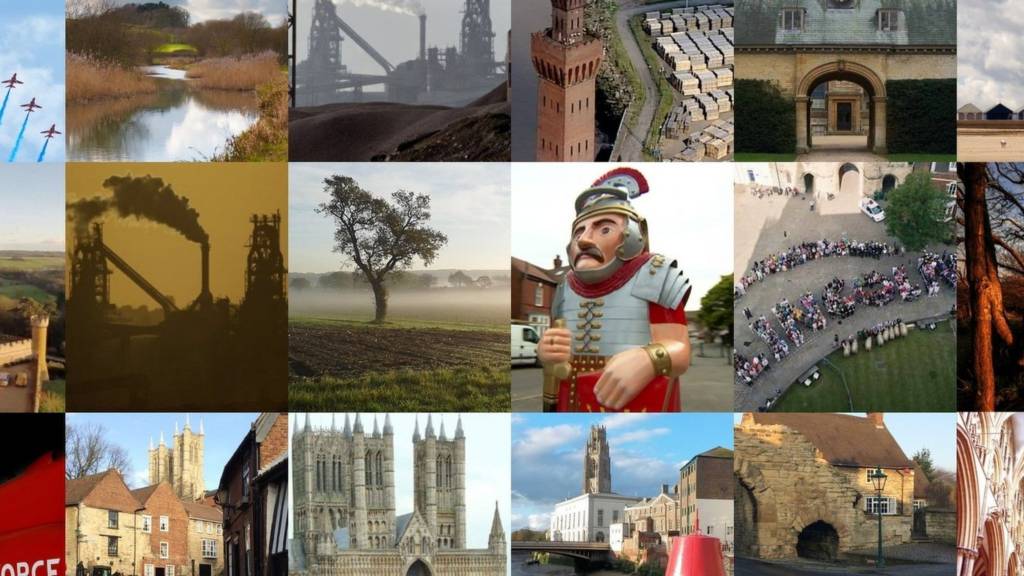 Lincolnshire breaking news: Latest updates
Five things we've learned today

Alex Rhodes

BBC Lincolnshire Live

That's all from me today, our live coverage will be back with all the very latest from across the county from 08:00 Monday. 

Thanks for following along but before I go I'll leave you with five things we've learned today:

Have a good weekend.

Practice makes perfect for Typhoon team

Alex Rhodes

BBC Lincolnshire Live

Only in Lincolnshire do you get to see Typhoon fighter jets hurtling around the skies for practice, thanks to Matt Smart for taking these great shots: 

Copyright: Matt Smart Photography

Copyright: Matt Smart Photography

Copyright: Matt Smart Photography

Watch: Your weekend weather

Owain Wyn Evans

Weather presenter, BBC Look North

Further spells of light and patchy rain are forecast tonight as a weak weather front moves in from the north, but this will be clearing later and turning mostly dry. 

Take a look at my forecast below for the full picture:

Icelandic Seachill say sale comes as 'no surprise'

Kimberley Metcalfe

BBC Local Live, Hull and East Yorkshire

Earlier today Icelandic Seachill, which employs 750 at its sites in Grimsby, announced it was up for sale.

Union Unite reacted to the news with concerns about their members' future at the company. 

We asked Seachill what this sale means for the future of the firm - and jobs:

Quote Message: This sale process comes as no surprise and until concluded, will have no direct impact on our employees. This is a very positive next step for Seachill, its employees and partner customers who place a high value on the business management and strategy, and it is likely that operations will continue in a similar way as present." from Simon Smith Chief Executive, Icelandic Seachill

Headstone renovation: Your views

Alex Rhodes

BBC Lincolnshire Live

The work Lee Credland did to renovate Imp legend Keith Alexander's headstone has certainly chimed with people today. 

Here's what some of you have been saying:   

Quote Message: Well that looks amazing. Just what the big man deserved." from Rob Spittles Facebook

Quote Message: Lovely gesture. Keith will be watching the Imps from above tomorrow" from Mary Frances Smith Facebook

Quote Message: The big man will be looking down a very proud man... How fitting it would be if we can secure promotion against another one of his old clubs tomorrow" from Danny Hare Facebook

Traffic and travel: B1168 remains shut

The B1168 Boston Road in Holbeach remains shut in both directions while police deal with an earlier crash.

They want you to get in touch if you saw the tractor or motorbike involved. 

Travellers pitch up on council-owned Grimsby park

Travellers have pitched up on an area of council-owned land in Grimsby.  

The caravans are reported to have set up camp on the playing field area of King George V Stadium off Weelsby Road on Thursday, April 20.  

Copyright: Spotted Grimsby

Winners named for flight of a lifetime with Scampton Airshow star Catalina

Three lucky winners have been picked for a flight on a newly announced star of the 2017 Scampton Air Show, a 74-year-old Catalina G-PBYA flying boat.  

Copyright: The Lincolnite

Seachill up for sale: Union seeks assurance over jobs

Kimberley Metcalfe

BBC Local Live, Hull and East Yorkshire

Unite has called for an urgent meeting with the management of Icelandic Seachill in Grimsby.

It was announced earlier today that one of the town's largest employers has been put up for sale.

Unite say they have around 180 members at Seachill, mainly working in production roles and do not understand the rationale behind the sale of the company.

Quote Message: We understand that the company has had a significant improvement in sales recently, so why has the business been put up for sale? This is a worrying and uncertain time for the dedicated and hardworking workforce. We will be giving our members the union's maximum support in the days and weeks ahead." from Mike Wilkinson Unite regional officer

Weather Watchers: Sunset in Saltfleetby St Clement

We get some great sunsets in Lincolnshire, here's one captured yesterday evening by Weather Watcher Lizzielemonlegs in Saltfleetby St Clement 

One of Grimsby's biggest employers put up for sale

Lara King

North East Lincolnshire reporter

One of Grimsby's biggest employers, Seachill, has been put up for sale. 

Seachill is a leading supplier of chilled fish to the UK retail market, employing 750 people at its sites in the town.

It was founded in 1998 and since then the business has grown to be one of the largest chilled fish processors in the UK. It also owns the award winning Saucy Fish Company, a four times cool brand award winner. 

Seachill also supplies to Tesco and other stores all over the world.

The weather this afternoon

Jennifer Bartram

Weather presenter, BBC Look North

It'll remain fairly mild this afternoon with further sunny spells across much of east Yorkshire and Lincolnshire. 

We could see some light rain or drizzle at times, especially further inland, but dry for most.

Motorbike and tractor crash on B1168

Alex Rhodes

BBC Lincolnshire Live

More now on the road closure in Holbeach. 

The B1168 is still closed at Saturday Bridge and the junction with Hurdletree Bank and police say it's going to remain shut for some time.

They want anyone who saw the crash between a tractor and a motorbike to get in touch with them.

We told you about the uphill struggle Imps fans are probably going to face tomorrow when it comes to parking ahead of the big match.

Well it's given us an idea...

If you've got room in your driveway or in front of your house, print this out, stick it in your window and let fans know it's all right to leave their car there.

There's a bigger version on our Facebook page. 

Police and Crime Commissioner steps down from councillor role

Sharon Edwards

Political Reporter, BBC Radio Lincolnshire

Marc Jones said he would stand down as a councillor if he got the PCC job when he was campaigning and now it's official:

The headlines this lunchtime

Corazon Garcia

BBC Radio Lincolnshire

Here's some of the latest stories from across the county: 

It's claimed schools in Lincolnshire will be £45m worse off under planned funding changes
Vegetable growers in Lincolnshire say they're investing in new technology because they're worried about a shortage of workers after Brexit
The University of Lincoln is offering a helping hand to any Lincoln City fans with their parking this weekend 

Unions fear proposed funding changes will mean shortfalls

Sharon Edwards

Political Reporter, BBC Radio Lincolnshire

A teaching union says Lincolnshire will lose £45m under planned school funding changes. 

The government disagrees and says its new formula - due to start in 2019 - will tackle longstanding unfairness. 

But the National Union of Teachers says according to their figures some schools are facing massive shortfalls and will have to make redundancies.   

Quote Message: As a whole it'll have a detrimental impact. Some schools will be forced to make decisions like teacher redundancies, have to make considerations about buildings... because these cuts in some cases are extremely severe. from Ken Rustidge NUT

The Department of Education says the figures are fundamentally misleading because schools will receive more money as pupil numbers increase. It adds school funding is at its highest level on record. 

'School children' selling spice drug on the streets

Sally Fairfax

BBC Radio Humberside

A drug called Spice is being taken more by homeless people in North East Lincolnshire. 

Its a synthetic drug which can leave people in a "zombie-like" state and cause hallucinations and psychosis. 

Outreach workers in North East Lincolnshire have told the BBC they've seen a rise in the number of homeless people taking Spice and they're seeing teenagers selling it on the streets. 

Martin Williams is the street outreach co-ordinator at Harbour Place in Grimsby:

Quote Message: We've seen young lads on push bikes selling it to people on the streets. It's a bigger problem than you see on the news, we've seen a lot of school children selling it now. from Martin Williams Harbour Place

Weather Watchers: Fields in bloom

Travelling through the county you can't help but notice the fields springing to life all over the place.

Weather Watcher Alford dog walker took this photo of the bright yellow rapeseed spreading out into the distance.