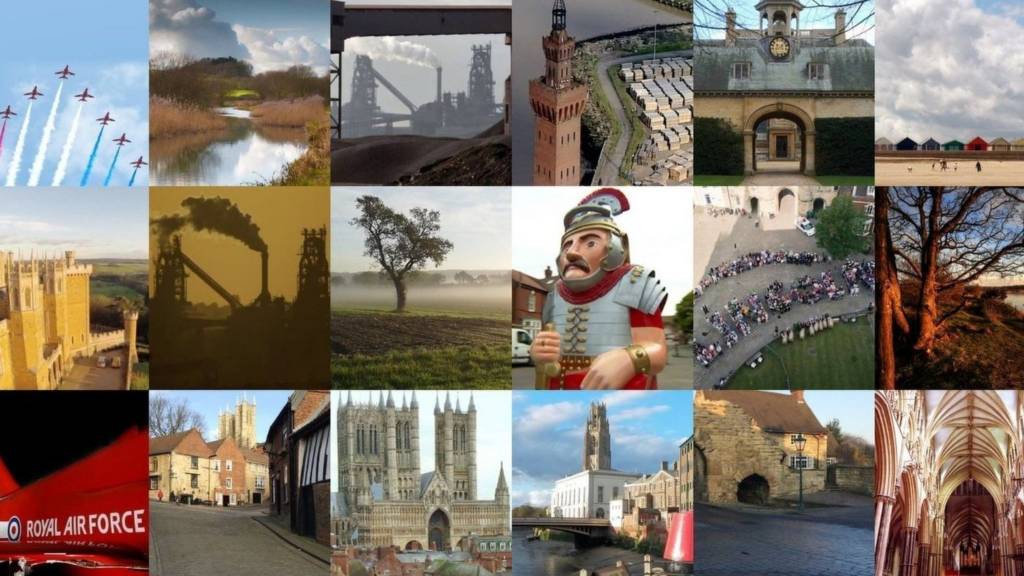 Lincolnshire breaking news: Latest updates
Severe accident: A52 Lincolnshire both ways

BBC News Travel

A52 Lincolnshire both ways severe accident, between Spirewic Avenue and Church Lane affecting Wall's Lane.

A52 Lincolnshire - A52 Roman Bank in Winthorpe closed and queuing traffic in both directions between the Spirewic Avenue junction and the Church Lane junction, because of an accident involving 2 vehicles. Congestion to the Wall's Lane junction.

To report traffic and travel incidents dial 0330 123 0184 at any time

Here's today's top stories for Lincolnshire:

Here's today's top stories for East Yorkshire and northern Lincolnshire:

Weather: Showers will fade

Any isolated showers will fade away this evening leaving clear spells.

There will be some large areas of low cloud, mist and fog around tonight.

Grantham paramedic attends royal garden party

A Lincolnshire paramedic has attended a royal garden party at Buckingham Palace and said it was a "fantastic day" he and his wife would never forget.

The event hosted by The Queen is designed to recognise those who have made a positive impact in their community.

Tony Davies, from Grantham, who was accompanied to yesterday's event by his wife Tara, was nominated for an invitation by his manager at the ambulance service.

Tony was said to have demonstrated all the values of the service despite experiencing a personal tragedy, losing his son last year.

Quote Message: He showed 100% commitment to staff and their needs, selflessly putting them first. I believe Tony is the true epitome of an EMAS Paramedic and fully deserves the chance to represent our service at this prestigious event." from Richard Hunter Lincolnshire Ambulance Operations Manager

Lincolnshire Police are appealing for information after a television and a computer were stolen from a house in Boston.

At around 19:30 on Tuesday 29 May the offender or offenders entered a house on Horncastle Road through an open window.

Northern: Minister blames delays on Network Rail again

Transport Secretary Chris Grayling has again blamed Network Rail for ongoing problems on Northern rail services, which operate across Yorkshire and Lincolnshire, after the RMT called for him to quit.

Copyright: Stephen Pimlott

He said Network Rail was "too late in finalising planned timetable changes", which have caused widespread problems since they were introduced on 20 May.

The RMT's general secretary Mick Cash said the minister should "get out" and described the situation as "carnage".

Since 18 May, Northern has aborted 2,200 services.

Northern has not been able to confirm suggestions an emergency timetable would be introduced next week.

A spokesman for the company said "no decision" had been made but it was looking at a "number of options" to address the problems.

Ross gears up for UK swim

An athlete from Grantham is attempting to become the first person to swim around the entire mainland of Britain.

Ross Edgley is setting off from Margate this afternoon.

He expects the challenge to take around 100 days to complete.

During that time he won't touch dry land - eating and drinking in the water and sleeping on a boat.

He's being training by towing a log behind him in the water in order to build up his strength.

He will be swimming 25 miles a day.

New marine control centre to be opened

A new centre which will control all the shipping movements in the Humber is being officially opened this afternoon.

The £5.2m Marine Control Centre at Grimsby Dock replaces the old Vessel Traffic Services Centre at Spurn Point.

It will look after 40,000 shipping movements across the River Humber each year.

Police search for man after assault

Police are searching for a man who was captured on CCTV following an assault on another man in Lincoln on Sunday morning.

Copyright: Lincolnshire Police

The victim was punched in the face after he intervened in an argument between a man and a woman at 01:45 in St Martins Square.

The man, in his 20s, was left with a black eye following the attack.

Nigel the puma to get a new pad

An enclosure is being specially developed at Lincolnshire Wildlife Park to help Nigel the puma who has poor vision and deteriorating eyesight.

It's hoped the new sensory house will help him adapt to his eventual blindness.

The adapted enclosure will use smells to help Nigel know where he is and to find his way around.

The idea is to ensure Nigel's quality of life will remain the same.

It's hoped Nigel could be settled in his new home by early next year.

Owner desperate to get dog back from RSPCA

A dog owner is demanding the RSPCA return his pet after it and hundreds of other dogs were seized from an animal rescue centre by the charity.

A hundred and sixty animals were removed from Four Paws in South Killingholme in March.

Gavin Hamilton's, who has presented a letter of claim to the RSPCA, says he hasn't seen his dog Wally since they were taken.

A spokesman for the animal charity said they don't want to keep the pets any longer than necessary but said it had been a complex investigation.

Some of the animals seized had also tested positive for diseases not usually found in the UK, he added.

The RSPCA hopes to start reuniting dogs with their owners within "the next few weeks".

Quote Message: Nobody from the RSPCA is talking to us, or telling us anything. All we need to know is have they got our dog and when can we have it back. There's absolutely no need to hang on to a dog for months. We are now considering legal action." from Gavin Hamilton Dog owner

Witness appeal over Skegness distraction burglary

Police are appealing for witnesses after an elderly woman in Skegness was the victim of a distraction burglary.

It happened at about 15:00 on Monday 28, when a man knocked on the victim's door and when the woman went to answer it she was pushed over.

The man then entered her house and said he could sort out drains, which the woman said she did not need.

He then pretended that he had the wrong address and left.

The woman later noticed that her purse had been stolen.

Anyone with information about the incident is being asked to contact police.

The top stories from across Lincolnshire so far today include:

Weather: Cloudy on the coast

Low cloud, mist and fog may linger along the coast this afternoon but there will be some sunny spells inland.

It will stay mostly dry with just a slight risk of a shower.

Corrie's Martin Platt at energy to waste open day

Coronation Street actor Sean Wilson, who plays Martin Platt, will be in Lincolnshire tomorrow.

Copyright: Lincolnshire County Council

He's the special guest for a community open day at Lincolnshire's Energy from Waste Centre.

The plant turns the county's rubbish into electricity, reducing the amount of waste going to landfill.

Sean will be talking about his career and how he reduces food waste.

Fairground and steam memorabilia to go to auction

A foghorn, steam engine, and old fairground rides are just a small part of a collection being auctioned in Lincolnshire tomorrow.

Rundles, who make and fix fairground rides in New Bolingbroke near Boston, are selling their expansive antique collection.

Items going under the hammer at Cheffins tomorrow include a peacock gondola (pictured below), which dates from 1900 and is from the Tussauds Collection of Fairground Art.