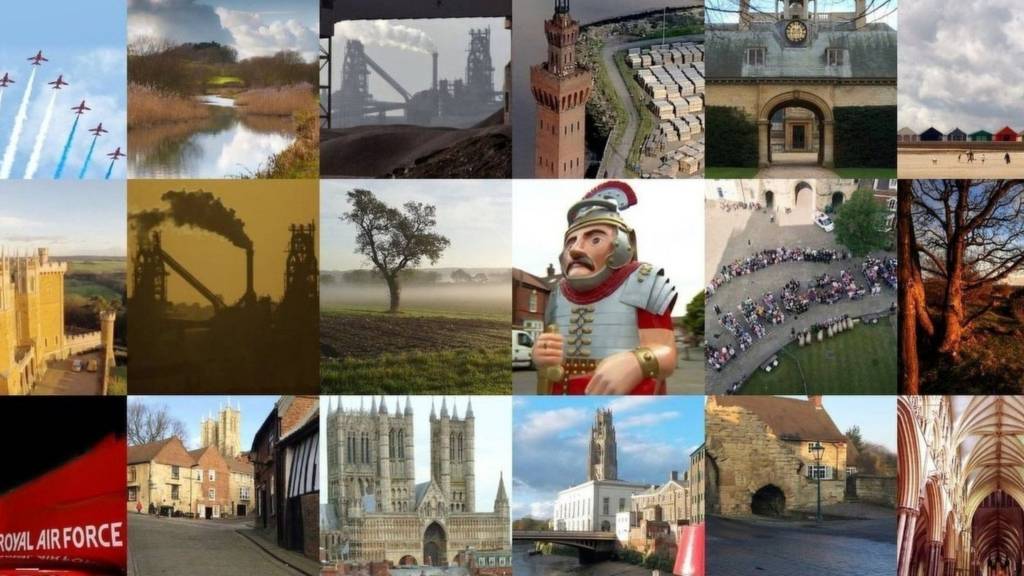 Lincolnshire breaking news: Latest updates
Flowers and hot cross buns to mark Good Friday

Don't be surprised if someone gives you free bunch of flowers or a hot cross bun in Sleaford tomorrow.

They're being handed out by Riverside Church to mark Good Friday.

Rev Robert Bushby said he hoped it would help people understand the significance of the day.

Quote Message: We just hope to love the folk that pass our door each day and we just want to share that love. We will say this comes to you with our love on this Good Friday. We did it last year and it was very successful but this year we are just adding a little bit extra. from Rev Robert Bushby Riverside Church

Weather: It's looking like a fine evening

Staying dry with sunny spells this afternoon.

Tonight will be dry and mainly clear.

Lincolnshire Police want to identify this woman after a bag was stolen from a popular Lincoln nightclub.

Officers said the bag was stolen from the Bierkeller nightclub on Silver Street in the city on Sunday 7 April .

Copyright: Lincolnshire Police

It is believed that the bag was taken by a female described as white, with dark hair and wearing leopard print trousers.

Police want to trace this woman to assist with enquiries.

Anyone who can help should contact Lincolnshire Police.

Ten Lincolnshire churches report lead thefts

Ten churches across Lincolnshire have reported thefts of lead over the last six weeks.

Police said incidents occurred in Tallington, Swinstead, Navenby, Eagle, North Scarle, Haconby, Stoke Rochford, Skillington, North Witham and Hough on the Hill.

This type of theft can cost churches tens of thousands of pounds and can mean that rainwater gets in to a church and damages the inside.

Lincolnshire Police is asking people to be vigilant, particularly those who live close to churches, and report any suspicious activity.

Quote Message: If you do live near a church and hear dull thudding noises, it could be lead being dropped from the church roof. Another giveaway that lead has been stripped from a roof is if you see divots in the grass around a church or on gravel pathways. from Sally Picker Lincolnshire Police

Mother tells of horrifying effects of Lyme disease

A mother from Lincolnshire is warning about the devastating impact of a disease carried by ticks.

Copyright: Jim Zipp/Science Photo Library

Karen Everatt, from Carlton-Le-Moorland, has been trying to raise awareness of Lyme disease after it was contracted by her daughter, Abigail.

Lyme disease sufferers can develop a red skin rash around a tick bite, a high temperature, headaches, muscle and joint pain and tiredness and loss of energy.

Some people develop more severe symptoms months or years later including nerve, heart and memory problems.

Ms Everatt says she fears the disease often goes unnoticed and her daughter says it's affected her whole life.

'Safeguarding matter' investigated in Lincoln diocese

The Church of England has confirmed that "a non-recent safeguarding matter" is being investigated in the Diocese of Lincoln.

Lincolnshire Police said that although it was aware of the safeguarding allegation, the alleged offence didn't occur in the county and has been passed on to the appropriate force.

Quote Message: All appropriate information has been passed on to the police and statutory authorities. Until their processes have been completed nothing further can be said publicly." from Church of England spokesman

Crews remain at scene of major scrapyard blaze

Four fire crews are still at the scene of a blaze at a scrapyard near Newark more than 24 hours after it started.

Copyright: Nottinghamshire Fire and Rescue Service

Lincolnshire fire crews were involved in tackling the blaze which started yesterday and smoke from which could be seen as far as Lincoln.

The fire is opposite the British Sugar factory on the A616 Great North Road, which remains closed.

People living nearby are still being advised to keep their doors and windows closed.

Thousands of tonnes of metal are involved.

County's bells to ring in solidarity with Notre-Dame

Churches across Lincolnshire will ring their bells this evening as an act of solidarity with Notre-Dame in Paris.

The archbishop of York has called on them to ring their bells for seven minutes at 19:00.

St Wulfram's in Grantham is one of those taking part.

The rector of Grantham, Reverend Stuart Cradduck, said seeing Notre-Dame burn was a shocking sight.

Quote Message: It really moved me in a way that I wasn't expecting at all. These buildings are iconic. They're not monuments, they are living buildings and they're a testament to humanity's relationship with a divine being so they are incredibly important." from Reverend Stuart Cradduck Rector of Grantham

Top rating for food hygiene in Lincoln

Lincoln has been voted the top city in the East Midlands when it comes to food hygiene.

The report was carried out by the Food Standards Agency, which said the city has an average rating of 4.69 out of five.

Copyright: Food Standards Agency

Overall, Lincoln was ranked sixth highest in the UK.

Louise Harding, the food, health and safety team leader at the City of Lincoln Council, says people put a lot of faith in the ratings.

Thatcher jewellery and handbags go under hammer

The ring Grantham-born Margaret Thatcher wore the day she became Prime Minister and a bracelet she wore while meeting Nelson Mandela are due to go under the hammer next month.

Copyright: ChristieÕs/PA Wire

Auction house Christie's is holding an online sale of some of Mrs Thatcher's personal items to mark the 40th anniversary of her election as the UK's first female prime minister.

The auction will comprise 170 lots, with items from Mrs Thatcher's time in office, as well as personal possessions, clothes, handbags and her "uniform" jewellery which appears in many photographs of her at the height of her political career.

Copyright: ChristieÕs/PA Wire

Christie's has estimated that pieces will sell from between £100 to £15,000, with the 18-carat gold and amethyst ring worn on the day she became PM expected to sell for between £1,200 and £1,800.

The auction will be held between 2 and 9 May.