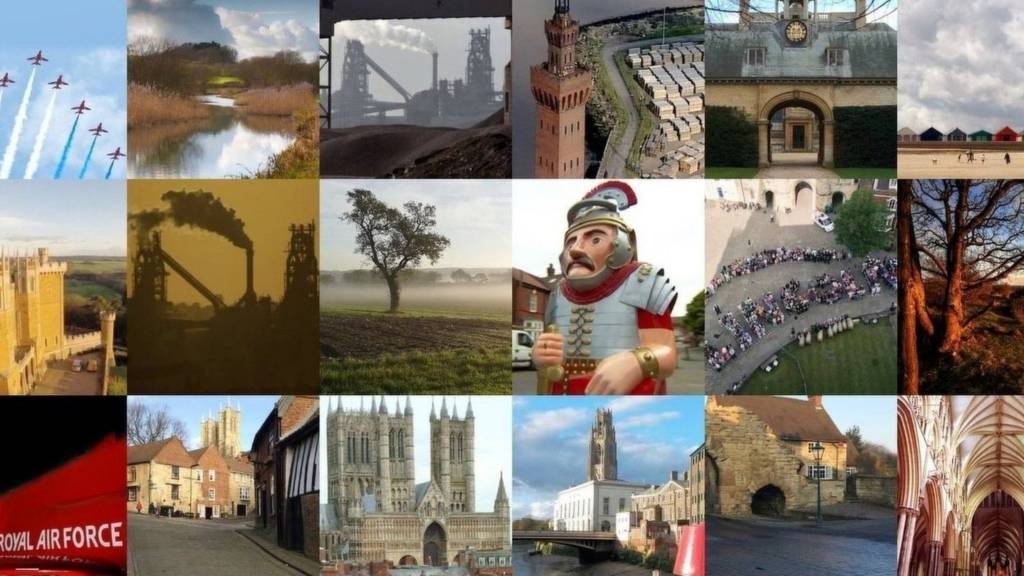 Lincolnshire breaking news: Latest updates
Summary
Lead thieves target another Lincolnshire church
Four injured as car and ambulance crash
Eighty potential buyers for British Steel
Lincolnshire man's deer rescue: 'It looked like it was going to die'
Cash boost means search is on for new police officers
Full steam ahead as Lincoln celebrates city's rail history
Illegal waste sites uncovered in Environment Agency stings
Live updates on Wednesday 29 May 2019
Prison to plant flowers to encourage good behaviour

Prisoners in Lincoln could soon see a flower bush or tree when they look out their window as part of plans to reduce re-offending.

It is argued it encourages inmates to take better care of their environment.

Paul Yates, a governor at Lincoln Prison, said he thinks it's a good idea.

He added: "Having an environment where there is a little bit of normality that one might see in your garden or community, actually gives a little bit of hope and hope then encourages good behaviour and I want to encourage prisoners to make best use of the environment."

Have you seen missing Craig?

Police are concerned for the safety of a missing man from Grantham.

Copyright: Lincolnshire Police

Craig Oliver, 26, was last seen this morning at about 6:15.

Officers believe he has been in the vicinity of the St. Catherine's crossroads with Beacon Lane and Sandon Road.

He is described as 6ft tall, of a stocky build and was last seen wearing a khaki hooded-top with jeans and boots.

If you have seen Craig or know where he is call Lincolnshire Police.

Four injured as car and ambulance crash

Four people have been taken to hospital following a crash involving an ambulance and a car near Tattershall.

The crash happened at about 10:45 on Sleaford Road near to the entrance of Tattershall Lakes Country Park.

Lincolnshire Police said four people were taken to hospital but that their injuries are not believed to be life threatening.

The force has appealed for any witnesses to the collision to come forward.

Red Arrows cleared for takeoff ahead of new season

The Red Arrows have been given the go-ahead to begin one of their busiest ever seasons.

Copyright: Ministry of Defence

The Royal Air Force Aerobatic Team's 2019 campaign will culminate in a major tour of North America and displays and flypasts across the United Kingdom and mainland Europe.

Formal approval to perform for audiences, known as Public Display Authority (PDA), was granted to the RAF Scampton-based team today.

It marks the official start of the Red Arrows' 55th display season.

Quote Message: Getting to the point where we are ready to display in front of millions of people takes a huge amount of effort, over a sustained period, by every member of the Red Arrows. It is an honour to command this dedicated group of men and women, that not only showcase the RAF exceptionally well but are also proud ambassadors for a Global Britain." from Wing Commander Andrew Keith Officer Commanding

Beer delivery drivers may strike over 'unachievable' loads

Beer delivery drivers in Yorkshire and Lincolnshire are being asked to vote on whether to strike over concerns about "unachievable" loads.

Copyright: REUTERS/Peter Nicholls

About 100 drivers and their mates employed by drink logistics company Tradeteam Ltd, which has depots in Sheffield and Immingham, are being balloted over possible industrial action.

Unite regional officer, Harriet Eisner said: "The focus of this dispute is the delivery of unmanageable loads that is being imposed by the Tradeteam bosses which, we believe, creates serious health and safety concerns for our members.

"Our members are saying they cannot achieve their deliveries safely within the time the management is now setting for them."

Tradeteam, which is part of DHL Supply Chain, has issued a statement saying: "We are disappointed that Unite is balloting its members on industrial action.

"Talks are continuing with the aim of reaching a satisfactory outcome for all parties."

Eighty potential buyers for British Steel - Government

Government officials say "good progress" is being made in finding a potential buyer for British Steel, which collapsed last week.

Copyright: AFP/Getty Images

More than 80 potential purchasers have already come forward.

The company is continuing to trade despite being wound-up last week, putting thousands of jobs at risk in Scunthorpe and the wider supply chain.

Full steam ahead as Lincoln celebrates city's rail history

A Lincolnshire shopping centre is honouring its railway heritage today with a special event called Full Steam Ahead.

A commemorative exhibition at St Marks features a collection of old photos and memorabilia which have all been donated by the people of Lincoln.

Organisers were keen to capture the remarkable history of the first Lincoln railway station and the role trains have played in the prosperity of the city.

In addition, there is a host of crafts and workshops, as well as train-themed biscuit decorating classes and a land train offering shoppers free rides to their favourite stores at the centre.

Lead thieves target another Lincolnshire church

Thieves have stolen lead from the roof of yet another Lincolnshire church, bringing the total number of incidents across the county this year to 28.

Dunsby Church, near Sleaford, was targeted overnight on Monday.

The theft comes hot on the heels of a similar raid on St Swithun's Church, in Bicker, where tens of thousands of pounds worth of lead was stripped from the roof.

Deer rescue: 'It looked like it was going to die'

A Lincolnshire man who jumped into a canal to rescue a baby deer has described how he wrapped the stricken animal in his clothes and blankets to keep it warm.

Marc Headon, a painter and decorator, stripped down to his underwear and socks and swam to the struggling animal in the Fossdyke near Saxilby.

He said: "It looked like it was really suffering. My friend helped me get the deer out and then he pulled me out and we carried it to the top of the bank. It looked like it was in bad shock, really cold. It must have been in there hours. We put my clothes and blankets around it to try to keep it warm. It looked like it was going to die."

They took the deer to a friend's house where it started to come around and became much happier.

Mr Headon said the deer was later handed over to the Wildlife Trust.

Are you proud to be a Yellowbelly?

All things great and good about Lincolnshire are being celebrated as part of a special art project.

The Big Paint, which has been organised by BBC Radio Lincolnshire, is taking place today at the Waterside Shopping Centre, in Lincoln, where a two-metre high painting dedicated to the county is being created.

It features landmarks including Lincoln Cathedral and Boston Stump, as well as the world-famous Red Arrows, and of course the Lincoln Imp.

It has been designed by Lincoln-born illustrator Dom McKenzie.

Quote Message: We're looking to embody what it means to be a Yellowbelly in a picture, so we've got lots of familiar and perhaps less familiar images from around the county that make up what it means to be a Lincolnshire Yellowbelly. Eventually you'll be able to put your head through it and represent the county in a visual form." from Dom McKenzie

Severe accident: A153 Lincolnshire both ways

BBC News Travel

A153 Lincolnshire both ways severe accident, near Tattershall Lakes Country Park.

A153 Lincolnshire - A153 Sleaford Road in Tattershall closed and queuing traffic in both directions near the Tattershall Lakes Country Park junction, because of an accident involving an Ambulance.

To report traffic and travel incidents dial 0330 123 0184 at any time

In pictures: The Red Arrows hit the skies in style

The world-famous Red Arrows have switched the skies above RAF Scampton in Lincolnshire for the sunshine of Greece where they have been training for the last few weeks.

It's in preparation for the new season when the Reds will hit the skies in displays above the UK and North America - their 55th display season.

Some spectacular photos have been released of the team perfecting and polishing their display which will be seen by millions of people this year:

Illegal waste sites uncovered in Environment Agency stings

Dozens of illegal waste dumping grounds have been found across Lincolnshire and three other counties as part of the largest ever one-day operation carried out by the Environment Agency.

Copyright: Environment Agency

A total of 54 sites were visited by officers, but only half were found to be operating within the law, according to the agency.

Copyright: Environment Agency

Officers found more than 5,000 tonnes of waste, including plastic, scrap metal and tyres.

Some waste was being burned illegally, with some being illegally treated or transferred.

A number of sites also contained construction and demolition waste, vehicle parts and household waste, the Environment Agency says.

The sites uncovered in Lincolnshire were in Colsterworth, Great Gonerby, Long Bennington, Stamford, Long Sutton and Grimsby.

Quote Message: We will be following up on every single site where we've found illegal activity so we can put a stop to activities that blight our neighbourhoods, our environment and our economy." from Pete Stark Environment Agency enforcement team leader

Cash boost means search is on for new police officers

About 30 new officers are being recruited by Lincolnshire Police after the force secured an extra £1.8m.

The extra money has come from the Home Office and will also be used to fund more Community Support Officers.

After raising the police council tax precept and by using its reserves, the Lincolnshire force now says it has an extra £2.5m in its budget.

Marc Jones, Lincolnshire's Police and Crime Commissioner, says even more money could yet be secured.

He says: "We're still at the point of trying to make efficiency savings to meet the full target, but equally I've got the opportunity to bid for further grants.

"So, I'm still hopeful that we'll bring in more money than the savings we're having to make to balance the books."