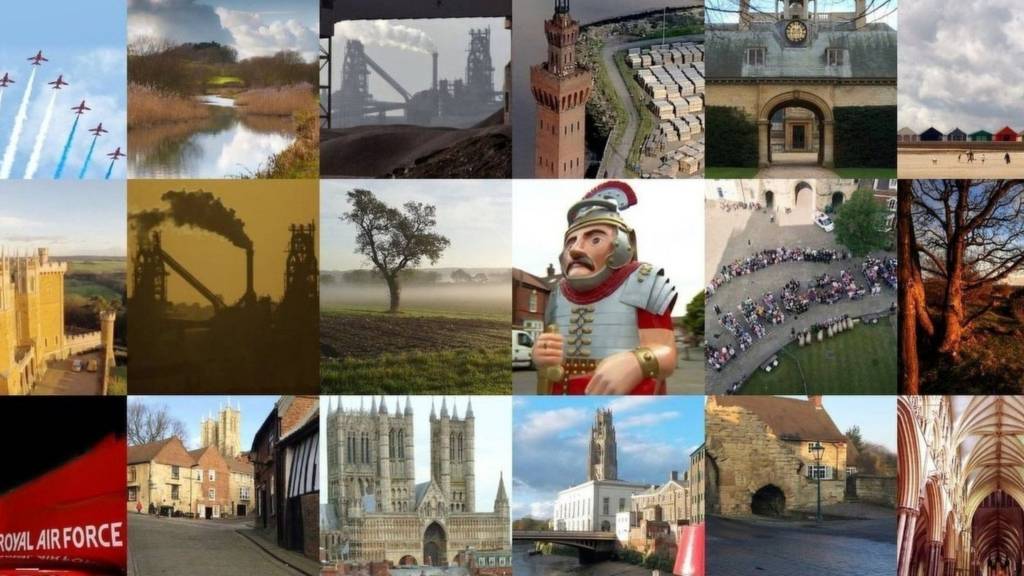 Lincolnshire breaking news: Latest updates
Man arrested over Scunthorpe robberies

A man has been arrested in connection with three robberies in Scunthorpe in which items were stolen from women in their 80s.

The first incident happened just after 08:00 on Revesby Avenue when a man approached a woman and reached into her handbag, stealing her purse.

The woman fell over and the man ran off with the purse.

The second incident was on Lindum Street at about 12:30 when a woman was approached by a man who stole her handbag, again causing her to fall over.

A member of the public chased the man and her handbag was retrieved and returned.

The third incident was on Leslie Court at about 14:45 when a man reportedly grabbed a handbag from a woman causing her pain to her back.

The women were all left "shaken", according to police.

The suspect remains in custody while inquiries continue, police say.

No cold-calling zones set up in flood-hit Wainfleet

No cold-calling zones have been set up in Wainfleet to "keep the area safe", emergency planners have said.

Lincolnshire Police previously put out a warning advising people to deal only with their own insurers, following the floods which have hit the town over the last week.

Meanwhile, emergency planners say the fire service is still pumping at five locations - the biggest being the borough sluice at Gibraltar Point where six pumps are currently in use to relieve pressure.

They also revealed that 18 farms have been affected by the floods, totalling several thousand acres. Crops including wheat, sugar-beet, broccoli and potato have all been damaged.

But 250 cattle had been made safe, planner said.

Golfers cycle 400 miles and raise £16k for charity

Ten golfers with a combined age of nearly 700 cycled more than 400 miles in just three days to raise money for charity.

Members of the Saturday 9ers, from Sleaford Golf Club, cycled from Truro in Cornwall to Heckington in Lincolnshire in memory of their golfing buddy, Andy "Stix" Thomas.

The former RAF bandsman died suddenly last year aged 51, despite the efforts of first responders from the Lincolnshire LIVES charity to save his life.

The group smashed its fundraising target of £5,000, raising £16,467 for Lincolnshire LIVES, and said they hoped their efforts were a "fitting tribute" to Mr Thomas.

Wainfleet flood victims told not to return home

Emergency planners have asked people to stay away from their homes in flood-hit Wainfleet after they found some had returned without informing authorities.

Planners have advised residents not to go back to evacuated zones until being given the all-clear by the emergency services after last week's major flooding.

Assistant Ch Con Shaun West said: "We still hope to get people back in their homes by Monday and surveys are being carried out by engineers today.

"We are fast-tracking this process and hope to have a further update on Friday morning."

A meeting is due to be held from 19:00 in Coronation Hall in Wainfleet for those who have been affected by the flooding.

Bee swarm at Port of Hull creates quite a buzz

This was the scene staff at the Port of Hull were met with after a swarm of honey bees decided to set up temporary home on a crane there:

Engineers found the bees clustered on the crane on 4 June as they prepared to service the massive machine at the site run by Associated British Ports (ABP) Humber.

Martin Downey, a general manager at ABP in Immingham, who also luckily happens to be a bee keeper, was called to the scene.

He dressed in a protective suit and coaxed the bees into a cardboard box before giving them a temporary home away from the site.

ABP says: "While it can be quite daunting to see a swarm of honey bees, they are relatively docile when swarming, having had a good feed before setting off.

"They take on as much honey as they can to sustain themselves until the scouts find a suitable new home."

The bees at the heart of the crane crisis are now getting "buzzy" at a permanent hive at Immingham Bulk Terminal, according to ABP.

Environment Agency boss defends flooding response

The speed at which the Environment Agency responded to a breach in the River Steeping which led to major flooding in Wainfleet has been defended by the boss of the organisation.

Copyright: Chris Dower/PA Wire

Some residents have criticised the handling of the incident, saying the hole in the river bank could have been filled sooner.

But Sir James Bevan, chief executive of the Environment Agency (EA), said: "I think there will always be things that, on reflection, you could do better.

"We'll look to see whether there were things we could have done better once we've addressed the immediate issues.

"But looking at the record of what we did, I am satisfied we moved very quickly."

The EA was aware the breach had occurred at about 15:00 on Wednesday 12 June and warnings were put out to the community "within minutes", according to Sir James.

Military assistance also took place "very quickly', he added.

Meanwhile, Sir James disputed claims the river bank had not been maintained properly.

Quote Message: We can always do better, but I think it was a good response. The important thing is that we will remain in Wainfleet and keep our support there for the people of that town until it's safe for them to go back home." from Sir James Bevan Chief executive, Environment Agency

Four bailed after 'unexplained' death

Four people arrested in connection with an "unexplained death" in Sleaford have been released on bail.

Copyright: Lincolnshire Police

Three men and a woman were arrested after the body of a man was found at a property on London Road on Sunday.

Investigations are ongoing, say police.

Steel pilings to strengthen River Steeping bank

Steel pilings will be inserted into the burst bank of the River Steeping as part of a semi-permanent repair to the embankment.

Copyright: Richard Hardesty/PA Wire

The breach in the river bank happened last week after heavy rainfall and led to devastating floods in Wainfleet.

Sir James Bevan, the chief executive of the Environment Agency, said the workers and the materials were ready to go, but it could take a while because the ground is so sodden.

He said: "We're now looking at a semi-permanent solution where we will probably be putting steel pilings in to the embankment backed up with some other materials to strengthen those pilings.

That will take a while to happen because at the moment the ground is so sodden to get the work people we need on schedule on to the ground. We've already got the material here, we've got plans, we've got the people ready to do that.

"So as soon as the weather allows us to do that we will move ahead with that. That doesn't necessarily have to happen before it will be safe to put people back in their homes, we're very much hoping we can do that earlier and we'll take a decision on that soon."

Freemasons' £75k donation to help Wainfleet flood victims

A total of £75,000 has been donated by freemasons in Lincolnshire to an appeal supporting those hit by last week's flooding in Wainfleet.

Copyright: Chris Dower/PA Wire

Up to 1,000 people have been told not to return to their homes in the town after heavy rainfall saw the River Steeping burst its bank last week.

The appeal was set up by the Lincolnshire Community Foundation and the £75,000 gift has been made by the Lincolnshire Freemasons.

Jane Hiles, a trustee of the foundation, said the donation had got the appeal off to a wonderful start.

"People say the first phase has gone well, but as soon as people are allowed back into their homes there's going to be an awful lot of work to do. With that, there is sadness but there is also the opportunity to help people.

"We know that people have lost an awful lot. It's a wonderful rural community and they've helped each other - but they now need a bit of outside help."

Ms Hiles said the foundation had been "heartened" by the number of people willing to help and hoped other organisations would make sizeable donations.

Homeless man due in court over opticians break-in

A homeless man from Grimsby is due to appear in court later charged with breaking into an opticians at the town.

Mark Gibson, 37, of no fixed abode, is charged with stealing glasses to the value of £600 on 18 June.

The arrest came as part of a crackdown by Humberside Police on commercial burglaries in North East Lincolnshire.

Woman's petition over Gainsborough cemetery dog fouling

A Gainsborough woman has started a petition to ban dogs from the town's General Cemetery.

Copyright: Jonathan Thacker/Geograph

Melissa Cook says dogs are being allowed to run loose and allowed to foul and urinate over graves, including that of her own sister Megan.

West Lindsey District Council says it will start a public consultation next week on the possible exclusion and control of dogs from both of the town's cemeteries.

Quote Message: I've got pictures of how Megan's flowers have turned yellow from urine. It's just awful how somebody could let their dog do that." from Melissa Cook

Community wardens tackle anti-social behaviour

Hundreds of warnings and fines have been handed out by community wardens in part of Lincolnshire over the past year.

It's almost 12 months since two wardens started patrols in South Holland.

From July 2018 until the end of May 2019 they gave 417 verbal warnings and issued 130 fixed penalty notices.

The district council says they've played an important role in reducing anti-social behaviour, such as littering.

Quote Message: It has been great to see the impact the community wardens have made in South Holland during their first year of patrols, and the positive difference they have made to communities across the district. from Coun Gary Taylor South Holland District Council

Emiliano Sala death: Yorkshire man 'manslaughter' arrest

A man from North Yorkshire has been arrested on suspicion of manslaughter over the death of Argentine footballer Emiliano Sala, who died in a plane crash.

The striker, who had signed with Cardiff City, was killed in the crash along with pilot David Ibbotson from Crowle in Lincolnshire.

A 64-year-old man had been arrested and released while investigations continue, a spokesperson for Dorset Police said.

The force added the families of the two men who died had been informed.

Mr Sala, 28, had been travelling from Nantes to Cardiff on 21 January when the plane he was in lost contact with air traffic control north of Guernsey. His body was recovered in February but Mr Ibbotson's has never been found.

Det Insp Simon Huxter said: "We have to consider whether there is any evidence of any suspected criminality.

"As a result we have arrested a 64-year-old man from the North Yorkshire area on suspicion of manslaughter by an unlawful act."

Det Insp Huxter urged people not to speculate about the identity of the man as it could hinder the investigation.

First League One fixtures for Imps out

In the last few minutes Lincoln City fans have found out who the Imps will kick off their season in League One against.

The Football League has released its fixtures showing City's first season in League One for more than 20 years starts at home against Accrington Stanley on August 3.

In terms of local rivalries the Imps are at Peterborough on October 12 with the return match on New Year's Day.

On Boxing Day, Lincoln travel to Oxford United. On October 5 the Imps face their first game against Sunderland in the league since 1961 at Sincil Bank while the return game is on January 4.

The season ends at home to Rochdale on May 3.