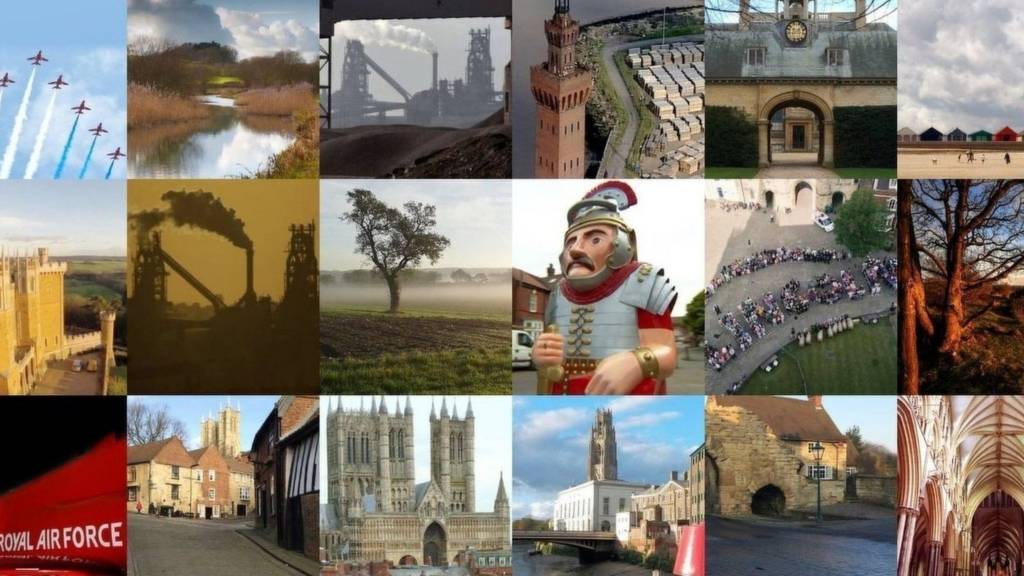 Lincolnshire breaking news: Latest updates
Lincoln school boy becomes voice of bins

A Lincoln school boy has won a competition to be the voice of automated bins in a shopping centre.

St Marks Shopping centre in the city put out an appeal for someone to be the voice of Percy the Penguin bin, and Robin the Recycling bin.

Every time people deposit rubbish in the bin, they'll hear the voice of 7-year-old Leo Smith (pictured with the bin) say "thank you for recycling, you're saving the world".

Construction restarts on Boston United ground

Work has restarted on Boston United's new football ground.

Copyright: Boston United FC

The team are vacating their current ground, on York Street in the centre of Boston, at the end of the coming season.

The new ground will be built on the Quadrant development, currently being built to the south of the town.

Chairman David Newton says piling work tor foundations of the north stand will begin early next week and steel work will begin to be erected in a few weeks time.

Quote Message: It's starting to become very real now. We want it right as well, we're backwards and forwards trying to make sure it works on a match day and on a non match day. We're trying to get all the detail right. from David Newton Chairman of Boston United FC

Owner 'heartbroken' as dog goes missing after car crash

A dog owner has put out an emotional plea to find her missing pet which ran away after being involved in a car crash yesterday evening.

A Red Seat Leon and Silver Vauxhall Insignia crashed yesterday evening on a crossroads between Whisby Road and Black Lane in Whisby, near Lincoln.

One man was seriously injured.

After the crash, Lola the French Bulldog and Staffie cross ran away from the scene.

Her owner, Lily Hardin, has pleaded on social media for anyone to contact her if they've seen the dog.

Ms Hardin says: "She dashed into the woodland off Black Lane, probably terrified. It's absolutely destroying me."

If anyone spots the dog, they're being asked to contact police on 101.

Quote Message: I have been out all night in that woodland looking for her - no sign at all and it was too dark to continue with no torch. I'm absolutely heartbroken. She is everything to me and my family." from Lily Hardin Dog owner

Council seeks more details about Haven River power station

Boston Borough Council is calling for more information about a power station planned for the side of the Haven River.

Members of the council's environment scrutiny committee say that although the plant could have "many positive effects" on the town, they're still concerned about air pollution, traffic and noise.

The councillors want more information from Boston Alternative Energy Facility, the company behind the plans.

The company says the plant, which is in the early stages of construction, will generate enough power to power 185,000 homes from rubbish which is often sent abroad at the moment.

Quote Message: The wider economic benefits must be balanced with the impact on the community, residents and business together, with the impact on wildlife and the River Haven ecology." from Environmental Scrutiny Committee Boston Borough Council

Armed police chase ends in garden wall crash

A 29-year-old man has been arrested in Brigg after a police chase through Lincolnshire which ended in the suspect crashing into a garden wall and fleeing from officers on foot.

Humberside Police say colleagues in Nottinghamshire told them a suspect wanted for various serious offences, including arson and two armed robberies, was heading through Lincolnshire towards the Humber region yesterday afternoon.

Armed officers attended a call to an Aldi car park in Immingham where a man had allegedly tried to attack a member of the public before driving off.

When officers found the car, it became a police chase which followed the car from the Elsham area towards Brigg on the A15.

The car eventually crashed into a garden wall on Davy Crescent in Brigg.

After a short pursuit on foot, officers arrested the man, who is still in custody.

Police are appealing for witnesses, in particular those who may have seen what happened in the Aldi car park in Immingham.

They say no members of the public were injured during the incident.

Heatwave: Outdoor pools at 'full capacity'

Lincolnshire's outdoor pools are expecting a busy day as the mercury rises, with one pool saying it was at full capacity yesterday.

Jubilee Park in Woodhall Spa (pictured) says it's expecting huge queues at their outdoor pool, where advance bookings - which make up 80% of their capacity - have sold out til the end of the week.

Meanwhile, managers of Bourne's outdoor swimming pool said it was at full capacity yesterday.

Monkeys get ice cream to cool down

Keep cool: Lincolnshire zookeepers help wilting wildlife

As temperatures are expected to top 30C in the next few days, zookeepers in Lincolnshire are putting in extra hours to keep animals cool.

At the Lincolnshire Wildlife Park in Friskney, near Boston, owner Steve Nichols (pictured with a lemur) has to make sure animals are kept healthy and hydrated.

Some fruit fed to the animals is frozen to help them stay cool and parrots are sprayed with a mist of water to help them hydrate.

The collection of tigers, which is the biggest in the UK, is kept cool by regularly spraying the floor of their pens with water.

Quote Message: A heatwave causes problems. It's something a lot of people don't understand. They just naturally say, 'Well, they come from a hot country, surely they can cope with it?' - and they don't. They're acclimatised to this country now." from Steve Nichols Owner of Lincolnshire Wildife Park

Woman forced to dive out of way of 'fail-to-stop' car

A woman had to dive out of the way from a car which failed to stop for police in Skegness this morning, it's emerged.

Police say three people have been arrested in connection with the incident which happened on Lumley Road (pictured) at about 09:15 this morning.

Police are appealing for the woman who had to jump out of the way of the oncoming car to get in touch with police to check she's OK.

Record-breaking adventurer to be given honorary degree

Lincolnshire adventurer Ross Edgley will swap his wet suit for a graduation robe today after being awarded an honorary degree by Bishop Grosseteste University.

Last year, the 33-year-old became the first person to swim all the way around the coast of Britain.

His previous charity efforts included running a marathon pulling a tractor, and running another marathon with no shoes on.

He'll join hundreds of other students graduating at Lincoln Cathedral soon.

He certainly seems to be looking forward to it:

Copyright: Bishop Grosseteste

Shed load of pig carcasses close major route into Lincoln

One of the main routes into Lincoln has been closed this morning after a lorry lost its load.

The lorry was carrying what's thought to be animal by-products and pig carcasses.

Drivers are being advised to avoid Doddington Road, between Tritton and Newark Road, while a clean-up operation takes place.

No one was injured in the incident.

Watch: Combine harvester fire near Grantham

Three fire engines and an ambulance were called to the scene of a combine harvester fire near Grantham yesterday afternoon.

The blaze happened at the Ropsley junction with the A52 at about 15:30 on Tuesday.

Eyewitness Hannah-Victoria Reynolds, who captured the footage below, said she could feel the heat from the blaze when she drove past:

Quote Message: The heat coming off of it was unreal. I'm sure it'll have melted the road it was on." from Hannah-Victoria Reynolds Eyewitness

Severe disruption: B1190 Lincolnshire both ways

BBC News Travel

B1190 Lincolnshire both ways severe disruption, at B1003 Tritton Road.

B1190 Lincolnshire - B1190 Doddington Road in Lincoln closed and queues in both directions at the B1003 Tritton Road junction, because of a shed load.

To report traffic and travel incidents dial 0330 123 0184 at any time

East Coast Mainline disruption continues

There's still some disruption on the East Coast Mainline after major problems along the route yesterday.

Hundreds of passengers were stranded on trains after power lines were damaged near Grantham, with some passengers fainting when the lack of power cut off the air-conditioning.

Several services running through Yorkshire and Lincolnshire this morning have been cancelled.

It's the second power failure on the line this month.

Passengers who had tickets for trains yesterday can use them today, according to train operator LNER.