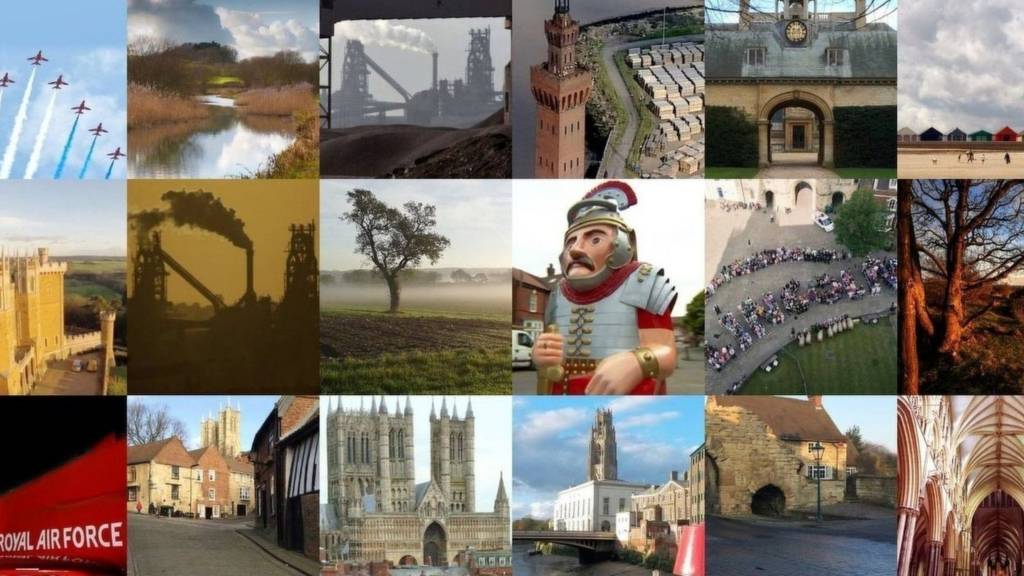 Lincolnshire breaking news: Latest updates
Flooding closes road in Lincolnshire village

Flooding is once again causing problems for motorists in Potterhanworth near Lincoln.

The road under the railway bridge is closed.

In recent weeks, several drivers have been forced to abandon their vehicles after attempting to drive through flood water, not realising how deep it is.

Copyright: BBC Radio Lincolnshire

Lincolnshire County Council says contractors are removing silt and debris which may take some time to complete.

Medieval church in Lincolnshire stripped of lead

This is what's left of the roof of a Lincolnshire church after it was stripped of lead.

St Bartholomew's Church in Covenham near Louth was targeted by thieves at around 03:00 GMT.

Copyright: Covenham St Bartholomew Heritage Trust

Neighbours were woken by the thieves hauling the metal from the north side of the roof.

A tarpaulin is being put over the roof to protect it from the elements.

St Bartholomew's, a Grade 2 listed building, is run by the Covenham St Bartholomew Heritage Trust.

The building has three tower bells dating back to the 1600s.

Copyright: Covenham St Bartholomew Heritage Trust

According to the Diocese of Lincoln, 23 churches have been targeted by lead thieves so far this year, compared to 12 for the whole of 2018.

'We did mean a lot' - Record shop closes after 87 years

The owners of a well-loved Skegness record store say they've been overwhelmed by customers' reaction to their decision to close.

Herrick Watson has been a fixture in the town's high street for 87 years but it's set to close its doors for the final time today after Rob Watson and his sister Jan decided to retire.

Mr Watson said they hadn't realised "just how much we meant to a lot of people who've been with us all this time".

"Especially the kids in the earlier days. It was more of a social scene than just being a shop.

"I think we did mean quite a lot to a lot of people who visited us over the years," he added.

Search goes on for stolen metal lions

The search is continuing today for two life-size bronze lions which have been stolen from a property near Market Rasen.

Copyright: Lincolnshire Police

The metal animals, which were taken from a property in Walesby on Tuesday, are believed to be worth about £20,000 each.

It's thought between four and six people would have been needed to lift each lion onto a vehicle.

Anyone with information about the theft, or who saw the lions being taken, is being asked to contact Lincolnshire Police.

Oysters reintroduced to Humber estuary

Thousands of oysters are being introduced to the Humber estuary later as part of a project to improve the marine environment.

A small-scale trial earlier in the year showed oysters thrive in the Humber.

It's been more than 60 years since the species was wiped out there by overfishing.

The Yorkshire Wildlife Trust is relocating them from Scotland to a new habitat near Spurn Point.

Dr Dan Cowing, of the Humber Aquaculture Partnership, said: "We've learned a lot within those initial months, where best to put them and we are really happy with the survival rate."

Lead stolen from Louth church roof

A "large amount" of lead was stolen from the roof of a church in Lincolnshire in the early hours of this morning.

Thieves took the lead from St Bartholomews Church in Louth at about 03:00 this morning, police believe.

They then drove off in an unknown vehicle.

Anyone who saw what happened, or has any information about the theft, is being asked to contact police.

Appeal for help to trace man over drink spiking allegation

Do you recognise this man? Lincolnshire Police want to speak him in connection with an alleged drink spiking in the south of the county.

Copyright: Lincolnshire Police

A woman had to be taken to hospital after she became unwell at Willoughby's Bar in Stamford in the early hours of Saturday 7 September.

Anyone with information about the incident, or who recognises the man in the picture, is being asked to contact police.

'Lot of conversations' to find Lincoln's new panto fairy

Managers at Lincoln's New Theatre Royal say they're confident they'll find someone to "slip into the role" after Melinda Messenger pulled out of this year's Christmas panto.

The former glamour model was due to play a fairy in Robin Hood, which opens in December.

But, in a statement yesterday, the 48-year-old said: "So sad I won't be donning my fairy wings due to a personal family situation."

Emma Olivier-Townrow, from the theatre, says: "A lot of conversations are taking place to find a replacement. Panto roles are sought after and there are actors out there."

Robin Hood is due to run from 3 December until 5 January.

Deadline approaches for Wainfleet flood support cash

Today's the last chance to apply for funding from the Wainfleet Flood Appeal.

Copyright: Chris Dower/PA Wire

The appeal is providing grants for those affected by the breach of the River Steeping in June.

Almost £100,000 was raised following the devastating flooding which saw over 580 homes in and around Wainfleet evacuated after heavy rains led to the river bursting its banks.

Anyone who wants to apply is being asked to contact the Lincolnshire Community Foundation.