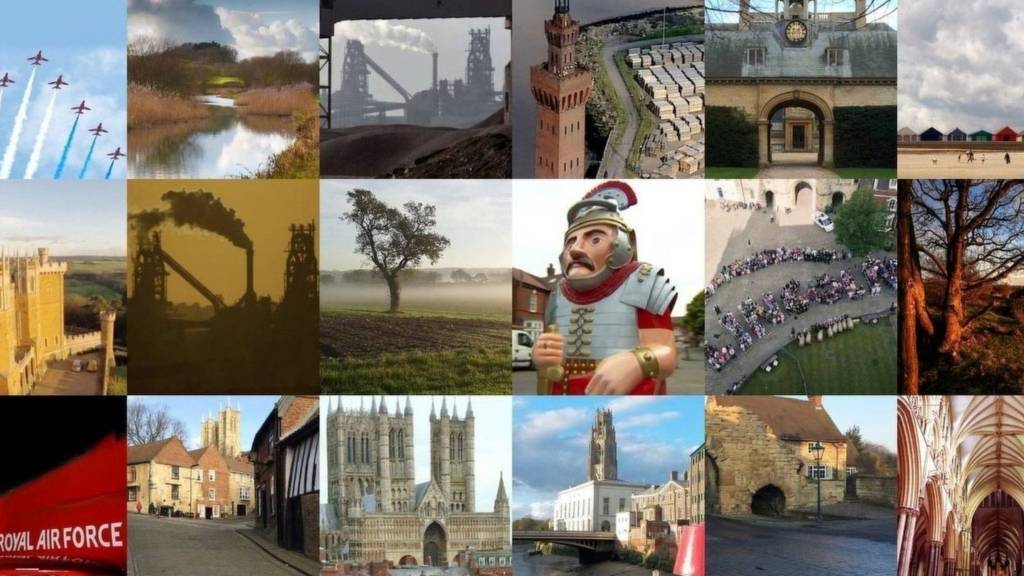 Lincolnshire breaking news: Latest updates
By Sandish Shoker

BBC News Online

Severe accident: A16 Lincolnshire both ways

BBC News Travel

A16 Lincolnshire both ways severe accident, from A151 Holbeach Road to B1180 West Marsh Road.

A16 Lincolnshire - A16 in Low Fulney closed and queues in both directions from the A151 Holbeach Road junction to the B1180 West Marsh Road junction, because of an accident involving two vehicles. On the roundabout.

To report traffic and travel incidents dial 0330 123 0184 at any time

There'll be some rain around to end the day in Lincolnshire.

Here's the latest forecast:

Severe accident: A46 Lincolnshire both ways

BBC News Travel

A46 Lincolnshire both ways severe accident, from Snarford to Spridlington Road.

A46 Lincolnshire - A46 Lincoln Road in Snarford closed and stationary in both directions from the Snarford junction to the Spridlington Road junction, because of an accident involving two vehicles.

To report traffic and travel incidents dial 0330 123 0184 at any time

Singer waxes lyrical about Capaldi tour

After a European tour with one of the biggest pop stars in the world, a Lincolnshire singer-songwriter says life is starting to return to normal.

Grantham's Holly Humberstone has been supporting Lewis Capaldi.

She's been to places including Amsterdam, Paris, Berlin and Brussels.

Quote Message: I think European crowds especially are known for being really respectful to the support acts. Lots of people were listening and I've had loads of lovely messages and things like that after just saying how much people enjoyed it." from Holly Humberstone

Women start battle against Boston's fly-tippers

Two women from Boston who describe themselves as "normal mums and grans" have taken up the fight against fly-tipping in their home town.

Heather Murrell and Maxine Stones have taken it upon themselves to clean the streets, before they become what they describe as a "rat-infested dump".

Quote Message: There's loads. There's dozens of places. It's anything from washing machines and beds. It's soon going to be turning into a rat hole." from Heather Murrell

Boston Borough Council says it works with other agencies and clears up an average of four fly-tipping incidents per day as well as separate enforcement actions.

Plans unveiled for statue honouring Victorian coder

Local Democracy Reporting Service

Designs for a sculpture to honour the memory of a celebrated Victorian Lincoln-born mathematician have been revealed.

Copyright: The Heslam Trust/Antony Dufort

The Heslam Trust has previously submitted a plan to erect the statue to honour George Boole, whose work is found in every smartphone and computer.

Boole, who was born in the city in 1815, is known for Boolean logic, which is now basic to the design of modern digital computer circuits.

City of Lincoln Council backed the proposal for the memorial back in 2018 and said it was "pleased" to support the plan.

Now, designs have been revealed for the statue which would be placed outside the entrance of the city's railway station.

Designed by Antony Dufort, the 7ft-high cast bronze sculpture would depict Boole teaching two pupils, one male and one female.

His home on Pottergate is also commemorated with a plaque.

Quote Message: George Boole has played a vital role in the advancement of computer science. It's incredible to think every time we use a smart phone or a computer, it is the work of a Lincoln man nearly two centuries ago that made it possible." from Kate Ellis Major Developments Director, City of Lincoln Council

Nine-year-old praised by police for helping tidy street

A nine-year-old boy is being being praised by police for helping keep his street tidy in Grantham.

During half term, Jack helps pull the bins to the edge of the street ready for collection, as well as picking up litter:

Lincolnshire's afternoon weather forecast

It will be a windy afternoon in Lincolnshire with the risk of a shower.

Here's the latest forecast:

Part of former Boston court to be converted into gym

Local Democracy Reporting Service

The cells of a 180-year-old court building in Boston are to be turned into a training gym under plans approved by Boston Borough Council.

Applicant, and former Boston borough councillor, Alistair Arundell has been given permission by the authority to turn four of the cells at the Grade II*-listed Sessions House, on Church Close, into a "training circuit".

Documents submitted to the authority by John Merrett Architecture said no physical alterations would be required, any equipment would be free-standing and the rest of the building would not be accessible by the gym's users.

"All users are by appointment and the proprietor is a fully qualified personal trainer/fitness coach," according to the documents.

A maximum of 16 people would be using the gym, they added.

The Sessions House was built in 1841-42 by Charles Kirk, who also created a near- identical building in Spalding, completed in 1843.

It continued to be used as a court house, including some updates and a small extension to the west side, until 2003 when the magistrates' court closed.

Vote due on South Kesteven council tax rise

Councillors in South Kesteven are expected to vote later on whether to add £5 to council tax bills for the district.

Members of the council's executive will decide if they want to take the Band D precept to just over £163 a year.

The final vote will be taken by all members of the council next month.

Campaigners hit target for RAF-themed church window

Campaigners say they've raised enough money to order an RAF-themed stained glass window for a church in Lincolnshire.

The window at Scampton Church will commemorate the relationship between the nearby RAF station and the village.

RAF Scampton, the current home of the world famous Red Arrows display team, is to close in 2022.

It was also home to 617 Squadron as crews prepared for the Dambusters mission in World War Two.

So far, £16,000 has been raised in five months, but members of the group want to hit £23,000 so they can fund a children's art project to go alongside the window.

Lincolnshire charity ready to support farmers

As farmers count the cost of the recent wet weather, a Lincolnshire charity says it's on standby to help.

Forage Aid, set up by Leadenham farmer Andrew Ward, supports farmers whose livestock has been caught up in extreme weather conditions by providing forage and/or bedding.

Quote Message: There are cases and there are areas where there are lots of floods, so it's not a question of if, it's a question of when we get the call." from Andrew Ward Founder, Forage Aid

Lincolnshire's Tuesday weather forecast

There's the risk of a shower in Lincolnshire this afternoon.

Here's the latest forecast:

Humber Bridge 'open to all traffic' - but slow down

If you're planning on driving over the Humber Bridge today, then things are looking good - or at least better than they have over recent days.

It remains open to all traffic after restrictions were in place - and even a complete closure last week - due to Storm Ciara and Storm Dennis.

However, drivers on the landmark bridge are being warned to make sure they stick to the lower than usual speed limit:

City growth sparks Lincoln transport overhaul plans

Local Democracy Reporting Service

Plans to overhaul Lincoln's transport system in order to cope with significant growth demand over the next few decades have been unveiled.

The main themes of the Lincoln Transport Strategy focus on reducing traffic in the city centre by completing the outer ring road, cycling and pedestrian facilities and creating a more environmentally friendly city.

It also includes ambitions to improve public transport systems.

The strategy, lead by Lincolnshire County Council and City of Lincoln Council, North Kesteven District Council and West Lindsey District Council, responds to growth predictions which suggest the city could see 37,000 new dwellings and 12,000 new jobs by 2036.

Executive councillor Richard Davies said: "One of the main goals is to offer a wider range of affordable, reliable and environmentally friendly travel options for people to choose from when moving in and around the city.

"Combined with other measures, like improving bus and rail services, the strategy aims to ensure Lincoln has the infrastructure it needs to meet travel demands over the coming decades," he said.

The council's transport committee is expected to review the new strategy next month.