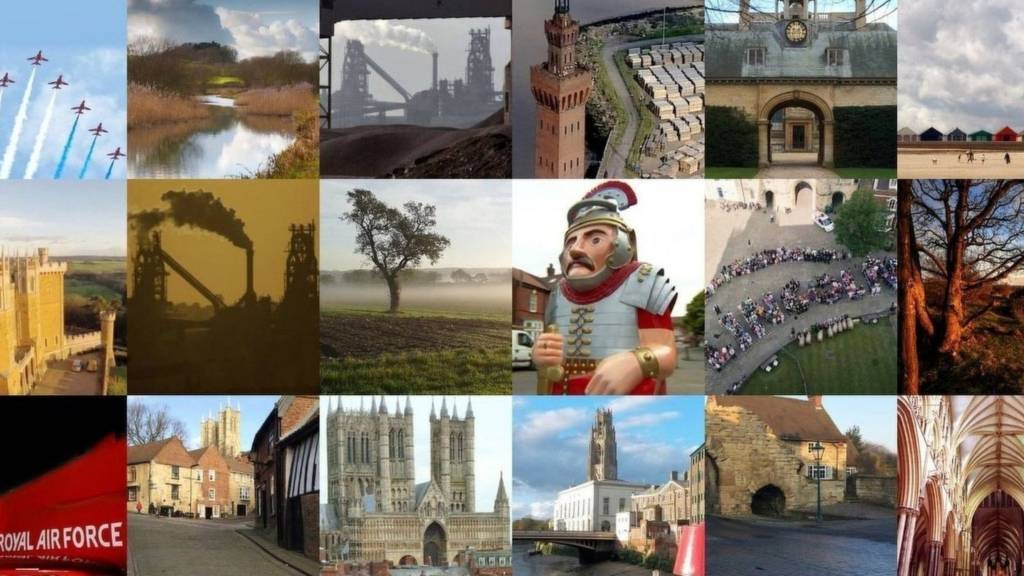 Coronavirus in Lincolnshire: Latest updates
Severe disruption: A52 Lincolnshire both ways

BBC News Travel

A52 Lincolnshire both ways severe disruption, at West Street.

A52 Lincolnshire - A52 Sleaford Road blocked and it's slow in both directions at the West Street junction, because of the level crossing isn't working.

To report traffic and travel incidents dial 0330 123 0184 at any time

Miss England 'feeling guilty' for not being on front line

The reigning Miss England says she has been "feeling very guilty" for not being on the front line sooner, as she returns to her job as a junior doctor.

Respiratory specialist Bhasha Mukherjee is due to start back at Boston Pilgrim Hospital in Lincolnshire this week.

The 24-year-old from Derby has travelled back from India, where she had been carrying out charity work. As part of a humanitarian trip across Asia, she had been due to travel to countries including Pakistan.

But she says she wants to return to her "NHS family" because she is concerned about "the pressure our NHS is under".

Four fined over party in field during lockdown

Four people have been fined by police for breaking the coronavirus lockdown rules to have a party in a field.

Lincolnshire Police said three men and one woman from the Boston area were spotted between Cranwell and Sleaford on the A17 on Saturday.

The force said the group had travelled to the area to "find a big field to celebrate a birthday".

Insp Rachel Blackwell said: "Despite repeated and serious reminders not to leave the house during the coronavirus lockdown, some people are still ignoring the rules and are leaving their homes for non-essential reasons."

Severe accident: M180 Lincolnshire eastbound

BBC News Travel

M180 Lincolnshire eastbound severe accident, between J4 for A15 and J5 for A18.

M180 Lincolnshire - Two lanes closed on M180 eastbound between J4, A15 (Scawby) and J5, A18 (Barnetby Top), because of an accident involving a vehicle that has left the carriageway. Traffic is coping well.

To report traffic and travel incidents dial 0330 123 0184 at any time

Increase in number of calls about domestic abuse

Emergency planners in Lincolnshire say they've seen an increase in the number of calls requesting help around domestic abuse.

Copyright: Getty Creative

It's after charities across the country voiced concerns about an increase in violence as people continue to be isolated in their homes.

Deputy Ch Con Jason Harwin told the BBC: "Domestic abuse is a clear concern for us at the moment, especially as people are being restricted of their movement and are spending more time at home and are potentially experiencing more domestic abuse than they probably would have done without these restrictions in place.

"We certainly are seeing some increased referrals in to our support services, certainly from policing. We're doing a lot of work to monitor and make sure those we do know about are supported."

Business owners 'anxious' over coronavirus

People running businesses in Lincolnshire are becoming "very anxious" about losing their livelihoods as the coronavirus lockdown continues, according to an organisation representing them.

Federation of Small Businesses spokeswoman Katrina Pierce says it's been a stressful time for them as they're worried about their health and that of their family and friends, but also the future of their firms.

She said: "People are coming to me with very real concerns. They're worried about their health, as everyone across the nation is.

"But if you pile on concern about your livelihood and everything you've worked to achieve over the years to that, it's quite a dangerous recipe for anxiety, stress and very real mental health problems.

"Some of the conversations I've had with people in the county are that they're very anxious they're going to lose their business, they've got real guilt about having to stand down their staff even though there's been some intervention put in place to pay 80% of their staff."

Three more die after testing positive for coronavirus

Another three people have died in Lincolnshire after testing positive for Covid-19.

Copyright: United Lincolnshire Hospitals NHS Trust

United Lincolnshire Hospitals NHS Trust said two men, aged 79 and 82, and a 99-year-old woman had died, all of whom had underlying health conditions

It takes the total to 36 for Lincolnshire.

Meanwhile, the total number of deaths recorded by the Northern Lincolnshire and Goole NHS Foundation Trust now stands at 14.

Investigation after West Pinchbeck house fire

An investigation's under way into a large fire in an outbuilding in West Pinchbeck, near Spalding.

Copyright: Hanifa Dungarwalla

It broke out yesterday afternoon on Six House Bank.

Copyright: Hanifa Dungarwalla

Residents living nearby were asked to keep their windows and doors shut.

Copyright: Hanifa Dungarwalla

These photos were taken by Hanifa Dungarwalla, who lives next door to where the fire broke out.

Covid-19 patients discharged from Linconshire hospitals

A total of 55 patients have so far been discharged from Lincolnshire's hospitals after being treated for COVID-19.

Copyright: Local Democracy Reporting Service

Figures from United Lincolnshire Hospitals Trust include the number of people who tested positive for coronavirus and were treated at Lincoln, Grantham and Boston hospitals.

Mark Brassington, deputy chief executive at ULHT, said the discharges were down to the work of "proactive" staff in hospitals.

So far, 33 people who tested positive for coronavirus have died in the county's hospitals and 319 cases have tested positive.

The trust is currently treating 96 patients for COVID-19 across its hospital sites.

Professor Stephen Powis, medical director at NHS England, said infections and hospital admissions were starting to "plateau" but warned against complacency.

'Unbelievable' - Vandals try to break in to city pharmacy

The owner of a Lincoln pharmacy has spoken of her frustration after vandals tried to get inside by smashing the door.

FP Watsons on the Bailage was vandalised early yesterday morning.

Pharmacist Nell Braithwaite said she was shocked to see what had happened.

"It's unbelievable in this day and age, with all that's going on, that people will vandalise a pharmacy," she said.

"They were obviously trying to gain entry, but there was no way because we are highly protected."

Police investigations are continuing.

Emergency fund to help county's coronavirus support groups

A fund has been set up in Lincolnshire to raise £500,000 to support charities and community groups which are providing vital services to those most at risk of coronavirus.

Copyright: AFP / Getty Images

The Lincolnshire Community Foundation has launched the "Covid-19 Crisis Fund" to help organisations which offer help such as hot meals and befriending.

The first round of emergency grants has been distributed to organisations including Jubilee Church Life Centre, which is delivering over 20 food parcels a day to people in Grantham, and Tonic Health, in Spalding, which is delivering hot meals to elderly and vulnerable people living in rural areas.

The foundation, based in Sleaford, is also working with the National Emergencies Trust (NET) which has launched a UK-wide appeal, in partnership with the British Red Cross

Quote Message: There is no doubt this money will help save lives. More than 23% of the people living in Lincolnshire are over 65-years-old and face being isolated for months to come. Thousands of others are vulnerable owing to mental health issues, physical disabilities or underlying health conditions which also put them at risk. For many, the only advice, support and contact they receive is from local voluntary and community organisations." from Sue Fortune Joint CEO of the Lincolnshire Community Foundation

Officials warn people to stay away from Lincolnshire coast

Local Democracy Reporting Service

People across Lincolnshire are being warned not to visit the coast during the Easter Bank Holiday due to the coronavirus pandemic, even with temperatures expected to soar.

Copyright: Press Association

Tony McGinty, director of public health at Lincolnshire County Council, has called on people to stick to social distancing measures this weekend to keep case numbers down.

It comes as the government hinted that lockdown could be extended into May because scientists believe the peak of the Covid-19 outbreak might not come for another 10 days.

Mr McGinty said people should not be tempted to go outside for anything other than essentials.

"If we take our foot off the gas, we will almost certainly see a difference in the numbers," he said.

So far, Lincolnshire Police has handed out nine fines to people who have ignored government guidance, mainly to people gathering in small groups.

Ch Insp Stewart Brinn said officers will advise those who flout the guidance to change their behaviour, but will fine them if they persistently ignore lockdown restrictions.

He said: "There is no deviation on this. We have a duty to protect communities in Lincolnshire and we will use all the powers at our disposal to achieve that."

Police appeal to trace man after wallet stolen

Police investigating claims a man's bank card was used fraudulently to buy shopping in Boston have released a CCTV image of a man they want to speak to.

Copyright: Lincolnshire Police

Lincolnshire Police say the bank card was used in several shops in the town, including Iceland Food Warehouse, Home Bargains, Korzinka, Aronia UK and Euro Int Foods, after it was dropped in Horncastle Road on 24 March.

The suspect is described as being of stocky build, with dark hair and was wearing white trainers, dark bottoms and a blue zipped top. He was in his 40s.

Anyone who recognises the man in the image should contact Lincolnshire Police.

Thursday's weather forecast for Lincolnshire

High pressure will continue to bring dry and warm conditions with spells of sunshine and some patchy cloud.

Top temperatures today of 15C.

Tonight will remain dry with long, clear periods.