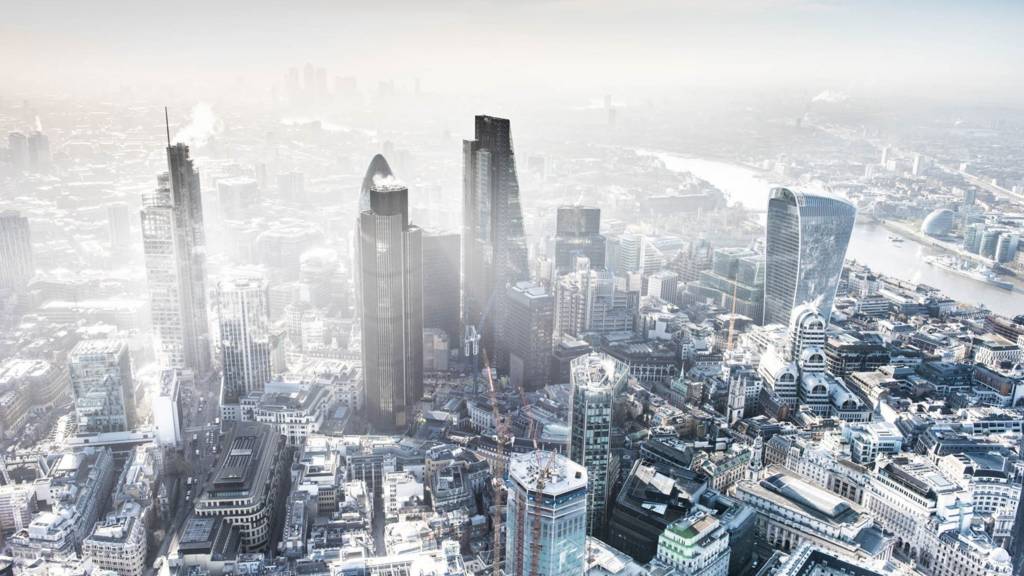 BBC London Live: As it happened
Thirty taken to hospital, says ambulance service

Good evening from BBC London Live

Updates for London have ended for the day but we'll be back 06:00 on Monday with full coverage of the planned 24-hour Tube strike which starts at 18:00 on Sunday.

Have a good weekend.

Tonight's weather: Cloudy with outbreaks of rain

It'll be rather cloudy with outbreaks of rain moving southwards this evening and tonight. The rain will gradually petering out from the north towards dawn. However, it will stay cloudy, with lot of low cloud and hill fog, particularly over the Chilterns. 

Minimum temperature: 3C (37F).

Watch: Calendar created by homeless people

This year's MyLondon calendar is made up of photographs taken on single-use cameras that were handed out last July to around 100 people affected by homelessness.

Paul Ryan joined Radio London's Robert Elms this morning - you can listen to the interview here. 

Man gets life for Hornchurch pub stab murder

James Roberts, 32, of Hornchurch, has been sentenced to life imprisonment with a minimum term of 23 years for the murderof Aiden O'Mahony, 60, who was stabbed to death at a pub in Hornchurch on10th January 2016.

Image caption: Aiden O'Mahony's passions were Tottenham Hotspur, his family and his dog Lily

Watch: Sutton fan celebrates his team in song

Breaking

Ambulance system failure 'might have led to patient death'

Copyright: Science Photo Library

The London Ambulance Service is investigating whether computer failure in the early hours of New Year's Day may have contributed to the death of a patient.

BBC News can reveal that at least one 999 patient died during the period that the computers were down.

A major investigation is being carried out to determine the cause of the problems and the full clinical impact.

The Care Quality Commission said it would inspect the trust next month.

Agyness Deyn to play detective in new London-based drama

Model-turned-actress Agyness Deyn has signed up to star as a sleuth in a new BBC1 crime drama. 

The 33-year-old British former catwalk star has been cast as a detective in Hard Sun, set in contemporary London. 

The Way Back actor Jim Sturgess, 38, will play her crime-cracking partner in the "pre-apocalyptic" drama. 

The six-hour show has been penned by Neil Cross, who created the hit crime series Luther.

Filming starts in London this month and the series airs this year.

14 years in jail for woman who tortured 'sugar daddy' pensioner with hot iron

A mother-of-three has been jailed for 14 years for beating up a "Sugar Daddy" pensioner with a Canals of England picture and torturing him with a hot iron. 

Gordon Bland, 79, offered Samantha Butler, 40, cash to "help her out a bit" after meeting her in his local pub, the Royal Albert, on 9 July.

When they got back to his flat in Crystal Palace, south-east London, she immediately hit him over the back of the head and vowed to kill him, he said. 

She went on to batter him with a picture frame, throttle him with an electrical cable and branded him with his own iron at least three times during the hour-long assault which was only brought to a halt when a neighbour called police.

Mr Bland, a porter, suffered numerous injuries, including bleeding on the brain, and spent the next five weeks in hospital.

Butler, of St Aubyns Road, Upper Norwood, south London, admitted causing Mr Bland's wounds but denied trying to kill him and claimed the iron must have fallen on him. 

City worker admits manslaughter after shoe prank

A City worker has admitted killing a recruitment consultant with a single punch after his shoe was thrown out of a minicab window. 

Alexander Thomson, 32, was on a night out with former colleagues on 26 August when he reacted to the prank by lashing out at Thomas Hulme and hitting him in the head. 

At the time, the group of four were inside a minicab on Farringdon Street, Clerkenwell.

Mr Hulme, 23, from Tooting, south London, died the following evening and Thomson was charged with manslaughter. 

The defendant, of Broomwood Road, Clapham, south London, appeared before the Old Bailey. 

His lawyer Lisa Wilding QC noted he had "matters recorded against him" in the past. She said: "Alexander Thomson recognises a custodial sentence will be the expected sentence following his guilty plea.

"He now abstains completely from alcohol." 

Thomson will be sentenced on 10 March.

Access to skilled EU workforce 'vital' for London, report finds

Maintaining London's access to skilled EU workers after Brexit is "vital" for the capital's future prosperity, a report has found.

Authors London First said business leaders were worried any restriction on skilled migration would "impede London's ability to attract talent".

The organisation said leaving the EU also presented new opportunities to the city but other investment was required.

Theresa May has not confirmed her plans for freedom of movement after Brexit.

Nearly half of London's mental health trusts had 100% bed occupancy in 2016 - report

Michael Buchanan

Social Affairs Correspondent, BBC News

BBC News has learned that nearly half of mental health trusts in London had 100% bed occupancy rates last year, indicating that every bed was full on every single day of the year. 

The figures, contained in an official NHS document, show that 4 of the 9 mental health trusts were completely full - Barnet, Enfield and Haringey NHS Trust, Central and North West London, Oxleas and the South London and Maudsley. 

The average occupancy rates for all 9 trusts was 96% for adult acute beds; the average for the NHS in England as a whole was 92%. Guidance from the Royal College of Psychiatrists states that 85% is the "optimal" bed occupancy level, as they say "delays in admission, which result from higher rates of bed occupancy, may cause a person's illness to worsen and may be detrimental to their long-term health." 

Research out this morning showed that delayed discharges from hospitals - a key reason for beds being full - were increasing much quicker in mental health trusts than in acute (physical health) trusts.

Watch: Fabric due to reopen later tonight

Fresh allegation of property theft in Hatton Garden burglary revealed

Daniel Sandford

Home Affairs Correspondent

The Metropolitan Police has said: "In June 2016, police received an allegation of theft from a security box relating to the Hatton Garden burglary in April, 2015. 

"The victim is alleging the loss of a substantial amount of property. The investigation is ongoing." 

I understand that last year the CPS  told the court and the defence that there was a victim of the Hatton Garden burglary who was claiming the loss of a substantial amount of property that did not form part of the £14 million estimate put at trial. 

The court was informed that police were in the process of obtaining further evidence in relation to this. Sky News is saying the estimated value of the new property is £7m.

TfL warns of 'severely reduced' services as Tube strike goes ahead

Transport for London warns there will be a "severely reduced" service across the network on Sunday evening and all day on Monday. 

Passengers were advised to complete their journeys by 18:00 on Sunday, and that most Zone 1 stations are likely to be closed throughout the action. 

There will be no services on the Victoria or Waterloo & City lines, or from busy stations such as Waterloo, King's Cross, Euston, London Bridge, Paddington or Victoria. 

TfL has said it was committed to addressing recommendations in a recent report by London Travelwatch into the closure of ticket offices and has started working with the unions to review the staffing model and put more station staff roles back where needed. 

Management failures led to strike talks collapse - RMT

Tom Edwards

Transport Correspondent, BBC London

RMT leader Mick Cash said: "Despite huge efforts by the union negotiating team London Underground have failed to come up with any serious plans to tackle the staffing and safety crisis caused by the axing of nearly 900 safety-critical station jobs. 

"As a result of the management failure to face up to the current crisis the talks have collapsed and all industrial actions remains on. It is up to London Underground to take full responsibility for this situation and to come back to us with a serious set of proposals. "

'It's difficult to deliver change while the staff are on strike'

Bob Dale

BBC Live reporter

The Transport Secretary, Chris Grayling, says Southern Rail's ongoing problems can only be fixed once the unions call off their industrial action.

Breaking

Tube strike is on

Tom Edwards

Transport Correspondent, BBC London

Tube strike talks have broken down so the strike is on. Expect significant disruption on Sunday night and all day Monday.

Hospital order for carer who killed his father

 A mentally ill carer has been locked up indefinitely for battering his 81-year-old father to death while under the "intolerable" pressure of looking after both his handicapped parents. 

Mohsin Manji, 45, had paranoid schizophrenia for some 25 years yet had taken sole day-to-day responsibility for his bedridden disabled father and dementia-suffering mother. 

At the time of the killing at the family's home in Harrow in November 2015, Manji heard voices of "evil spirits" and had got the idea that his father Amirali Manji was some sort of "zombie", a court heard. 

 At an Old Bailey hearing, Manji, of Kingshill Drive,  pleaded not guilty to murder but admitted manslaughter by diminished responsibility.

Prosecutor Mukul Chawla QC accepted the plea and the defendant was handed a hospital order and a restriction order "for the public protection" without limit of time.