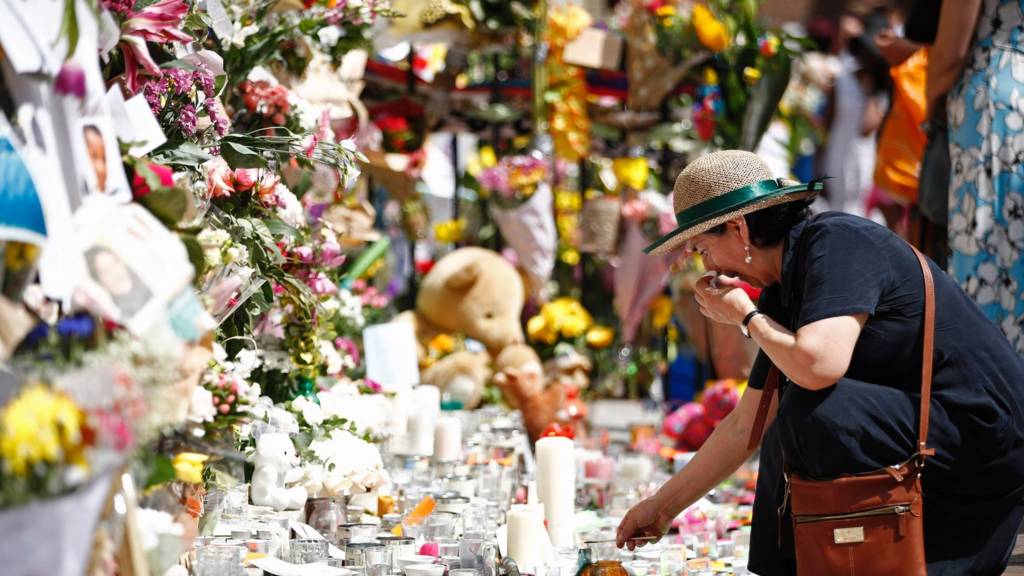 To sum up:

At least 58 people are dead or presumed dead, police say, but the BBC understands the toll may rise to about 70
Prime Minister Theresa May pledged that every household left homeless would receive at least £5,500
London Mayor Sadiq Khan described the fire as a "preventable accident" caused by "years of neglect" by the local council and successive governments
Civil servants began deploying to bolster the relief effort, making themselves known in the area by wearing high-visibility jackets
Kensington and Chelsea Council's leader, Nicholas Paget-Brown, defended his borough's response, saying no single authority could have coped
The Home Office is making arrangements for the family of Mohammed Alhajali, who was the first victim to to named, to fly to the UK from Syria
A minute's silence is to be held at 11:00 BST on Monday

'This is not a tourist attraction'

The sight of visitors using the ruined tower block as a backdrop for photographing themselves is causing distress, Metro reports.

Image caption: Emergency services continued their work inside the ruins of the tower today.

May pledges 'absolutely everything possible'

Prime Minister Theresa May vowed in the statement to do everything possible for everyone affected:

"As we continue to respond to the needs of the community, our focus is on ensuring that all of those affected by this unimaginable tragedy get the right support as quickly as possible.

"My government will continue to do absolutely everything possible to help all of those affected through the difficult days, weeks, months and years ahead."

The statement from Downing Street went on to sum up other aid being made available:

Support for the council through the Bellwin scheme to meet the immediate and uninsurable costs of responding to the disaster
A guarantee of funding for temporary accommodation for those whose homes have been destroyed as a result of the fire while permanent homes are found
Funding for legal representation for residents to ensure their voices are heard during the inquiry
An additional £1.5m to pay for mental health support to the Emergency Services through Mind's Blue Light Programme

£5,500 for each household made homeless

The Prime Minister has confirmed details of how the emergency Grenfell Tower Residents' Discretionary Fund, worth £5m, will be distributed:

Every household whose home has been destroyed as a result of the fire will receive a guaranteed £5,500 minimum down payment from the fund. This will be made up of a £500 cash payment and £5,000 delivered through the Department of Work and Pensions into bank accounts or similar in a single payment
The £500 cash payment has already begun to be made available to those affected and further payments are available immediately from the Council at the Westway Centre or from Monday through the Post Office in Portobello Road, as and when families need it
The £5,000 payment will be available from Monday and support workers will assist households in accessing it - including those who do not have bank accounts
The discretionary fund is also being made available to meet funeral costs, and to top up payments for those households with complex or additional needs.
The fund will be kept under review and will increase if necessary

The volunteers who flocked to help

People have flocked from near and far to help at the site of the Grenfell Tower fire, with the volunteer effort organised by faith groups, social media and word of mouth.

The BBC's Nalina Eggert spoke to some of the helpers.

Image caption: Reece Lusmore, from Gloucestershire

Where were the estate managers?

Image caption: They met Mrs May on Saturday

Residents who met Prime Minister May in Downing Street after the fire have accused Grenfell Tower's estate managers - the Kensington and Chelsea Tenant Management Organisation - of being "invisible in the aftermath of the tragedy".

The group, made up of victims, residents, community leaders and volunteers, told the Press Association they were grateful to Mrs May for listening to their concerns but demanded "real action and immediate results".

"In our meeting at Downing Street, we explained to the Prime Minister the anger of all residents towards the management of the estate over a long period of time, paving the way to this tragedy," the group said in its statement.

"With the exception of very few junior officers, the estate managers have been invisible in the aftermath of the tragedy."

Government advice for fire victims

Council leader defends fire response

Here's a clip of the leader of the Royal Borough of Kensington and Chelsea, Nicholas Paget-Brown, defending the much-criticised emergency operation.

Close to my heart - Damon Albarn on Grenfell

Singer and musician Damon Albarn reflects on a part of west London he has known for decades and calls for a change in government policy for the community involved.

Road closures due to fire

BBC London Travel tweets...

Missing women 'threatened for raising fire safety concerns'

Two women missing in the disaster were threatened with legal action after raising fears about safety, the Daily Mirror reports.

Mariem Elgwahry, 27, and Nadia Choucair, 33, are believed to have received letters warning them to stop a campaign calling for improved fire safety, the paper says.

Councils must 'reach out to people on the ground'

Rev Dr Alan Everett from St Clement's Church, who helped with relief efforts in the aftermath of the Grenfell Tower fire, told BBC Radio 4 that local authorities should do more to build relationships with local communities.

He added: "The lesson to be learnt from here is that when local authorities have major incident plans that they really need to involve people on the ground.

"You can have a plan in place, which operates at a high level, but you need to reach out to the people on the ground.

"They really need to start building those relationships, I think they need to rehearse their plans more thoroughly, but I think there needs to be a much more positive and open approach to the people who are there day in day out and have all the local connections."

Boxes, languages, ribbons - the volunteer effort

Waqas Ahmad has been coordinating volunteer work on Facebook.

The demands change rapidly but in the course of today he has:

Called for volunteers to help make missing person ribbons
Appealed for more boxes, pallet wrap & wooden pallets
Appealed for sellotape, markers, gloves, hand sanitisers and black bin bags

The Grenfell Tower Volunteers Page also offers translation help in Urdu and Arabic.

Schools near Grenfell Tower to reopen

Schools close to Grenfell Tower will reopen tomorrow, the Guardian reports.

It says Kensington and Chelsea council has confirmed that Avondale Park primary and St Mary's catholic primary schools will open.

St Francis of Assisi will also be open but operating from the Sion-Manning site, while Kensington Aldridge Academy will be opening from the Burlington Danes Academy, the Guardian said.