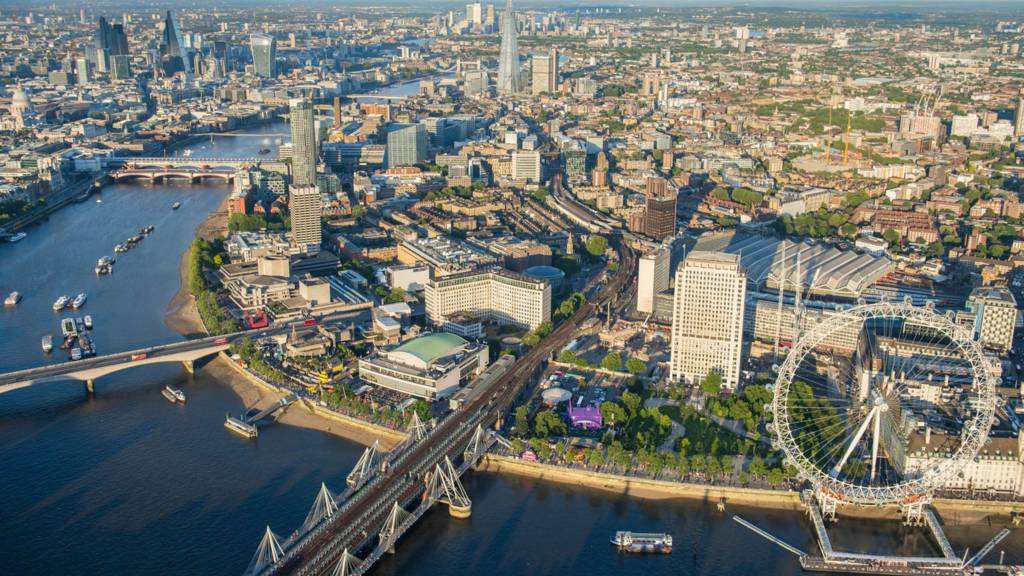 BBC London Live: As it happened
Summary
Updates on Friday 23 June
Goodbye from BBC London Live

Updates for London have now ended for the day but we'll be back at 08:00 on Monday with all the latest videos, news, sport, travel and weather.

Have a great weekend.

Tonight's weather: Dry start but drizzle at dawn

Cloud will tend to increase through the evening to leave a cloudy night across London.

After a dry start to the night, rain or drizzle will develop towards dawn, and it will remain rather breezy.

Minimum temperature: 16C (61F).

Sir Peter Hendy nominated to chair LLDC

Image caption: Sir Peter Hendy on a previous visit to BBC Radio London to meet Eddie Nestor

Former Transport for London Commissioner Sir Peter Hendy has been nominated to be appointed as the new chair of the London Legacy Development Corporation.

The LLDC was established by the previous Mayor, Boris Johnson, to build on the success of the 2012 Olympic Games and drive forward regeneration, growth and investment in east London. It has full planning powers and works closely with the four neighbouring boroughs of Hackney, Newham, Tower Hamlets and Waltham Forest.

Sir Peter will oversee the growth of the Olympic Park as well as delivering new neighbourhoods offering 50% of affordable homes.

The first item on his to-do list is the recommendations the mayor made into the finances of the London Stadium.

Sir Peter said: "Having kept London's transport networks moving during the course of the 2012 Olympic and Paralympic Games, I am delighted to now have the opportunity help secure the continuing legacy of the Park, creating a new area of the city bringing economic growth, thousands of jobs and new homes."

The appointment is subject to a confirmation hearing before the London Assembly.

Hammersmith & Fulham Council to install sprinklers in all its tower blocks

Hammersmith and Fulham is to install sprinklers in all of the borough's tower blocks.

In a statement, the council said: "In Hammersmith & Fulham, we have 15 council housing blocks of 12 storeys or more. Our tallest buildings are three, 23-storey blocks on Edward Woods estate in North Kensington.

"We have reviewed fire safety, and have fire risk assessments for all these blocks. We also have some of the country's best independent experts validating our Fire Risk Assessments as part of our action plan following the Shepherds Court fire in August 2016.

"We are working on plans to install sprinkler systems in all our tower blocks. We understand how concerned people are following the Grenfell Tower fire.

"We currently have fire officers visiting our estates to talk to residents and check fire safety arrangements, and letters have been sent to all residents in high-rise blocks.

"In light of the events at Grenfell Tower, we are seeking urgent advice from LFB on whether they intend to change their advice on high-rise safety."

Dangerous superbugs found on Tube prompts deep clean plan

Image caption: The deep clean should keep these passengers happy

The cleaning of London Underground is to be enhanced amid warnings that eight of the world's most dangerous superbugs exist on the network.

Industrial vacuum cleaners and magnetic wands will be used each night during the summer to remove metal particles, dust, oil and grease from around 50 stations and five tunnels.

An investigation published last month by London Metropolitan University and taxi insurers Staveley Head found 121 different types of bacteria and mould on public transport in the capital.

Eight of the most threatening bacteria to human health were discovered on the Tube, with the Victoria line deemed to be the dirtiest route.

Grenfell Tower: Celotex announces decision on cladding

Hadleigh-based Celotex has announced it is to stop the supply of a cladding system in buildings over 18m tall, following the Grenfell Tower fire.

The company had previously revealed it supplied insulation boards in the refurbishment of the west London tower block.

In a statement, Celotex said: "Celotex is shocked by the tragic events of the Grenfell Tower fire. Our thoughts are with everyone affected by this devastating human tragedy.

"We have been supplying building products for over 40 years and as a business our focus has always been to supply safe insulation products to make better buildings.

"We want to do everything that we can to support the government's ongoing response to the tragedy.

"We continue to offer our full cooperation with the investigations. Celotex notes the comments made by Scotland Yard at this morning's briefing in respect of the insulation used in Grenfell Tower. In view of the focus on rainscreen cladding systems and the insulation forming part of them, Celotex believes that the right thing to do is to stop the supply of Celotex RS5000 for rainscreen cladding systems in buildings over 18m tall with immediate effect (including in respect of ongoing projects), pending further clarity."

Watch: Ling - Orient owners are "proper people"

Speaking to BBC Radio London, new Leyton Orient director of football Martin Ling says the club's new owners are "proper people".

Yesterday a consortium led by Nigel Travis completed his takeover of the club.

Ling returns to Orient after a spell as manager between 2003 and 2009.

Watch: Hope for cancer breakthrough after substantial donation

Guy's and St Thomas's hopes to make a breakthrough in bladder cancer research, after a massive donation from the widow of a former patient.

Dianne Roberts is giving the trust £1.79 million to set up a biobank and perform clinical trials after her husband Graham died from the disease.

Despite being one of the 10 most common cancers, the 7th biggest killer, only 0.5%of research funds is spent on exploring diagnostics and treatment.

Man charged with sex offences dating back to the 80s

A man has been charged with sexual offences against two women in London.

Mark Dixie, 46, is accused of raping the first alleged victim in 1987.

He is alleged to have indecently assaulted and caused grievous bodily harm to another woman in 2002.

Rob Davis, from the Crown Prosecution Service (CPS), said: "The CPS has considered a file of evidence from the Metropolitan Police relating to allegations made against Mark Dixie of historic sexual offences against women.

"Following a review of the evidence, the CPS has authorised the Metropolitan Police to charge Mark Dixie, with three offences against two women - one of rape in 1987, and indecent assault and causing grievous bodily harm on another woman in 2002."

Scotland Yard said all of the alleged offences took place in Greater London.

Mr Dixie will appear at Westminster Magistrates' Court, by video-link, on 28 June.

Serpentine Pavilion display unveiled

Severe disruption: A202 London southbound

BBC News Travel

A202 London southbound severe disruption, at A302 Victoria Street.

A202 London - A202 Vauxhall Bridge Road in Westminster closed and queuing traffic southbound at Victoria Station, because of an incident.

To report traffic and travel incidents dial 0330 123 0184 at any time

Watch: Met Police launches campaign urging moped owners to boost their security.

More than 15,000 scooters, motorcycles and mopeds were taken in London in the last year.

Hotpoint fridge freezer notice after Grenfell fire

Peterborough-based Hotpoint has issued a "product notice" about some of its fridge freezers after police confirmed the fire which destroyed Grenfell Tower in London started in one of its models.

Seventy-nine people are feared dead after the blaze destroyed 151 homes in the Kensington tower block on 14 June.

The government has ordered immediate testing of the Hotpoint fridge freezer that was involved.

Hotpoint, which has its headquarters in Peterborough, is urging anyone who has a white Hotpoint fridge freezer model number FF175BP or graphite fridge freezer model number FF175BG to register their appliance with the manufacturer to receive any updates.

"We have been made aware of a possible incident involving a Hotpoint branded fridge freezer, manufactured between March 2006 and July 2009, model numbers FF175BP (white) and FF175BG (graphite)," the company says on its website.

If you've got one, you can get further details by clicking here.