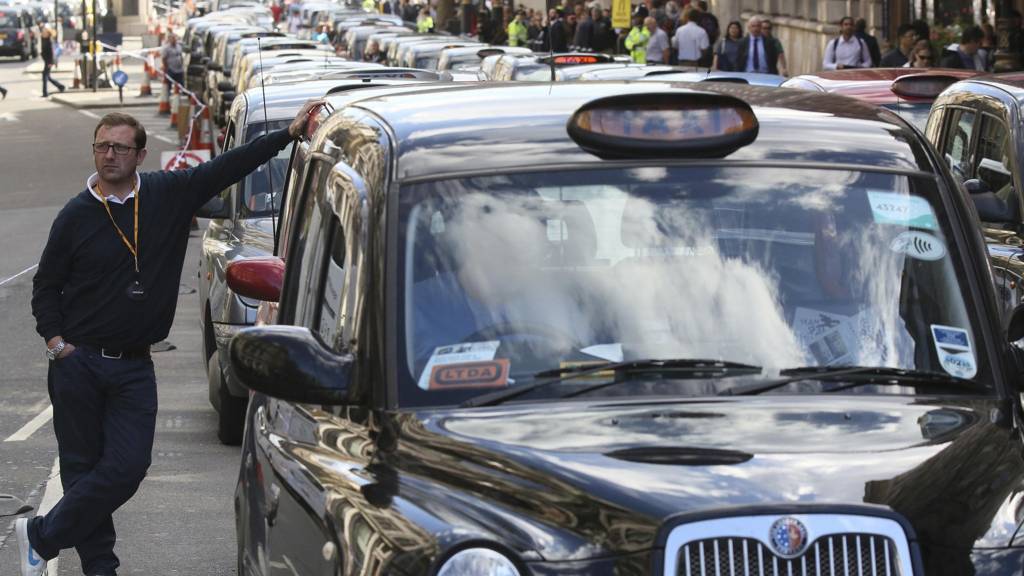 BBC London Live: As it happened
Goodbye from BBC London Live

Updates for London have ended for the day but we'll be back at 08:00 on Monday with all the latest videos, news, sport, travel and weather.

Have a great weekend.

Tonight's weather: Mild with patchy rain and drizzle

It will be a largely cloudy night across London with patchy rain or drizzle spreading eastwards later, with some mist and hill fog too.

It will be much milder than last night with light southerly winds.

Minimum temperature: 13C (55F).

By Nesta McGregor

Newsbeat reporter

Watch: The catwalk where gender-specific fashion doesn't exist

As London Fashion Week draws to a close and the catwalks have been full of men and women showcasing the latest styles.

But as more people are saying they don't identify with either sex, they want clothing to reflect that. Some of them have put on a queer fashion show in Hackney to try and remove the labels out of gender-specific clothing.

The boss of a man released without charge over the Parsons Green attack thinks the police have a lot to answer for.

Grenfell Tower fire victim named as Nur Huda El-Wahabi, 16

The latest victim of the Grenfell Tower fire in June has been formally identified as 16-year-old Nur Huda El-Wahabi.

Her family issued this statement:

Quote Message: Nur Huda was a lovable, smart and kind person. She had a lot of potential and that can be recognised in her recent GCSE exam results. We are proud of her and will continue on remembering her and all our family and friends who have died in this tragedy. from Nur Huda's family

Watch: From fatberg to fuel

Fatbergs are a growing problem for London's sewers.

Presently, Thames Water is in the process of removing a 250 metre long 'fatberg', discovered blocking a sewer in Whitechapel, east London, but there are another four fatbergs in central London waiting to be removed.

To try to make the best use of the waste, there are plans to turn them into biofuel which could power transport in the capital.

Loneliness: The cost of the 'last taboo'

Researchers have put a financial price on an "epidemic of loneliness" - estimating it costs £6,000 per person in health costs and pressure on local services.

But the London School of Economics study of older people says for every £1 spent in preventing loneliness there are £3 of savings.

Deborah Moggach, author of the novel adapted for The Best Exotic Marigold Hotel films about retired people from the UK going to India, said: "Loneliness really is the last taboo."

She said old age must not be an "inevitable descent into despair" and more efforts had to be made to stop people becoming isolated and lonely.

Uber: 'Safety is integral to our service'

The World at One

BBC Radio 4

The Uber taxi company, which has 40,000 drivers in London, has had its licence to operate withdrawn by Transport for London because of failings linked to passenger safety.

Fred Jones from Uber UK told the World at One that "safety is integral to our service". He said the company is required to report serious incidents to Transport for London and has "a dedicated team who work directly with the Metropolitan police service to help them with their enquiries".

Uber will be forced to rethink safety and employment issues - law firm

Leigh Day, the law firm which threatened TfL with legal action if did not impose conditions on Uber's license, has welcomed today's news.

It says it hopes the decision not to renew the license will force the minicab app firm to rethink its approach to employment and the safety of customers.

Rosa Curling, solicitor at Leigh Day, said: "We challenged Transport for London, as the licensing authority, over its decision to provide Uber with a licence to operate in London, without ensuring that workers' rights are properly protected and that the company is operated responsibly within the city.

"Today's decision is a clear indication that TfL agrees; it has decided Uber London Ltd as a company is not fit to provide its services in London."

Drivers and passengers react to news that Uber's licence in London will be revoked.

Police complaints meant Uber could not get an easy ride

Man charged over Parsons Green attack

An 18-year-old man has been charged with attempted murder in connection with the Parsons Green attack.

Ahmed Hassan, of Sunbury, Surrey, will appear at Westminster Magistrates' Court this afternoon, when he will also face a second charge under the Explosive Substances Act.

Three other men, aged 25, 30 and 17, remain in custody.

Thirty people were injured last Friday when a bomb partially exploded on a rush-hour District line train.

Two other men who had been arrested in connection with the explosion have been released without charge.

Thousands sign Save Your Uber petition

An online petition launched by Uber urging Sadiq Khan to reverse the decision to strip its London licence has been signed by tens of thousands of people in the space of a few hours.

Save Your Uber in London was set up on the Change.org website and urges the public to "defend the livelihoods of 40,000 drivers - and the consumer choice of millions of Londoners".

It said the app's customers would be "astounded by the decision".

As of 14:20 this afternoon it had been signed by more than 30,000 people.

The petition added: "By wanting to ban our app from the capital, Transport for London and the Mayor have given in to a small number of people who want to restrict consumer choice.

"If this decision stands, it will put more than 40,000 licensed drivers out of work and deprive millions of Londoners of a convenient and affordable form of transport.

"This decision is affecting the real lives of a huge number of honest and hard-working drivers in London."