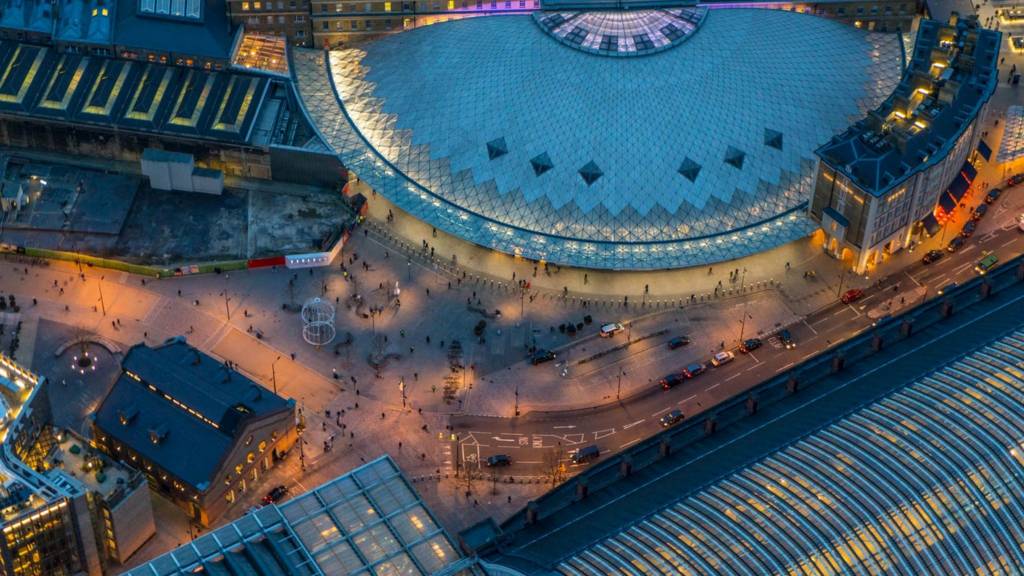 BBC London Live: As it happened
Updates for London have ended for the day but we'll be back at 08:00 on Monday with all the latest news, sport, travel and weather.

Have a great weekend.

Tonight's weather: Rain spreading

It will be a dry and chilly evening across London, but cloud will soon increase with milder conditions and periods of occasionally heavy rain spreading in later.

Brisk or strong southwesterly winds are also expected to develop. Minimum temperature: 6C (43F).

Agatha Christie's notebook set to fetch £46,000 at auction

Agatha Christie's handwritten notebook in which she plotted ideas for one of her crime novels is expected to fetch almost £46,000 at auction.

The bound notebook, from 1948, features 175 pages of notes including an ink drawing sketched by Christie to illustrate the layout of a murder scene.

Most of the jottings and plans contained within the book - the only one in existence outside of the Christie estate - are for the novel, A Murder Is Announced, as well as for the 1954 play, Spider's Web.

The notebook was donated by Christie to raise money for the London-based charity, Friends of the National Libraries, in 1960. It will be for sale at the China In Print fair in Hong Kong later this month.

World's 'most successful' Airbnb landlord makes £11.9m in a year renting hundreds of London homes

The world's "most successful" Airbnb landlord made a staggering £11.9million in one year by renting out their 881 London properties.

London Overground to mark 10th birthday

Tomorrow, the London Overground will celebrate 10 years of service across the capital.

To mark the occasion, Transport for London (TfL) has published an 'out and about on the London Overground' guide.

The map showcases the range of sights and attractions which are accessible on the Overground.

These include Crystal Palace Park, Wembley Stadium, Brick Lane, Westfield and the Olympic Park.

The London Overground serves 23 of capital's boroughs as well as parts of southern Hertfordshire.

Image caption: The map has been published to mark ten years of the London Overground

Arrests in Croydon murder investigation

Copyright: Thomas Mackintosh

Detectives investigating the fatal stabbing of a Croydon teenager have made two arrests.

A murder investigation was launched on Sunday, 29 October after a 17-year-old boy was found suffering from a stab wound on North End, in Croydon town centre, at about 19:00.

The teenager, who was later named as Aren Mali from Kenley, died at the scene - near to the Whitgift shopping centre.

Last night a 17-year-old was arrested in Newcastle on suspicion of murder.

A second teenager, also aged 17, was arrested this afternoon, also on suspicion of murder.

Both teenagers are currently in custody.

Breaking

Missing Scarborough teenagers could be in London

A missing teenage girl from Scarborough is with a 15-year-old boy and they could be in London police say.

Copyright: North Yorkshire Police

Annabelle Addison, 15, is missing with 15-year-old Michael Moore, they haven't been seen since 4 November and don't have any money available to them.

Officers say they left Scarborough by train and they are currently in the Cambridge or London areas but they also have links in Leicester, Northampton, the West Midlands, Merseyside and Norfolk.

North Yorkshire Police say that anyone with any possible sightings of Annabelle and Michael should "get in touch without delay".

Reward of £10,000 for information about birthday party shooting

Detectives are offering £10,000 for information about a shooting on the dance floor of an east London birthday party.

A man, 22, is receiving ongoing treatment after he was shot in the leg at the event in Ilford in June.

Two men opened fire across the dance floor as the party - with around 300 guests in attendance - was coming to an end in the early hours of 6 June.

Police are investigating the incident as an attempted murder.

Severe accident: A202 London eastbound

BBC News Travel

A202 London eastbound severe accident, at Grove Lane.

A202 London - A202 Camberwell Church Street in Camberwell blocked and queuing traffic eastbound at the Grove Lane junction, because of an accident involving a motorcyclist.

To report traffic and travel incidents dial 0330 123 0184 at any time

Passenger numbers boost for Heathrow Airport

The number of passengers passing through Heathrow Airport rose to more than 6.5 million last month,it has been revealed.

Heathrow say it is an increase of 2.8% compared to last year.

The airport's chief executive John Holland-Kaye said: "Record passenger and cargo figures underline Heathrow's position as a critical national asset."

Heathrow also shifted 154,500 metric tonnes of cargo in October - the highest ever for a single month.

Transport for London has tweeted from the London Trams Twitter account about delays on part of the network.

There are currently "minor delays" to services between Wimbledon and New Addington as well as services between Wimbledon and Elmers End.

The disruption is being caused by a signal failure between Belgrave Walk and Mitcham Junction tram stops.

Afternoon weather: Mostly dry and sunny

Becoming chilly during the day with brisk northwesterly winds and spells of autumnal sunshine.

Most parts will remain dry through the afternoon. Maximum temperature: 11C (52F).