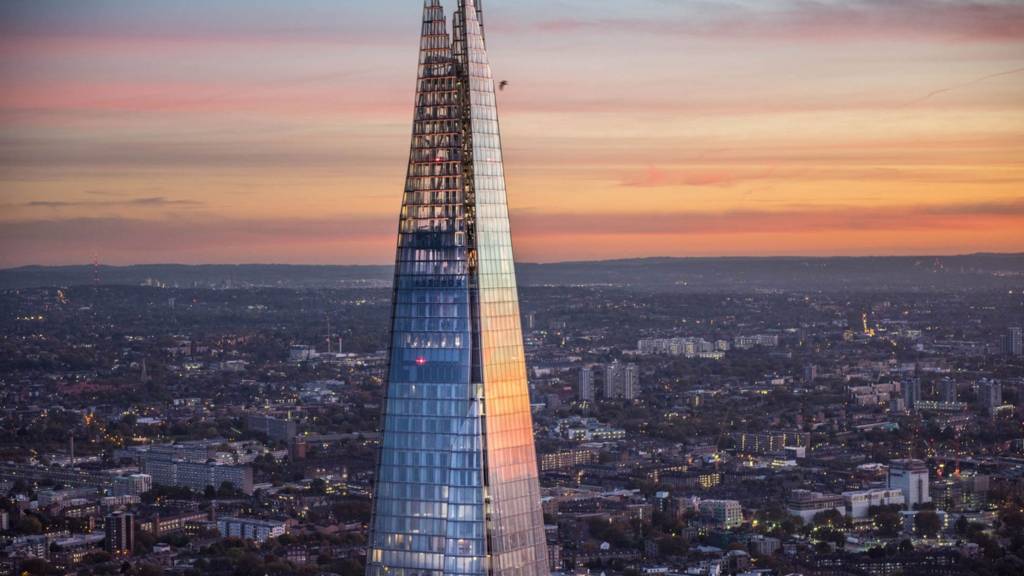 BBC London Live: As it happened
Updates for London have ended for the week but we'll be back at 08:00 on Monday with the latest news, sport, travel and weather.

Have a great weekend.

Evening weather: Largely cloudy

It will be largely cloudy through the course of tonight with the chance of some mist and fog in places and even the odd spot of drizzle.

Minimum Temperature: 6C to 9C (43F to 48F).

Tom Hardy made a CBE by Prince Charles

Film star Tom Hardy has been made a CBE for services to drama by Prince Charles at Buckingham Palace.

The Londoner is a friend of Princes William and Harry and was among the guests at Harry's wedding to Meghan Markle in May.

He was honoured by the Prince of Wales at a ceremony where author Ken Follett was also made a CBE and TV historian Lucy Worsley was appointed an OBE.

Businessman and philanthropist Lloyd Dorfman received a knighthood.

New war memorial to be unveiled in Southwark

Copyright: Southwark Council

A new memorial to those affected by war and conflict is to be unveiled in Elephant and Castle next week.

Commissioned by Southwark Council and designed by Scottish sculptor Kenny Hunter, the statue bears the inscription: "Against the armour of the storm I'll hold my human barrier" - a line from a World War Two poem.

It will stand in Elephant and Castle's new public space, Walworth Square, and will be unveiled during a special ceremony in Southwark on 27 November.

US 'preparing indictment against Julian Assange' of WikiLeaks

The US Justice Department is preparing charges against WikiLeaks founder Julian Assange, reports in the US say.

The reports came as a filing in a separate court case hinted that charges were being prepared. Justice officials said the filing was made in error.

Mr Assange fled to Ecuador's London embassy in 2012 to evade since-dropped sex assault charges and has stayed over fears of extradition to the US.

It is not clear what charges Mr Assange would face.

Ditching the car 'could help save high streets'

People who walk, cycle and use public transport spend 40% more in their local shops than car drivers, new research suggests.

The report, published by Transport for London (TfL), compared streets in the capital that have been improved for pedestrians and cyclists with streets that have not had improvement works.

TfL said it found areas with new elements such as public squares and wide pavements had seen an increase in retail rental values, more retail space being filled and a 93 per cent increase in people walking in the streets.

The research was commissioned as part of a new online hub collating evidence of the potential benefits of TfL's Healthy Streets scheme.

Lilli Matson, director of transport strategy at TfL, said the report "shows the link between creating enjoyable spaces, where people want to spend time, and the results for better business".

Travel: Metropolitan Line disruption

BBC London Travel

BBC Radio London Travel

Royal Shakespeare murals to 'attract diverse audiences'

Copyright: Jasmine Thompson

The Royal Shakespeare Company (RSC) has installed giant murals depicting suffragettes and #MeToo campaigners in order to "attract a younger, more diverse audience".

The artwork - Love As A Revolution - by Jasmine Thompson, 24, was originally shown in Stratford-upon-Avon but has been recreated in the Barbican for the RSC's London season.

Ms Thompson said it was an "honour to recreate the work a second time".

Toni Racklin, from the Barbican, said it was "great to bring it here".

Oxford Street shoppers commit Blue Badge fraud

Shoppers trying to snap up bargains on Oxford Street have been caught and fined for stealing disabled parking spaces.

More than 80% of Westminster City Council's Blue Badge fraud cases came from people misusing the badges around Portman Mews Square at Marylebone, councillors have been told.

Council staff told the audit and performance committee that when challenged, most drivers admitted they were headed to Oxford Street's shopping district and using a family member or partner's badge to park.

Figures provided to Westminster's audit and performance committee showed between April and September, 53 such offenders were successfully prosecuted, netting £19,117 in fines and victim surcharges.

Marylebone High Street had the highest number of prosecutions, with 28 cases of Blue Badge fraud proven, followed by 17 in the West End.

Wandsworth High Street revitalisation plans delayed

Local Democracy Reporting Service

Plans to revitalise Wandsworth High Street have been delayed until at least 2021, despite the fact the council has been pushing for the scheme for a decade already.

Work was expected to begin in 2018, but Transport for London (TfL) is progressing "cautiously" because of uncertainty over buying the land needed to make the changes.

The project will take cars off the part of the High Street between Garratt Lane and Buckhold Road, at the front of the Southside shopping centre, leaving it free for pedestrians, buses and cyclists.

The aim is to make the High Street more attractive and welcoming for people to shop, eat and drink, with trees planted and wider pavements also planned.

It is hoped the new homes, shops and restaurants opening on the site of the old Ram Brewery can herald a fresh start for a high street that lacks vibrancy.

The delay was discussed at a Strategic Planning and Transportation Overview and Scrutiny meeting on 14 November.

All councillors agreed to reaffirm their support for the scheme, although there were worries about the cost – the council will pay up to £27.5 million or 50% of the total cost, whichever is lower.

Councillor Rosemary Torrington, who chaired the meeting, said High Street is "like the M25 going through Wandsworth town", and the work is vital to improve the area for the public.

TfL now expects the scheme to cost about £80m, and some of the land might need to be bought using a Compulsory Purchase Order, which could take up to two years.

Not a single call made to Grenfell night-time phone service

Julia Gregory

Local Democracy Reporter, Kensington & Chelsea

Not a single person has contacted a night-time telephone service set up to help people distressed by the Grenfell Tower disaster, a health boss has disclosed.

The phone line offers support and home visits and replaced the previous drop-in overnight counselling service last month.

The walk-in service at the Notting Hill Methodist Church which cost £36,000 a month ended on 26 October.

Instead people can contact the Grenfell Night Service between 10pm and 7am via a dedicated phone number answered by clinicians.

They can also arrange a home visit at a suitable time. Robyn Doran, the chief operating officer of the Central and North West London NHS Foundation Trust – which runs the service, said at the directors board meeting: "There has been no take up so far."

She said the trust is meeting Healthwatch, Notting Dale residents' associations and people who used the previous night service.