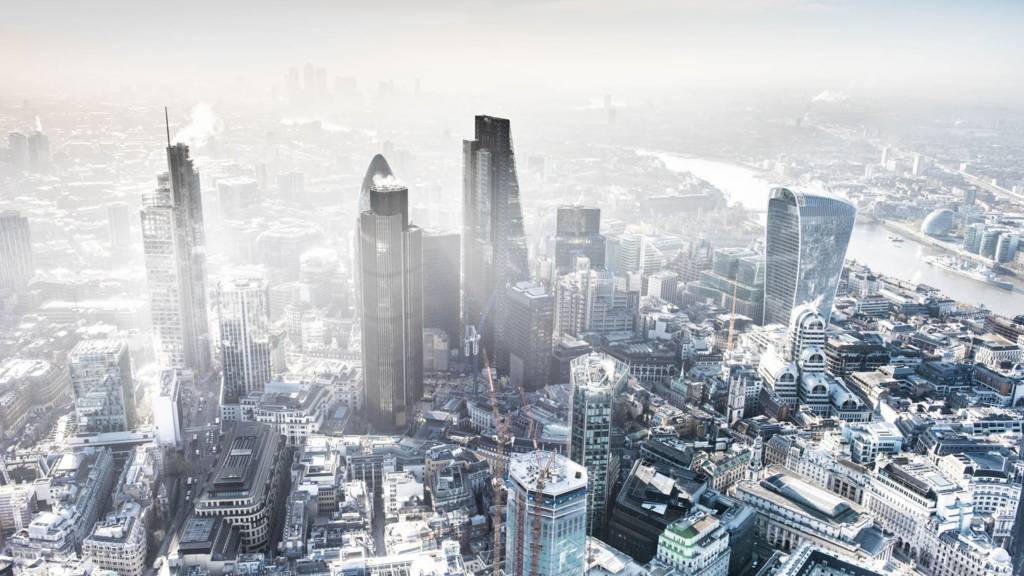 BBC London Live: As it happened
Summary
Updates on Friday 1 February
Updates for London have ended for the day but we'll be back at 08:00 on Monday with the latest news, sport, travel and weather.

Have a great weekend.

December 'busiest month on record' for ambulance service

December 2018 was the busiest month on record for the London Ambulance Service (LAS), new figures have shown.

Paramedics treated almost 101,000 patients in the capital in December - about 7,000 more than the monthly average the year before.

The second busiest month on record was December 2016, when LAS paramedics saw 99,632 patients.

Paul Woodrow, director of operations, said "Christmas festivities and winter illnesses and injuries" always meant the end of the year was a particularly busy time for his staff members.

Two jailed for running county lines drugs operation

Image caption: Lawrence Amoah and Bhavin Patel (l-r)

Two men have been jailed for supplying Class A drugs as part of a County Line operation being run to Kingston and Surrey.

Lawrence Amoah, 25, of Stafford Road and Bhavin Patel, 27, of Kilburn Park Road were found in a black BMW pretending to be asleep by officers on patrol in Harrow on 26 October last year.

The officers then found drug paraphernalia including 125 wraps of heroin and a mobile phone used to run the operation.

Both men previously pleaded guilty to possession with intent to supply Class A drugs.

At Harrow Crown Court yesterday, Amoah was jailed for five years and seven months, and ordered to pay a victim surcharge of £170.

Patel was sentenced to two years and seven months and also ordered to pay a £170 victim surcharge.

Both men also had drugs and mobile phones seized.

Cyclist dies six weeks after Wimbledon crash

A cyclist who was involved in a crash in Wimbledon in December has died after spending more than a month in hospital fighting for his life.

Andrew Bonham (pictured) was injured on the morning of 20 December as he cycled along Parkside shortly after 07:00 GMT.

The 29-year-old collided with a car and was taken to St George's Hospital with life-threatening injuries.

The Met Police said Mr Bonham died on Monday, 28 January and that his next of kin are aware.

The driver of the car stopped at the scene in December and has been helping police since.

Officers are looking to speak with anyone who saw any the crash or motorists who might have dashcam footage.

Woman fined for leaving recycling next to 'unemptied bin'

Local Democracy Reporting Service

A single mother has been fined £400 for leaving her recycling next to an unemptied bin for collection.

In December Bonnie Janes was struggling to fit all of her plastics and cardboards into the overflowing bin at Hermon Hill recycling centre.

She decided to place the rest next to the bin for collection.

On New Year's Day the 38-year-old received a letter from the Redbridge Council demanding £400 for fly-tipping.

Ms Janes said: "I don't think they can justify it, the council hasn't come back to me with any reason for the refusal of my appeal.

"I've been washing and seperating my recycling for years, trying to do the right thing.

"I could have thrown it in landfill but I am a lifelong environmentalist, I was just trying to do my bit.

"It's their fault that the recycling bin wasn't emptied for me to put my recycling into.

"Now they're just trying to bully me into paying the fine. I cannot afford it. They have shown no humanity or decency. I am so cross and sad.

"I feel bullied and persecuted."

The Trafalgar Place resident: "I'm a low earner with restricted hours because I am committed to the school run.

"Life is a struggle and I do my best to do the right things. And the thanks I get is a £400 fine. I don't have £400.

"And if I have to pay this, the council will be making my life even more difficult than it already is.

Ms Janes, who is a lifelong vegetarian, said she will take the appeals process as far as it can go to fight the fine, even to court in necessary.

She added: "I feel very strongly about the environment but now I just feel insulted, they're accusing me of fly-tipping, I couldn't believe it."

A spokesman for Redbridge Council said: "Fly-tipping is taken very seriously by the council and costs large sums of money to clear up.

"Tough action through penalty notices is a necessary way to keep our neighbourhoods clean and deters people from dumping rubbish.

"There is a sign at the site stating that anyone leaving items next to the bins would be prosecuted. Ms Janes has admitted to leaving the boxes there and the appeal has been refused."

Twenty-five firefighters tackle East Ham shop blaze

Twenty-five firefighters have been called to a fire at a shop with flats above on Barking Road, East Ham.

A small section of a ground floor shop is currently alight, according to the London Fire Brigade.

Crews from from Barking, Stratford, Poplar, and Ilford fire stations were called at 13:02.

The cause of the fire is not known at this stage.

Victoria Tube station 'upskirter' slapped with £2k fine

A 38-year-old man who "upskirted" a woman at Victoria Tube station has been fined £2,000.

Hiroshi Yuasa was spotted crouching behind the victim in April 2018, taking a photograph up her skirt with his mobile phone.

Police who investigated then found several photographs and videos of women, "ranging from pictures of the face as well as pictures up the skirts", court documents said.

Yuasa, of Ebury Street, Belgravia, was sentenced at Westminster Magistrates' Court on Friday and told to pay £400 compensation to his victim.

He was also told to pay a £170 victim surcharge and £400 prosecution costs.

Jubilee Night Tube to stop after midnight

Due to emergency engineering works, the Jubilee Line on the Night Tube will not run for part of tonight.

Transport for London (TfL) says services will be suspended between Willesden Green and Stanmore between 00:45 and 06:30.

A rail replacement bus service will be in place instead, TfL added.

Travel: Delays on Central Line

BBC London Travel

BBC Radio London Travel

Travel: District Line disruption

BBC London Travel

BBC Radio London Travel

Severe accident: A213 London both ways

BBC News Travel

A213 London both ways severe accident, near Selhurst Station.

A213 London - A213 Selhurst Road in South Norwood blocked and very slow traffic in both directions near the Selhurst Station junction, because of an accident.

To report traffic and travel incidents dial 0330 123 0184 at any time

Afternoon weather: Cloudy and cold

This afternoon will be mostly cloudy and cold with outbreaks of rain and snow spreading from the west later on.

Maximum temperature: 0 to 3°C (32 to 37°F).