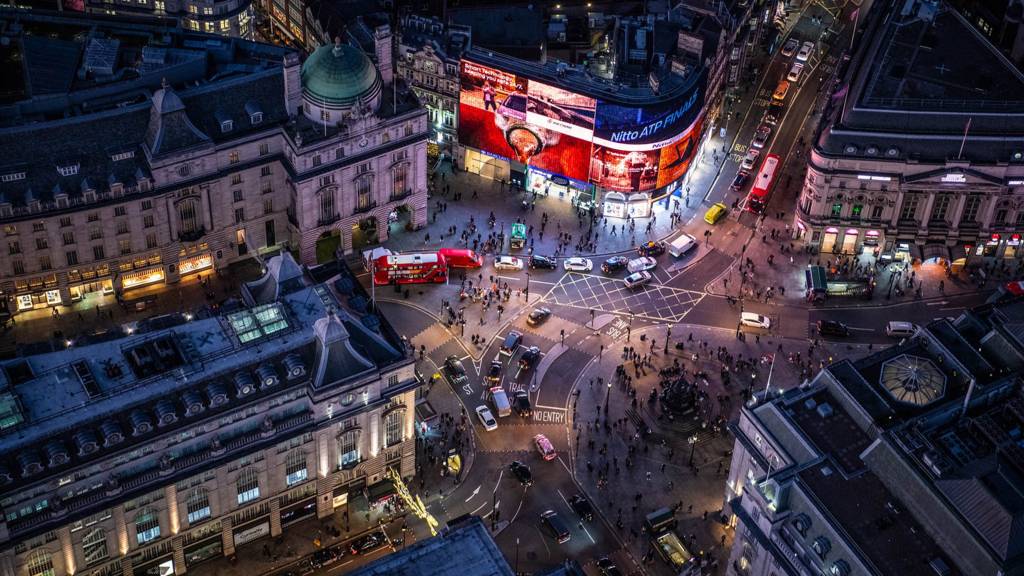 BBC London Live: As it happened
Summary
Updates on Friday 7 June
Updates for London have ended for the day but we'll be back at 08:00 on Monday with the latest news, sport, travel and weather.

Have a good weekend.

Council urged to promote Islington 'upsides' to recruit GPs

Local Democracy Reporting Service

Islington Council is to receive a recommendation encouraging them to advertise the upsides of living and working in the borough in the face of an approaching crisis in GP recruitment.

According to the borough's clinical commissioning group (CCG), a "significant number" of local GPs are due to retire within the next 10 years, and the high cost of living and housing in the area could be an impediment to easy hires.

It was recently reported that at least 146 urgent care shifts around the country in 2018 did not have a single GP.

A report by Islington's Health and Care Scrutiny Committee, chaired by Cllr Osh Gantly (Lab, Highbury East), states: "There is an ageing profile of GPs in the borough, and there is a need to address demographic change, the expectations of the younger generation of GPs and the need to develop increased integrated networks of staff, and to build resilience amongst the GP community.

"In addition, the provision of alternative therapies, and the development of teams of staff within practices, such as physiotherapists and pharmacists, can assist in alleviating the workload of GPs and 'free up' time for improving access to patients to GPs.

"The attractions of Islington to work and live we feel can also be marketed to recruit younger GPs to the borough. However the high cost of housing and living may limit such recruitment."

The committee's report aims to consider how sustainable general practice currently is in the borough in the face of rising demand and population growth.

Councillors also plan to recommend that the CCG, GP Federation and council planning department work together to ensure that premises are allocated for new surgeries where necessary in new housing developments in the borough.

Tonight's weather: Windy with patchy rain

Further heavy showers will threaten at first this evening before moving away to the northeast.

Thereafter, expect a cloudy and increasingly windy night, with spells of patchy rain at times.

Minimum temperature: 10 to 13°C (50 to 55°F).

New £15m dementia care home for Surbiton

Local Democracy Reporting Service

Copyright: Kingston Council

Image caption: An impression of the Browns Road dementia care home in Surbiton

A £15 million dementia care home is set to be built in Surbiton, as the council tries to ensure it caters for the growing numbers of patients needing places.

Although dementia is not limited to elderly people, an ageing population means cases are becoming more and more frequent.

There are estimated to be more than 1,500 residents in the borough of Kingston, including people under the age of 65, with dementia.

It is predicted that this figure will rise to more than 2,100 people with dementia by the year 2027.

It is hoped the 80-bed home, on the site of a vacant care facility in Browns Road, Surbiton, will help some of these people when living in their own homes becomes impossible.

Councillors gave the build planning permission at the Development Control Committee meeting which met on Wednesday.

Speaking at the meeting, Craig Griffin of Nuovohealth (the council's agent for the project) said: "The demand for dementia nursing care in this part of London is massive.

"We believe there could be demand for three to five of these homes to be open right now."

The average age of people moving in is expected to be 86.5, and the patients are likely to have been admitted to hospital several times already.

Mr Griffin said the home has been designed to feel as little like a hospital as possible.

If all goes to plan, the home could be finished as early as September 2020.

Severe disruption: A1010 London southbound

BBC News Travel

A1010 London southbound severe disruption, at Church Road.

A1010 London - A1010 High Road in Tottenham blocked and queues southbound at the Church Road junction, because of a police investigation.

To report traffic and travel incidents dial 0330 123 0184 at any time

We used this wonderful photo by Jason Hawkes of the city's skyline as our banner, but we want a new picture every day to show off the capital.

Have you taken a photo of your part of London which you think would be suitable?

If so, email it in high resolution (2048 x 1152 or 1680 x 945) to london.locallive@bbc.co.uk.

'20mph for all of central London'

Local Democracy Reporting Service

Every road in the West End and central London could be given a 20mph speed limit, under new plans from City Hall.

London Mayor Sadiq Khan wants the new limits to affect every road within the congestion-charge zone, which includes swathes of Pimlico, Mayfair, Marylebone and Fitzrovia.

Nearly six miles of main roads, such as Millbank, Albert Embankment and Victoria Embankment would be included.

It could begin in May next year, but to hear road users' views, Transport for London has launched a public consultation which opened yesterday.

It comes as part of the Mayor's "Vision Zero Action Plan" to end the toll of deaths and serious injuries on London's streets.

Mr Khan said: "Each year more than 4,000 people are killed or seriously injured on London's streets. The evidence is clear – lowering speeds on the most dangerous roads saves lives.

"The proposed 20mph speed limit on TfL roads within the Congestion Charge Zone and at Aldgate Gyratory will protect people walking and cycling and other road users in the busiest part of the capital."

TfL says 37% of fatal collisions are partly caused by speeding drivers. As well as new 20mph signs and road markings along routes, TfL plans to raise the height of pedestrian crossings in seven high-risk locations, including near the busy Embankment.

The consultation ends on July 10. Visit https://consultations.tfl.gov.uk/streets/20/ to find out more.

Afternoon weather: Heavy and thundery showers

This afternoon, sunny spells will develop, but there will also be a few heavy and potentially thundery showers. It will become breezy.

Maximum temperature: 14 to 17°C (57 to 63°F).

Severe disruption: M25 London clockwise

BBC News Travel

M25 London clockwise severe disruption, at J29 for A127 Southend Arterial Road Romford.

M25 London - M25 lane closed on exit slip road and it's slow moving clockwise at J29, A127 (Romford), because of a break down.

To report traffic and travel incidents dial 0330 123 0184 at any time

Free breakfasts for all borough primary school kids

Local Democracy Reporting Service

Copyright: Hammersmith & Fulham Council

Head teachers are "delighted" with plans to give free breakfasts to pupils in every primary school in Hammersmith and Fulham.

Starting in September, Hammersmith and Fulham Council has dedicated £3.7m to funding the new initiative over four years.

From January, children at two secondary schools — Woodlane High School and Fulham College Boys School — will start getting free school lunches every day under the same scheme.

The radical new plan could save a struggling parent £380 per year for every child in primary school.

And each primary school could save an estimated £5,700 a year.

The plans were hailed as a "war on food poverty" that could dramatically benefit children's ability to concentrate and learn in school.

Woodlane High School head teacher Claire Maynard said it would tackle the "stigma" of getting free school meals: "We're delighted to be part of the council's efforts to tackle child poverty.

"The pilot means our most vulnerable pupils can always gain a hot, nutritious meal without stigma.

"The impact on families is likely to prove a significant boost in challenging financial times."

Sally Brooks, head of Fulham College Boys' School, said hunger causes "immeasurable" damage to children's education.

"Providing the boys with a nutritious meal will not only allow them to compete in an academic environment, but will also give them the nutrition needed to go above and beyond at school and actively participate in extra-curricular activities."

Hammersmith and Fulham Council leader Stephen Cowan said: "It's appalling that children are still going to school hungry in one of the world's wealthiest capitals. Our schools are now the frontline in our war against hunger."

He added: "Food poverty is a national crisis… This initiative is a step forward in the fight to end this blight on our children and their future well-being."

The council said it raised the funds entirely from negotiations with property developers, who have helped fill the council's coffers in return for planning permission on new housing schemes.

About £643m has been raised from property developers since 2014, the council said.