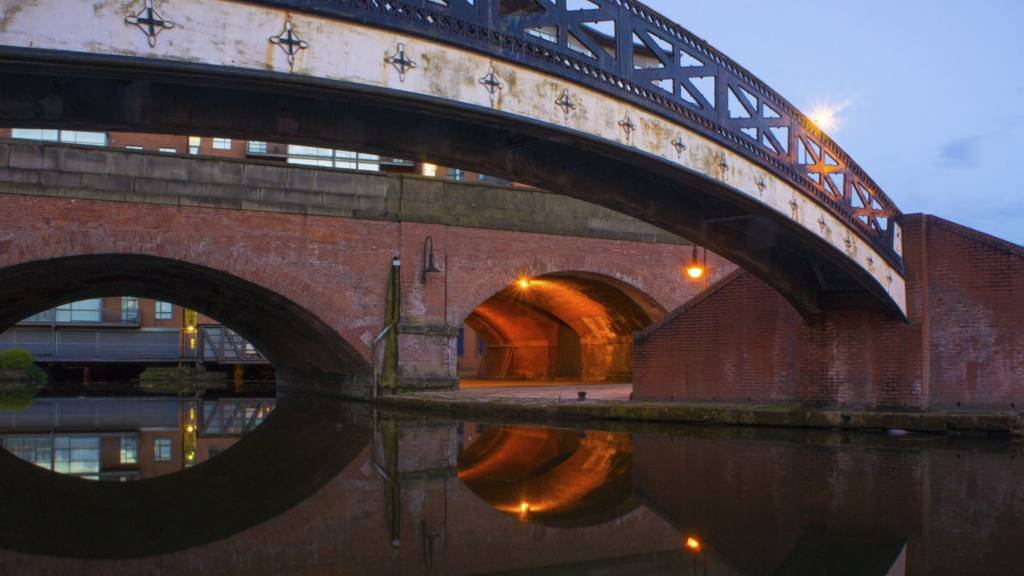 BBC Local Live: Greater Manchester
Summary
More news, sport, weather and travel updates from 08:00 on Thursday
Our live coverage across the day

Charlie Slater

BBC Weather presenter

This evening will stay dry, though it will be cooler than last night with fog patches in some rural places.

Police FGM campaign continues at Manchester Airport

Greater Manchester Police are continuing a campaign to warn passengers about female genital mutilation.

Officers will visit Manchester Airport next week to remind passengers that it is illegal for UK residents to perform FGM in the UK or abroad.

The campaign was launched in July as part of an annual operation.

Salford student wins Best Young Filmmaker award

Copyright: Naqqash Khalid

A Salford University student has won the Best Young Filmmaker category at a film awards.

Naqqash Khalid's short film Parts picked up the Starburt Film Award at a ceremony in Manchester.   

The 22-year-old PhD student wrote, directed and produced the five minute film, even working three jobs to fund it.

Parts will go to the Open Art Film Festival in Germany.

Quote Message: At first it was a very surreal experience seeing my film with an audience of strangers watching it. It means a lot to have the award because, as a self-taught director this is all new to me – I'm figuring it out as I go along from Naqqash Khalid

Giant inflatable peach to be unveiled at Roald Dahl celebration

A giant inflatable peach is to be unveiled in Spinningfields as part of a two-day event celebrating Roald Dahl.

Football: Samir Nasri joins Sevilla on loan deal

Manchester City midfielder Samir Nasri has joined Spanish club Sevilla on a season-long loan deal.  

Nasri has left City after making his first appearance of the season in the club's 3-1 win at home against West Ham on Sunday.

Travel: Congestion on M62 Westbound

Traffic is heavier than usual and slow moving on the M62 westbound between junction 12, the Eccles Interchange, and junction 11, Birchwood.

Latest headlines in Greater Manchester and east Cheshire

Tributes are paid to a former GMP officer, believed to be one of first to arrive at the scene of the murder of two colleagues, whose body was found in Stalybridge
Greater Manchester is to bid to host World Expo 2025, a sixth-month exhibition that could be worth billions to the local economy 
Former Manchester City Women player, Zoe Tynan, dies aged 18 

Tributes paid to former GMP officer

Greater Manchester Police have paid tribute to a former officer whose body was discovered in Cheetham Park, Stalybridge, yesterday morning. 

Copyright: Manchester Evening News

Forty-six-year-old Andrew Summerscales had worked in Tameside and was believed to be one of the first officers on the scene when colleagues Fiona Bone and Nicola Hughes were murdered in a gun and grenade attack in Mottram in 2012.  

Fellow officers have offered their condolences to Andrew's family, friends and colleagues.

GMP said there are no suspicious circumstances surrounding Mr Summerscales' death.

Greater Manchester to launch bid to be host region for Expo 2025

Kevin Fitzpatrick

BBC Radio Manchester journalist

Greater Manchester are to launch a bid to host Expo 2025, a vast sixth-month exhibition of technology, manufacturing and culture from across the world, which is also known as the World's Fair. 

Ashton Moss in Tameside has been identified as the likely site if the bid is successful. 

Volunteers wanted to help with Bury 10k fun run

Organisers of a new 10km fun run in Bury have made a call for volunteers to help out with it.

More than 1,000 runners, joggers and walkers are due to take part in the event - it is organised by Jane Tomlinson's Run For All with I Will If You Will, a fitness movement in Bury for women and girls.

Charlie Tatman, Run For All Events Manager said: "Anyone who can spare us a few hours on Sunday 18 September will be warmly welcomed."

Former Man City Women player Zoe Tynan dies

Zoe Tynan, who played for Manchester City Women before moving to AFC Fylde, has died.

Tynan, who was also an Under-19s player with England, had a spell with City in 2015. She completed a switch to FA Women's Premier League side Fylde Ladies earlier this month. 

The 18-year-old recently took part in a training camp run by England youth coach Mo Marley. 

Marley said:

Quote Message: This is truly awful news and we were all so sad to hear of Zoe's passing.

Quote Message: Zoe has been involved in our squads for a number of years and was not only a very talented midfielder, but a hugely-liked and popular member of the team.

Bury and Prestwich walk-in centres face closure in healthcare shake-up

Football: What does a Premier League medical involve?

It's transfer deadline day and alongside the money negotiations, there's also a medical for the players to pass - but what do these medicals actually involve? What are those in the know actually looking for?  

Former England international Philip Neville has been put through his paces to see what a player has to contend with when moving clubs. 

Neville retired in 2013 – after only a few years out of the game, does he still have what it takes to pass a Premier League medical?  

Latest headlines in Greater Manchester and east Cheshire

Historic England is urging Gary Neville and Ryan Giggs to rethink their plans for a major development close to Manchester Town Hall 
A man is charged after a teenage girl was killed in a car crash in Rochdale
Out-of-favour Manchester City goalkeeper Joe Hart completes his season-long loan move to Italian side Torino

Tennis: Naomi Broady through to US Open second round

Stockport's Naomi Broady is one of five British tennis players who have made it through to the second round of the US Open.

Broady beat compatriot Laura Robson 6-7 (4-7) 6-3 6-4 to claim only the second Grand Slam main draw win of her career.  

Two bailed over Eccles stab murder arrest

A 19-year-old man and a 16-year-old boy arrested on suspicion of murdering a man stabbed to death in Eccles have been released on bail.

Greater Manchester Police said the man had been released until 21 September pending further inquiries.

A 26-year-old man died after an incident in Cambrai Street, Winton on Monday.

Football: Wilfred Bony joins Stoke on loan deal

Stoke City have signed striker Wilfried Bony on a season-long loan deal from Manchester City.

Ivorian Bony, 27, has made 15 league starts since joining City for £28m from Swansea in January 2015, but had not featured under new boss Pep Guardiola.

Weather: Fine afternoon expected

Charlie Slater

BBC Weather presenter

A fine afternoon is expected with cloud breaking at times to allow some bright or sunny spells and it will feel pleasantly warm in light winds

Fire service rescue dogs give demonstration

Greater Manchester Fire Service rescue dogs have been giving a demonstration today. 

The pups have been showing off their skills as part of an open day that has also seen firefighters displaying search and rescue skills.