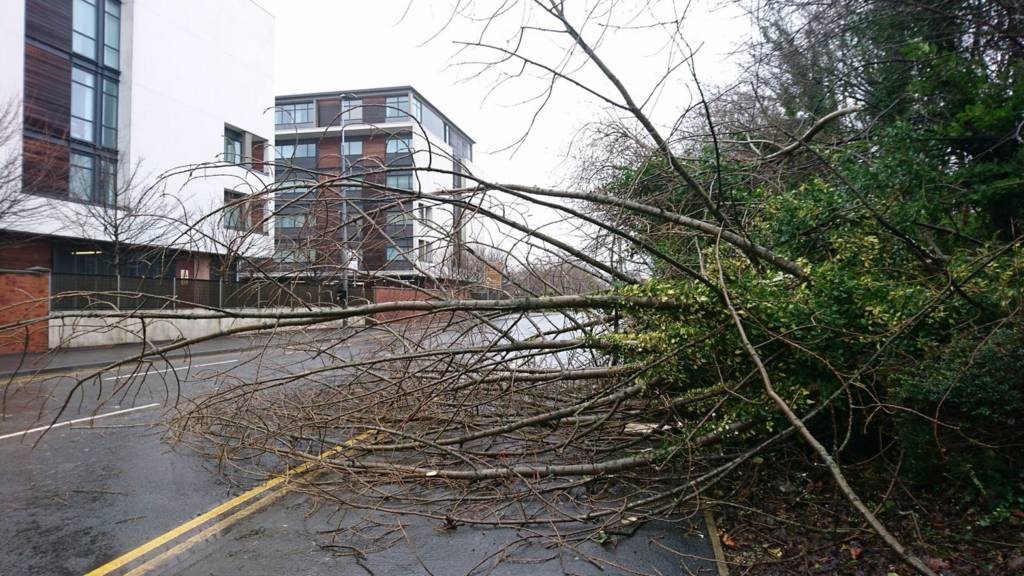 BBC Local Live: Greater Manchester
Our live coverage across the day

Live updates from Greater Manchester and east Cheshire have finished for the day, but we'll be back with more news, sport, travel and weather from 08:00 on Friday... when hopefully the weather will be calmer!  

Storm Doris: Football pundit's 'bumpy' landing

We're not sure where BBC 5 live's Robbie Savage has been, but he's had a bit of a bumpy landing on his return to Manchester.

Storm Doris: Tree falls on house in Hindley

Wigan Council are dealing with the aftermath of a tree falling on a house in The Lawns, Hindley.

Weather: Colder night ahead

Thankfully the wind and showers will ease overnight with clear spells developing, but it will feel much colder.  

Man arrested for kicking wreaths at cenotaph

A man has been arrested for kicking poppy wreaths at the cenotaph in central Manchester.

GMP's City Centre team said the man had also been detained for using abusive language.

Storm Doris: How are storms named?

It's a good opportunity, perhaps, to remind ourselves how Doris got her name.

A storm is named when it is deemed able to have a substantial impact on the UK or Ireland. 

It is the second year of the "name our storms" project by the Met Office and Met Eireann, which takes suggestions from submissions by members of the public.

The new list is being applied to storms between 1 October 2016 and September 2017.

The naming protocol was covered in our  story last September .

It's not on the way yet - but the next storm to hit the UK will be called Ewan.  

A passenger plane had to abandon its initial landing attempt at Manchester Airport due to high winds.

Storm Doris: Virgin Trains run reduced service

National Rail Enquiries says high winds and rain are affecting services across the Virgin Trains network. 

Customers are advised to postpone their journey if possible.

Trains across the whole Virgin Trains network were suspended until 17:00 and a very reduced service is expected to run until the end of the day. 

Passengers have been told their tickets can be used on Friday before 14:00 on services run by TransPennine Express, CrossCountry, London Midland and Arriva Trains Wales. 

Storm Doris: Road re-opens after fallen debris

We reported earlier that police were warning people to avoid Greenheys Lane West in Hulme where debris had fallen from a building.  

Well good news - the road, which is near Princess Parkway, is now open...

Storm Doris: Fire service attends more than 60 incidents

Storm Doris: Wind damage debris closes road

Greater Manchester Police is warning people to avoid part of Hulme where debris has fallen from a building.

Storm Doris: Lucky escape in Northwich

Passengers in a car escaped serious injury after a lamppost fell on their vehicle in Northwich.

Police and ambulance attended the scene on Chester Road just after midday.

The passengers did not need hospital treatment.

Storm Doris: Disruption to Northern trains continues

Storm Doris: Surgery closed by firefighters

A GP surgery in Urmston has been closed because of damage caused by Storm Doris.

Urmston Group Practice tweeted : "The Fire Brigade have closed our building due to damage caused by wind. 

"This is for the safety of our staff and patients."

The practice, which is based in Woodsend Crescent Road, also advised patients needing advice before 18:30 to call 0161 476 0400.

Storm Doris: Thelwall Viaduct reopens

The Thelwall Viaduct on the M6 which has been closed since this morning due to Storm Doris is now open. 

Headlines for Greater Manchester and east Cheshire

Storm Doris  is causing huge travel problems with planes and trains being cancelled or delayed by several hours  

Hundreds of homes have lost power and ten people have been injured in Greater Manchester and Cheshire

A businessman "was acting reasonably to defend himself" when a suspected gangster was killed with his own gun during a fight,  a coroner has concluded  .  

Football: LA Galaxy to host London and Manchester scouting events

LA Galaxy will host open trials in London and Manchester where players could earn a professional contract .

The MLS franchise will offer hopefuls the chance to sign for their reserve side - LA Galaxy II - who will compete in the United Soccer League in 2017.

Head coach Mike Munoz said the project could unearth "hidden gems" or those "without a fair chance in the past".

The trials will take place at The Hive in London on 31 May and 1 June, and in Manchester on 3 and 4 June.

Government refuse to reveal suicide bomber's payout

The government have refused to say whether public money was given to a British IS fighter who died in a suicide attack.

It has been claimed that Jamal al-Harith, 50, who was brought up as Ronald Fiddler in Moss Side, was given a £1m payout after after being freed from Guantanamo Bay prison in Cuba.

Former Defence Minister Andrew Murrison told the House of Commons there could be grounds for the money to be returned.

Storm Doris: High winds and falling debris

There are reports of debris as large as 4 x 5ft falling from the 15th floor of a building site on Quay Street, police said. 

A wall has collapsed onto a car in Dantzic Street in the city centre.